Golf Daily Fantasy
Expert Advice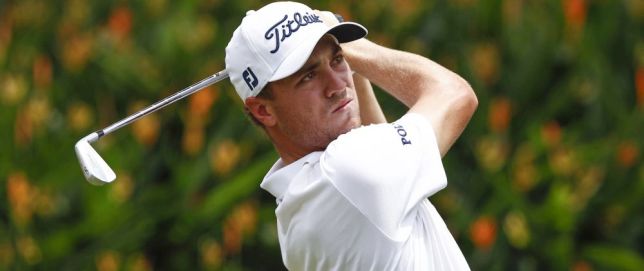 Daily Fantasy PGA Picks and Betting Guide for DraftKings & FanDuel – 119th U.S. Open
Chris will be bringing you weekly PGA picks, analysis, and breakdowns to help you cash on DraftKings and FanDuel. As every week in DFS PGA changes with the course setup, field of players and weather, Chris will be providing a range of different picks for cash games as well as upside plays for tournaments. If you have any questions to lineup lock you can reach him a variety of ways. Leave your question/comment below in the comments section, find him in the DFSR Chat room or hit him up on Twitter(@Jager_Bombs9). Chris is also providing his DFS PGA Weekly cheatsheet where he provides stats, course history, current form, fantasy points, and much more. Grab your copy today and edge out the competition.

119th U.S. Open
After a Rory McIlroy thumping at the RBC Canadian Open, the Tour heads to the iconic Pebble Beach Golf Links for the 119th U.S. Open. It is the sixth time that Pebble Beach has hosted the United States Open and first since 2010 when Graeme McDowell hoisted the trophy with a winning score of Even Par. The field is led by back to back U.S. Open Champion and #1 player in the World, Brooks Koepka and he is accompanied by each of the other Top 50 players in the Official World Golf Rankings.
With the rotation in the course played each year, I have added the last five years results but have a very low weight(5%) on that. Just enough to see who consistently performs well on these very tough US Open setups. I have also added the results of the 2010 U.S. Open, the last time it was played here at Pebble Beach. There really isn't any merit in looking at the Pebble Beach Pro-Am results as it has a three-course rotation using Pebble once pre-cut for each player and then again on the final round. What you can do is check out the Fantasy National tools and use the filter to get performance solely on Pebble Beach Golf Links. I will be adding this to my custom model this week as well.
While "looking" at the Pebble Beach course history is fine, modeling around it just doesn't work. Golfers are going to see a slightly different course this week, specifically off the tee as the fairways have been narrowed with length added to many holes with some new tee boxes added. Tiger Woods also talked about the course "playing" very long when he practiced here at the end May.
One of the biggest differences is the conversion of the second hole from a Par 5 to one of three Par 4's that comes in over 500 yards. Another major factor that fits right into the USGA Major Championship model is the thick rough that has been grown out. This combined with narrow fairways put a ton of emphasis on Driving Accuracy and Fairways Gained(FNGC). We will also see some "Less than Driver" strategies with 3-woods and irons on some of the shorter Par 4's where placement is more important than distance.
The most important stat and highest weighted in my model this week is the approach shots with the small greens here at Pebble Beach. The players at the top of the leaderboard come Sunday will be the ones who gain the most strokes in this area. Even those players, however, won't hit every green and I would guess we see field average GIR around 55% meaning Scrambling/Strokes Gained: Around the Green will also be important.
Looking at everything as a whole, there is not one area or kind of player who will succeed here. It will take four rounds of solid golf just to be in the mix. Let's get into the picks.
The Course
Pebble Beach Golf Links
Par 71 - 7,075 Yards
Greens - Poa Annua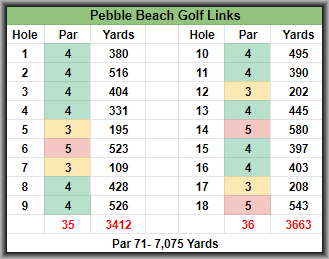 **Click the image above to see a hole by hole breakdown and flyover from USOpen.com**
Approach Shot Distribution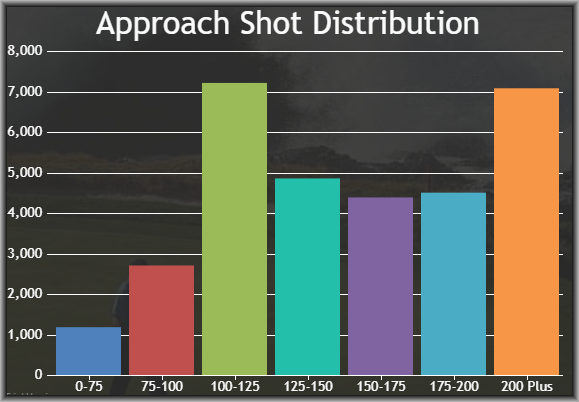 Previous Five U.S. Open Winners
2018(Shinnecock Hills) - Brooks Koepka(+1)
2017(Erin Hills) - Brooks Koepka(-16)
2016(Oakmont) - Dustin Johnson(-4)
2015(Chambers Bay) - Jordan Spieth(-5)
2014(Pinehurst) - Martin Kaymer(-9)
Top Stats in the Model
Strokes Gained: Approach
Driving Accuracy/Fairways Gained
Strokes Gained: Around the Green/Scrambling
Par 5 Scoring
Bogey Avoidance
**When breaking down the top stats I use a combination of my own cheasheet, the tools over at FantasyNational.com, and the Future of Fantasy Golfanac.**
Weather Update
Top Tier Targets
Dustin Johnson
World Golf Ranking (#2)
Vegas Odds (8/1)
Draftkings ($11,300)
FanDuel ($12,200)
Let me preface by saying will have almost equal exposure to Koepka and DJ this week as they are the clear favorites and U.S. Open monsters as of late. I didn't want to cop out and write both up so if I had to choose one, I slightly lean Johnson due to his experience here at Pebble Beach. He has finished Top 10 at the Pro-Am event in seven of his last 10 trips with a win in 2010 followed by a T8 in the return trip for the U.S. Open that year. Yes, I mentioned not looking at Pebble history but experience does count for something on a course with tons of blind shots and places you do not want to miss. Looking at the stats from just Pebble(not the entire Pro-Am), DJ is 2nd in this field in Strokes Gained: Total, 2nd Strokes Gained: Ball Striking(1st OTT, 13th APP), and first in fantasy scoring.
Next is the form as he is having a terrific start making all 11 cuts with a win at the WGC Mexico with 10 total Top 10's and a runner-up finish at both the Masters(winner-TigerWoods) and the PGA Championship(winner-Brooks Koepka).
What I will be doing with a majority of my lineup construction is building a lineup with Koepka who is slightly more expensive then duplicating that lineup with and replacing Koepka with DJ. I will do this several times over to get my equal exposure to the favorites.
Justin Thomas
World Golf Ranking (#7)
Vegas Odds (30/1)
Draftkings ($9,300)
FanDuel ($11,400)
After loading up on Koepka/DJ lineups, I will be trying to go a bit contrarian with my lineup construction. To do this, I will be primarily using the FanShareSports tools and an early look shows us the $10K+ guys(DK) should be popular followed by a balanced approach. I think this will leave a gap and opportunity with the $9K range and Justin Thomas is the one that stands out the most to me this week. I get why the ownership will be down as his last five events have produced finishes of T20, Missed Cut, T12, T35, and T30. For 80% of the players on Tour that is a good run but for a player with JT's talent and more importantly price tag, we need more upside. The good news is that he has flashed that upside earlier this season with five Top 10's and four Top 5's in his first seven events and is coming off a three-win season. He is also #1 in my stats model this week on my sheet ranking 5th in SG: Ball Striking(22nd OTT, 4th APP), 8th in SG: Around the Green, 23rd in overall Proximity, 6th in Par 4 Scoring, 1st in Par 5 Scoring, 1st in BoB%, and 11th in Bogey Avoidance. All those stats check out in my "last 24 rounds" model on FNGC as well.
Mid Tier Targets
Webb Simpson
World Golf Ranking (#19)
Vegas Odds (50/1)
Draftkings ($7,700)
FanDuel ($9,600)

Webb checks every box for me this week starting with form as he is coming off a runner-up finish to Rory in Canada and has made 12 of 13 cuts in stroke-play events this season with four Top 10's and nine Top 25 finishes. He isn't just getting the finishes either as he is 6th in this field in DraftKings scoring over each's last five events.
I spoke about having to be on in every area and Webb is a player that can do that as he has gained strokes off the tee, on the approach, and around the green together in three of his last four events and gained strokes in all four(add putting) in two of his last three events.
Looking at my Major Championship Form Sheet, Webb has made the cut in nine straight Majors with no finish worse than T37 in that time with two Top 10's. With a price under $8K on DraftKings and under $10K on FanDuel, Webb is a great play in all formats and will be one of my six outright bets at 50-1.
Henrik Stenson
World Golf Ranking (#43)
Vegas Odds (60/1)
Draftkings ($7,600)
FanDuel ($9,500)
The other mid-tier target I just can't get away from is Henrik Stenson who seemingly checks every box(and there are lots of them this week). He is coming off a PGA Tour season-high T8 at the RBC Canadian Open and has made seven straight cuts on Tour coming into this week. While the form has been decent, it could have been much better if he could make a putt(-3.6 strokes putting last 24 rounds). The good news is that he is a beast on Poa greens and it showed last week where he gained strokes every round(4.6 total) and has gained strokes in 10 of his last 12 rounds overall on the Poa. That isn't the only area where his stats pop off the page as he is also 1st in SG: Approach, 4th in Fairways Gained, and 8th in Par 4 Scoring over the last 24 rounds. I will have exposure to Stenson in all formats, especially on DraftKings in the mid $7K range.
Value Targets
Jim Furyk
World Golf Ranking (#48)
Vegas Odds (125/1)
Draftkings ($7,200)
FanDuel ($8,700)

Anytime Jim Furyk is in the field at an event where finding the fairway is at a premium, he is immediately on my radar. He is not only #1 in driving accuracy on my sheet but is also 5th in fairways gained over his last 24 rounds overall. The 49-year-old is also having a pretty good season making 10 of 14 cuts with a very impressive runner-up at the PLAYERS, three total Top 10's and comes into this week having made three straight cuts at the Charles Schwab Challenge(T13), Memorial(T33), and RBC Canadian Open(T27). He has also had a pretty good run at U.S. Open's as last year's T48 was his worst finish in the last five years and he also finished T16 here at Pebble Beach in 2010, the last time the U.S. Open stopped here. At these prices, I will have exposure to Furyk in all formats.
Danny Willett
World Golf Ranking (#80)
Vegas Odds (150/1)
Draftkings ($6,800)
FanDuel ($8,100)
Closing the article out, I wanted to find a value play and for that, I turned to the odds to fantasy salary differential column on my sheet. At 150-1 to win the event, he has higher odds than all but one other player(Piercy) in the sub $7K range on DraftKings. That is the 44th best odds to win but he is in the 70's when rankings salaries on both sites. The discount is not the only thing that stands out as the form has been trending in the right direction lately after missing five of six cuts in a two month period. Since then he has finished T41 at the PGA Championship, T27 at the Memorial, and T8 last at the RBC Canadian Open. Statistically, nothing really stands out besides his 22nd rank on my sheet in Strokes Gained: Approach which just happens to be a key stat this week. I won't be using in cash games but Willett will definitely be in my GPP player pool this week.
Chris Durell has been playing Daily Fantasy Sports for six years and fantasy in general for more than a decade. He is an active player in college football, NFL, MLB, NASCAR, NHL and of course PGA. He lives in Saskatchewan, Canada with his wife and two daughters. You can follow him on Twitter at @Jager_Bombs9 for advice, strategy, answers to any PGA questions and how he copes with the winters up north.
FREE EBOOK
SECRETS TO CRUSHING DAILY FANTASY FOOTBALL!
DON'T SET ANOTHER LINEUP BEFORE YOU READ THIS BOOK.