Baseball Picks Daily Fantasy
Expert Advice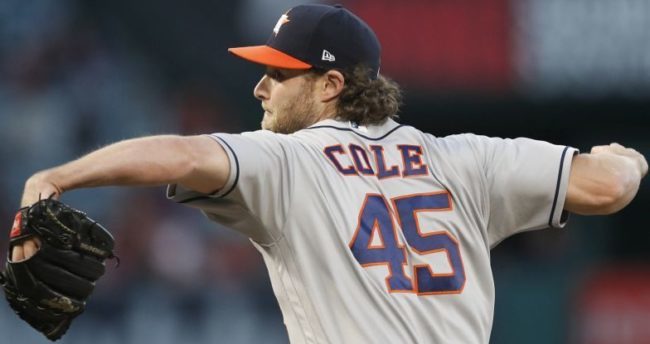 DraftKings and FanDuel MLB Picks for Wednesday 6/19/19
Now's your chance to get DFSR PRO, which will give you access to our MLB and NBA optimizers and our new player lab! Get started for free by clicking the button below.
Pitchers
Early

Gerrit Cole FD - P 12000 DK - SP 11400
Opponent - CIN (Tyler Mahle) Park - CIN
FD - 40.57 DK - 22.82
Despite the downgrade in park factor, Gerrit Cole is easily the pitcher on the early slate today. He has been absolutely lights out lately holding opponents to two or fewer earned runs in four straight and six of his last seven starts(3.07 ERA/2.26 xFIP) while tallying 10+ K's four times. Overall, he leads the league(qualified) with an elite 2.48 xFIP and eye-popping 38.8% K rate. He now gets a plus matchup against a Reds team that has not only struggles lately(.289 wOBA, 74 wRC+, 149 ISO last 14 days) but has also struggled slightly more against righties(.298 wOBA, 80 wRC+, 24% K rate). Weather permitting, there should be more than enough value plays pop up when lineups come out to pay up for Cole in all formats.
Also Consider: Blake Snell(TB) or Zach Eflin(PHI) as GPP plays on the road in tougher matchups
Main


Rich Hill FD - P 9600 DK - SP 10300
Opponent - SF (Drew Pomeranz) Park - LAD
FD - 36.61 DK - 19.97
The main slate gives us a nice selection of pitchers at the top but with Scherzer questionable(likely starts) and Giolito in a tougher matchup vs. the Cubs, I will be riding with Rich Hill. Through nine starts he has yet to allow more than three earned runs in a start while averaging 5.8 innings and 93.3 pitchers per start. Not only has he been consistent for cash games, but he has also provided upside with a 27% K rate. The matchup also stands out tonight as he faces a Giants team that has struggled lately(.284 wOBA, 75 wRC+, .113 ISO last 14 days) and also rank at the bottom of the league against lefties(.273 wOBA, 68 wRC+, 24% K rate). Fire up Hill in all formats, especially on FanDuel where he is in the sub $10K range.
Also Consider: Andrew Heaney(LAA) as an SP2 on DraftKings or GPP pivot on FanDuel in a plus matchup against the Jays

Listen to "Wednesday MLB DFS Podcast with Bonus NBA thoughts and reactions - 6/19/19" on Spreaker.
Catcher/First Base
Early

Eric Hosmer FD - 1B 3100 DK - 1B 4400
Opponent - MIL (Zach Davies) Park - SD
FD - 10.31 DK - 7.9
Some positions on this slate are a bit tricky at first glance tonight and first is one of them. This has me immediately turn to PTS/$ for value and the first name that stands out is Eric Hosmer who has been much better in his second season with the Padres posting a .286/.341/.446 slash line and is obviously benefiting from the addition of Manny Machado. While the matchup may not look great as Davies has posted a 2.60 ERA through 14 starts, there is some regression coming as he sits with a much worse 4.91 xFIP and also has lower expected stats(xwOBA, xSLG). He is my top cash game play at the position on the early slate and I will also have some exposure to a Padres stack with Hosmer in GPP formats.
Also Consider: Howie Kendrick(WSH)
Main

Josh Bell FD - 1B 4300 DK - 1B 4800
Opponent - DET (Jordan Zimmerman) Park - PIT
FD - 9.55 DK - 7.25
If not for a couple of guys named Cody Bellinger and Christian Yelich, this would be your leader for the NL MVP award going into the latter stages of June. He was always known as an upside player with tons of power but has really become a true all-around player raising his average to .321 with an elite .388 OBP and leads the league with 66 RBI. He is also a switch hitter with strong splits from the left side(.439 wOBA, 175 wRC+, .351 ISO). The final piece of the puzzle is the matchup against a struggling Jordan Zimmermann who has given up four or more earned runs in four straight starts(18 total) with at last one home run in each game(six total). Bell is one of my top pay-ups in all formats and safe in all formats.
Also Consider: Jose Abreu(CWS)
Second Base
Early


Jurickson Profar FD - 2B 3200 DK - 2B 3700
Opponent - BAL (Josh Rogers) Park - OAK
FD - 10.29 DK - 7.87
The second base position is a very tough one today and if you aren't paying top dollar for Moustakas in a lefty/lefty matchup it is probably better to take the savings. For me that player is Profar who despite hitting lower in the lineup is cheap and has been much better against left-handed pitching with a .371 wOBA and 137 wRC+. The A's are my top team on this slate and Profar, given the lack of depth at the position, is in play in all formats.
Also Consider: Mike Moustakas(MIL)
Main


Ozzie Albies FD - 2B 3600 DK - 2B 5000
Opponent - NYM (Steven Matz) Park - ATL
FD - 10.94 DK - 8.47
Despite routinely hitting in the bottom of the Braves lineup, Ozzie Albies cannot be ignored even at these high prices. He went 0 for 3 last night as the Mets spanked them but Ozzie came into that matchup with hits in eight of his previous nine games including six multi-hit efforts. He has been solid all season with a .286/.349/.472 slash line and has also had strong splits against lefties with a .397 wOBA, .144 wRC+, .217 ISO, and 46% hard contact rate. He is in play in all formats, especially on FanDuel in the mid $3K range.
Also Consider: Brock Holt(BOS)
Shortstop
Early


Marcus Semien FD - SS 3600 DK - SS 4400
Opponent - BAL (Josh Rogers) Park - OAK
FD - 12.73 DK - 9.77
The A's currently sit atop the implied run projections(6.0) and are over a full run higher than the next highest team. They have been better against lefties and get a great matchup against Josh Rogers who posted an 8.51 ERA/5.60 xFIP in 11 starts at AAA and has also struggled in two starts with the O's giving up nine hits and seven earned runs in eight innings(two starts). Semien has not only been above average against lefites(.351 wOBA, 124 wRC+), but he has also been red-hot as he entered Tuesday's game with hits in 14 straight games. He is a great play in all formats and with his best value coming on DraftKings where he is 6th in salary despite a smaller five-game slate.
Also Consider: Fernando Tatis Jr.(SDP)
Main


Kevin Newman FD - SS 3000 DK - 2B/SS 4000
Opponent - DET (Jordan Zimmerman) Park - PIT
FD - 8.27 DK - 6.54
If you can afford him, Francisco Lindor is an elite play on this slate for all formats but from a PTS/$ perspective, I am all over Kevin Newman. he comes into tonight with hits in 10 straight starts pushing his slash line up to .315/.364/.430 for the season. Like I mentioned with Bell, the matchup for the Pirates is near the top of my list so, at his price, Newman is in play in all formats.
Also Consider: Paul DeJong(STL)
Third Base
Early


Matt Chapman FD - 3B 3900 DK - 3B 4300
Opponent - BAL (Josh Rogers) Park - OAK
FD - 13.22 DK - 9.96
I talked about Semien above and he and Chapman are my top two-man stack today for cash games. Chapman hasn't been quite as hot as Semien but does have hits in four straight and has much stronger splits against lefties(.375 wOBA, 140 wRC+, .364 ISO). The average(.257) isn't where it was a season ago but the good news is that he is running a .272 BABIP that is over 30 points than his career average and he is still getting on base at a .343 clip adding to the "safety" for cash games. All things considered, he is in play in all formats, especially on DraftKings where he only costs 9% of your salary cap.
Also Consider: Anthony Rendon(WSH) as the GPP pivot as the most expensive 3B on the slate
Main


David Freese FD - 3B 2900 DK - 1B 4700
Opponent - SF (Drew Pomeranz) Park - LAD
FD - 10.26 DK - 7.84
Freese should be back in the lineup tonight with a lefty on the mound and with his strong splits(.391 wOBA, 151 wRC+, .270 ISO) is a top target at third base. Overall, he is having a career-best start to the season with a .312/.419/.624 slash line over 53 games(129 plate appearances). He now faces Drew Pomeranz who sits with a 1.73 WHIP which has led to an ugly 6.43 ERA and while regression to the mean is likely the 4.61 xFIP and .349 xwOBA against are not great in themselves. I would probably reserve Freese to Dodger GPP stacks on DraftKings at his price but on FanDuel he is in play in all formats in the sub $3K range.
Also Consider: Tommy La Stella(LAA)
Outfield
Early


Tommy Pham FD - OF 3900 DK - OF 4700
Opponent - NYY (CC Sabathia) Park - NYY
FD - 12.1 DK - 9.21

Avisail Garcia FD - OF 3700 DK - OF 4400
Opponent - NYY (CC Sabathia) Park - NYY
FD - 11.01 DK - 8.45
I am looking for the Rays to get the offense going tonight against CC Sabathia who has looked his age(on the mound) recently. He has given up four or more earned runs in three of his last four starts and has given up at least one home run in nine straight starts(15 total). The Rays are better against righties overall but have some hitters who are solid against lefties and it starts in the outfield tonight. Not only has Pham shown positive splits(.384 wOBA, 146 wRC+ against LH) but he has been very consistent overall with a .294 average and elite .403 on-base percentage. Garcia hasn't been as good but has still posted a .295/.350/.488 slash line overall and while his splits aren't as eye-popping as Pham's, he has provided more power(.224 ISO, 43% hard contact) in the split. All things considered, both are in play in all formats.
Also Consider: Khris Davis/Stephen Piscotty(OAK) who both have strong splits vs. lefties in a plus matchup
Main


Ronald Acuna FD - OF 4200 DK - OF 5500
Opponent - NYM (Steven Matz) Park - ATL
FD - 14.45 DK - 11.07


Austin Riley FD - OF 3800 DK - OF 5400
Opponent - NYM (Steven Matz) Park - ATL
FD - 11.76 DK - 8.96
The outfield is loaded tonight and I would think Trout/Ohtani will be higher owned but love pivoting to the Braves who have been scorching hot the last couple of weeks. They face Steven Matz who has given up a worse wOBA to lefties but looking at the power numbers, he has given up more flyballs(37%), a higher HR/FB rate(20%), and hard contact rate(42.2%) to right-handed bats.
Let's start with Acuna who has been en fuego since the middle of May posting an elite .331/.396/.568 slash line with nine home runs, 25 RBI, and 27 runs scored. As expected, Riley has been more inconsistent but having a tremendous start to his rookie season with a .290/.338/.613 slash line, 11 home runs, and a 50% hard contact rate. Acuna is my top choice of the two for cash games leading off but both are viable in GPP formats.
Also Consider: Mike Trout/Shohei Ohtani(LAA) if paying up or Leury Garcia(CWS) as a value play if leading off once again
GRAB A FREE TRIAL OF OUR PROJECTION SYSTEM, AND CHECK OUT DFSR PRO!
FREE EBOOK
SECRETS TO CRUSHING DAILY FANTASY FOOTBALL!
DON'T SET ANOTHER LINEUP BEFORE YOU READ THIS BOOK.