Baseball Picks Daily Fantasy
Expert Advice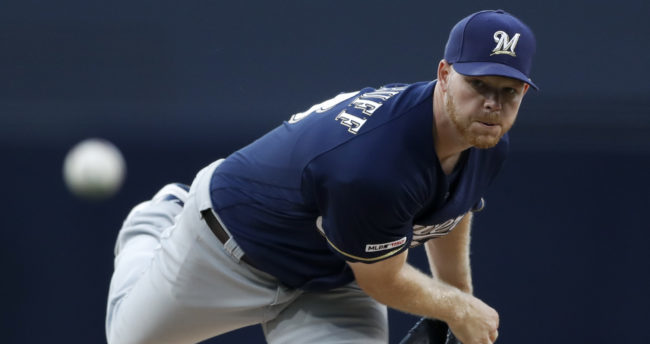 DraftKings and FanDuel MLB Picks for Sunday 6/23/19
We've got another Sunday Funday happening in baseball with plenty of offenses to choose from, but maybe not as much on the pitching side of things. We'll have to wade through some of the mid-tier pitching options on the main slate of games while identifying the better value stacks.
Now's your chance to get DFSR PRO, which will give you access to our MLB and NBA optimizers and our new player lab! Get started for free by clicking the button below.
Pitchers
Joey Lucchesi FD - P 8500 DK - SP 9100
Opponent -
PIT (Steven Brault)
Park -
PIT
FD
- 32.31
DK
- 17.08
The Pirates have been completely brutal against lefties this season ranking 28th in wOBA in that split, striking out 24% of the time and there doesn't seem to be much hope on the horizon. Lucchesi has cooled off a bit in the strikeout department, since his 11K game against Toronto back in late May, but this is still a guy who puts down batters at about a strikeout per inning. He's also gone six or more innings in five of his last six starts because he's been able to limit the walks. Dude isn't an overwhelming favorite on the road (-135) but you have to like the peripherals and the matchup for sure.

Brandon Woodruff FD - P 9200 DK - SP 7900
Opponent -
CIN (Anthony DeSclafani)
Park -
MIL
FD
- 36.05
DK
- 19.12
Woodruff has made the successful transition from reliever to starter and is now putting up some excellent numbers this season. He's striking out more than 10.5 batters per nine with a 4.25:1 K:BB ratio through 87 innings pitched. The 3.55 xFIP is about a half run lower than the 4.02 ERA and on Sunday he'll face a Reds' team ranked 25th in team wOBA against righties this season. They strike out 24% of the time in that split and Woodruff enters the game as a -178 home favorite. Without many big-time pitching options on Sunday's main slate, I think we can comfortably run him out there in cash games in the upper middle tier salary tier.
I think you can also consider
Rick Porcello
(
FD
$8000
DK
$8600) against the Blue Jays.

Catcher/First Base
Yasmani Grandal FD - C 3300 DK - C 4700
Opponent -
CIN (Anthony DeSclafani)
Park -
MIL
FD - 12.09 DK - 9.02

Eric Thames FD - 1B 2600 DK - 1B 4700
Opponent -
CIN (Anthony DeSclafani)
Park -
MIL
FD - 10.48 DK - 7.86
The Brewers switched up their lineup in the short-term moving Grandal up to the leadoff spot while slotting
Lorenzo Cain
a bit further down in the order. This was without
Ryan Braun
in the lineup, so it's unclear if this is a long-term move but it sure is encouraging for getting more value on a bat like Grandal's. The switch-hitting catcher has always been patient at the plate and this season has a 14% walk rate and .908 OPS. He really does make for a rather ideal leadoff guy considering the on-base stuff and I wouldn't be surprised to see this move stick. If it does, he's underpriced hitting in front of Yelich along with the increased plate appearance expectation.
Meanwhile, Thames should be in and around the middle of the lineup against the righty
Anthony DeSclafani
. The latter isn't a bum, but he's somewhere around the very definition of an average arm with a 4.55 xFIP. Thames still K's a lot (33%) but has an elite 15% walk rate with 10 home runs already this season (.872 OPS). He's something like a three true outcomes guy, but that's fine for these prices in cash games.
Also, at catcher,
J.T. Realmuto
(FD $2900 DK $3700) looks like a strong option against
Jordan Yamamoto
.
Second Base

Mike Moustakas FD - 2B 3700 DK - 2B/3B 5000
Opponent -
CIN (Anthony DeSclafani)
Park -
MIL
FD - 11.59 DK - 8.79
We could be looking at something of a Brewers-themed main slate for Sunday which makes sense considering pitching doesn't look like it'll cost much and these guys are priced efficiently in a good spot against DeSclafani. They have a 5.29 implied run line, the highest second-highest of the main slate, but are coming cheaper across the board than the Twins. Moustakas is putting up the best OPS of his career so far (.944) thanks to more patience at the plate (10% BB rate) and solid power (22 HRs). And he's still coming at a bargain on
FanDuel
in this matchup. I suspect he's something like a chalk play on Sunday.

Ian Kinsler FD - 2B 2500 DK - 2B 3300
Opponent -
PIT (Steven Brault)
Park -
PIT
FD - 9.95 DK - 7.68
It's been more than two weeks since the Padres faced a lefty (6/6 against Corbin) but Kinsler was hitting near the bottom of the lineup that game and I suspect he's there again on Sunday. At this point, the 37 year old is almost thoroughly cooked and represents little more than a price play against an arm like Brault. Kinsler has struggled against lefties over the last couple of seasons, a platoon that was his career bread and butter. There aren't a lot of stats helping Kinsler's case here beyond the super cheap price and that he's been BABIP'd (.210) pretty hard over the last couple of seasons which has killed his overall numbers.
Shortstop

Francisco Lindor FD - SS 3900 DK - SS 5200
Opponent -
DET (Daniel Norris)
Park -
CLE
FD - 14.67 DK - 11.19
Lindor is the pretty easy shortstop play on Sunday's main slate facing off against
Daniel Norris
. I don't think you'll have much of an issue fitting the former's salary considering the pitching situation (it's a little tougher on
DraftKings
) and he's so far and away the best play at the position that it's worth it to find the savings elsewhere. Dude continues to rake with an .867 OPS and 46% hard
contact
rate. As a switch hitter, he's been much better against lefties for his career with a 130 wRC+ and .860 OPS in that split. The drop-off from Lindor to the next guy is dramatic so I don't suggest totally punting this position away unless you have fantastic payoffs elsewhere.

Fernando Tatis Jr. FD - SS 3800 DK - SS 5400
Opponent -
PIT (Steven Brault)
Park -
PIT
FD - 11.37 DK - 8.75
The 20-year-old hasn't wasted any time since getting called up and already has a .966 OPS to start his young (and likely excellent) career. He's been a bit lucky with the home run (23% HR/FB rate) so I don't think we can project out his power at quite this pace. And the .424 BABIP isn't going to sustain either. So prepare for something of a drop-off going forward. But he's still going to hit leadoff against lefties and his biggest weakness, the strikeout, is mitigated some in the matchup against Brault who has a sub 20% K rate.
Third Base

Vladimir Guerrero Jr. FD - 3B 2800 DK - 3B 3500
Opponent -
BOS (Rick Porcello)
Park -
BOS
FD - 11.45 DK - 8.77
A 20 year old with a .736 OPS through his first 200 or so plate appearances is nothing to sneeze at. And while he might not be *meeting expectations* considering the hype around his call-up, these are still decent numbers that project to get better as the season goes on and he's still coming very cheap. I suspect you see the BABIP and Hr/FB rate continue to increase as the year goes on and the rate stats should come along with them. This is still a guy who strikes out less than 20% of the time and has a 9% walk rate (again, as a 20 year old). Patience will be the key with Vlad and I'm fine playing him at a discount against Porcello.

Jose Ramirez FD - 3B 3300 DK - 3B 3900
Opponent -
DET (Daniel Norris)
Park -
CLE
FD - 12.41 DK - 9.39
Well, I guess the good news first. He's hit in six of his last seven games with a home run in there and continues to be a very tough bat to strike out. So he has that going for him, which is nice. The bad news is everything else. He's been a shell of himself since last year's MVP campaign and it still very much looks like he's playing injured. But the Indians remain resilient in their insistence on hitting him in the middle of the order and the price continues to come in near punt prices.
Outfield

Wil Myers FD - OF 2800 DK - OF 3900
Opponent -
PIT (Steven Brault)
Park -
PIT
FD - 12.56 DK - 9.56

Franmil Reyes FD - OF 2900 DK - OF 4000
Opponent -
PIT (Steven Brault)
Park -
PIT
FD - 11.28 DK - 8.54
Myers never really rounded into what many thought he would become when he was a top prospect. This season he's striking out at a 36% rate though the walks are a career-best 12%. And for his career he's actually been better against righty pitching, but there are signs of life against the southpaws this season. In 46 plate appearances (not much of a sample size, I know) he has an 18% walk rate and .918 OPS. It's encouraging for the righty and he should hit second in the lineup against the lefty Brault.
Meanwhile, Reyes already has 20 home runs on the season with a .293 ISO and .541 slugging percentage. He's not going to be a patient hitter and does strike out quite a bit, but he's tattooed lefties for his career to a .954 OPS, .399 wOBA and 143 wRC+. Dude smashes this split and should be part of any Padres' stacks you're putting together and cash games as well.

Jordan Luplow FD - OF 2800 DK - OF 4700
Opponent -
DET (Daniel Norris)
Park -
CLE
FD - 11.38 DK - 8.65
This guy is just here for the platoon advantage starts in the batting order. In his 154 career plate appearances against lefties, Luplow has a fantastic .940 OPS and 143 wRC+. These numbers are elite in this split and he should be hitting cleanup against the lefty Norris. The former is a risk to get pinch-hit for late in games against righty relievers, but that's almost built in to his price (along with the struggles against righties). He's a crazy bargain on
FanDuel
at sub 3K in a game where the Indians could put up some runs.
GRAB A FREE TRIAL OF OUR PROJECTION SYSTEM, AND CHECK OUT DFSR PRO!
image sources
Brewers Padres Baseball: AP Images
FREE EBOOK
SECRETS TO CRUSHING DAILY FANTASY FOOTBALL!
DON'T SET ANOTHER LINEUP BEFORE YOU READ THIS BOOK.