Baseball Picks Daily Fantasy
Expert Advice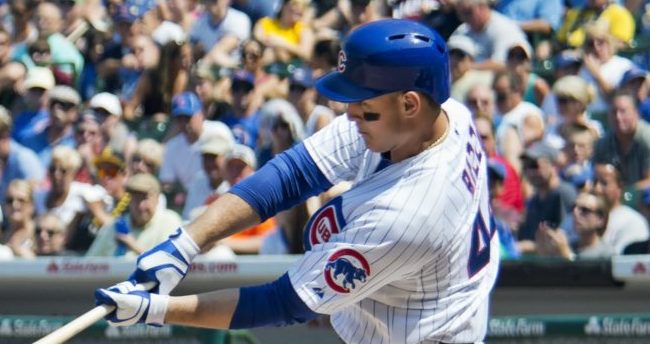 DraftKings and FanDuel MLB Picks for Monday 6/24/19
Monday brings us a short slate in MLB action with only seven games on the schedule. But we've got some gusty winds in Chicago,
Jon Gray
getting out of Coors, the Indians still coming cheap and much more. Let's take a look at what Monday has to offer.
Now's your chance to get DFSR PRO, which will give you access to our MLB and NBA optimizers and our new player lab! Get started for free by clicking the button below.
Pitchers

Jon Gray FD 8500 DK 9800
Opponent -
SF (Drew Pomeranz)
Park -
SF
FD
- 34
DK
- 18.04
As a card-carrying member of the
Jon Gray
Fan Club, I'm almost contractually obligated to write him up for this Monday slate. He faces the bottom-feeding Giants in San Francisco so there isn't the thin air of Coors to worry about here. San Fran ranks 27th in the league against righties this season and there's not a lot of hope for improvement going forward. And Gray is a solid strikeout guy, posting a 9.66 K/9 rate and a 3.76 xFIP. The walks are still something of an issue at 9.4% but that's less of a concern against the Giants on Monday. He doesn't have a ton of win expectation (-130) but that is something of a theme on Monday's slate. I'm taking the K upside and the matchup as a path to rostering Gray in cash games on Monday.
Eduardo Rodriguez FD 8400 DK 8700
Opponent -
CHW (Lucas Giolito)
Park -
CHW
FD
- 35.05
DK
- 18.71
Rodriguez is having arguably his best season since hitting the majors back in 2015. He's striking out 9.73 batters per nine and has limited the walks to 2.62. These are his best K:BB (3.7:1) numbers yet. He's getting burned a little on the BABIP at .338 leading to the 4.71 ERA being almost a run higher than the 3.88 xFIP. Monday he'll face a middling White Sox team ranked 17th against lefties this season who strikeout 24% of the time in that split. He's a -165 home favorite, one of the better money lines on the day and because of the ERA issues is coming fairly priced.
CC Sabathia
(
FD
$6500
DK
$7100) has the best win expectation going on Monday at -240 at home against the Blue Jays. But C.C.'s numbers are rough this season.

Catcher/First Base

Luke Voit FD 3800 DK 4800
Opponent -
TOR (Aaron Sanchez)
Park -
TOR
FD - 13.13 DK - 9.94
Having weathered most of their injuries at this point, the Yankees are basically back to full strength and this lineup is looking real, real scary. Their only real issue is being extremely righty-heavy down the lineup, leaving Voit's role in day-to-day lineup position somewhat iffy. But dude has been in the second or third spot last couple of games. He has an .884 OPS with an elite 15% walk rate which should keep him hitting near the top going forward.
Lucas Duda FD 2100 DK 3200
Opponent -
CLE (Adam Plutko)
Park -
CLE
FD - 9.67 DK - 7.26
Duda's had a double bottom line disaster season with injuries plus a dreadful stat line even in the times when he's *healthy*. In his 77 plate appearances, he has a .163 BABIP (.280 for his career) and 7% Hr/FB rate (14% career). The hard
contact
rate is for down a bit which will contribute to both of these numbers dipping, but it doesn't represent all of the problem. He's had plenty of bad luck along the way. If he's hitting in the sixth or seventh position (even for the Royals) against Plutko then I think we can consider him as a punt play.
With an early-morning weather report that has the wind in Wrigley Field blowing out at around 16 MPH, we could see some Cubs and Braves guys come more into lineups.
Anthony Rizzo
(FD $3900 DK $4600) is coming at a bargain on
FanDuel
for sure and is something of a value on
DraftKings
as well.
A catcher,
J.T. Realmuto
(FD $2900 DK $3900)looks like a deal against Matz if the former is still hitting near the top of the order.
Second Base
Jason Kipnis FD 3000 DK 4000
Opponent -
KC (Brad Keller)
Park -
KC
FD - 10.73 DK - 8.16
Because the Indians haven't totally given up on Kipnis as a middle of the order hitter, we really can't yet give up on him as a DFS play. Sure, the stats are total garbage so far, but he's still hitting 4th or 5th, right? Right? The 35% hard
contact
is the best of his career, he's still relatively tough to strikeout (16%) and he walks 8% of the time. So it isn't a total disaster, and it's tough to pass up the near-punt prices. I'll take him against a
contact
guy like
Brad Keller
.
Nicky Lopez FD 2500 DK 3400
Opponent -
CLE (Adam Plutko)
Park -
CLE
FD - 9.42 DK - 7.21
Look, second base sucks so we can be forgiven for occasionally recommending guys who, well, aren't all that good but are cheap. That's the case with Lopez who's worked his way back to the near the top of the order of late. He's hit safely in seven of his last ten games with nine runs scored. What we are really looking for is a return to the patience he showed in the minors with a 10+% walk rate. That hasn't translated (yet) to the majors but I suspect it starts to come around with more playing time.
Shortstop

Francisco Lindor FD 3700 DK 4900
Opponent -
KC (Brad Keller)
Park -
KC
FD - 14.16 DK - 10.8
He's pretty easily the highest raw point projected shortstop on this slate against
Brad Keller
who brings in a 6.31 K/9, 4.45 BB/9 and 5.05 xFIP. Lindor is already tough to put down on strikes at 15% and has an .853 OPS this season. He's expensive, but again we aren't inclined to pay a ton for pitching on Monday meaning we should be able to fit his salary at a somewhat weaker position. Frankly, this seems like a fairly easy call all things considered. Lindor is arguably the best offensive shortstop in the game and now walks into a cake matchup.

Javier Baez FD 3400 DK 4300
Opponent -
ATL (Julio Teheran)
Park -
ATL
FD - 13.91 DK - 10.67
Baez's 2019 numbers look nearly identical to what he did in 2018 meaning we pretty much know what we are getting with the guy at this point. He's going to strike out a lot, will almost never take a walk but when the
contact
is there the power is real. He already has 19 home runs on the season which is on pace to easily eclipse the career-high 34 he put up last season. Dude has been much better against lefties for his career, so we are getting him in the worse side of his split, but that's mitigated some by having to worry a bit less about the strikeout expectation against Teheran.
Third Base

Jose Ramirez FD 3400 DK 3900
Opponent -
KC (Brad Keller)
Park -
KC
FD - 12.11 DK - 9.17
We, somewhat apologetically, wrote up Ramirez before Sunday's game because of the price and (like Kipnis) because there's a staunch insistence on keeping him in the order. He went 2-4 with a couple of singles and two runs scored. That's nothing to do a victory lap on and there's still some major reasons to worry about what he hasn't been able to do this season. But as long as Cleveland is willing to go back to the well we are almost dared into playing him at these prices. Keller is such a noodle arm that it's worth the risk in this matchup (.619 OPS aside).

Vladimir Guerrero Jr. FD 3100 DK 3600
Opponent -
NYY (CC Sabathia)
Park -
NYY
FD - 11.05 DK - 8.47
Vlad was the other third baseman we wrote up for Sunday and that one didn't work out as well. He went 0-5 (2Ks) in a game where the Blue Jays put up six runs against the Red Sox. Not exactly ideal, but damn if we aren't a glutton for punishment. He still has an OPS in the .700s and has shown some patience at the plate with a 9% walk rate. Dude's been way below average against lefties so far, but this projects to be his better split considering the K rate is lower and he's been BABIP'd there so far. Again, glutton for punishment.
Kris Bryant
(FD $3800 DK $4500) definitely fits the "wind blowing out in the Chicago" theme we've thrown in here after the initial weather report. He may end up being one of the highest overall raw points projections on the slate and would make it easier to get away from the guys above.
Outfield

Giancarlo Stanton FD 4200 DK 4500
Opponent -
TOR (Aaron Sanchez)
Park -
TOR
FD - 14.79 DK - 11.03

Aaron Judge FD 4300 DK 5000
Opponent -
TOR (Aaron Sanchez)
Park -
TOR
FD - 15.16 DK - 11.26
Like I said, the Yankees are going to be a scary squad going forward, putting legit power bats almost all the way down the order. When they face a lefty, watch out, but we'll take what we're getting against the righty
Aaron Sanchez
on Monday. He brings in a 7.44 k rate with a 5.30 xFIP. He's legit one of the worst everyday starters in the bigs and the reason the Yankees have such an inflated run line.
You know what you are getting with Judge at this point. He walks at an elite rate (16%), strikes out a lot (30%) and will hit the bejeezus out of the ball if you make a mistake. Even in a reverse platoon, this is just the right kind of matchup against Sanchez who struggles to work in the zone. I'm fine going righty-righty with Judge here.
It's much of the same thing with Stanton who got hurt early in the season and only has 32 plate appearances under his belt so far. Any time he's facing a righty, we want to reduce the K expectation and that's exactly what you get against Sanchez. For sure, we'd rather Stanton be in the lefty platoon, but it's not as if dude is replacement level against righties. He still has a 134 wRC+, .369 wOBA and .869 OPS in that split.
If those Wrigley winds sustain then
Kyle Schwarber
(FD $3100 DK $3900) is looking like a fantastic cash game play on both sites. Additionally, if
Carlos Gonzalez
(FD $2200 DK $2700) finds himself in the middle of the order against
Julio Teheran
then we will want to get him in there as a punt play.
GRAB A FREE TRIAL OF OUR PROJECTION SYSTEM, AND CHECK OUT DFSR PRO!
FREE EBOOK
SECRETS TO CRUSHING DAILY FANTASY FOOTBALL!
DON'T SET ANOTHER LINEUP BEFORE YOU READ THIS BOOK.