Baseball Picks Daily Fantasy
Expert Advice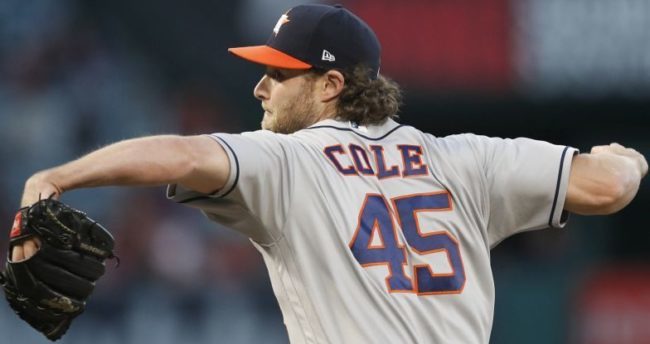 DraftKings and FanDuel MLB Picks for Saturday 7/6/19
Now's your chance to get DFSR PRO, which will give you access to our MLB and NBA optimizers and our new player lab! Get started for free by clicking the button below.
Pitchers

Gerrit Cole FD - P 11500 DK - SP 11100
Opponent - LAA (Andrew Heaney) Park - HOU
FD - 41.23 DK - 23.15
Well, we're looking at back to back days where we have to consider a right handed ace against a team we'd really rather not run right handed pitchers against. Cole is every bit the ace Verlander is, if not more. His 13.21 K/9 and 2.68 xFIP are both the very best in the Majors, and he's truly looking unstoppable right now. The only issue I have with this play is those pesky Angels. They own the 8th best wOBA against right handed pitching, and while a lot of that is bottled up in Mike Trout, they also strike out at the lowest rate in the bigs against northpaws. Still, when you have the best strikeout pitcher in the Majors, you don't sweat that sort of thing. I'd be content running Cole in any format.

Kenta Maeda FD - P 6700 DK - SP 7700
Opponent - SD (Chris Paddack) Park - LAD
FD - 32.84 DK - 17.42
It's a clear step down talent wise from Cole, of course, but it's a big jump down in price as well. And hey, you have to run two pitchers on DraftKings, am I right? I am not a big fan of Maeda's underlying skills this year. While he's still striking out more than a batter per inning, he's striking out two fewer guys per nine than he was last year. He's also seen a decrease in his ground-ball rate, and his 4.41 xFIP is below league average. All that being said, the match-up and park are good enough here that you're not just going to turn your back. The Padres have gotten some inspired performances from Tatis Jr. and Machado (since June), but they still own the league's highest strikeout rate against righties with a bottom 10 wOBA. Maeda just can't have as much upside as Cole based on their profiles, but he's a fine option in a world where there's no such thing as a sure thing.
Also considered: Robbie Ray, for upside.

Catcher/First Base
Wilson Ramos FD - C 2500 DK - C 4200
Opponent - PHI (Jake Arrieta) Park - NYM
FD - 9.91 DK - 7.61
I'm not fan of having to play catchers, but if you absolutely must you can run Ramos. He's posting a career high 9.9% walk rate while maintaining his elite contact rate, and that makes him a high floor option on a night in night out basis. Arrieta's career, meanwhile, continues on its gentle decline. His 7.03 K/9 is a career low, his 3.47 BB/9 is his highest in 6 years, and his 5.15 FIP is his highest in 8 years. The Mets aren't the league's best offense, but Ramos as a one off at a bad position is fine.
Daniel Vogelbach FD - 1B 3600 DK - 1B 4300
Opponent - OAK (Chris Bassitt) Park - SEA
FD - 10.67 DK - 7.99
Vogelbach has been one of the great breakout stories in the first half of the 2019 season. A guy who never reached big time prospect status thanks to him being classified as a bat-only player, Vogelbach has proven that the bat plays just fine at first base and DH. With a career 1.023 OPS against righties, he's always going to be in play when he draws one. Today he'll face Chris Bassitt, a pitcher I've always been lower on than most. While Bassitt flexed some decent K stuff earlier this season, his generally bad command has gotten the better of him, and he frequently runs long counts and gets himself into trouble. He'll bring his 3.93 BB/9 up against Vogelbach's excellent career 20.7% BB rate against righties. I like Vogelbach in all formats as a result.

Paul Goldschmidt FD - 1B 3000 DK - 1B 3400
Opponent - SF (Madison Bumgarner) Park - SF
FD - 12.41 DK - 9.34
If this was three years ago this writeup would ask whether we can take an immovable object like Goldschmidt against a lefty and put him up against an unstoppable force like Madison Bumgarner. As these former stars drift into the latter stages of their career, the discussion changes a bit. Goldie has played like a plucky value guy, putting up an .822 OPS against lefties in spite of some BABIP woes. Bumgarner still has elite control, but he leaves a lot of balls up in the zone and his K rate is down. It's not an ideal match-up, but I don't mind taking Goldschmidt on the cheap with the idea that he may just not be quite this bad, and it lets you spend up at other positions.
Second Base

Jose Altuve FD - 2B 3700 DK - 2B 4200
Opponent - LAA (Andrew Heaney) Park - HOU
FD - 13.29 DK - 10.3
Second base is a little rough today, but I think Altuve is still a solid high floor option. It's hard to be a high floor option against a guy like Heaney, who owns a 10.80 K/9 this year, but I think Altuve still qualifies. First of all, the strikeouts are the only plus part of Heaney's game this year. He's walking almost 4 guys per 9, and his minuscule 31.5% ground ball rate means he can fall behind in a hurry. For Altuve's purposes, it also really helps that Heaney is left handed. Altuve has struck out a ridiculously low 11.9% of the time against lefties for his career, and has posted an OPS more than .100 points higher against them than righties in the process. He's just such a hard guy to strikeout that I don't see him having a problem with Heaney, and I think he can put in some work at a bad position.

Max Muncy FD - 2B 4000 DK - 1B/2B 4800
Opponent - SD (Chris Paddack) Park - LAD
FD - 10.91 DK - 8.13
I feel like I've written Muncy up so many times this season that I know all the beats by heart. For starters, he's an excellent hitter at a weak position basically every time he steps into the batter's box, as you aren't going to find true talent .900 OPS guys at second base very often. The next major note is that Muncy appears to be a reverse platoon split guy based on his major league stats, but that he didn't carry the same profile in the minors. I subsequently am happy to play him against mediocre righties like Paddack whenever I get the chance. While Padres' righty might have a promising future as a big leaguer, he's skating by on a decent K rate and some luck so far this year. His .225 BABIP allowed is utterly unsustainable, and his 4.01 xFIP paints a more accurate picture of his skill set than the 3.05 ERA. I don't mind playing the Dodgers here at all.
Shortstop

Alex Bregman FD - SS 4300 DK - 3B/SS 5000
Opponent - LAA (Andrew Heaney) Park - HOU
FD - 14.03 DK - 10.57
If second base is rough, shortstop is miserable. Thankfully we can turn to Alex Bregman. While it's never easy to decide where to spend up, shortstop could very well be it. I already gave you the case against Heaney, so let's discuss Bregman for a second. He's actually improved his 30/100/100 season last year if you look at his peripheral stats. He's walking a ridiculous 16.6% of the time while striking out just 12.6% of the time, and he's on pace for 40 home runs. He's also .075 OPS points better against lefties for his career. I am honestly having trouble thinking about fading Bregman here.

Paul DeJong FD - SS 3100 DK - SS 3500
Opponent - SF (Madison Bumgarner) Park - SF
FD - 11.05 DK - 8.4
If you just can't find the room for Bregman, DeJong is a reasonable alternative. While he doesn't flex the same ridiculous upside that Bregman does, DeJong is on pace for a 25/10 season and gets plenty of plate appearances out of the 2/3 holes depending on the night. He's platoon neutral for his career, but has been .070 OPS points better against lefties this season, which is more in line with his minor league track record. Bumgarner is a solid pitcher, but DeJong is good enough that you can consider it here.
Third Base

Nolan Arenado FD - 3B 4100 DK - 3B 5000
Opponent - ARI (Robbie Ray) Park - ARI
FD - 13.31 DK - 10.02
We have a few tough positions on the main slate, and while I get that you can't pay up everywhere, I'm strongly considering Arenado. With an absurd 1.019 OPS against lefties, Arenado is always in play when there's a southpaw on the mound. Arizona isn't Coors, but it's still a plenty good place to hit. Ray is like a slightly better version of Andrew Heaney, with a higher K rate and a higher walkrate to with it. You can't call this a high floor play with Ray on the mound, but his 13.9% career K rate versus lefties shows he's no pushover.

Matt Chapman FD - 3B 3800 DK - 3B 4500
Opponent - SEA (Marco Gonzales) Park - SEA
FD - 12.19 DK - 9.18
The A's are a sneaky stack tonight, and Chapman is a solid part of it. While he's platoon neutral for his career, his .822 OPS against lefties is plenty solid, and this match-up with Gonzales is a real looker. The Mariners' lefty flashed some promise in his age 26 season, but everything has gone the wrong way for him this year. He's dropped 1.41 K/9 off his already low K/9, and added almost a walk per 9 in the process. His 5.30 xFIP is truly bad, and all of the A's righties are in play as a result.
Outfield

Joc Pederson FD - OF 3500 DK - OF 4300
Opponent - SD (Chris Paddack) Park - LAD
FD - 12.04 DK - 9.01
Pederson is another guy who I've written up against righties so many times that I (and probably you) know all the beats. His platoon split against righties is comical, where he can push a 1k OPS against righties while being worse than a pitcher against lefties. That means he can get pulled against lefties in the later innings, but the early innings are so good it can make up for it.

Khris Davis FD - OF 3400 DK - OF 3700
Opponent - SEA (Marco Gonzales) Park - SEA
FD - 12.55 DK - 9.34
By now we know what we're getting with Khris Davis. While he is miraculously consistent in terms of his yearly .247 batting averages, he's also pretty consistently much better against lefties. He has a .939 OPS against lefties this year, and he's hit 7 of his 16 homers against them in spite of only having 73 plate appearances against lefties. Grabbing him against a gas can like Gonzales means he might even be cash game playable here.

George Springer FD - OF 4400 DK - OF 5400
Opponent - LAA (Andrew Heaney) Park - HOU
FD - 13.63 DK - 10.31
Springer has been truly absurd when healthy this season, pushing a balanced 1k OPS with a slugging percentage .090 points higher than his career levels. He's also much better against lefties for his career, with an OPS .102 OPS against them as well. You can't afford all the Astros for sure, but Springer has to be a part of any Astros stack on the late slate.
Also considered: Jose Ramirez.
GRAB A FREE TRIAL OF OUR PROJECTION SYSTEM, AND CHECK OUT DFSR PRO!
FREE EBOOK
SECRETS TO CRUSHING DAILY FANTASY FOOTBALL!
DON'T SET ANOTHER LINEUP BEFORE YOU READ THIS BOOK.