Nascar picks Daily Fantasy
Expert Advice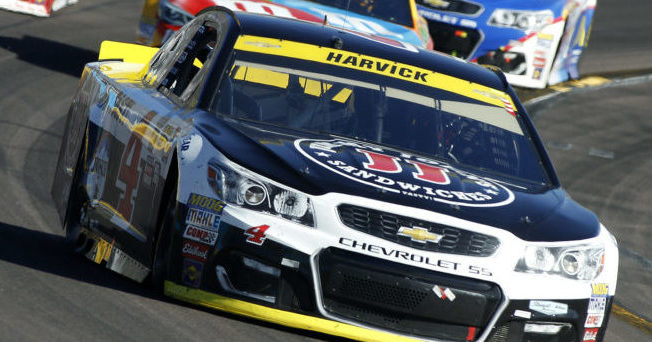 Daily Fantasy NASCAR Race Preview & Picks for DraftKings - Quaker State 400
Chris Durell will be bringing you his weekly race breakdown, top trends, and pre-qualifying targets to help you cash on DraftKings and FanDuel. You can also grab a copy of his free DFS NASCAR Cheatsheet that includes a ton of stats and a customizable model.
Now's your chance to get DFSR PRO, which will give you access to our MLB optimizer and our new player lab! Get started for free by clicking the button below.
First time with MLB? Be sure to read our free MLB Ebooks on building lineups, general strategy and more. We've got you completely covered.
Quaker State 400
After a wild Daytona race last week, things have really started to heat up when looking at the standings with eight races to go until the Playoffs. Ryan Newman is currently sitting in the final Playoff position with notables in Daniel Suarez, Erik Jones, Ricky Stenhouse Jr, and Paul Menard on the wrong side of the bubble. It is going to be a crazy ride down the stretch which is going to create some exciting racing for fans. Buckle up folks!
This week the Monster Energy Cup Series heads to Kentucky Speedway for the Quaker State 400 on Saturday night. It's the seventh mile and half track this season and sixth using the 2019 Rules Package. I have once again, added this data to the cheatsheet and also added it to the model as well. I will talk about some of these trends in the Track Type section below.
One thing we have seen here since the Cup Series came to Kentucky back in 2011 is that starting up front is very important. The winner has come from the front row in three straight races and in five of the eight races here overall. Each of those five front row starters also led 75 or more laps in their win with four of them leading 150 or more laps. In an attempt to increase the passing with this new package, NASCAR and Kentucky Speedway will be laying down some PH1 "track bite".
PJ1 will not only be used the next two weekends at Kentucky and New Hampshire but in hopes of improving the ability to pass, the traction compound will be used (along with the tire dragon) in all three turns in the upper groove at Pocono in a few weeks. #nascar

— Bob Pockrass (@bobpockrass) July 8, 2019
Kentucky Speedway - Sparta, KY
Track - 1.5 Mile D-Shaped Oval Intermediate
14° of Banking

Last Six Winners at Kentucky
2018 - Martin Truex Jr.(started 1st, led 174 laps)
2017 - Martin Truex Jr.(started 2nd, led 152 laps)
2016 - Brad Keselowski(started 2nd, led 75 laps)
2015 - Kyle Busch(started 9th, led 163 laps)
2014 - Brad Keselowski(started 1st, led 199 laps)
2013 - Matt Kenseth(started 16th, led 38 laps)
Weekend Schedule
Practice #1 - Friday @ 11:35 am ET
Practice #2 - Friday @ 1:35 pm ET
Qualifying - Friday @ 6:00 pm ET
Inspection - Saturday @ 1:30 pm ET
Race - Saturday @ 7:30 pm ET
Track History at Kentucky
Only three active drivers have wins here at Kentucky and it has been Martin Truex Jr. who has dominated most recently. He has started on the front row in each of the last two years leading 174(65 fast laps) and 152(84 fast laps) laps for a ridiculous average of 124.5 DK/86.6 FD points per race. Not important for daily fantasy but since the introduction of stage points, Truex has won each stage here at Kentucky.
His new teammate, Kyle Busch, is the only other driver with Top 5 finishes in each of the last two races and leads everyone in career track history. He has two wins, six Top 5's, and seven Top 10's in the eight races here.
The only other driver with a win here is Brad Keselowski and he leads the field with three in the eight races at the track. He has finished outside the Top 30 twice but has finished 7th or better in each of the other six races including those three wins.
Erik Jones is another Joe Gibbs Racing team member who has been consistent here at Kentucky. It is a much smaller sample size but he has finished 6th and 7th in his two trips to the track.
Ryan Blaney is another young driver with a small sample size and after a 35th here in 2016, he rebounded with a Top 10 in his final year with the Wood Brothers(#21) and then finished runner up her last year in his first season with Team Penske.
Kyle Larson struggled here early in his career as well with a 40th, 35th, and 19th in his first three races at the track but has responded with a runner-up in 2017 and 9th last year.
Rounding out the track history mentions are Kevin Harvick(6), Kurt Busch(5), Joey Logano(5), Jimmie Johnson(5), Denny Hamlin(3), and Ryan Newman(3) who are the only other drivers with at least three Top 10's in the eight races here.
Track Type History(Intermediate Tracks)
I am going to concentrate on the data from this season regarding intermediate tracks. The full 2019 rules package(rear spoiler height, tapered spacer, 500 hp, air ducts) has been used on five of the six mile and a half tracks(Atlanta used brake ducts). There have been at least two drivers to lead 50 or more laps in all five races and it seems the top teams have somewhat figured the new package as there has been a driver lead 100 or more laps in three straight at the track type(Chicago, Charlotte, Kansas).
We have yet to see a repeat winner on the five tracks but Brad Keselowski did also win the Atlanta race. He and teammate, Joey Logano, are also the only two drivers with three Top 5's and Logano leads all drivers with a 7.6 average finish in the five races.
From a team perspective, Hendrick Motorsports has an excellent grasp on the intermediates with this package. All four drivers sit Top 10 in average finish in the five races led by Alex Bowman(7.8) who is coming off a win at Chicago and has three straight Top 10's at the mile and half tracks. Chase Elliott(8.2) is right behind him with three Top 10's and has not finished worse than 13th in the five races. Jimmie Johnson struggled at Las Vegas(19th) but has reeled off four straight Top 10's at Texas(5th), Kansas(6th), Charlotte(8th), and Chicago(4th) and has the fourth-best average finish(8.4). William Byron is pulling up the rear for HMS with an 11.8 average finish(10th best) but is the only driver to lead a lap at all five tracks.
From a dominator standpoint, Kevin Harvick has been the man leading all drivers with 338 laps led(171 fast laps) in the five races and while he has yet to enter Victory Lane, he has the 5th best average finish(9.8) on the five tracks. Looking at the other laps led leaders only Bowman(159), Kyle Busch(159), Truex Jr.(126), Elliott(123), and Keselowski(105) have topped 100 or more over those five races.
Current Form
Kyle Busch is back to the top of the form ranks on my sheet with a win and four Top 5's in the last six races. Joey Logano is right behind him with a win, three Top 5's, and four Top 10's in that time. Looking at the overall standings this season, Busch has the edge in wins(4), Top 5's(10), and Top 10's(15) but Logano has the slight edge in points at the top of the standings.
The biggest thing that stands out from a current form perspective is the resurgence of Hendrick Motorsports as they make up the #3, #4, and #5 spots in the form ranks. Jimmie Johnson has yet to win this season but has been much more consistent lately coming off back to back Top 5's and has four Top 10's and six Top 15's in his last seven races. Alex Bowman is coming off a disappointing 21st in that wild Daytona race but was coming off his first career win and a heck of a run where he had four Top 5's and six Top 10's in an eight-race stretch. William Byron has also been consistent lately with a 10.8 average finish over the last six races and has five Top 10's in his last eight races. Chase Elliott has back to back Top 5's at Charlotte and Pocono but has struggled since with finishes of 20th, 37th, 11th, 35th the last four weeks.
One of the top value plays all season, and especially lately, has been Ryan Newman in the #6 car. He has recorded a Top 10 in three of his last four races and has six in his last 11 races for a 12.3 average finish.
Martin Truex Jr. didn't make the Top 5 when looking at average finish with two finishes outside the Top 20 but has flashed his elite upside with two wins(Charlotte, Sonoma) and four Top 10's in that time as well.
Top Targets
Kevin Harvick
Harvick tops my current model(inspection pending) without factoring in salary and easily gets the edge with the disocunt from Busch and Truex on both sites. He has yet to win here at Kentucky but has finished Top 10 in six straight in cluding a career-best 5th last year. What stands out to more than anything is his success with the new package on the intermediate tracks. Despite no win, he has the fifth best average finish(9.8) with a series-best 338 laps led and 171 fast laps in the five races. I think he finishes the deal this week and is once again my top driver in all formats.
Brad Keselowksi
New package, old package, we can't talk Kentucky with mentioning Brad Keselowski. He has won three of the eight races run here at the track, leading 38 or more laps six times and 60 or more laps five times. He has been up and down at the intermediates wtih the full package this season with finishes of 36th at Texas and 19th at Charlotte but has also flashed big upside with Top 5's at Vegas and Chicago with a win at Kansas. To top it off, he leads all drivers in overall practice ratings rankings 7th and 1st in the two sessions and 3rd and 4th in 10-lap averages in those practices. Like Harvick, Keseowski is in play in all formats.
Denny Hamlin
Hamlin won the Texas race earlier in the year with this package and is one of just two drivers(Harvick the other) with at least three Top 5 finishes in the five races. It has been a roller coaster ride for him here at Kentucky with three Top 5's, was involved in accidents in 2013 and 2014, and finished 11th, 15th, and 16th in the other three races.  This week, he provides us with some place differential upside starting 18th(tentatively) and also stood out in practice ranking 13th in the opening session and was 1st in 10-lap averages then posted the third best lap in final practice wtih teh 5th best 10-lap average. At his price, he is a great play in all formats.
Jimmie Johnson
I like the price on Jimmie a bot more on DraftKings but he is GPP only for me either way with his overall lack of consistency this season. The good news is that the #48 team comes in with a ton of confidence wtih back to back Top 5 finishes at Daytona and Chicago and have Top 10's in four of their last seven races. He has not tallied a Top 10 in three straight years here at Kentucky but had Top 10's in the five races before that. He provides us a littel bit of palce differential starting 13th considering he ranked 4th(16th in 10-lap) and 12th(9th in 10-lap) in the two practice sessions.
Daniel Suarez
I am loving the Stewart-Haas Fords this week but with Suarez starting on the pole and leading jsut 13 laps on intermediate tracks this season, he will be a GPP play only for me. His best value is on FanDuel where the projected negative place differential isn't as damaging but there is also a scenario where he could lead a ton of laps early as he was 3rd in the first practice(no 10-lap average recorded) and 8th in final practice with the fastest 10-lap average.
Below you will find a copy of my DFS NASCAR cheathsheet which includes Track History, Current Form, DraftKings points averages, Track Type History, Practice/Qualifying Ranks and much more.

Chris Durell has been playing Daily Fantasy Sports for five years and fantasy in general for more than a decade. He is an active player in NFL, MLB, NHL, PGA, and of course NASCAR. He lives in Saskatchewan, Canada with his wife and two daughters. You can follow him on Twitter at @Jager_Bombs9 for advice, strategy, answers to any NASCAR questions or how he copes with the winters up north.
FREE EBOOK
SECRETS TO CRUSHING DAILY FANTASY FOOTBALL!
DON'T SET ANOTHER LINEUP BEFORE YOU READ THIS BOOK.