Baseball Picks Daily Fantasy
Expert Advice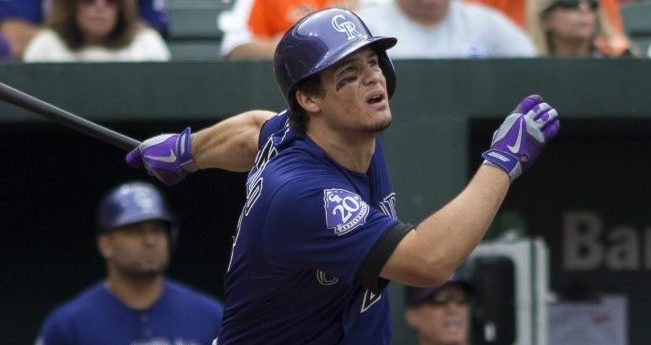 DraftKings and FanDuel MLB Picks for Friday 6/12/19
Now's your chance to get DFSR PRO, which will give you access to our MLB and NBA optimizers and our new player lab! Get started for free by clicking the button below.

We're back at it ladies and gentlemen! After a few days off, we're back to full-on baseball. After the All-Star break, we usually get set rotations with aces all across the board but that's not the case here. Many managers are actually using backend starters and that makes for a fascinating slate.
Pitchers
Domingo German FD 8600 DK 10100
Opponent - TOR (Aaron Sanchez) Park - TOR
FD - 35.34 DK - 19.04
The pitching options on this slate are very questionable but German is definitely one of the safest options on the board. The reason for that is because German was one of the best pitchers in the AL prior to an injury. In fact, German pitched to a 2.60 ERA and 0.98 WHIP over his first 10 starts while striking out 57 batters across 55.1 innings of action. His last start coming off the IL shows that he's fully healthy too, with German allowing one run and just five base runners across six innings of action. Getting to face Toronto is simply the icing on the cake, with the Blue Jays ranking 22nd in runs scored, 23rd in K rate and 27th in OBP.
Caleb Smith FD 8000 DK 8600
Opponent - NYM (Jason Vargas) Park - NYM
FD - 38.67 DK - 21.18
Smith is actually my favorite pitching option on the board because of his sky-high floor. In fact, Smith has at least six Ks and 30 FanDuel points in 11 of his 13 starts this season while pitching at least five innings of 12 of those outings. That's all you can ask for from someone in the $8,000-range, especially a dude pitching in the best pitcher's park in the Majors. At Marlins Park this season, Smith is pitching to a 1.84 ERA and 0.89 WHIP while generating an 11.7 K/9 rate. Not to mention, the Mets rank 18th in runs scored and 17th in K rate.

Catcher/First Base

Paul Goldschmidt FD 3200 DK 3800
Opponent - ARI (Robbie Ray) Park - ARI
FD - 12.59 DK - 9.48
Goldschmidt has been really bad for his standards this season but it's lowered his price to this tempting number. We're still talking about a hitter with career averages around a .400 wOBA, .210 ISO and .400 OBP. He's simply one of the best pure hitters in the game and it's just a matter of time before Goldy gets hot. The reason we like him here is because he gets to face a lefty, with Goldy posting a .995 OPS against lefties this season, despite struggling all year. That's pretty much on par with his career averages against left-handers and we're going to bank on him having a huge second half.

Daniel Murphy FD 3600 DK 4200
Opponent - CIN (Sonny Gray) Park - CIN
FD - 13.18 DK - 10.12
We love the Rockies on this slate and Murphy is actually a pretty good value on both sites in the $4,000-range. What makes him a special option here is that he gets to hit in Coors Field, which happens to be the friendliest ballpark for contact hitters. That's a recipe for success with a guy like Murphy, who has one of the best BABIPs and K rates in the Majors over the last decade. Recent results indicate that he's starting to get more comfortable with Coors Field, with Murphy hitting .324 over his last 40 games while generating an .875 OPS in that span. He's always been better against righties too, posting an OPS just shy of .900 against them since 2016.
Second Base

Ryan McMahon FD 3100 DK 4100
Opponent - CIN (Sonny Gray) Park - CIN
FD - 11.19 DK - 8.57
Here come the Rockies! Vegas currently has the Rockies projected for about 6.5 runs here, which is easily the highest team total on the slate. That puts all of their bats in play, specifically their cheap guys. McMahon is just that, as we only have to pay $3,100 for him on FD and $4,100 on DK. The lefty second baseman is swinging a hot bat right now too, tallying a .321 AVG and .887 OPS over his last nine games.
Keston Hiura FD 2900 DK 4300
Opponent - SF (Shaun Anderson) Park - SF
FD - 9.68 DK - 7.41
Hiura has mercifully replaced Travis Shaw as the everyday second baseman for the Brewers and it's clear that he's got what it takes to succeed at this level with his minor league numbers. At Triple-A this season, Hiura is hitting .330 while providing an absurd 1.095 OPS. He's shown some of that potential at this level, providing a .793 OPS in 27 games played. Anyone with that sort of upside is worth a shot, especially when they're less than $3,000 on FanDuel. We really love that he gets to face Shaun Anderson too, with the Giants righty pitching to a 4.60 xFIP and 1.41 WHIP
Shortstop

Paul DeJong FD 3300 DK 3700
Opponent - ARI (Robbie Ray) Park - ARI
FD - 11.22 DK - 8.52
DeJong has quietly had a breakout year for the Cardinals and we have to love him against a lefty. We're talking about a guy who's posting a .343 OBP and .785 OPS this season, which is actually lower than his .797 career OPS. That's an impressive mark from any player below $4,000 and he's been even better against southpaws. In fact, DeJong's OPS against lefties is 50 points higher than his OPS against righties, which is an extremely encouraging mark considering he's facing a pitcher with a WHIP north of 1.30.
Willy Adames FD 2600 DK 3400
Opponent - BAL (Dylan Bundy) Park - BAL
FD - 8.05 DK - 6.19
Adames has really hit his stride recently and it's clear that he's becoming a major part of this team. While a 1-of-23 stretch has killed his BA heading into the All-Star break, he was starting to break out prior to that. In fact, Adames had a hit in 12 of his previous 14 games while generating a .964 OPS in that span. Major swings like that are commonplace for such a young player and this small break may be just what the doctor ordered. Getting to face Dylan Bundy is a good remedy too, with the Orioles righty pitching to a 4.65 ERA and 1.30 WHIP so far this season while allowing the most dingers in the league since 2016.
Third Base

Nolan Arenado FD 4400 DK 4900
Opponent - CIN (Sonny Gray) Park - CIN
FD - 15.31 DK - 11.53
If we're using Rockies, you know that we're using Nolan Arenado. This dude is simply one of the best hitters in the Majors and he loves hitting in Coors Field. That's evident by his 1.070 OPS at home since 2017, which is crazily not far off of his career averages. Arenado was absolutely mashing heading into the All-Star break too, accruing a .396 OBP and .948 OPS over his previous 42 games. With Colorado projected for more than six runs, we have to get their best hitter in our build. Sonny Gray is not a guy we need to worry about either, with the Reds righty pitching to a 4.41 ERA and 1.35 WHIP dating back to 2016.

Jose Ramirez FD 3500 DK 4000
Opponent - MIN (Kyle Gibson) Park - MIN
FD - 11.39 DK - 8.62
Ramirez has been arguably the biggest bust in fantasy this season but recent results would indicate that he's climbing out of his slump. We're still talking about a guy who finished Top-5 in total fantasy points last season and it's just a matter of time before he returns some of that production. Over his last 19 games, JRam is providing a .354 OBP and .866 OPS. He's done that while swiping 18 bags this season and he's still providing solid fantasy value. What we like here is that he gets to face a righty, with Ramirez posting an OPS north of .900 against right-handers since 2017.
Outfield

Khris Davis FD 3200 DK 3700
Opponent - CHW (Ivan Nova) Park - CHW
FD - 12.51 DK - 9.31
Davis is easily my favorite hitter on the board at this price. This dude is an absolute masher and it's hard to understand why he remains so cheap. Not only does Davis have the most home runs in the Majors dating back to 2016, he's got an ISO approaching .300 in that span. That's ridiculous production from a player in this price range and his 16 homers so far this season indicates that he's not far off of another 40-homer season. Getting to face Ivan Nova may be the best part of this play though, with the White Sox righty pitching to a 5.58 ERA and 1.53 WHIP.

David Dahl FD 3900 DK 4600
Opponent - CIN (Sonny Gray) Park - CIN
FD - 14.15 DK - 10.83
Alright, we're finishing up our Rockies stack with David Dahl. Many people don't realize it but Dahl has developed into one of the best hitters in the league. That's evident by his .308 AVG and .882 OPS. as he's been even better at home. Since his call-up to the Majors, Dahl is providing a 1.045 OPS at Coors Field. That's superb and it doesn't even take into consideration that Dahl has the platoon advantage in his favor against a righty who has struggled for close to five years. That makes these price tag shocking and he's tough to fade in the heart of the Rockies order.
Jose Martinez FD 2800 DK 3500
Opponent - ARI (Robbie Ray) Park - ARI
FD - 9.66 DK - 7.44
This is more of a price play than anything else. Any guy with a .304 AVG, .365 OBP and .832 career OPS should be close to $4,000 on both sites and it's a wonder why he remains so cheap. What makes it even more bizarre is the fact that he gets to face a lefty, with Martinez generating a 1.147 OPS against them so far this season. That's ridiculous and it's really no surprise that he's batting second, third or fourth in these circumstances.
GRAB A FREE TRIAL OF OUR PROJECTION SYSTEM, AND CHECK OUT DFSR PRO!
image sources
Nolan Arenado: By Keith Allison (Flickr: Nolan Arenado) [CC BY-SA 2.0 (http://creativecommons.org/licenses/by-sa/2.0)], via Wikimedia Commons
FREE EBOOK
SECRETS TO CRUSHING DAILY FANTASY FOOTBALL!
DON'T SET ANOTHER LINEUP BEFORE YOU READ THIS BOOK.