Baseball Picks Daily Fantasy
Expert Advice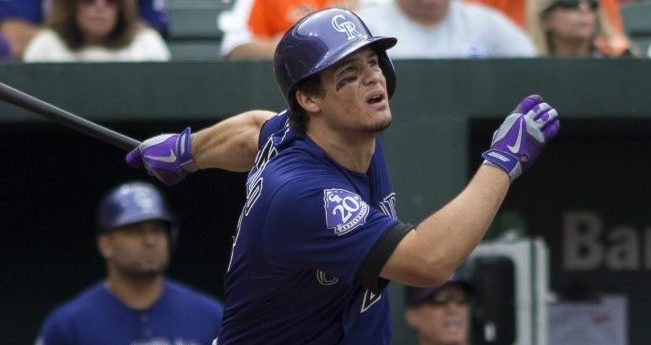 DraftKings and FanDuel MLB Picks for Sunday 6/14/19
Now's your chance to get DFSR PRO, which will give you access to our MLB and NBA optimizers and our new player lab! Get started for free by clicking the button below.

This is our first Sunday back from the All-Star break and these always make for fascinating slates. What I love about Sunday slates is that we get pretty much every team playing between 1ET and 4ET. That makes things so much easier on us and that's all we can ask for as DFS players. We do have a Coors Field game and Reynaldo Lopez taking the mound, so you know what that means! We prioritized Coors at the expense of pitchng last night and got a 26 run game, but can we go back to the well today? Let's find out.
Pitchers

Justin Verlander FD - P 10500 DK - SP 12200
Opponent - TEX (Ariel Jurado) Park - TEX
FD - 41.22 DK - 23.88
We're going big with our two starting pitchers. The simple fact is, Verlander is one of the best pitchers of my generation and he's in the midst of yet another stellar season. That's evident by his 2.98 ERA, 0.81 WHIP and 153 Ks. Those are easily some of the best numbers in the league and it really makes him attractive against a Rangers club who owns the worst K rate in the Majors. Pitching in Globe Life Park certainly isn't easy, but you're getting Verlander at a discount, and he does have a 2.78 ERA and 1.08 career WHIP against Texas. Not to mention, he enters this game as a -220 favorite.

Jacob deGrom FD - P 10800 DK - SP 10800
Opponent - MIA (Sandy Alcantara) Park - MIA
FD - 40.69 DK - 22.91
deGrom is easily my favorite play on the board and he should roll right through this cupcake lineup. Let's start with deGrom, who currently ranks top-three in ERA, xFIP and WHIP dating back to last season. He also has a K rate approaching 32 percent in that span, and he's truly one of the most dominant aces in the game. Facing this offense is a treat too, with the Marlins ranking 29th in runs scored and dead-last in OPS, wOBA, and xwOBA. That doesn't even take into consideration that deGrom is a -210 favorite, with Marlins Park being the one of the best pitcher's parks in baseball.
Masahiro Tanaka is a good pitcher two option on DraftKings as a projected -240 favorite against a bad Blue Jays offense.

Catcher/First Base

Joey Votto FD - 1B 3700
Opponent - COL (Antonio Senzatela) Park - COL
FD - 16.07 DK - 12.04
Votto deserves more credit than he's getting because he's really turned his season around. Over his last 36 games, Votto is hitting .333 while providing a .902 OPS. That's the perennial All-Star that we've become accustomed to and his price is still too low for someone performing like this. We're talking about a guy with a wOBA and OBP in the .400-range for his career and he'll inevitably get closer to those numbers. Hitting in Coors Field and facing Antonio Senzatela should only help, with the Rockies righty pitching to a 5.32 ERA and 1.64 WHIP so far this season.

Matt Olson FD - 1B 3800
Opponent - CHW (Reynaldo Lopez) Park - OAK
FD - 13.77 DK - 10.28
Not many people think about Olson as one of the best power hitters in the game but it's hard to argue with his numbers. 72 home runs in 1,010 at-bats is an incredible mark and it's really no surprise that he has a .260 career ISO. His ISO is actually north of .300 this season and that's simply one of the best marks in baseball. What we love here is that he gets to face Reynaldo Lopez, with the White Sox righty pitching to a 6.34 ERA and 1.58 WHIP this season. That's really scary considering Olson has a .544 SLG, .885 OPS and .367 wOBA with the platoon advantage in his favor.
If you're in need of a catcher, Yasmani Grandal is always a good option against a guy like Tyler Beede
Second Base

Jose Altuve FD - 2B 3800 DK - 2B 3800
Opponent - TEX (Ariel Jurado) Park - TEX
FD - 15.25 DK - 11.81
Altuve is foolishly cheap on both sites and it's clear that they're overreacting to his recent slump. We're still talking about a guy who has an AVG just shy of .330 since 2015 and it's just a matter of time before he gets closer to that. Recent results are really encouraging, with Altuve homering on Friday while hitting .308 over his last eight fixtures. That's a recipe for success in a hitter's haven like Globe Life Park and we especially like him against a pitcher who's allowed 17 runs over his last three starts.
Keston Hiura FD - 2B 3100 DK - 2B 4200
Opponent - SF (Tyler Beede) Park - MIL
FD - 10.58 DK - 8.1
Hiura usurped Travis Shaw as the everyday second baseman for the Brewers and it's easy to see why when looking at his minor league numbers. At Triple-A this season, Hiura hit .330 while generating a 1.095 OPS. Those are bonkers statistics and his .863 OPS at the Major League level proves that its no fluke. That makes this price really hard to understand, as both of these sites have some re-adjusting to do. We've run Hiura at these prices in each of his last three games, and gotten paid with 20+ FanDuel fantasy points in each of them. The matchup against Tyler Beede is fantastic too and we'll go over that more later in the article.
Shortstop

Alex Bregman FD - SS 4100 DK - 3B/SS 4900
Opponent - TEX (Ariel Jurado) Park - TEX
FD - 16.64 DK - 12.54
We already discussed Altuve as a great option in Texas and Bregman would make for a great two-man stack with the short second baseman. Unlike Altuve, Bregman has been playing well all season long. That's evident by his .535 SLG and .931 OPS, as this dude has developed into one of the best power hitters in the game. He's obliterated this Texas team all year too, hitting five home runs in his last eight games against them.
Trevor Story FD - SS 4500
Opponent - CIN (Tyler Mahle) Park - COL
FD - 17.76 DK - 13.48
With the Rockies on the schedule, that means we have to get a few of these guys in here. Story is always a centerpiece to a Rockies stack, as he's done damage at Coors Field throughout his career. In fact, Story has a 1.027 OPS at home since the beginning of last season while providing a SLG in the .650 range. That's elite power and it's really no surprise when you call a place like Coors Field home. Vegas completely agrees, as they have the Rockies projected for more than six runs in this game, with Story in the heart of their order.
Third Base

Nolan Arenado FD - 3B 4500 DK - 3B 8800
Opponent - CIN (Tyler Mahle) Park - COL
FD - 18 DK - 13.55
If we like Story, we have to love Arenado. This dude has been crushing it for most of his career and he's been downright special at Coors Field. Dating back to 2017, Arenado is posting a .654 SLG and 1.067 OPS at home. That's why he's in the All-Star game pretty much every season and he's worth paying up for at any price. Facing Tyler Mahle is nothing we need to worry about either, with the Reds righty pitching to a 4.47 ERA and 1.24 WHIP. Those aren't terrible numbers but they won't get it done in Coors.

Matt Chapman FD - 3B 3900 DK - 3B 4800
Opponent - CHW (Reynaldo Lopez) Park - OAK
FD - 14.16 DK - 10.67
We definitely want to get Oakland bats in there against Reynaldo Lopez, as they're projected for more than five runs in this spectacular matchup. Chapman should definitely play a huge factor in that, hitting in the heart of the A's order. So far this season, Chapman is providing a .534 SLG and .889 OPS. He's actually been doing tons of damage at home too, generating a 1.045 OPS at Oakland Coliseum. That puts him in play against anyone but particularly a right handed gas can like Lopez.
Justin Turner gets the platoon advantage against David Price and remains way too cheap on both sites.
Outfield

Khris Davis FD - OF 3200 DK - OF 3800
Opponent - CHW (Reynaldo Lopez) Park - OAK
FD - 14.68 DK - 10.93
We've discussed Reynaldo Lopez a lot in this article and it's quite obvious that we want to use Davis if we're stacking A's. This dude leads the league in home runs since the beginning of 2016, posting an ISO near .300 in that span. While he's been slumping a bit this season, it's hard to argue with this price. Davis is typically a $4,000 player on FanDuel and $5,000 on DraftKings and it's hard to understand why he remains so cheap in such a superior matchup with the power potential he possesses.

David Dahl FD - OF 4000 DK - OF 8200
Opponent - CIN (Tyler Mahle) Park - COL
FD - 16.64 DK - 12.74
Let's cap off our Rockies stack with Dahl. People outside of Denver may not realize this but Dahl has truly developed into one of the best pure hitters in the game. That's evident by his .309 AVG and .895 OPS. What's scary is how much damage he's been doing at home, with Dahl posting a 1.059 OPS at home for his career. In addition, he gets the platoon advantage in his favor, with Dahl generating a .907 OPS versus righties for his career. FanDuel is asleep at the wheel with this price, and he'll be highly owned there.

Ryan Braun FD - OF 3000 DK - OF 4200
Opponent - SF (Tyler Beede) Park - MIL
FD - 12.79 DK - 9.76
We already discussed that we want to stack against Tyler Beede, so let's go over that here. The Giants righty is currently pitching to a 5.64 ERA and 1.66 WHIP this season, which spells disaster in a hitter's haven like Miller Park. That's why Milwaukee is projected for nearly six runs, as Braun should be right in the heart of their order. This is a guy who's always produced too, with Braun tallying a .298 AVG, .532 SLG and .891 OPS for his career. While his numbers are slightly down this year, facing Beede limits some of that risk.
If Jesse Winker bats leadoff for the Reds, he's definitely in play at Coors Field.
GRAB A FREE TRIAL OF OUR PROJECTION SYSTEM, AND CHECK OUT DFSR PRO!
image sources
Nolan Arenado: By Keith Allison (Flickr: Nolan Arenado) [CC BY-SA 2.0 (http://creativecommons.org/licenses/by-sa/2.0)], via Wikimedia Commons
FREE EBOOK
SECRETS TO CRUSHING DAILY FANTASY FOOTBALL!
DON'T SET ANOTHER LINEUP BEFORE YOU READ THIS BOOK.