Golf Daily Fantasy
Expert Advice
Daily Fantasy PGA Picks and Betting Guide for DraftKings & FanDuel – The 148th OPEN Championship
Chris will be bringing you weekly PGA picks, analysis, and breakdowns to help you cash on DraftKings and FanDuel. As every week in DFS PGA changes with the course setup, field of players and weather, Chris will be providing a range of different picks for cash games as well as upside plays for tournaments. If you have any questions to lineup lock you can reach him a variety of ways. Leave your question/comment below in the comments section, find him in the DFSR Chat room or hit him up on Twitter(@Jager_Bombs9). Chris is also providing his DFS PGA Weekly cheatsheet where he provides stats, course history, current form, fantasy points, and much more. Grab your copy today and edge out the competition.

The 148th OPEN Championship
The final major of the 2018-19 season has finally arrived as the top players in the world head to Royal Portrush Golf Club for the 148th OPEN Championship, and for the first time since 1951.
While we have no course history at this event to pull from, the European Tour did play the Irish Open at Portrush in 2012. There won't be much to draw from that when breaking down stats as there are two brand new holes(#7, #8) which replace the old 17th and 18th holes. Those are not the only changes to the course as there are five new greens, eight new tee boxes(to help add some length and strategy), and 10 new bunkers. Even with the those added bunkers it is still the lowest bunker count(58) of any OPEN venue but don't think it will be out of the player's heads. From looking at images and hearing what players are saying, the difficulty level will be elevated if you find yourself in one of these bunkers.
Like any "true" Links course, the biggest defense is always the weather and no tournament is more important to pay attention to this narrative right up to(or close to) lock. The fairways are slightly wider than PGA Tour average taking away the need for accuracy a bit the other factor besides wind that can change that is the thicker than normal rough we see at the OPEN. Early reports are showing players using a "less than driver" strategy to ensure fairway hit and shot at the greens. As of now, I am simply looking at Strokes Gained: Off the Tee, especially in the short-term coming into this week. Looking at the projected approach shot distances, it looks like golfers will see plenty of mid-iron approach with six of the Par 4's falling between 400 and 450 yards mixed with some long iron approach with four Par's over 450 yards. The greens vary in size and what makes it a fair test is that the shorter holes have small greens and the longer holes have larger greens, for the most part. When looking at Strokes Gained: Approach stats, I will also be looking closely at Proximity as there is undulation to lots of the greens and swales which can easily lead to three putts if you are not hitting the right portion of the green.
As you can tell from my extensive description above, Ball Striking is the #1 thing I am concentrating on this week and it makes sense with a course we really know little about with no course history and its reconfiguration. The other thing I feel will be important, especially if the wind gets up, is Scrambling/Strokes Gained: Around the Green. Overall, like any major championship, the course is going to test every facet of a player's game. Let's now take a look at the course, previous OPEN winners, top stats, and then dig into the picks of the week.
The Course
Royal Portrush Golf Club - Portrush, Northern Ireland
Par 71 - 7,344 yards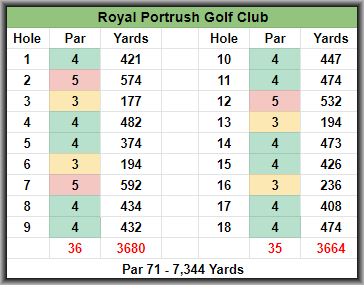 **Click the image above to see a hole by hole breakdown from GolfDigest.com**
Previous Five OPEN Winners
2018(Carnoutsie) - Francesco Molinari(-8)
2017(Royal Birkdale) - Jordan Spieth(-12)
2016(Royal Troon) - Henrik Stenson(-20)
2015(St. Andrews) - Zach Johnson(-15)
2014(Royal Liverpool) - Rory McIlroy(-17)
Top Stats in the Model
I will preface by saying that my model could change a few times due to the unpredictable weather so hit me up in chat or on Twitter with any questions leading up to lock. The most important thing is that it being a Links course and a major championship, on a course we know little about, every facet of a players game will be tested, especially the mental part which cannot be measured. Build accordingly.
Strokes Gained: Off the Tee(more distance if calm and more accuracy if windy)
Strokes Gained: Approach
Strokes Gained: Around the Green
Performance on Links
Performance in Windy Conditions(dependant on weather)
When breaking down the top stats I use a combination of my own cheatsheet and the tools over at FantasyNational.com.
Top Tier Targets
Rory McIlroy
World Golf Ranking (#3)
Vegas Odds (8/1)
Draftkings ($11,600)
FanDuel ($12,000)
Rory checks every single box and is the clear favorite this week and for me, it starts with his OPEN Championship history. He won the OPEN in 2014, didn't play in 2015, and has finished Top 5 in each of the last three years. This year it is being hosted at Royal Portrush in Northern Ireland and is a home game for McIlroy who set the course record of 61 here when he was just 16-years-old(you might have read about this). Let's take a detour from narrative street and head down stats ave where Rory is the dominating #1 in that model. He sits with an average of 2.342 strokes gained tee to green per round on my sheet(95% this season, 5% last season) which is over a half-stroke better than JT in second(1.817 per round). Looking at a more current model(via Fantasy National), Rory stands out even more ranking Top 3 in SG: Off the Tee, SG: Approach, Opportunities gained, Birdies Gained, and Bogeys Avoided. He is going to be mega chalk this week but I feel there are plenty of other ways to differentiate yourself to have a unique lineup in GPP formats.
Patrick Cantlay
World Golf Ranking (#10)
Vegas Odds (33/1)
Draftkings ($9,000)
FanDuel ($10,800)
The loaded field at major championships combined with soft pricing always gives us huge PTS/$ values on players and the first one that stands out is Patrick Cantlay. He is having an outstanding season having made 12 of 14 cuts(stroke-play events) on the PGA Tour with a win at the Memorial, eight Top 10's, and no finish worse than T21(non MC's). I mentioned in the intro that a major will test every facet of a players game and that is good news as Cantlay ranks Top 25 in all Strokes Gained categories over the last 24 rounds(10th OTT, 12th APP, 13th ATG, 25th Putting). He finished 12th in the OPEN last year at Carnoustie and if it gets windy I am not concerned as he ranks 9th in SG: Total in this field in the last 50 rounds in Windy and Windy AF conditions(via FNGC). He is #1 in my model and will be a core play for me in all formats.
Mid Tier Targets
Adam Scott
World Golf Ranking (#16)
Vegas Odds (30/1)
Draftkings ($8,800)
FanDuel ($10,500)

If you are into building balanced lineups, this is the week for you as this mid-range of pricing is absolutely loaded. Adam Scott is one of those names that jump off the page to me for many reasons starting with his OPEN Championship history. He comes into this year having made the cut in nine straight OPEN's with four Top 10's and seven Top 25 finishes. He also comes into this week with exceptional form as well coming off a T7 at the US Open, runner-up at the Memorial, and T8 at the PGA Championship and he joins Cantlay as the only other play to rank Top 25 in all four Strokes Gained categories over the last 24 rounds(14th OTT, 8th APP, 1st ATG, 24th Putting). At these prices, I will have exposure to Scott in all formats.
Hideki Matsuyama
World Golf Ranking (#29)
Vegas Odds (40/1)
Draftkings ($8,500)
FanDuel ($10,300)
The value train keeps rolling as we move into one of my favorite plays of the week in Hideki Matsuyama. Don't get me wrong, I love Henrik Stenson in this spot and will have exposure but I have a strong feeling he will be the highest owned golfer this week and with all the variance in weather combined with a course most of the players know little about, I love pivoting off that ownership. Hideki could have anywhere in the area of half the ownership and has been as solid as they come this season making all 17 cuts on the PGA Tour while ranking 3rd overall in Strokes Gained: Tee to Green(24th OTT, 2nd APP, 20th ATG). While he has never been known as a good putter(113th in SG: Putting this season), he has been much better lately gaining strokes putting in six straight events. I will be betting him to win and at his price and projected ownership discount from Stenson, I will have tons of exposure in all formats for DFS.
Value Targets
Rafa Cabrera Bello
World Golf Ranking (#34)
Vegas Odds (66/1)
Draftkings ($7,500)
FanDuel ($9,300)

While Rafa has been consistent on the PGA Tour making 14 of 15 cuts in stroke-play events(15 of 16 if you count Match Play), he hasn't really stood out with just two Top 10 finishes and none since the Arnold Palmer Invitational back in March. The good news is that he made the trip across the pond early and found some form on the European Tour with a T3 at the BMW International Open, a T4 at the Irish Open, and a T9 in last week's Scottish Open. More good news as he played the Irish Open here at Royal Portrush back in 2012 and finished runner-up and while the course has changed since then it is still positive knowing he has familiarity with the course. At these prices, we don't need a win or even a Top 10 to hit value and I would be more than thrilled with a Top 25 and will have exposure in all formats.
Mike Lorenzo-Vera
World Golf Ranking (#90)
Vegas Odds (200/1)
Draftkings ($7,000)
FanDuel ($8,300)
Not only is there a ton of value in the mid-range but the decision in the bottom tier is also a tough one with so many options. I wanted to go with a Euro Tour player coming in with form who also hits on some stats(via EuropeanTour.com). Lorenzo-Vera fits that mold as he has been very consistent having made 10 straight cuts on the Euro Tour going back to February with four Top 10's and he also played the PGA Championship and finished T16 in that time. He is Top 40 on the Euro Tour in SG: Putting and what stands out more and helps with the consistency and will also help this week is that he is also Top 20 in SG: Around the Green. He is a GPP only play for me this week.
Chris Durell has been playing Daily Fantasy Sports for six years and fantasy in general for more than a decade. He is an active player in college football, NFL, MLB, NASCAR, NHL and of course PGA. He lives in Saskatchewan, Canada with his wife and two daughters. You can follow him on Twitter at @Jager_Bombs9 for advice, strategy, answers to any PGA questions and how he copes with the winters up north.
FREE EBOOK
SECRETS TO CRUSHING DAILY FANTASY FOOTBALL!
DON'T SET ANOTHER LINEUP BEFORE YOU READ THIS BOOK.