Baseball Picks Daily Fantasy
Expert Advice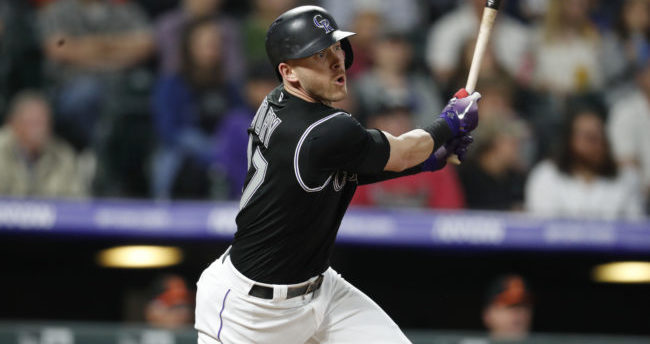 DraftKings and FanDuel MLB Picks for Tuesday 6/16/19
This is one of the highest projected slates of the season, as we have numerous teams projected for more than five runs. That should make for a fascinating day when picking hitters and it will be imperative to hit on every single one of them. With that in mind, there's rain projected all throughout the country, so check in on that before submitting lineups. Now's your chance to get DFSR PRO, which will give you access to our MLB and NBA optimizers and our new player lab! Get started for free by clicking the button below.
Pitchers
Jack Flaherty FD - P 7700 DK - SP 7400
Opponent - PIT (Dario Agrazal) Park - STL
FD - 34 DK - 18.4
It's hard to recommend a guy who's pitching so poorly but Flaherty is way too good to be priced this cheaply. We're still talking about a borderline ace who has a 1.15 career WHIP and K rate just shy of 30 percent. Those are the numbers you'd usually see from a $9,000 player and it's clear that these DFS sites are overreacting to his recent slide. Facing Pittsburgh is nothing we need to worry about either, with the Pirates sitting 18th in both runs scored and xwOBA. We also anticipate Flaherty getting a win in this game, as he's likely to enter this matchup as a -160 favorite.
Logan Allen FD 8300 DK 9200
Opponent - MIA (Jordan Yamamoto) Park - MIA
FD - 31.46 DK - 15.84 Chris Paddack had been scheduled to start, but he's pushed back to Wednesday and Logan Allen will get the nod here. It's no matter because the opponent is still Miami and anytime that's case we need to at least consider the starting pitcher. The Marlins rank second to last in the league against lefties in wOBA this season (nice work Tigers) and strike out 23% of the time in that split. Allen doesn't have overwhelming peripherals in terms of the strikeouts since hitting the majors, but he profiled as a K guy at nearly every stop in the minors. I'm liking the price and matchup more than anything else here and do think there's some room for growth with the swings and misses.

Catcher/First Base

Joc Pederson FD - 1B 2700 DK - 1B/OF 4500
Opponent - PHI (Vince Velasquez) Park - PHI
FD - 14.18 DK - 10.62
This FanDuel price is amazing and it's hard to fade him over there. The main reason why is because Pederson typically bats leadoff for the Dodgers against a righty. Not only are the Dodgers projected for more than five runs in this hitter's park, Pederson is providing a .907 OPS this season with the platoon advantage in his favor atop their lineup. All of these factors make him tough to avoid and we'll discuss later why we want to stack against Vince Velasquez.
Matt Adams FD 2700 DK 4300
Opponent - BAL (Asher Wojciechowski) Park - BAL
FD - 13.19 DK - 9.95
Adams should be in the middle of the lineup for one of those teams with the aforementioned higher total. The Nationals come in with a 6.4 implied run line. Asher Woja-whatever has been a big part of that, with the Baltimore righty pitching to a 6.10 ERA and 1.45 WHIP. Adams is essentially a two-true-outcome guy at this point, hitting home runs or striking out. But at these prices we can almost live with the variance.
If you're in need of a catcher, Chris Iannetta has the platoon advantage in his favor and gets to hit in Coors Field.
Second Base

Max Muncy FD - 2B 3800 DK - 1B/2B 5000
Opponent - PHI (Vince Velasquez) Park - PHI
FD - 12.85 DK - 9.57
We already discussed that we like the Dodgers, so Muncy is definitely in play. Since joining them last season, Muncy has an ISO just shy of .250 while generating a .938 OPS. He's been even better against right-handers, posting a .570 SLG and .957 OPS in that span. Velasquez is a pitcher we want to exploit too, with the Philly righty pitching to a 4.88 ERA and 1.40 WHIP dating back to 2017. Not to mention, Muncy has seven homers over his last 14 games.
Derek Dietrich FD - 2B 3300 DK - 1B/2B 3700
Opponent - CHC (Alec Mills) Park - CHC
FD - 8.99 DK - 6.87
It's unclear if Dietrich will even find his way into the lineup but if he does, he's obviously a great option. What I really like about Dietrich is his recent price drop, as he's been playing a lot less since Scooter Gennett was activated off the IL. It's not like Dietrich's numbers have gotten that much worse either, with the slugging second baseman posting a .585 SLG and .938 OPS against right-handers so far this season. Alec Mills is not a righty we need to fear either, with the Cubs recent call-up posting a 4.78 ERA at the minors this season. If Gennett starts instead, consider him at his cheap price.
Shortstop

Trea Turner FD - SS 3800 DK - SS 5100
Opponent - BAL (Asher Wojciechowski) Park - BAL
FD - 16.41 DK - 12.77
If we think that the Nationals are one of the best offenses on this slate, we have to love Turner. This guy has simply been one of the best players in fantasy over the last few years and that's why he's typically a Top-10 pick in season-long formats. That makes this price hard to understand, as he's actually outside of the Top-20 on both sites in a superior matchup. Anytime you can get the leadoff hitter on an offense that's projected for more than five runs who's this talented, you simply can't fade them, particularly in a matchup like this.
Trevor Story FD - SS 4700 DK - SS 5400
Opponent - SF (Drew Pomeranz) Park - COL
FD - 20.39 DK - 15.47
Here come the Rockies! Anytime we're stacking Rockies, you know that Story is going to be a major part of our build. The reason for that is because Story has a 1.030 OPS at home since the beginning of last season. He's been just as good against lefties, generating a 1.002 OPS against southpaws since 2017. That equates to about a .650 SLG and 1.200 OPS when he faces a lefty at home and that's a scary thought for a gas can like Drew Pomeranz.
Third Base

Nolan Arenado FD - 3B 4600 DK - 3B 5100
Opponent - SF (Drew Pomeranz) Park - COL
FD - 20.18 DK - 15.19
If we like Story, we have to absolutely adore Arenado. Much like Story, this All-Star third baseman has made minced meat of lefties throughout his career. In fact, Arenado has a 1.209 OPS against southpaws since 2017 while generating a 1.068 OPS at home in that span. Those are ridiculous statistics and it's hard to overlook the fact that Pomeranz is pitching to a 6.42 ERA and 1.77 WHIP against this potent lineup in a hitter's paradise like Coors Field.

Matt Carpenter FD - 3B 3000 DK - 3B 3700
Opponent - PIT (Dario Agrazal) Park - STL
FD - 12.42 DK - 9.25
Ok, this guy really hasn't given us much reason to use him but he's too good of a player to be priced this cheaply. We're still talking about a perennial All-Star candidate who has a career OBP north of .400 against right-handed pitching. He actually had a career year in terms of power last season too and it's just a matter of time before he gets hot. Facing Dario Agrazal is a good way to start a hot streak, with the Pittsburgh righty pitching to a 5.98 xFIP and 1.31 WHIP.
Outfield

Khris Davis FD - OF 3100 DK - OF 3400
Opponent - SEA (Marco Gonzales) Park - OAK
FD - 13.17 DK - 9.81
This DraftKings price nearly made my jaw drop all the way down to China. While he's mired in a bit of a slump, we're still talking about one of the best power bats in the game. That's evident by the fact that he leads the league in homers since 2016 while accruing an ISO just shy of .300 in that span. That sort of power potential puts him in play no matter how bad he's struggling, particularly at this price. That doesn't even take into consideration that he gets the platoon advantage in his favor against Marco Gonzalez, who's pitching to a 5.21 ERA and 1.43 WHIP over his last 10 starts.
Juan Soto FD - OF 4100 DK - OF 5300
Opponent - BAL (Asher Wojciechowski) Park - BAL
FD - 16.39 DK - 12.34

Adam Eaton FD - OF 2900 DK - OF 4000
Opponent - BAL (Asher Wojciechowski) Park - BAL
FD - 13.17 DK - 10.18
You probably could have seen this coming with all of the other Nationals, as we absolutely love stacking against the Orioles. Not only is Baltimore on track to shatter the record for most home runs allowed, they only have one starter who has an ERA below 5.00, as their 5.69 team ERA is a historically bad number. That's why it's been a carousel of pitchers toeing the rubber for them and Wojciechowski is yet another dumpster fire arm. The Orioles righty currently has a 6.10 ERA and 1.45 WHIP, which is sadly not much better than his 4.60 ERA at Triple-A since last season.
That means we have to love all of the Nationals, with Soto being the prize of the bunch. Since his call-up last year, Soto has a .420 OBP and .946 against right-handed pitching. He's scorching-hot right now too, posting a .345 AVG and 1.065 OPS over his last 27 games. Eaton hasn't been quite as good but he's formidable in this price range atop this highly projected lineup. Over his last 26 games, Eaton is hitting .320 while generating an OPS north of .800.
Andrew Benintendi is in a terrible slump but it's lowered his price too much with Toronto's starter likely coming from the minors.
GRAB A FREE TRIAL OF OUR PROJECTION SYSTEM, AND CHECK OUT DFSR PRO!
FREE EBOOK
SECRETS TO CRUSHING DAILY FANTASY FOOTBALL!
DON'T SET ANOTHER LINEUP BEFORE YOU READ THIS BOOK.