Nascar picks Daily Fantasy
Expert Advice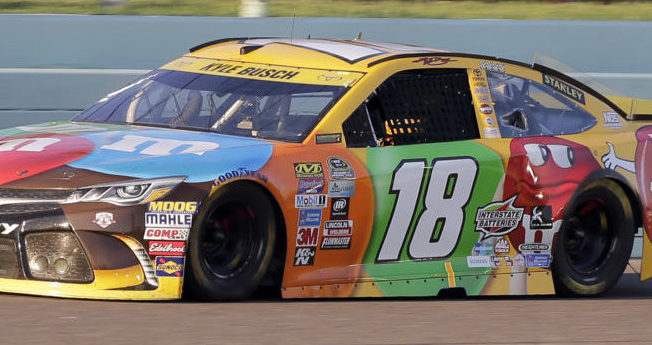 Daily Fantasy NASCAR Race Preview & Picks for DraftKings - Foxwoods Resort Casino 301
Chris Durell will be bringing you his weekly race breakdown, top trends, and pre-qualifying targets to help you cash on DraftKings and FanDuel. You can also grab a copy of his free DFS NASCAR Cheatsheet that includes a ton of stats and a customizable model.
Now's your chance to get DFSR PRO, which will give you access to our MLB optimizer and our new player lab! Get started for free by clicking the button below.
First time with MLB? Be sure to read our free MLB Ebooks on building lineups, general strategy and more. We've got you completely covered.
Foxwoods Resort Casino 301
With just seven race to go in the regular season, the race to the Monster Energy Cup Series Playoffs is really starting to heat up. The gap from 14th to 18th in the standings(Jimmie Johnson, Clint Bowyer, Erik Jones, Ryan Newman, and Daniel Suarez) is just 12 points which means every single playoff point from here on out will be a battle. This is where I feel NASCAR really hit it out of the park is with the points system. In the old days, you would see drivers all the time let a faster car by in the hopes of getting that position back later in the race but now with the importance of points at the end of stages, no position is cakewalk anymore creating excellent racing throughout the pack and through the entire race. Buckle up as the final stretch before the playoffs is going to get intense!
It all starts with a trip to New Hampshire Motor Speedway for the Foxwoods Resort Casino 301 on Sunday afternoon. For the first time in a while, we are back to "normal" race weekend with opening practice and qualifying on Friday with two final practices on Saturday. This week the series will also go back to the 750 hp package used on all road courses and ovals less than 1.25 miles. The racing won't be much different than previous races here so we can definitely look closer at track history this week. The only change is the PJ1 compound which is being put on the bottom groove and in lane 3 all the way up to the wall(similar last year but not all the way up to the wall). From a track-type standpoint, I have always looked at the other one-mile intermediates but Dover is a different animal with banking so I have also added flat track(short) rankings over the last two years as well.
Despite there being no driver to lead 100 or more laps in last year's race(Kurt Busch-94, Martin Truex Jr.-83), it actually broke a trend of 14 straight races with at least one to lead 100 or more in a race. Two drivers have also led 100 ore more laps in three of the last five races. With that said, let's jump in and have a look at the track and some trends then look at some core plays for the race.
New Hampshire Motor Speedway - Loudon, NH
Track - 1.058 Mile Oval
12° of Banking

Last Six Winners at New Hampshire
2018 - Kevin Harvick(started 14th)
2017(2) - Kyle Busch(started 1st)
2017(1) - Denny Hamlin(started 8th)
2016(2) - Kevin Harvick(started 19th)
2016(1) - Matt Kenseth(started 18th)
2015(2) - Matt Kenseth(started 13th)
Track History at New Hampshire
Let's start out by looking at the Joe Gibbs Racing team which has been close to dominant here at New Hampshire. Leading the way is Martin Truex Jr. who returns with four straight finishes of 7th or better and while he hasn't won here, he has led 80 or more laps here in five straight(596 total) races. Kyle Busch is right there with Truex as he has finished 2nd and 1st here in his last two races and Top 10 in four of his last five. He has also led 454 laps in that time as well making him the #2 fantasy scorer behind his teammate. Denny Hamlin hasn't been as good as his teammates but has been no slouch here with three career wins(2017, 2012, 2007) and also has a series-best 10.2 career average finish at the track. Erik Jones pull sup the rear but does have finishes of 16th and 6th since his 39th in his first career start here.
Kyle Larson has been consistent here as well with finishes of 12th lat year and runner-ups in both 2017 races. It has been a roller coaster ride here for his teammate Kurt Busch(3 wins & 16.0 career average finish) but he is coming off an 8th place finish last season where he also led 94 laps.
Hendrick Motorsports could be a team to watch out for as they not only come in trending up with all four teams, they have been consistent here at New Hampshire. Chase Elliott picked up a career-high 5th last year and has finished 13th or better in four straight. Jimmie Johnson has Top 10's in three of his last four trips to New Hampshire and is one of six drivers with three career wins at the track. Alex Bowman struggled here as a part-time driver for BK Racing and Tommy Baldwin Racing early in his career then stepped into the #88 for Dale Jr. in 2016 and posted finishes of 26th and 14th on the tough track. Last year as the full-time driver in the #88, he finished with a career-high 11th. William Byron made his debut here last year in the iconic #24, started 14th and ended up with an impressive 11th place finish.
Kevin Harvick is another one of those drivers with three career wins here, his last coming last year. Taking it further, he has finished Top 5 here in six of his last eight trips with two wins(2018, 2016).
From a value perspective, Ryan Newman also returns to New Hampshire with three career wins(2011, 2005, 2002) although it has been awhile. He did finish 8th here last year but has just six Top 10's in his last 14 trips.
Track Type History(Flat Tracks)
Like I mentioned in the intro I am going to be looking at short flat track performance in this section and you can reference that on my sheet this week. It includes Martinsville, Richmond, Phoenix, and New Hampshire and I have looked at the last 10 races on the track-type since the starts of last season. One thing stands out more than anything. Kyle Busch is dominant on flat tracks! Outside of his 8th place finish earlier this year at Richmond, he has finished Top 5 in each of the other nine races with four wins, three runner-ups and an incredible 2.5 average finish. This also puts him way out front in terms of fantasy scoring as he is averaging 93.5 DK/90.4 FD points per race on these tracks since the start of last year. Kevin Harvick hasn't been quite as dominant but is the only other driver outside of KB18 with a Top 10 in each of those 10 races. He won this race last year along with a win at Phoenix and is also one of three drivers with seven Top 5's in the last 10 races on short flats. The third driver on the list with seven Top 5's is Martin Truex Jr. who is coming off a win at Richmond and he is second to his teammate with an average of 69.4 DK/81.8 FD points per race on the track type.
To see the entire list, download a copy of DFS NASCAR sheet.
Top Targets
Kyle Busch
Busch checks all the boxes this week and is easily my top pick. He returns to New Hampshire with runner-up and a win in his last two trips, has been dominant on the short flat tracks with a 2.5 average finish since the start of last season(10 races), and has shown top speed in practice. He will start on the front row with Brad Keselowski and posted the 4th and 3rd fastest laps in the final two practices and was Top 3 in 10-lap averages in both as well. He is my pick for top dominator and race winner. Lock and load!
Ryan Blaney
It has been a roller coaster ride for Blaney and the #12 team this season but I feel he is due for another trip to the top of the ride. He returns to  New Hampshire after back to back Top 10 finishes and while he only has a 15.3 average finish on the flat tracks since the start of 2018, he has Top 5's in two of the last three in 2019(Martinsville, Phoenix). He has also been one of the fastest cars on track all weekend finishing 4th in the opening practice followed by a 5th place qualifying effort and then improved on Saturday ranking 5th and 1st in the two final practice sessions with a 2nd and 1st rank in the 10-lap averages. He is my top PTS/$ ranked driver this week.
Denny Hamlin
I talked about the Joe Gibbs Racing team in the track history section above and I will likely have more exposure to them than any other team this week. Hamlin has been up and down here but has not finished outside the Top 15 in seven straight trips here with a win(2017) and three Top 10's in that time. This week he provides us with some place differential upside starting 23rd but the good news is that they found speed on Saturday. Hamlin ranked 10th in the second practice(2nd in 10-lap avg), and 2nd in the final practice(10th in 10-lap avg).
Ryan Newman
Newman will start the race from the rear in a backup car which should help lower his ownership a bit. He has been a top PTS/$ play all season and I will ride it again this week as he starts 26th. The good news here is that he was able to run both final practices in the bac up car and showed Top 20 speed in both ranking 19th and 22nd with ranks of 11th and 17th in 10-lap averages. There is some risk here but he has more than enough experience at this tough track with three career wins.
Chris Buescher
Another value play I am high on this week is Chris Buescher. He is starting 25th this week and has finished in or better than that position in three straight races here at New Hampshire(25th, 21st, 20th). He was 17th in teh second practice and followed it up with a 25th in final practice and the 22nd best 10-lap average.
Below you will find a copy of my DFS NASCAR cheathsheet which includes Track History, Current Form, DraftKings points averages, Track Type History, Practice/Qualifying Ranks and much more.

Chris Durell has been playing Daily Fantasy Sports for five years and fantasy in general for more than a decade. He is an active player in NFL, MLB, NHL, PGA, and of course NASCAR. He lives in Saskatchewan, Canada with his wife and two daughters. You can follow him on Twitter at @Jager_Bombs9 for advice, strategy, answers to any NASCAR questions or how he copes with the winters up north.
FREE EBOOK
SECRETS TO CRUSHING DAILY FANTASY FOOTBALL!
DON'T SET ANOTHER LINEUP BEFORE YOU READ THIS BOOK.