Baseball Picks Daily Fantasy
Expert Advice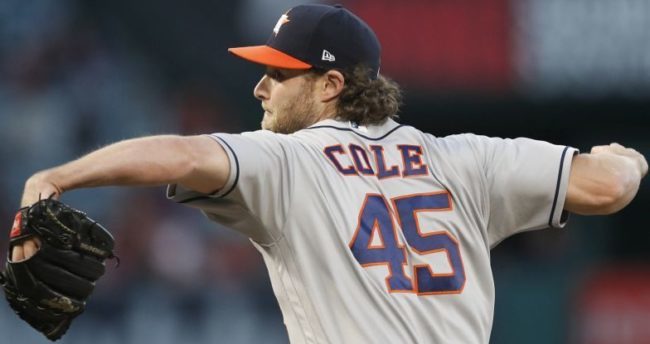 DraftKings and FanDuel MLB Picks for Monday 7/22/19
Now's your chance to get DFSR PRO, which will give you access to our MLB and NBA optimizers and our new player lab! Get started for free by clicking the button below.
Pitchers

Gerrit Cole FD - P 11700 DK - SP 12500
Opponent - OAK (Homer Bailey) Park - HOU
FD - 44.13 DK - 24.96
It's getting harder and harder to find meaningful DFS statistics where Cole doesn't reign supreme. He leads the Majors with a 2.58 xFIP and a 13.47 K/9. He's fifth in the Majors in innings pitched. The Astros have the third best record in baseball, which means he's a heavy favorite on most nights he goes out there. The only thing stopping him from being a cash game lock on any given night is a bad match-up, and while the A's are a good team, they've only been league average against opposing right handed pitching this season. I love Cole in all formats thanks to his terrific consistency and absurd upside.

Robbie Ray FD - P 9600 DK - SP 11400
Opponent - BAL (Aaron Brooks) Park - ARI
FD - 37.13 DK - 20.25
Pitcher two gets a little dicier from where I'm sitting, but I'll be the first to say it looks like Robbie Ray really can maintain this bizarre pitcher profile. He's dropped under 12 K/9 this season but he's also shaved his BB/9 down to 4.38. It won't inspire anyone of vintage Greg Maddux, but it's very meaningful for a guy who has struggled to keep that number below five in the past. Fewer walks and strikeouts also means Ray is going deeper into games. Last season he pitched just 6 more innings than he has this year in spite of pitching three more starts. The Orioles are also just a great match-up here, pairing a bottom 5 wOBA with a top 5 K rate against left handed pitching. It's always tough to call Ray a safe cash game play, but he's one of the few guys that can battle Cole for upside on any given day.
Also considered: Mike Clevinger.

Catcher/First Base
Yasmani Grandal FD - C 3200 DK - C 4100
Opponent - CIN (Sonny Gray) Park - MIL
FD - 11.75 DK - 8.77
Baseball's best fantasy catcher! Grandal leads all catchers in home runs with 19, and leads all qualified catchers with an .870 OPS. At a truly terrible position, you can't really ask for a a whole lot more. The fly in the ointment here is the match-up. Sonny Gray is a legitimately good pitcher at this point, adding to his already good ground ball rate while adding Ks and reducing BBs. Grandal is still totally playable if you need a catcher, though, because he's still just too cheap for what he brings to the table.

Miguel Sano FD - 1B 3600 DK - 3B 4500
Opponent - NYY (CC Sabathia) Park - MIN
FD - 11.64 DK - 8.67
Here's a fun player to write up! I'm not sure I've ever recommended Sano for cash a single time in my life, but for big tournaments? The upside is just stupid. It's weird to think that a 26 year old player could have a "throw back" season, but that's the case here. After last year's dumpster fire Sano has rebounded with a vengeance, striking out at a laughable 37.2% clip but doing enough when he does make contact that he has a .903 OPS. He's ripped 14 homers in 196 plate appearances, and been the subject of a lot of celebration and heartache both. He's also something of a platoon guy, posting an OPS .066 points higher against lefties for his career. Sabathia is firmly in the "fine but unspectacular" portion of his career, with a less than mediocre 4.78 xFIP. Again, Sano is more for upside than a balanced performance.

Joey Votto FD - 1B 3200 DK - 1B 3600
Opponent - MIL (Chase Anderson) Park - MIL
FD - 11.38 DK - 8.53
We've been beating the Votto drum for a little while now, and it's starting to pay off. The Reds' highest paid player started off shakily (to put it generously) but has come on recently with an .896 OPS in June. The power has gone back the other way in July, but he's also striking out just 12% of the time with a 10% walk rate in that time. Anderson is basically a right handed clone of Sabathia, with a sub 9 K rate, 3+ BB/9, and an xFIP near 5. Sano is definitely the upside guy here, but Votto should bring you a very solid floor.
Second Base

Gleyber Torres FD - 2B 3700 DK - 2B/SS 4300
Opponent - MIN (Martin Perez) Park - MIN
FD - 11.87 DK - 9.05
I've been enjoying the Martin Perez semi-break out, but the fact that a 4+ ERA and xFIP is a "break out" tells you as much as you need to know. The only thing Perez does well is generate ground balls, which he does more than 50% of the time. With a sub 8 K/9 and a BB/9 pushing 4, he's still a ripe spot for baseball's scariest offense. The 22 year old Torres has only improved upon last year's excellent campaign, with 19 homers an an .882 OPS through his 372 plate appearances so far this year. I love Torres as a standalone cash game play or as a part of a big tournament stack.

Jose Altuve FD - 2B 4000 DK - 2B 4500
Opponent - OAK (Homer Bailey) Park - HOU
FD - 13.26 DK - 10.28
I've written about Altuve so many times by now that I might literally turn blue in the face. While some were concerned that he wouldn't be able to maintain his otherworldly BABIP forever, the early season struggles he was seeing there were obviously unsustainable. With multi-hit games in 5 of his last 7, Altuve's price is now once again on the rise. Against an average pitcher like Homer Bailey I'm still willing to take Altuve's excellent floor at what is still a slightly reduced price.
Shortstop

Francisco Lindor FD - SS 3900 DK - SS 4500
Opponent - TOR (Ryan Borucki) Park - TOR
FD - 14.18 DK - 10.81
The Indians will be a popular stack today against pseudo-prospect Ryan Borucki. The Jays' young lefty doesn't really do anything at an adequate level, with a K/9 that hovers near 6, a BB/9 above 3, and a mediocre ground-ball rate. I'm happy to take the switch hitting Lindor on the better sign of his platoon against a guy like Borucki for sure.
Elvis Andrus FD - SS 3200 DK - SS 4100
Opponent - SEA (Marco Gonzales) Park - SEA
FD - 10.63 DK - 8.29
Andrus is a fraction of the hitter Lindor is, but he's also a fraction of the price. The Rangers' slap-hitting shortstop has a respectable .742 OPS against left handers for his career, and the Rangers should be batting him in third in this one. I love stacking them against Marco Gonzales, who is quite simply pretty damned bad. With a 6.49 K/9 and a 39.1% ground ball rate the Rangers could jump on him early and often, and Andrus should be in the middle of it. I think he represents a high floor, low upside option here.
Third Base

Yoan Moncada FD - 3B 3700 DK - 3B 4500
Opponent - MIA (Trevor Richards) Park - CHW
FD - 11.15 DK - 8.51
Moncada was largely considered baseball's best prospect going into last season, and while he didn't meet many fantasy expectations, it's important to remember that he was just 23 years old. In 2019 he's flirted with a .900 OPS all season, making up for a too-high 28.1% strikeout rate with a ridiculous amount of hard contact. He's also quite a bit better against right handed pitchers, with a .941 OPS against Northpaws this year. It also helps that Trevor Richards is awful. He's lost more than a strikeout per nine this season while growing his walkrate, and he's bumped his xFIP up to 5.39 in the process. Moncada is a great play in any format against him today.

Eugenio Suarez FD - 3B 3500 DK - 3B 4600
Opponent - MIL (Chase Anderson) Park - MIL
FD - 11.09 DK - 8.34
I haven't recommended Suarez against righties very often this season, but he's still got a .797 OPS against them. Suarez is just a true talent 35-40 home run guy at this point, and that's typically worth a little more than the prices you see here. I do sort of feel like he's a worse version of the Moncada play, so I'll probably be reserving my Suarez shares for Reds stacks and big tournaments.
Outfield

Nelson Cruz FD - OF 4100 DK - OF 4400
Opponent - NYY (CC Sabathia) Park - MIN
FD - 14.06 DK - 10.58
After it finally looked like Cruz had declined in his age 38 season last year, he's right back up to his old ones this year, posting a .911 OPS overall and completely destroying lefties for a 1.018 number. We gave you the details on Sabathia earlier, and needless to say Cruz is an excellent part of any Twins stack that looks to shoot the moon here.

Aaron Judge FD - OF 4700 DK - OF 4900
Opponent - MIN (Martin Perez) Park - MIN
FD - 16.47 DK - 12.23
Another lefty masher, the Yankees' right handed slugger has surpassed even Cruz's figure, ripping off an 1.100 OPS against southpaws this year. I think I like Cruz's match-up and price a little bit better than Judge's, but it's awfully close and both should see significant cash game ownership here.

Kyle Schwarber FD - OF 3400 DK - OF 4100
Opponent - SF (Shaun Anderson) Park - SF
FD - 11.82 DK - 8.79
There have been a number of Cubs who have come close to making this write-up and fallen just short, so it seems fitting to include one before we get going here. Schwarber's season long ~.800 OPS is a little underwhelming on these price points, but then you remember that this is a guy who has been .200+ OPS points better against righties for his career, and you can understand why he's playable. Shaun Anderson is just the icing on the cake, as he's yet another non-prospect who is not yet skilled enough to pitch in the Majors. With 5.71 K/9 and 3.06 BB/9, he's just not quite up to par, and the Cubs should have a field day here.
GRAB A FREE TRIAL OF OUR PROJECTION SYSTEM, AND CHECK OUT DFSR PRO!
FREE EBOOK
SECRETS TO CRUSHING DAILY FANTASY FOOTBALL!
DON'T SET ANOTHER LINEUP BEFORE YOU READ THIS BOOK.