Baseball Picks Daily Fantasy
Expert Advice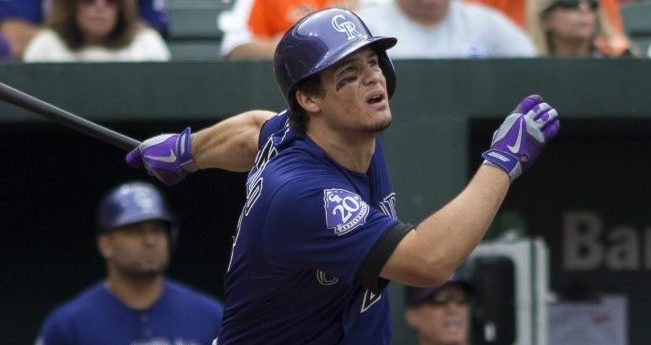 DraftKings and FanDuel MLB Picks for Tuesday 7/30/19
Now's your chance to get DFSR PRO, which will give you access to our MLB and NBA optimizers and our new player lab! Get started for free by clicking the button below.

With the trade deadline only 24 hours away, this is one of the wildest periods of the season. There are going to be scratches and weird lineups across the Majors and that always makes for a strange DFS schedule. Be sure to monitor all of these situations and don't get stuck with any big fat 0's into your lineup.
Pitchers
Jake Odorizzi FD - P 7300 DK - SP 9400
Opponent - MIA (Zac Gallen) Park - MIA
FD - 35.71 DK - 18.95
We always like to use pitchers against the Marlins and getting one in the midst of a breakout season is a huge bonus. So far this season, Odorizzi is pitching to a 3.84 ERA and 1.21 WHIP while striking out 108 batters across 103 innings. That's all you can ask for from a player in this price range, as he should cruise right through this lineup. Not only is it an NL lineup without a DH, the Marlins currently rank 29th in runs scored and dead-last in wOBA, xwOBA and OPS. That's why Odorizzi enters this matchup as a -165 favorite, with Miami projected for only 3.5 runs.
Griffin Canning FD - P 6700 DK - SP 7900
Opponent - DET (Drew VerHagen) Park - LAA
FD - 34.27 DK - 17.98
Canning's recent form is downright terrible but he's much better than those numbers would indicate. Having a start against the Astros and Rangers will do that to anyone's statistics and it doesn't even take into consideration the five runs he allowed in a surprise relief appearance in his last outing. He was forced into that 16-inning game and it just exemplifies how unlucky this guy has been recently. Prior to that, Canning had a 3.68 ERA and 0.99 WHIP over his first 10 starts while striking out 63 batters across 61.2 innings of action. That's awesome against a lineup like this, with Detroit ranked 29th in K rate and dead-last in runs scored, SLG and wOBA. Not to mention, Canning enters this gams as a -270 favorite.

Catcher/First Base

Daniel Murphy FD - 1B 3600 DK - 1B 5000
Opponent - LAD (Tony Gonsolin) Park - COL
FD - 14.9 DK - 11.44
This is the first of many Rockies and Murphy is actually quite the value on FanDuel. Any player hitting in Coors Field should be above $4,000, let alone a guy as hot as Murphy. Over his last 57 games, Murphy is hitting .328 while generating a .915 OPS in that span. That's huge against an unknown guy like Gonsolin, as Murphy has an OPS in the .900 range against right-handers since 2016.

Joey Votto FD - 1B 3000 DK - 1B 3900
Opponent - PIT (Joe Musgrove) Park - CIN
FD - 12.51 DK - 9.37
Votto has been much better than this price would indicate. We're talking about a guy who has a .230 career ISO and .411 wOBA against right-handed pitching. That's huge for a guy who's as hot as Votto, with the former All-Star generating a .299 AVG and .368 OBP over his last 51 games. Those are huge numbers from a guy who has destroyed righties throughout his career and it makes these price tags hard to understand.
Second Base

Ryan McMahon FD - 2B 3400 DK - 2B 4800
Opponent - LAD (Tony Gonsolin) Park - COL
FD - 12.65 DK - 9.69
Let's keep the Rockies rolling with McMahon. It's bizarre to see a Coors Field bat this cheap, especially with how well he's seeing the ball. Over his last 14 games, McMahon is hitting .326 while generating a .674 SLG and 1.081 OPS in that span. That's big production from anyone, let alone a guy hitting in Coors Field. Vegas absolutely loves the Rockies too, projecting them for more than six runs against a nobody like Gonsolin.

Wilmer Flores FD - 2B 2100 DK - 2B 3400
Opponent - NYY (J.A. Happ) Park - NYY
FD - 9.8 DK - 7.53
Flores has been in this article a little too much but he's been extremely efficient against lefties so far this season. In fact, Flores has a .302 AVG, .509 SLG and .840 OPS with the platoon advantage in his favor this season. That's all you can ask for from a player who's approaching a minimum price on both sites, especially against a struggling pitcher like J.A. Happ. The Yankees lefty is currently pitching to a 5.23 ERA and 1.34 WHIP this season and has been even worse recently.
Shortstop
Trevor Story FD - SS 4000 DK - SS 5300
Opponent - LAD (Tony Gonsolin) Park - COL
FD - 17.07 DK - 12.96
If we're using Rockies, that means we have to love Story. Let's start with Gonsolin, as he's pitching to a 5.55 ERA and 1.53 WHIP between Triple-A and the Majors this season. Those numbers are disastrous against a lineup like this and a guy like Story. This dude has done nothing but mash at home since his callup, with Story generating a .663 SLG and 1.033 OPS at Coors Field since the beginning of last season. That's one of the reasons this lineup is the highest projected lineup on the slate and Story should help do some of that damage.

Didi Gregorius FD - SS 3300 DK - SS 5000
Opponent - ARI (Taylor Clarke) Park - NYY
FD - 14.35 DK - 10.99
We definitely want to get some Yankees in there against Taylor Clarke and Gregorius is really the only one with the platoon advantage in his favor. Since 2017, Gregorius has a SLG north of .500 and an OPS well above .800 against right-handers. That's huge against a guy like Talyor Clarke, who's pitching to a 6.10 ERA and 1.53 WHIP this season. That's why the Yankees have one of the highest totals on the slate and it's got to be a scary sight for Clarke to get through this lineup. Not to mention, Gregorius is hitting .348 over his last 12 games while providing a 1.076 OPS in that span.
Third Base

Nolan Arenado FD - 3B 4300 DK - 3B 5000
Opponent - LAD (Tony Gonsolin) Park - COL
FD - 17.31 DK - 13.03
If we like the Rockies, we have to love Arenado. While he's been struggling mightily recently, it's lowered his price to this intriguing number. Arenado is usually $500 more on each site and we have to adore him with the Rockies projected for more than six runs. Arenado has been ridiculous at home throughout his career too, posting a .345 AVG, .650 SLG and 1.050 OPS at home since 2016.
Matt Thaiss FD - 3B 2500 DK - 1B/3B 3400
Opponent - DET (Drew VerHagen) Park - LAA
FD - 10.77 DK - 8.25
We definitely want to get some bats in there against Drew VerHagen, as he's been the worst pitcher in the league the last two months. In fact, the Tigers righty is pitching to a 14.40 ERA and 3.00 WHIP this season while walking more batters than strikeouts. That's scary against a talented lineup like this and a hot hitter like Thaiss. Over his last eight games, Thaiss has four homers en route to a .783 SLG and 1.129 OPS. That's absurd production from a guy this cheap and he's a tough fade in such a tasty matchup.
Outfield

Mike Trout FD - OF 4800 DK - OF 5700
Opponent - DET (Drew VerHagen) Park - LAA
FD - 19.3 DK - 14.41
If Thaiss is in a great spot, what is Trout? We're talking about the best hitter of our generation in one of the best matchups possible. That's why he's always one of the highest-priced players on the board, as he's easily the top option on the slate here. One major reason why is because Trout is scorching right now, collecting 12 homers, six doubles, 18 runs scored and 28 RBI over his last 18 games. That's freightning for VerHagen and it wouldn't be suprising to see Trout add to thosr ridiculous numbers.

David Dahl FD - OF 3500 DK - OF 5100
Opponent - LAD (Tony Gonsolin) Park - COL
FD - 16 DK - 12.25
Dahl is the final piece to our Rockies stack and he's probably my favorite value of the bunch. This $3,500 price tag on FanDuel is absolutely laughable and it's a wonder what they're thinking. Since being called up last season, Dahl has a .342 AVG, .390 OBP and 1.026 OPS at home. Getting the platoon advantage in his favor should only help, with Dahl accruing an .892 OPS against right-handers in that span. Anytime you get the three-hole hitter for a lineup who's projected for nearly seven runs and he only costs $3,500, USE HIM!
Aaron Hicks FD - OF 3800 DK - OF 4900
Opponent - ARI (Taylor Clarke) Park - NYY
FD - 15.87 DK - 11.94
We said that Gregorius was the only Yankee with the platoon advantage in his favor but Hicks actually gets to bat from the left side too because he's a switch-hitter. What really adds to his value is his spot in the lineup, as he typically bats first or third for the Yankees. That's obviously huge with the Bronx Bombers projected for six runs against Clarke and Hicks should play a major part of that. Hicks has been much better against righties this year too, as his .865 OPS against them is 200 points higher than his OPS against southpaws. Not to mention, Hicks has a .970 OPS over his last 25 games.
GRAB A FREE TRIAL OF OUR PROJECTION SYSTEM, AND CHECK OUT DFSR PRO!
image sources
Nolan Arenado: By Keith Allison (Flickr: Nolan Arenado) [CC BY-SA 2.0 (http://creativecommons.org/licenses/by-sa/2.0)], via Wikimedia Commons
FREE EBOOK
SECRETS TO CRUSHING DAILY FANTASY FOOTBALL!
DON'T SET ANOTHER LINEUP BEFORE YOU READ THIS BOOK.