Baseball Picks Daily Fantasy
Expert Advice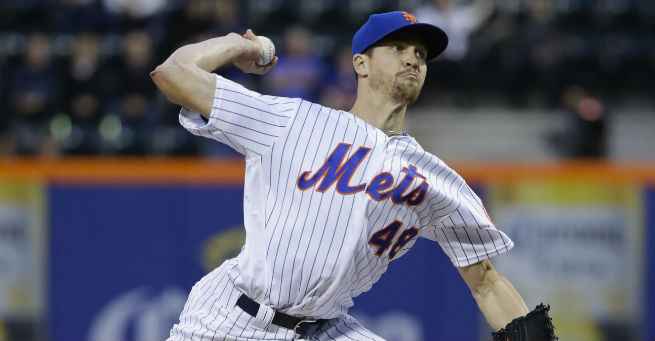 DraftKings and FanDuel MLB Picks for Wednesday 7/31/19
Now's your chance to get DFSR PRO, which will give you access to our MLB and NBA optimizers and our new player lab! Get started for free by clicking the button below.
Pitchers

Jacob deGrom FD - P 12000 DK - SP 11800
Opponent - CHW (Lucas Giolito) Park - CHW
FD - 38.63 DK - 21.9
The top tier is somewhat loaded tonight and deGrom leads the way in terms of raw points projections. Since being roughed up by the Marlins back in the middle of May, he has returned to elite status holding opponents to two or fewer earned runs in 11 of his last 12 starts(2.10 ERA/3.26 xFIP) with a 31.7% K rate and 15.2% swinging-strike rate. He now gets arguably the best matchup on the board as a -163 favorite going up against a White Sox team that has scored a league-low 51 runs since the All-Star break with an ugly 26.7% K rate. The decision on FanDuel is a lot closer with deGrom's price hitting $12K but on DraftKings, he is easily my top pitcher on this slate in all formats.


Jose Berrios FD - P 10400 DK - SP 10700
Opponent - MIA (Sandy Alcantara) Park - MIA
FD - 37.28 DK - 19.58
The pivot for me on FanDuel, at least in cash games, will be Jose Berrios. He is coming off an excellent start on the road against the aforementioned White Sox and now gets another plus matchup against a Marlins team who have been equally as bad in the second half(.284 wOBA, 77 wRC+) and rank second to last with a .282 wOBA and 76 wRC+ against right-handed pitching. I am not willing to pay up for him in cash games on DraftKings with a K rate 10% lower than deGrom but on FanDuel the price gap is larger making him a target for me in all formats.

Vince Velasquez FD - P 7500 DK - SP 7500
Opponent - SF (Jeff Samardzija) Park - PHI
FD - 25.39 DK - 13.08


Jose Urquidy FD - P 8000 DK - SP 7000
Opponent - CLE (Zach Plesac) Park - CLE
FD - 33.39 DK - 17.34
The reason I am so high on deGrom on DraftKings at a near $12K price tag is the value options that are on the slate and these two are most definitely my favorites. I wrote up Velasquez in his last start and he didn't let us down going 5.2 allowing the Tigers just four hits while striking out nine(31.2 DK/50 FD points). At his current price, he only needs about half those points to hit value and should be able to do so against a below-average Giants offense(87 wRC+ against RH pitching, 89 wRC+ last 14 days, 83 wRC+ on the season).
Jose Urquidy was a slam dunk pick in our system last start when he was severely underpriced on DraftKings at just $5K and ended up giving us a 4x performance. The price has risen $2K and the matchup isn't as juicy against a trending Indians team but the K upside is through the roof(29% K rate, 13.2% SwS) and he should not be ignored in GPP formats.

Catcher/First Base

Mark Canha FD - 1B 2800 DK - 1B/OF 4300
Opponent - MIL (Gio Gonzalez) Park - OAK
FD - 10.57 DK - 8
I am seeing multiple reports about who is starting for the Brew Crew today but whether it's Gio Gonzalez or Jordan Lyle making his debut(post-trade) I am very interested in the Athletics bats. We have a couple of options at first base and the decision is tougher on DraftKings where they are the exact same price but the good news is that we can play both with Canha also having eligibility in the outfield. On FanDuel, we can also play both with the utility spot but for cash games, I lean Canha on both sites.  Not only is he $600 cheaper on FanDuel but has been red-hot since the All-Star break with hits in 13 of 16 games good for a .310/.420/.638 slash line. He has been the regular cleanup hitter for the better part of two weeks and no matter who starts, he has been strong in both splits.

Matt Wieters FD - C 2600 DK - C 3500
Opponent - CHC (Kyle Hendricks) Park - STL
FD - 7.38 DK - 5.63

Manny Pina FD - C 2200 DK - C 3200
Opponent - OAK (Brett Anderson) Park - OAK
FD - 6.82 DK - 5.29
When it comes to catchers which are required on DraftKings, I almost always look to go the value route especially in cash games and especially when there is a top tier pitcher I can't go without. On a day to day basis, it really depends on the lineup as most of the value plays are backups and two that stand out tonight if they start are Wieters and Pina. Wieters has been getting the more consistent playing time and has been solid going into Tuesday night with hits in six of his last seven games including three home runs. The backup who I really hope gets a start tonight is Manny Pina who, despite a small sample size, has assaulted left-handed pitching going 14 for 35(.400 average) with four home runs and a 56% hard contact rate.  Stay tuned for confirmed lineups and projections via our projections and lineup optimizer.
Also Consider: Travis d'Arnaud(NYM) as a pay up at catcher who has been red-hot since the ASB or Paul Goldschmidt(STL) at first base as he has really heated up over the last 30 days(.409 wOBA, 156 wRC+, .379 ISO)
Second Base

Cesar Hernandez FD - 2B 2700 DK - 2B 3400
Opponent - SF (Jeff Samardzija) Park - PHI
FD - 9.73 DK - 7.53
Second base is an absolute mess tonight considering Keston Hiura who si arguably the best raw points play is consistently hitting down in the order and is the most expensive option at the position. Outside of that, the matchups are not great so I will be heading right down into the value range and will have a ton of exposure to Hernandez. Like Hiura, he has been red hot as well with multi-hit games in four straight and has hits in 12 of 14 starts since the All-Star break. He is also a switch hitter who has much better splits against righties with .342 wOBA, 111 wRC+, .808 OPS(.236 wOBA, 42 wRC+, .064 OPS vs. RH). If we are going to be paying up for deGrom we are going to need some value plays and no better place to target them than in the middle infield.
Also Consider: Keston Hiura(MIL) as an upside play who is likely lowe owned due to his slate-high price at the position or Robel Garcia(CHC) if he is back in the leadoff spot
Shortstop

Jorge Polanco FD - SS 3800 DK - SS 4800
Opponent - MIA (Sandy Alcantara) Park - MIA
FD - 10.91 DK - 8.46
While the Twins get a big park downgrade going to Miami, they are easily my top team to target tonight on the slate. Looking at the trends on the team stacking tab on my sheet, they are Top 2 or 3 in every single split(home/road, LH/RH, L7, L14, L30 days, season stats). Let's start with their All-Star shortstop Jorge Polanco who leads the team with a .305 average on the season and as a switch-hitter, he has very strong splits against righties with a .402 wOBA, 152 wRC+, and .259 ISO. Polanco is my top shortstop tonight and arguably my top play overall regardless of position.


Marcus Semien FD - SS 3600 DK - SS 4700
Opponent - MIL (Gio Gonzalez) Park - OAK
FD - 11.66 DK - 8.95
Right in the same price range, we have Marcus Semien who is likely going to be lower owned but stride for stride with Polanco in almost every area. He has a 120 or better wRC+ in both splits so not worried who starts for the Brewers and for the season, he has provided a high floor with a .358 on-base percentage which has helped him to already score 79 runs and he has also provided upside with 17 home runs and 52 RBI. Like Polanco, Semien is a terrific play in all formats tonight.
Also Consider: Willy Adames(TB) as a punt play at the position
Third Base

Miguel Sano FD - 3B 3600 DK - 3B 5000
Opponent - MIA (Sandy Alcantara) Park - MIA
FD - 10.64 DK - 7.92

Luis Arraez FD - 3B 2900 DK - 2B/3B 4000
Opponent - MIA (Sandy Alcantara) Park - MIA
FD - 9 DK - 6.89
At third base, there are a pair of Twins I will be targeting and it all depends how much salary you have to spend at the position. My top raw points play is Miguel Sano who has really started to heat with multi-hit games in four of his last six starts and is currently 1 for 1 on Tuesday with a home run. Taking it further, he has posted an impressive .303/.391/.618 slash line since the start of the month and his 161 wRC+ in that time is 6th best among all third basemen. If you need the salary relief, rookie Luis Arraez should most definitely be on your radar tonight as he continues to rake and entered Tuesday night with hits in five straight and 18 of his last 21 games with seven multi-hit efforts, five doubles, and 14 runs scored. He is in play on both sites but his best value comes on FanDuel in the sub $3K range and for DraftKings the good news is that he is also eligible at second.


Matt Chapman FD - 3B 3300 DK - 3B 4100
Opponent - MIL (Gio Gonzalez) Park - OAK
FD - 12.12 DK - 9.13
Chapman has been one of my favorite A's to target in 2019 and while he has been struggling lately(5 for his last 39), he makes a nice GPP pivot tonight in a plus matchup. What intrigues me the most is the projected low ownership due to the slump combined with the buy low opportunity on both sites. The good news with Chapman is that we know what we are going to get overall as he has almost mirrored his numbers from last year but is on pace to set career-highs in home runs and RBI and has seen his walk rate go up and K rate go down. If he continues to hit second in the lineup, I love and A's top of the order stack and the best part is they are not overly expensive on either site fitting perfectly with a top tier pitcher.
Also Consider: Matt Duffy(TB) as a top value play if back in the leadoff spot as he has hits in five of six games since making his season debut
Outfield

Max Kepler FD - OF 4100 DK - OF 5000
Opponent - MIA (Sandy Alcantara) Park - MIA
FD - 11 DK - 8.33
I talked about the Twins as my favorite offense to target tonight and if we are loading up it only makes sense to include their leadoff hitter. He isn't your typical leadoff hitter with a .262 average and .334 on-base percentage but the Twins are all about the power and Kepler has more than provided that with five in the last week, giving him 28 on the season to go along with 72 RBI and 68 runs scored. The Twins will face Sandy Alcantara who is coming off a good start vs. Arizona where he only allowed two earned runs but has given up four or more earned runs in three of his last five starts and has an xFIP(5.44) that is almost a run and a half higher than his ERA(4.18). he has allowed righties to hit for a higher average(.276) against him but has allowed more power(9 HR) to lefties so get Kepler into your lineups in all formats.


Bryce Harper FD - OF 4200 DK - OF 4300
Opponent - SF (Jeff Samardzija) Park - PHI
FD - 13.85 DK - 10.28

Adam Haseley FD - OF 2300 DK - OF 3400
Opponent - SF (Jeff Samardzija) Park - PHI
FD - 9.28 DK - 7.11
The Phillies have started to heat up winning five of their last seven games including a 4-2 in the opener vs. the Giants last night. Tonight's matchup is intriguing as it will be against Samardzija who has been inconsistent all year(3.95 ERA/4.84 xFIP) and had trouble with the long ball(19 HR in 21 starts) especially lately with five in his last three starts. The other thing that stands out are the splits as he has given up 12 home runs to lefties which is double the rate per nine of that against righties. I will be targeting Bryce Harper who has been trending up with a .269 average and .370 on-base percentage since the start of July but his overall inconsistency leaves him a GPP play at his price. For value, I will be turning to Adam Haseley who is starting to heat up with hits in four straight and nine of his last 11 games including four multi-hit efforts.
Also Consider: Lorenzo Cain(MIL) who is a buy-low candidate who has been much better recently with hits in five of his last six games
GRAB A FREE TRIAL OF OUR PROJECTION SYSTEM, AND CHECK OUT DFSR PRO!
FREE EBOOK
SECRETS TO CRUSHING DAILY FANTASY FOOTBALL!
DON'T SET ANOTHER LINEUP BEFORE YOU READ THIS BOOK.