Baseball Picks Daily Fantasy
Expert Advice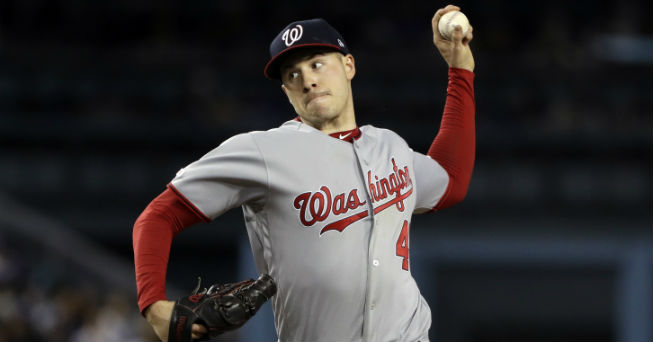 DraftKings and FanDuel MLB Picks for Saturday 8/10/19
Now's your chance to get DFSR PRO, which will give you access to our MLB and NBA optimizers and our new player lab! Get started for free by clicking the button below.
Pitchers

Patrick Corbin FD - P 9800 DK - SP 11200
Opponent - NYM (Noah Syndergaard) Park - NYM
FD - 37.35 DK - 20.49
Two of the best pitchers on the main slate are unfortunately facing one another tonight, and while Vegas sees this as essentially a pick 'em, our projection system seems to prefer Corbin. It's not too difficult a case to make, as the left handed Corbin strikes out far more batters en route to an xFIP .3 better than Syndergaard's number. In spite of the Mets' recent hot streak, it's still not a terrible match-up. Many of the Mets' best hitters (Cano, Conforto, McNeil) are left handed, and getting them on the worse side of their platoon is meaningful here.

Jake Odorizzi FD - P 8000 DK - SP 8800
Opponent - CLE (Adam Plutko) Park - MIN
FD - 29.04 DK - 15.45
We're getting some great prices on Odorizzi here, who's become something of a darling for our projection system in the last few months. For starters, he's very obviously affordable, which is often all we really need to run him out there in the pitcher two slot. He also possesses some strong skills for fantasy purposes - he's striking out more batters than ever while walking fewer than ever, and posting a solid 3.61 ERA. xFIP would have you believe he's quite a bit worse than this thanks to his perennial battle to be the league's most fly-ball heavy pitcher, but what it means for our purposes is that he's a high ceiling option with potential blowup risk. The Twins are modest -158 favorites against the Indians here, who present almost exactly a league average match-up for Odorizzi. I think he's a strong option on DraftKings, if too risk to mess with on FanDuel.
Also considered: There is no line on this game at the moment, but Charlie Morton is in a great spot against the Mariners, who own the league's 5th highest K rate against right handed pitching. Depending on who starts for Seattle and where this line lands he could very well wind up being the best big money play on the slate.
Also considered: Aaron Sanchez, if you believe that the Astros may have salvaged his career. Again, too expensive on FanDuel, but an interesting pitcher two option on DraftKings.

Catcher/First Base
Yasmani Grandal FD - C 3400 DK - C 4100
Opponent - TEX (Pedro Payano) Park - MIL
FD - 10.61 DK - 7.92
I've run out of different ways to praise Yasmani Grandal's season. He's continued to make incremental improvements through the years, and the current 15% BB rate and 20% strikeout rate version is just terrific, particularly when compared to the poo-poo platter of catchers we have available to us tonight. The match-up is only a deal sweetener. Pedro Payano had BB/9 over 5 in AAA this season, so it's no surprise that he's maintained that abominable figure in the Majors. Payano has flashed some K upside in the minors, but that hasn't translated to the Majors just yet, and I'm happy to run the Brew Crew against him today.

Matt Olson FD - 1B 3400 DK - 1B 4300
Opponent - CHW (Reynaldo Lopez) Park - CHW
FD - 12.87 DK - 9.61
I love Olson in this match-up today. While he's been a reverse platoon split guy this year, Olson has been .103 OPS points better against righties for his career, and I don't see anything that makes me believe that he's fundamentally changed his approach. He's a true talent .870 OPS player who's clubbing homers at just shy of a 40 hr/year pace right now, and that's plenty of output at these prices. As for the match-up with Lopez, it really is a nice one. Lopez has added to his K rate this year, but his xFIP has actually climbed to 5.32 thanks to a big jump in the hard contact he's allowed. The A's should rock his world, and Olson should play a big role in that.

Yuli Gurriel FD - 1B 3500 DK - 1B/3B 5300
Opponent - BAL (Aaron Brooks) Park - BAL
FD - 12.67 DK - 9.83
I don't think I've written up Yuli Gurriel once in my entire career, but here we are. He's not batting very highly in the Astros' lineup, but given how difficult first base is tonight you might be able to take the risk. Gurriel is one the biggest beneficiaries of this year's juiced ball, as the high-contact first baseman has ripped 23 homers in 454 plate appearances after hitting just 13 in 573 plate appearances last year. What you really love about him here, though, is the match-up. Aaron Brooks is a 29 year old never-has-been with a sub 8 K/9 and a 5.19 xFIP. That's just not going to be enough to bother the Astros' nutty offense, and Gurriel should have plenty of chances to get his cuts in here.
Second Base

Jose Altuve FD - 2B 4400 DK - 2B 5400
Opponent - BAL (Aaron Brooks) Park - BAL
FD - 16.31 DK - 12.64
After a slow start to the season, Altuve put up a 1.087 OPS in July and has a 1.037 OPS so far in August. He's once against priced near superstar levels, but he serves as a reminder that we should be looking at larger bodies of work rather than overreacting to a few bad (or good) months. Like Gurriel he has a phenomenal match-up, and I love him in any format that you can afford him given the other options you're staring at today.

Max Muncy FD - 2B 3600 DK - 1B/2B 4300
Opponent - ARI (Alex Young) Park - LAD
FD - 11.38 DK - 8.48
Muncy is the other name that we've seen pop up at second base a lot this year, but usually when he's in a positive platoon situation. The left handed Dodgers shortstop eats righties for dinner, and he's almost always a good play when facing one. He's not bad against lefties, though, as his .843 OPS against them this season can attest. Alex Young makes for an interesting match-up as well, since he's become a season-long darling with his respectable K rate and his 2.60 ERA. The reality is that he's a bottom tier prospect without much of a minor league track record, and his 4.86 xFIP suggests he's still well below the Major League average. I love stacking the Dodgers today.
Shortstop

Jorge Polanco FD - SS 3500 DK - SS 4700
Opponent - CLE (Adam Plutko) Park - MIN
FD - 12.68 DK - 9.83
The Twins are just piling up good young hitters at the moment, and Jorge Polanco could be among the underrated members of that group. With a .929 OPS against right handers this season, the stocky shortstop is a nightmare for opposing northpaws. Adam Plutko should be shaking in his boots. FanGraphs didn't even have Plutko in Cleveland's top 30 prospect list, and his career 5.54 xFIP suggests they weren't missing out on much. With a 5.46 K/9, a 1.37 BB/9, and a 30.9% ground-ball rate, Plutko appears to have been delivered from a factory designed to create perfect pitchers to stack against. I love pretty much every Twin in pretty much every format.

Paul DeJong FD - SS 3400 DK - SS 4000
Opponent - PIT (Joe Musgrove) Park - STL
FD - 11.2 DK - 8.51
DeJong isn't as exciting as Polanco, but he's still a playable option if you want to get away from the chalk today. For all of his prospect hype, Musgrove has taken a step back this year, putting together a 4.53 xFIP after last year's 3.92 xFIP performance. DeJong has been pretty bad since April, but that has brought the price down to a level here his floor seems awfully high.
Also considered: Corey Seager.
Third Base

Alex Bregman FD - 3B 4000 DK - 3B/SS 5400
Opponent - BAL (Aaron Brooks) Park - BAL
FD - 16.67 DK - 12.56
Bregman is just an excellent player, so I'm happy to run him regardless of what position the sites decide to assign to him. With a 17.4% BB rate and a 12.9% K rate, Bregman has one of the very best approaches in the game, and he also happens to be on a pace to blow by last year's 31 home run total. He gets the same great match-up as the rest of his Astros amigos, and I'd be thrilled if I could afford him in any format.

Matt Carpenter FD - 3B 3100 DK - 3B 3700
Opponent - PIT (Joe Musgrove) Park - STL
FD - 12.62 DK - 9.41
You're going to have to take savings somewhere, and as much as it pains me to keep typing out this name, I think you have to consider Matt Carpenter. It's worth noting that he seems to be in danger of permanently losing a spot at the top of the lineup, but if he does happen to get back up there the 12.8% walk rate brings enough of a floor on its own. The 36 home run guy we saw last year certainly looks like an aberration at this point, but getting him at dirt cheap prices in a plus match-up against Musgrove looks like a pretty reasonable option.
Also considered: Miguel Sano, as a daily high risk and high reward option.
Outfield
Eddie Rosario FD - OF 3600 DK - OF 4800
Opponent - CLE (Adam Plutko) Park - MIN
FD - 12.95 DK - 9.97
Rosario fits the profile of a lot of hitters this year, as he's added power seemingly out of "nowhere" while not really improving his approach much in other areas. He's striking out less, but also walking less, and his declining BABIP has taken some of his value. If you believe that his BABIP will rise to his established levels he could be a true talent .850-.900 OPS guy, and you're getting him at a bargain in a great match-up with the lousy Plutko here.
Dexter Fowler FD - OF 2900 DK - OF 3600
Opponent - PIT (Joe Musgrove) Park - STL
FD - 11.06 DK - 8.38
Fowler is quite simply too cheap if he's going to be batting 1st or 2nd against right handed pitching right now. While he's no longer anything remotely resembling a 20/20 guy, he still brings a double digit walk rate and plenty of floor at near-basement prices when he bats toward the top of the order.

Jesse Winker FD - OF 2900 DK - OF 3900
Opponent - CHC (Kyle Hendricks) Park - CIN
FD - 11.43 DK - 8.7
While Winker hasn't built upon his tremendous 2018 campaign, he's still been plenty good this year, and has fought his way back into the leadoff role as a result. He's still got an OBP heavy .825 OPS, and has doubled last year's admittedly modest home-run total in a similar amount of plate appearances this season. Hendricks has been a tough nut to crack from an analytics perspective over the last few years, as he's outperformed his mediocre xFIPs in 5 of his 6 Major League seasons. Still, he's not a huge K guy, and Winker should be able to justify his too-low price tag here.
George Springer and Mike Trout are great expensive plays today too, so outfield is really looking like a strong spot to pay up if you have a mind to.
GRAB A FREE TRIAL OF OUR PROJECTION SYSTEM, AND CHECK OUT DFSR PRO!
image sources
AP_191301419247881: AP Images
FREE EBOOK
SECRETS TO CRUSHING DAILY FANTASY FOOTBALL!
DON'T SET ANOTHER LINEUP BEFORE YOU READ THIS BOOK.