Baseball Picks Daily Fantasy
Expert Advice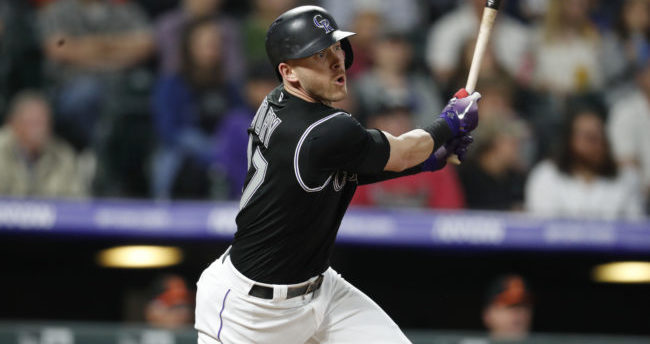 DraftKings and FanDuel MLB Picks for Monday 8/12/19
Monday's baseball action brings us a game in Coors with a predictably monster total, plus some other offenses in good spots. It's pitching that could get a little tricky.
Now's your chance to get DFSR PRO, which will give you access to our MLB and NBA optimizers and our new player lab! Get started for free by clicking the button below.
Pitchers

Zack Greinke FD - P 10800 DK - SP 10700
Opponent -
CHW (Dylan Cease)
Park -
CHW
FD
- 37.66
DK
- 20.5
In his first start in an Astros uniform Greinke was underwhelming, going six innings, allowing five earned runs and striking out only two batters. Houston has a history of taking pitchers and then making them way better than any previous iteration. I'm going to air on the side of the team here. Greinke's strikeouts had declined this season but he's also exhibiting pinpoint control, walking only 1.36 batters per nine on the season. Greinke opens as a -250 road favorite against a White Sox team striking out 27% of the time against righties and ranked third to last in wOBA in that split. On a shorter Monday slate, Greinke ranks as the top overall pitching option on both sites.
Jose Suarez FD - P 5700 DK - SP 7900
Opponent -
PIT (Mitch Keller)
Park -
LAA
FD
- 25.67
DK
- 13.1
Monday's main slate offers very few solid pitching options that you'd have any faith throwing into a cash game. So we are going to need to make some concessions around *comfort* when it comes to some of these plays after Greinke. Good news first on Suarez: he's striking out about a batter an inning in his starts and on Monday gets the best matchup you can get as a lefty arm. The Pirates rank dead last in wOBA in that platoon and strike out 23% of the time. He's also a -144 home favorite. The bad news is he isn't all that good of a pitcher. But he's coming really, really cheap and that could matter when it comes to stacking the hell out of Coors.

Catcher/First Base

Daniel Murphy FD - 1B 3400 DK - 1B 4400
Opponent -
ARI (Merrill Kelly)
Park -
COL
FD - 15.51 DK - 11.91
While overall it's been a rather rough season for the Rockies and Murphy, them getting this game back in Coors has us buoyed for their chances at offensive success on Monday. On the season, Murphy has a .381 wOBA and .910 OPS at home even though only two of his 11 home runs have come in the park. This game opens as a pick'em with a 13.5 over/under and Murphy should be in the cleanup spot against the righty Kelly.
Christian Walker FD - 1B 3600 DK - 1B 4900
Opponent -
COL (Peter Lambert)
Park -
COL
FD - 13.11 DK - 9.94
We might as well stay in this game and that is going to be a theme for the rest of the picks article. Walker should be in the middle of the Arizona lineup and has actually been a reverse splits guy on the season. He's got a respectable .829 OPS on the season, but is 20 OPS points higher against righties on the season. Some of that is BABIP-aided considering he takes a lot more walks against lefties. But this is still Coors and Waler should be in the middle of the lineup.
Second Base

Ketel Marte FD - 2B 4400 DK - 2B/OF 5500
Opponent -
COL (Peter Lambert)
Park -
COL
FD - 14.28 DK - 11.09
Marte's had the kind of season that makes you maybe want to either check the inside of the baseball or possibly pass a piss test. But such is the state of the modern game when a guy can just all of a sudden start hitting home runs like it's the easiest thing in the world. In his first 1548 plate appearances, through the end of last season, Marte had 22 total home runs. This season, in 500 plate appearances he has 24. OK. Heading into Coors and hitting in the second hole should have Marte as a pretty popular cash play on Monday.

Ryan McMahon FD - 2B 3200 DK - 2B 4200
Opponent -
ARI (Merrill Kelly)
Park -
COL
FD - 13.62 DK - 10.43
McMahon, like Murphy, and all the rest of the Rockies, is better at home to an unsurprising but alarming degree. He has an .870 OPS and .364 wOBA in Coors and numbers well below that on the road. Again, this isn't news but is important to bring up because tuning you in to his season long stats doesn't make much sense from a "make a case" standpoint. He has a 13% walk rate against righties on the season, a totally elite number and should be among the Coors stacks you make on Monday. Again, you'll have trouble because of the team limits on each site, but this is the kind of slate we are given.
Shortstop
Trevor Story FD - SS 4600 DK - SS 5600
Opponent -
ARI (Merrill Kelly)
Park -
COL
FD - 17.26 DK - 13.1
Like his teammate, Story's season long numbers are rather inconsequential because you really only need to look what he's doing at home for DFS purposes. In Colorado he has a 1.039 OPS, .356 ISO and .421 wOBA. So yeah, he's great at home and we need to get on playing a middle of the order bat into lineups post haste. If it's getting boring reading about these guys, I don't know what to tell you really. This game is just so and above the run lines for any other affair that we need to fully focus on the stadium.

Trea Turner FD - SS 3500 DK - SS 4900
Opponent -
CIN (Anthony DeSclafani)
Park -
WSH
FD - 13.9 DK - 10.81
Turner is a better fantasy guy than real life baseball player (at which he's awesome, but you get my drift) but that doesn't mean we need to avoid the guy. He still has 10 home runs and 25 stolen bases on the season (the latter is a huge plus). I don't love him as a DK play because I'd rather just pay up for Story, but on
FanDuel
the savings could make sense.
Third Base

Nolan Arenado FD - 3B 4500 DK - 3B 5400
Opponent -
ARI (Merrill Kelly)
Park -
COL
FD - 17.96 DK - 13.52
Look, we've been through this a million ways (and a couple of more to come) up until this point. The Rockies are in a prime spot and 'Nado is at the core of their run-scoring potential. He sat out Sunday but that doesn't appear injury related. Dude should be back in the middle of the lineup on Monday and few other players are going to see this kind of projection when we start looking at the run total and his stats in Coors. Kind of seeming like a no-brainer.

Asdrubal Cabrera FD - 3B 2400 DK - 3B 3200
Opponent -
CIN (Anthony DeSclafani)
Park -
WSH
FD - 10.59 DK - 8.1 He hit near the middle of the lineup on Sunday even with Rendon back in the lineup which has to give you the idea that this might be part of the plan moving forward. It's not a tremendous spot, but Cabrera comes in with a 10% walk rate while striking out only 23% of the time. He isn't a world-beater but he can put the bat on the ball. The price on both sites is working toward the punt range and he'd be in play on FD and DK if hitting in the middle of the lineup.
Outfield

Charlie Blackmon FD - OF 4700 DK - OF 5700
Opponent -
ARI (Merrill Kelly)
Park -
COL
FD - 17.23 DK - 13.23
All right, let's cap it off. Blackmon will be in the leadoff spot on Monday and dude has of course raked at home. He has a 1.305 OPS there this season with a fucking crazy .524 wOBA and 1.305 OPS. These are just nuts numbers and continually speak to the stupidness of Coors. But we can use to it our advantage knowing that more runs are scored here than anywhere.

Jesse Winker FD - OF 3000 DK - OF 3800
Opponent -
WSH (Erick Fedde)
Park -
WSH
FD - 12.37 DK - 9.41
Josh VanMeter FD - OF 2600 DK - 2B/OF 3700
Opponent -
WSH (Erick Fedde)
Park -
WSH
FD - 11.16 DK - 8.54
I suspect we see Winker back at the top of the Reds' lineup on Monday with VanMeter hitting 4th. That's been mostly the story with this team over the short term and both got a day off on Sunday against the lefty. Winker walks 10% of the time and has a low-.800's OPS. There's no speed in those boots even for a lead-off hitter but he does has 15 home runs on the season.
Meanwhile, VanMeter has shown a lot of patience at the plate with a 12% walk rate and a mid-.800's OPS. He's put together some power and speed with four home runs and steals each in his first 100 plate appearances making him something of a fantasy darling out of the gate.
GRAB A FREE TRIAL OF OUR PROJECTION SYSTEM, AND CHECK OUT DFSR PRO!
FREE EBOOK
SECRETS TO CRUSHING DAILY FANTASY FOOTBALL!
DON'T SET ANOTHER LINEUP BEFORE YOU READ THIS BOOK.