Baseball Picks Daily Fantasy
Expert Advice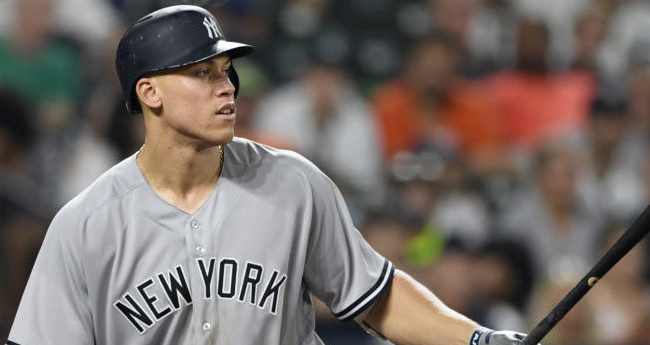 DraftKings and FanDuel MLB Picks for Tuesday 8/13/19
Now's your chance to get DFSR PRO, which will give you access to our MLB and NBA optimizers and our new player lab! Get started for free by clicking the button below.

This is one of those slates where you need to check the weather! We have rain forecasted in half of these games and it's going to be a nightmare if you don't understand the forecasts prior to submitting lineups. With that in mind, let's get to some of our best value plays for Tuesday!
Pitchers

Brendan McKay FD - P 8000 DK - SP 8100
Opponent - SD (Eric Lauer) Park - SD
FD - 29.82 DK - 15.56
This is a relatively easy pick at these prices. Let's start with McKay's absurd minor league numbers, with the southpaw generating a 1.15 ERA and 0.82 WHIP at Triple-A this season. Those ridiculous numbers are backed up by a K rate north of 35 percent and it's simply impossible to argue with those sort of statistics. While he hasn't been quite that good at the Majors, a 3.76 xFIP and 1.21 WHIP isn't too shabby. What adds to his intrigue here is that he gets to face an NL lineup in a pitcher's park. It happens to be a weak lineup too, with the Padres ranked 23rd in runs scored, 27th in K rate and 23rd in OBP.
Domingo German FD - P 9600 DK - SP 10000
Opponent - BAL (John Means) Park - NYY
FD - 38.26 DK - 20.77
German is quietly having a great year for the Yankees and it's always worth considering pitchers against the Orioles. Let's start with this matchup, as Baltimore currently sits 21st in K rate, 26th in runs scored, 25th in OBP, 26th in OPS and 28th in xwOBA. That's scary against a pitcher like German, who's 15-2 with a 4.05 ERA and 1.12 WHIP. He's also got a 4.02 xFIP and 26 percent K rate, as he's done that damage while navigating through some tough opponents recently. In three starts against the Orioles this season, German is 3-0 and hasn't allowed more than two runs in any one of them.
There are a number of good pitching options on this slate. Gerrit Cole (FD $11800 DK $12700) is crazy expensive, but is also a massive -330 road favorite against the woeful White Sox.

Matthew Boyd (FD $10400 DK $10300) is also in a great spot against the Mariners and has been awesome this season.



Catcher/First Base

Daniel Murphy FD - 1B 3200 DK - 1B 4200
Opponent - ARI (Zac Gallen) Park - COL
FD - 14.76 DK - 11.34
These prices are truly shocking. How often do you see a potent bat like this in Coors Field priced so cheaply? The simple fact is, Murphy has been a different player the last two months. In fact, Murphy is hitting .320 over his last 59 games while generating an .871 OPS in that span. A good amount of that damage has been done at Coors Field, with Murph hitting .349 at home while accruing a .910 OPS. Getting to hit in the heart of an order projected for seven runs is simply the icing on the cake, as Murphy also has an OPS north of .900 against right-handers since 2017.
Jesus Aguilar FD - 1B 2700 DK - 1B 3700
Opponent - SD (Eric Lauer) Park - SD
FD - 10.63 DK - 7.97
Talk about ridiculous prices. Aguilar is one of the most talented bats in the game and he's being priced like a guy who's middling between the Majors and minors. The simple fact is, the Rays invested in this guy and have hit him either third, fourth or fifth in almost all of his games since joining this club. That means they trust him and it's really no surprise when you look at his .493 SLG and .834 OPS dating back to 2017. We're talking about a dude who's scorching hot right now too, hitting .338 over his last 27 games while generating a .943 OPS in that span. Not to mention, he gets to face a weak lefty and Aguilar posted a .910 OPS against them between 2017-18.
If you're in need of a catcher, Travis d'Anaud gets the same matchup as Aguilar with the platoon advantage in his favor.
Second Base

Ryan McMahon FD - 2B 3300 DK - 2B 4300
Opponent - ARI (Zac Gallen) Park - COL
FD - 12.64 DK - 9.68
It's rare to find cheap bats in a Coors Field game but McMahon is just that. What makes it even more bizarre is the fact that he's hot right now and typically batting fifth or sixth. That's huge in a lineup projected for seven runs and it's simply impossible to argue with this production. Over his last 27 games, McMahon has a .297 AVG, .381 OBP, .538 SLG and .919 OPS. He's obviously been much better at home too, totaling an .890 OPS at home dating back to the beginning of last season. We're not really worried about Zac Gallen, as his 4.34 xFIP is not immune to Coors Field.

Max Muncy FD - 2B 3800 DK - 1B/2B 4700
Opponent - MIA (Jordan Yamamoto) Park - MIA
FD - 13.04 DK - 9.71
It's always tricky to find two second baseman worth trusting but Muncy is always a safe option. Since joining the Dodgers last season, the stud second baseman is providing a .379 OBP, .549 SLG and .929 OPS. That's backed by an ISO just shy of .300 and it's clear this dude is one of the most dangerous bats in the game. What makes him an enticing option here is that he gets the platoon advantage against Jordan Yamamoto, who's xFIP is creeping closer to 5.00.
Shortstop

Didi Gregorius FD - SS 3100 DK - SS 4200
Opponent - BAL (John Means) Park - NYY
FD - 13.5 DK - 10.34
Gregorius continues to be undervalued on these DFS sites and it's hard to understand why. All of the injuries in New York have really skyrocketed his value, moving Gregorius into the heart of the order. That's evident by his recent production, with Gregorius collecting 26 RBI over his last 22 games en route to a SLG well north of .500. That's really all you can ask for from a player in this price range and he's facing a pitcher who's due for some negative regression. In fact, John Means 3.36 ERA is well below his 5.46 xFIP and those numbers will only creep closer together in a tough matchup like this.

Javier Baez FD - SS 4200 DK - SS 5100
Opponent - PHI (Jason Vargas) Park - PHI
FD - 14.17 DK - 10.86
This play is easily one of my favorite on the board. Let's begin with this matchup, as Baez faces a weak lefty who's pitching to a 5.29 xFIP this season. That's truly scary in a hitter's haven like Citizen's Bank Park and it's a recipe for disaster against a left-masher like Baez. So far this season, the stud shortstop is amassing a .330 AVG, .681 SLG and 1.049 OPS with the platoon advantage in his favor. He's hot right now too, posting a .359 AVG and 1.119 OPS over his last 10 games.
Third Base
Tommy Edman FD - 3B 3000 DK - 2B/3B 4200
Opponent - KC (Glenn Sparkman) Park - KC
FD - 11.53 DK - 8.83
Edman has been leading off for the Cardinals with Matt Carpenter struggling and it's done wonders for his fantasy value. It's really no surprise when you look at his Triple-A numbers this season, with Edman totaling a .308 AVG and .846 OPS. That minor league form has really carried over since his move to the leadoff spot, with Edman recording multi-hit games in three-straight while averaging 13 DK points per game in that span. Batting leadoff against Glenn Sparkman is the main reason we like him though, with the Royals righty pitching to a 5.71 ERA and 1.48 WHIP this season.

Kris Bryant FD - 3B 3800 DK - 3B/OF 4800
Opponent - PHI (Jason Vargas) Park - PHI
FD - 13.89 DK - 10.45
The Cubs are one of the sneakiest stacks on the board, with Bryant and Baez being one of the best two-man stacks available. We already discussed why we like this matchup, as Vargas' xFIP north of 5.00 makes him a tough bet in a park like this against a potent lineup like the one Chicago possesses. Bryant has done nothing but destroy left-handers throughout his career, with KB posting a .456 OBP, .706 SLG and 1.162 OPS against them this season and a .438 OBP and 1.069 OPS against lefties since 2017.
Outfield
Josh VanMeter FD - OF 2500 DK - 2B/OF 3900
Opponent - WSH (Joe Ross) Park - WSH
FD - 11.57 DK - 8.86

Jesse Winker FD - OF 3000 DK - OF 3800
Opponent - WSH (Joe Ross) Park - WSH
FD - 12.83 DK - 9.76
Let's get in a couple of Reds into our build, as this has sneakily been one of the best offenses in the league the last two weeks. If we like multiple of these guys, that means we have to love this matchup. So, let's begin with that! Joe Ross hasnt proven to anyone this season that he belongs in a Major League rotation. In fact, his 6.75 ERA and 1.75 WHIP are some of the worst marks in the NL. That's scary against a hot lineup like this, with the Reds Top-10 in dingers and runs scored the last two weeks.
Now that we got the matchup out of the way, let's talk about these players. First, Jesse Winker is projected to be the leadoff hitter. That's obviously a bonus for a team we want to stack, with Winker posting a .394 OBP and .901 OPS against right-handers since 2017. Josh VanMeter actually has better numbers than that since returning from the minors. At Triple-A this season, VanMeter hit .348 en route to a 1.088 OPS. That's the guy we've seen recently, with JVM posting a .333 AVG and 1.056 OPS over his last 16 games.

Aaron Judge FD - OF 4000 DK - OF 4400
Opponent - BAL (John Means) Park - NYY
FD - 17.5 DK - 12.99
This is more of a play on potential rather than production. This dude's advanced statistics are downright absurd, as he leads the league in exit velocity while ranking Top-10 in barrel rate. That means he's been terribly unlucky and that a hot streak is right around the corner. Getting to face a lefty with an xFIP north of 5.00 is a good way to start a hot stretch, with Judge generating a .469 OBP and 1.041 OPS against lefties so far this season. Not to mention, Judge's OPS is 150 points at higher at home this season than it is on the road.
GRAB A FREE TRIAL OF OUR PROJECTION SYSTEM, AND CHECK OUT DFSR PRO!
image sources
Yankees Orioles Baseball: (AP Photo/Nick Wass)
FREE EBOOK
SECRETS TO CRUSHING DAILY FANTASY FOOTBALL!
DON'T SET ANOTHER LINEUP BEFORE YOU READ THIS BOOK.