Baseball Picks Daily Fantasy
Expert Advice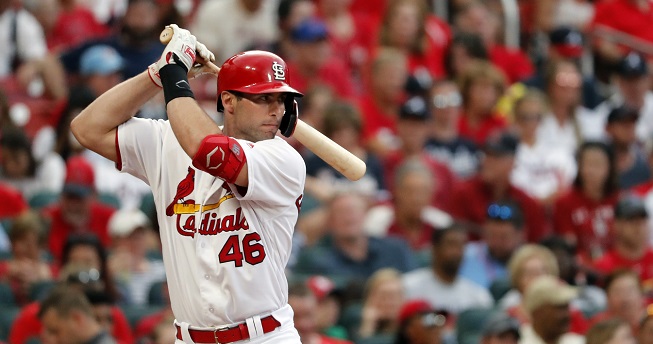 DraftKings and FanDuel MLB Picks for Wednesday 8/14/19
Now's your chance to get DFSR PRO, which will give you access to our MLB and NBA optimizers and our new player lab! Get started for free by clicking the button below.
Pitchers
Early

Wade Miley FD - P 9000 DK - SP 9400
Opponent - CHW (Ross Detwiler) Park - CHW
FD - 31.96 DK - 16.52
The early slate is loaded with offensive power so instead of going with one of the top tier options at pitcher, I will be turning to Wade Miley as my top option. He has been a picture of consistency all season as he has allowed more than three earned in a start just twice(both 4 ER) in 24 starts while averaging just shy of six innings per start. He has been even better lately holding opponents to two or fewer earned runs in seven of his last eight starts(2.03 ERA) and now gets another premiere matchup against a White Sox team that has been dreadful since the All-Star break with a .277 wOBA, 71 wRC+, .115 ISO, and 27% K rate, all of which rank dead last. All things considered, Miley is an excellent play in all formats and gives us some need salary relief to fit some top bats in our lineups in all formats.
Also Consider: J.A. Happ(NYY) in a plus matchup against the Orioles or Cal Quantrill(SD) 
Main

Clayton Kershaw FD - P 12000 DK - SP 11800
Opponent - MIA (Elieser Hernandez) Park - MIA
FD - 41.36 DK - 22.61
Kershaw comes at a premium price tonight but I will most definitely be paying up as he checks almost every single box. Let's first look at his form as he has held opponents to two or fewer earned runs in six straight starts and has found his swing and miss stuff as well with nine or more strikeouts in four of those six starts. That stretch of elite pitching has pushed him up to sixth overall with 2.77 ERA that is backed up by a 3.57 xFIP. He now gets an elite matchup against a Marlins team who hasn't been as bad as the White Sox since the break but pretty close ranking bottom in wOBA(.294), wRC+(83), ISO(.156), and K rate(24.7%). The Dodgers are huge favorites on the road and Kershaw is easily in the best spot and well worth the spend up tonight in all formats.
Also Consider: Marco Gonzalez(SEA) who has held opponents to two or fewer earned runs in three of his last four starts and now gets a plus matchup against the Tigers bottom three offense

Catcher/First Base
Early


Matt Olson FD - 1B 3700 DK - 1B 4100
Opponent - SF (Tyler Beede) Park - SF
FD - 11.06 DK - 8.26
The Athletics provide us with some value today if you choose to pay up at pitching or if you are trying to jam as many Yankees, Astros, and Diamondbacks bats as you can. They get a plus matchup vs. a struggling Tyler Beede who has given up four or more earned runs in four straight starts with seven home runs pushing his season ERA up to 5.61 with an xFIP(4.90) that is not much better. I will start with Matt Olson at first base who has been slightly better in the second half with a .273 average and elite .371 on-base percentage while adding four home runs, 14 RBI, and 10 runs scored. From a PTS/$ perspective, he is one of my favorites at the position in cash games to build a more balanced lineup and also as a part of an Oakland value stack with a pay up at pitcher.
Also Consider: Trey Mancini(BAL) who has hit lefties well, been hot lately, and has also hit Happ very well
Main


Paul Goldschmidt FD - 1B 3900 DK - 1B 4300
Opponent - KC (Brad Keller) Park - KC
FD - 13.49 DK - 10.16
As it has almost all season, the projection system is in love with Paul Goldschmidt as he sits right near the top of the PTS/$ rankings on both sites. It has most definitely been a down season overall for Goldy but as we have mentioned several times all the underlying numbers suggested a positive regression to the mean. Well, the great news here is that he has been much better lately posting a .338/.366/.691 slash line with seven home runs and 14 RBI over the last three weeks. He also faces Brad Keller who is going through a bit of a rough patch having given up 11 earned runs over his last three starts with five home runs. Goldy is still a buy-low in my opinion and in play in all formats tonight.
Also Consider: Josh Bell(PIT) who is also starting to heat back up and still $500-$600 cheaper than his peak prices earlier this season
Second Base
Early


Ketel Marte FD - 2B 4300 DK - 2B/OF 5400
Opponent - COL (Kyle Freeland) Park - COL
FD - 13.75 DK - 10.67
Choosing which offense in a great spot to pay up for on the early slate is the biggest decision today. I feel the Yankees, against the worst pitching staff in baseball(by a longshot), will come in as the chalk and while I will have exposure I love the pivot to the D-Backs here. It starts with switch-hitting Ketel Marte who has been the team MVP and one of the most consistent hitters in baseball as he enters tonight with an elite .317/.377/.562 slash line and has destroyed lefties to the tune of a .400 wOBA, 146 wRC+, and .305 ISO. On DraftKings, Marte can also be used in the outfield and he is firmly in the conversation as the top bat on the slate and in play in all formats.
Also Consider: Gleyber Torres(NYY) as another top pay up or Scooter Gennett(SF) as a punt play
Main

Niko Goodrum FD - 2B 3200 DK - OF/SS 4200
Opponent - SEA (Marco Gonzales) Park - DET
FD - 10.29 DK - 7.9
It has been a while since I have targeted a Tigers bat but here we are with a smaller slate and the good news is that he is cheap and in a good spot as well. He faces an inconsistent Marco Gonzalez but what stands out the most here are his splits as he went into Tuesday night with a .393 wOBA and 137 wRC+ in the split. He has also been consistent since the All-Star break hitting over .300 with an impressive .373 on-base percentage thanks to some excellent plate discipline(10% walk rate). All things considered, Goodrum is in my player pool in all formats tonight.
Also Consider: Max Muncy(LAD) or Ozzie Albies(ATL) as top tier options for GPP formats
Shortstop
Early

Nick Ahmed FD - SS 3700 DK - SS 4700
Opponent - COL (Kyle Freeland) Park - COL
FD - 12.13 DK - 9.34
I will be all over the Diamondbacks on the is early slate and something I didn't touch on with Marte is the matchup. They don't just get the Coors Field boost today but they also get to face Kyle Freeland whose fantastic 2018 season is a thing of the past. He carries an ugly 7.06 ERA/5.17 xFIP into tonight and has really struggled at home(9.50 ERA/5.60 xFIP) especially lately as he has given up multiple home runs in four of his last five starts in Coors. I didn't want t write up all the Zona bats in the infield(very high on Escobar/Walker as well) but wanted to mention Nick Ahmed who comes a bit cheaper than those bats but has excellent splits with a .362 wOBA, 121 WRC+, and 42% hard contact rate vs. lefties. Ahmed is in play in all formats.
Also Consider: Didi Gregorius(NYY) who is struggling but in a buy-low situation against Baltimore or Mike Freeman(CLE) as a punt play if he gets a start vs. the righty
Main
The shortstop position is an absolute mess tonight with literally not one option that stands out at the moment. Johan Camargo(ATL) tops our PTS/$ rankings but I am not sold with his less than intriguing splits(.245 wOBA, 45 wRC+ vs. LH). Paul DeJong(STL) tops the raw points projections at the moment but has struggled for over a month now. At this time I am leaning Corey Seager(LAD) who arguably gets the best matchup at the position facing Elieser Hernandez while the Dodgers sit right near the top of the implied run rankings. If stacking Mariners, who sits #1 in implied runs at the moment, J.P Crawford makes sense hitting consistently in the two-hole.
Third Base
Early


Giovanny Urshela FD - 3B 4400 DK - 3B 5100
Opponent - BAL (Dylan Bundy) Park - NYY
FD - 13.62 DK - 10.42
I have somehow made it all the way to the third base position without mentioning the Yankees. It is no secret they are in a great spot once again facing Dylan Bundy (5.04 ERA/4.66 xFIP) and the leagues worst bullpen.....by a long shot. One of the top bats in pinstripes that I will be targeting is Gio Urshela who comes into this game with three straight three-hit games and he also has multi-hit efforts in six of his last eight games. That pushes his season numbers up to an impressive .332/.376/.587 slash line(as of pre-game Tuesday). It is a tough decision between him and Marte at third base but the $400 discount on DraftKings gives the slight edge to Urshela
Also Consider: Eduardo Escobar(ARI) if paying up or Renato Nunez(BAL) as a value play who has plus splits vs. lefties(.335 wOBA, 108 WRC+, .265 ISO)
Main


Kyle Seager FD - 3B 3400 DK - 3B 4000
Opponent - DET (Edwin Jackson) Park - DET
FD - 10.65 DK - 8.07
I mentioned the Mariners as the top projected offense above and while they have struggled since the All-Star break(.293 wOBA, 85 wRC+), Kyle Seager is one bat I will have in all formats. He got a late start to the season due to injury and struggled a ton early on but the good news is that he has been much better lately. He comes into tonight with hits in seven straight and 17 of his last 18 games and has also found his power stroke with five home runs in that time as well. Considering the price, he is my favorite play at the position tonight.
Also Consider: Matt Carpenter(STL) as another buy low Cardinals bat who has started to come around with hits in five of seven starts since returning from the IL
Outfield
Early

Stephen Piscotty FD - OF 3100 DK - OF 3500
Opponent - SF (Tyler Beede) Park - SF
FD - 9.59 DK - 7.28
There is no shortage of options to pay up for today in the outfield(Yelich, Springer, Judge) but with those being fairly obvious with three spots to fill I will go the value route in the article. You probably won't see him in our optimized lineups as he is mid-pack in the raw points and PTS/$ rankings but he is cheap on both sites and has been red-hot since returning from the IL with hits in five of seven games with two home runs. take the value and load up with Yankees, D-Backs, and Astros.
Also Consider: Willie Calhoun/Nomar Mazara(TEX) as a mid-range, middle of the order two-man stack
Main

J.D. Davis FD - OF 3200 DK - 3B/OF 4900
Opponent - ATL (Dallas Keuchel) Park - ATL
FD - 9.33 DK - 7.13
Same story on the main slate tonight as I would do whatever you can to get one of Acuna, Bellinger, or Trout in your lineup but if you need the saving, I love turning to J.D. Davis. The Mets have been red-hot and a lot of can be contributed to Davis who has been scorching hot in the second half with a .380/.446/.658 slash line over 25 games with 10 multi-hit effort and five home runs. He has bounced around the lineup but given he is facing a lefty in which he has strong splits against(.382 wOBA, 142 wRC+, 51% hard contact rate) I could see him in the top half tonight which would be a huge boost to his projection. He is in play in all formats.
Also Consider: Marcell Ozuna(STL) in all formats or Starling Marte(PIT) as a high-priced GPP pivot off Trout, Bellinger, Acuna
GRAB A FREE TRIAL OF OUR PROJECTION SYSTEM, AND CHECK OUT DFSR PRO!
FREE EBOOK
SECRETS TO CRUSHING DAILY FANTASY FOOTBALL!
DON'T SET ANOTHER LINEUP BEFORE YOU READ THIS BOOK.