Baseball Picks Daily Fantasy
Expert Advice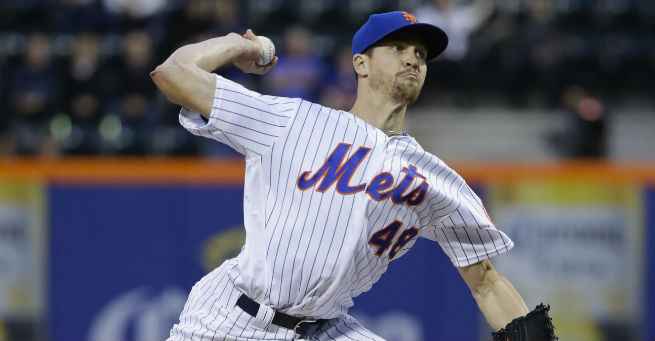 DraftKings and FanDuel MLB Picks for Saturday 8/17/19
Now's your chance to get DFSR PRO, which will give you access to our MLB and NBA optimizers and our new player lab! Get started for free by clicking the button below.
Pitchers

Jacob deGrom FD - P 11500 DK - SP 11600
Opponent - KC (Jake Junis) Park - KC
FD - 39.96 DK - 22.68
It was pretty close between deGrom and Ryu for me today, but I'm giving deGrom the edge for a couple of reasons. For real life purposes, the tale of the tape between deGrom and Ryu is pretty close. They are separated by .01 in xFIP. Ryu has the best ERA among qualified starters, deGrom is ranked 5th. deGrom has pitched six more innings this season, but he also has two more starts. They're both ace's aces, and you'd be thrilled to have either on your favorite team. For fantasy purposes, deGrom's skillset and match-up just have to get the nod here. He's striking out almost four more batters per nine innings this season, and that's just downright hard to ignore in DFS. He's also got by far the better match-up, with the Royals landing as the fifth worst team against RHP this season (and the Braves being 8th best against LHP, by comparison). deGrom is also the bigger moneyline favorite at -190. I love Ryu, but deGrom has to be the best ace for your cash games today.
Eduardo Rodriguez FD - P 8400 DK - SP 9000
Opponent - BAL (Asher Wojciechowski) Park - BOS
FD - 35.5 DK - 18.88
After Ryu and deGrom things start to get bleak pretty quickly, with games in Arlington, Coors, and Arizona, and then a host of simply awful pitchers. And E-Rod! He's the clear pitcher two option against the orioles, to me. Not only are the O's a bottom 5 team in terms of wOBA against lefties this year, they also lead the entire Major Leagues with a 26.3% K rate against them. As for Rodriguez, he hasn't been the breakout star many people assumed he'd be after topping 10 K/9 last year, but he's still striking out a batter per inning with a respectable walk-rate. Throw that profile against the best match-up for left handed pitchers andit's tough to ask for a whole lot more in the pitcher two slot.
Also considered: Zach Eflin in his return from the bullpen - he's very cheap on both sites.

Catcher/First Base
Yasmani Grandal FD - C 3300 DK - C 3700
Opponent - WSH (Anibal Sanchez) Park - WSH
FD - 10.33 DK - 7.71
You know the routine by now. If you're rostering a catcher on any given night, and you can't find a free guy batting higher in the lineup than he should, Grandal is often the right play. Only four catchers are qualified for the batting title this season, and Grandal has the highest wOBA by .026 points. He's third among all catchers in home runs, and leads the position in walkrate. Today he'll be up against Anibal Sanchez, whose 3.75 ERA paints a sunnier picture than his 5.08 xFIP. Yes, Sanchez outperformed his xFIP last season, but that's not a track record he has replicated historically. I'll just take the floor on Grandal and take my risks elsewhere.

Daniel Murphy FD - 1B 3200 DK - 1B 4100
Opponent - MIA (Hector Noesi) Park - COL
FD - 17.46 DK - 13.41
The beginning of a recurring theme, surely. The Rockies are -240 in a game with a 12.5 run total, so Vegas believes they are just going to utterly destroy Hector Noesi and company. Murphy should be batting 3rd or 4th against the right hander, and while his .790 OPS is nothing to write home about this season, he should be able to destroy a guy like Noesi in Coors. So let's get to Noesi. The former Yankees prospect turned journeyman has been good in the minors this season, but his 5.60 xFIP across 44 innings in the past two seasons paints the picture of a far below league average pitcher. Murphy is comically cheap here, and nearly a must play in all formats at these prices if he's in the heart of the order.
Eric Hosmer FD - 1B 3400 DK - 1B 4200
Opponent - PHI (Zach Eflin) Park - PHI
FD - 11.14 DK - 8.54
I'm going to make every practical effort to not recommend Rockies and Red Sox at every position, which is why you're seeing Hosmer here. You know what you're getting from Hosmer as a budget first basemen these days - a true talent 25 homer .290 hitter with a decent approach. It's nothing special on these prices, but it's a good park in Philly and a solid match-up with Eflin. The Phillies' right hander will return from the bullpen in this start to see if he can improve upon his 4.87 xFIP. Last year's improvements are looking like the outlier for Eflin, whose K/9 has dipped back under 8 while the rest of the profile has remained constant. The Royals are an interesting off-beat stack as a result.
Second Base

Max Muncy FD - 2B 3800 DK - 1B/2B 4900
Opponent - ATL (Mike Foltynewicz) Park - ATL
FD - 13.43 DK - 10.01
Another day, another Muncy recommendation at second base. Muncy leads all keystoners with 29 home runs, he's fourth in runs, and tied for first in RBI. And did I mention you're getting him on the better side of his platoon here? As for the match-up, it's an excellent one against Foltynewicz. Some seem to believe in Folty's 2018 season, but injury concerns and 70+ innings of a 6+ ERA and a 5+ xFIP this season leave me feeling less than concerned. Muncy is a terrific play in all formats and the centerpiece of a great Dodgers stack.

Cesar Hernandez FD - 2B 2700 DK - 2B 3500
Opponent - SD (Dinelson Lamet) Park - PHI
FD - 9.7 DK - 7.51
If you decide to go against the grain (or throw the position away), Hernandez is a reasonably high floor option. He can make appearances toward the middle of the lineup, and Vegas like the Phils to put up a few runs against Lamet. The Padres' starter for tonight is a solid pitcher, but he's very unlikely to pitch more than five innings as they ease him back in. Hernandez isn't very exciting, but he's probably a true talent 10/15 guy with good on base skills. If you absolutely must take savings at 2B, he's a reasonable option. Generally speaking the main slate is just lacking good second basemen.
Shortstop
Trevor Story FD - SS 4500 DK - SS 5700
Opponent - MIA (Hector Noesi) Park - COL
FD - 18.95 DK - 14.38
Story is an obvious inclusion whenever we're talking about the Rockies having the highest total on a slate. While he has a reputation as a lefty killer, Story has a .927 OPS against right handers this season, and has hit 21 of his 26 home runs against them. Being at home only sweetens the deal, as Story has rocked northpaws for a 1.153 OPS in Coors this year. I love Story in any format, and would be hesitant to fade him. Unless...

Xander Bogaerts FD - SS 4200 DK - SS 5100
Opponent - BAL (Asher Wojciechowski) Park - BOS
FD - 17.22 DK - 13.14
Unless it means I'm going grab the other expensive high profile shortstop on the slate. We haven't mentioned an Red Sox yet, so let's start with Asher Wojciechowski. The 30 year old Oriole is on his 7th team, and has never been considered a prospect at any level. He's maintained a nice strikeout rate this season in limited innings, but he hasn't been able to get the xFIP below 5 either way. The Red Sox are -305 favorites in a game with an 11 total, and should put up some serious runs here. Bogaerts, meanwhile, is the class of a good position this year. Among shortstops he ranks 3rd in homers, first in R, first in RBI, third in wOBA, and first in WAR. He's a phenomenal play anywhere you can afford him.
Also considered: Jorge Polanco in a great match-up with Ariel Jurado.
Third Base

Nolan Arenado FD - 3B 4600 DK - 3B 5300
Opponent - MIA (Hector Noesi) Park - COL
FD - 19.22 DK - 14.47


Rafael Devers FD - 3B 4400 DK - 3B 5600
Opponent - BAL (Asher Wojciechowski) Park - BOS
FD - 17.58 DK - 13.37
I won't keep boring you with all the grizzly details on why you should be stacking against Noesi and Wojciechowski, so I'll just group these two together so I can give you another off-beat play below. Just know that our system sees both of these guys as excellent plays tonight, giving the slight nod to Arenado but acknowledging that Devers should be included if you decide to stack Red Sox tonight.

Justin Turner FD - 3B 3600 DK - 3B 4900
Opponent - ATL (Mike Foltynewicz) Park - ATL
FD - 12.79 DK - 9.72
I really love running Dodgers against Foltynewicz tonight. Folty hasn't been awful since returning from the DL, but he's only pitched 11.1 innings in his two starts, and given up 7 earned runs in the process. The ageless Turner is burbling along happily this season, maintaining his trademark reverse platoon split and a .897 OPS against right handers this year. He's packing his second best career ISO (.212), and is a high floor and relatively high ceiling option if you can't afford the big dogs tonight.
Outfield

Mookie Betts FD - OF 4100 DK - OF 5200
Opponent - BAL (Asher Wojciechowski) Park - BOS
FD - 20.27 DK - 15.42

J.D. Martinez FD - OF 4300 DK - OF 5200
Opponent - BAL (Asher Wojciechowski) Park - BOS
FD - 19.4 DK - 14.56
More Sox! And you can throw Charlie Blackmon from the Rockies in this group as well. As a friendly reminder you can't just grab the most expensive guys at every single position, so it might not be realistic to run these guys if you're playing expensive guys at the other premium positions today. These guys are just so far ahead of the curve in terms of points per dollar that you sort of have to run as many of them as possible.

Joc Pederson FD - OF 2900 DK - 1B/OF 4300
Opponent - ATL (Mike Foltynewicz) Park - ATL
FD - 11.46 DK - 8.58
Pederson is a big reason you might be able to pay down at outfield today. He should be batting leadoff against the right handed Foltynewicz, and while he might get pulled if the Braves throw a lefty at him later in the game, the payoff in the meantime could be worth it. His OPS against righties is more than .400 OPS points higher against righties, and all 24 homers have come against right handers this season. I love Pederson as a cheap option in any format.
Eddie Rosario FD - OF 4000 DK - OF 5400
Opponent - TEX (Ariel Jurado) Park - TEX
FD - 13.97 DK - 10.76
Rosario, and the Twins in general, are in a great spot here today, and it kind of concerns me that it took this long to get to him in the write-up. We'll start with Rosario, who blends a great contact rate (13.9% K rate) with lots of power, making him a great play in most formats on a daily basis. He's .057 OPS points better against right handers this season, and most of his power comes against righties as well.
It's a phenomenal spot against Jurado as well. The young right hander was ranked the 37th prospect in the Rangers' system, and had one of the worst K rates in modern times last year, registering 3.62 K/9 in 54 innings last year. He's made some progress this year, but his 4.81 xFIP still paints the picture of a well below average pitcher. With some huge totals and big names elsewhere, the Twins are one of the best big tournament stacks on the slate.
Also considered: Charlie Blackmon, but it gets old writing about Rockies at every position!
GRAB A FREE TRIAL OF OUR PROJECTION SYSTEM, AND CHECK OUT DFSR PRO!
FREE EBOOK
SECRETS TO CRUSHING DAILY FANTASY FOOTBALL!
DON'T SET ANOTHER LINEUP BEFORE YOU READ THIS BOOK.