Baseball Picks Daily Fantasy
Expert Advice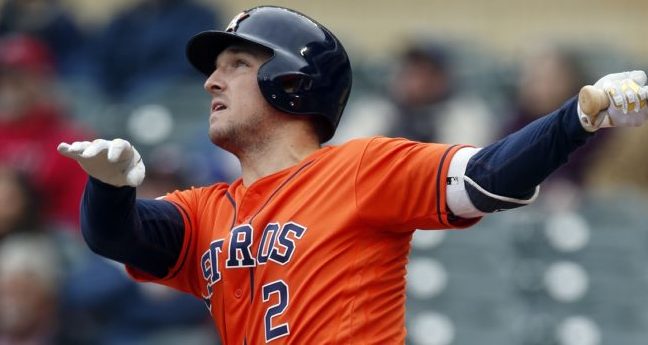 DraftKings and FanDuel MLB Picks for Monday 8/19/19
We are in the middle of August and some of teams have basically already punched their tickets to the playoffs. Then there are others who should probably be relegated somehow. But DFS marches on and he was the Astros coming in as huge favorites and some interesting cheaper arms to go with them.
Now's your chance to get DFSR PRO, which will give you access to our MLB and NFL optimizers and our new player lab! Get started for free by clicking the button below.
Pitchers

Brendan McKay FD - P 7500 DK - SP 7500
Opponent -
SEA (Marco Gonzales)
Park -
TB
FD
- 35.27
DK
- 18.91
McKay's first three starts in the majors were a swimming success and he looked every bit the prospect that was promised. The last four? Not so much. But there really isn't any cause for concern. Sure, he's allowed 10 earned runs in his last 14 innings, but there's plenty of BABIP bad luck in there as well. The six walks last game are a bit of a head scratcher, but this is still a young arm we're talking about. He enters Monday as a -185 home favorite against the Seattle Mariners who strike out 26% of the time on the season against righties. McKay's coming at a discount because of the short term performance and we can get him at a steal in this spot. His price will help fit some higher-priced bats along the way and I suspect he's something like the chalk among those who don't concern themselves with short term results.

Wade Miley FD - P 9000 DK - SP 11200
Opponent -
DET (Edwin Jackson)
Park -
HOU
FD
- 40.21
DK
- 21.35
There's probably a
FanDuel
case for Miley at $9,000 thanks to the exorbitant -400 win odds he's entering Monday with against the lowly Tigers. Detroit ranks 25th in wOBA against lefties this season with a 25.5% strikeout rate and traded away their best hitter at the deadline. This is a dead team walking. Miley's numbers aren't overly impressive and he struggled last game though some of that was thanks to the lack of defense behind him. In his previous four games he'd struck out 22 batters in 25 innings while allowing only five earned runs in that stretch. He's not a world-beater, but then expectation, opponent and ability to go more than 5.5 innings per start this season do have him in major consideration. I think the $11,200
DraftKings
price is a bridge too far though.
On
DraftKings
, I think
Zac Gallen
(
FD
$8000
DK
$9300) is moderately interesting against a Rockies' team that struggles against righties and really, really struggles playing away from home.

Catcher/First Base
Matt Adams FD - 1B 2900 DK - 1B 4200
Opponent -
PIT (Trevor Williams)
Park -
PIT
FD - 11.96 DK - 9.02
Adams is basically a two-true outcome kind of guy with 43% of his plate appearances ending with either a strikeout or a home run. That ranks 9th in the majors among players with more than 100 plate appearances this season. Up it 200 plate appearances and he is fifth overall. So we pretty much know we are getting about as boom or bust a dude as there is in the majors. But he's still a play against
Trevor Williams
who strikes out less than seven batters per nine on the season.
Jesus Aguilar FD - 1B 2800 DK - 1B 3200
Opponent -
SEA (Marco Gonzales)
Park -
TB
FD - 11.29 DK - 8.47
Though he's maybe seen as a lefty-killer, Aguilar has been closer to platoon neutral over his career. Though he walks slightly more against lefties, the wOBA is basically the same in each platoon thanks in some part to a higher ISO against righties. That being said, he gets his run against lefties in the Rays' lineup and that's the case against a below-average
Marco Gonzales
who has an xFIP near 5.00 and a 17.7% strikeout rate. Aguilar did move down to the sixth spot on Sunday against a southpaw, but I still think he's a value in this matchup.
Second Base

Jose Altuve FD - 2B 4300 DK - 2B 5200
Opponent -
DET (Edwin Jackson)
Park -
HOU
FD - 16.18 DK - 12.54
Imagine being as bad (relative to average) at your job as
Edwin Jackson
and still being gainfully employed. But that's the case with Jackson who's allowed 38 earned runs in 39.2 innings this season with a 14% K rate, 8% walk rate and 5.83 xFIP. this is about as bad as you'll ever see from a guy who's still allowed to take the mound for a team. Altuve's OPS is back up over .900 and he strikes out less than 15% of the time. There's a reason the Astros have a 6.7 implied run line and why they could be the chalk bats on Monday.

Adam Frazier FD - 2B 2800 DK - 2B 3500
Opponent -
WSH (Joe Ross)
Park -
PIT
FD - 10.51 DK - 8.16
If looking for a cheaper option at the position, Frazier should be in the leadoff slot again on Monday against
Joe Ross
. The latter has stunk in his 42 innings this season with a garbage 1.6:1 K:BB rate and 5.32 xFIP. Frazier isn't much of an offensive threat, but he's tough to strike out at a 12% K rate and does get on base around 33% of the time. Frazier is simply a cheaper option at what is usually a tougher position for DFS MLB.
Shortstop

Carlos Correa FD - SS 4000 DK - SS 5000
Opponent -
DET (Edwin Jackson)
Park -
HOU
FD - 14.33 DK - 10.8
Correa, like Altuve, is having an excellent season with a .919 OPS, .377 wOBA and 141 wRC+. It's a great bounce back for a dude who really struggled in 2018. He's been better against lefties for his career, but that's no matter in this spot considering just how bad
Edwin Jackson
is on the mound. Correa still has a higher ISO in the righty split. With the idea of possibly going cheaper at starting pitcher, it's looking like we will be able to fit in 2-3 Astros at least on this slate.

Jonathan Villar FD - SS 3500 DK - 2B/SS 4500
Opponent -
KC (Jorge Lopez)
Park -
BAL
FD - 13.08 DK - 10.21
Villa still slots into the leadoff spot against righties and though the Orioles are complete and utter trash, dude has some fantasy viability. He has 15 home runs and 26 stolen bases on the season with a mid-.700s OPS. It's really the speed that gives him the fantasy floor boost seeing as how this is the 4th most swipes in the majors this season. It's not easy rostering guys on Baltimore because they are mostly all bad and the implied run totals are often low, but Villar in the leadoff spot does have some upside.
Third Base

Alex Bregman FD - 3B 4400 DK - 3B/SS 5300
Opponent -
DET (Edwin Jackson)
Park -
HOU
FD - 16.12 DK - 12.15
Let's just keep the Astros' stack rolling right along here. In case you decided just to skip down to third base because you were skimming, quick reminder: Edwin Jackson is as bad as they come. Bregman is 6th-overall in WAR this season thanks in some part to a walk rate (17%) five points higher than his strikeout rate (12%). There are only three players with more than 300 plate appearances this season who can claim that (
Carlos Santana
and
Mookie Betts
are the other two) and Bregman's K:BB ratio is way better than the others. That makes him an ideal cash play in a situation like this and I'd prioritize him above the other Astros if you are forced to choose.
Tommy Edman FD - 3B 2700 DK - 2B/3B 4100
Opponent -
MIL (Zach Davies)
Park -
STL
FD - 10.84 DK - 8.3
He's likely in the second spot against the righty Davies on Monday. Don't let the 3.74 ERA fool you on Davies, his xFIP is about 1.5 runs higher at 5.26. The guy can't strike anyone out (5.72 K/9) and walks more than three batters per nine. Edmon hasn't killed it in his major league stint with an OPS that's barely scraping .700 but he's getting plenty off opportunity hitting near or at the top of the order. He does have seven stolen bases in his first 180 plate appearances though and four home runs so there's a little bit of pop.
Outfield

George Springer FD - OF 4300 DK - OF 5200
Opponent -
DET (Edwin Jackson)
Park -
HOU
FD - 16.61 DK - 12.56

Yordan Alvarez FD - OF 4400 DK - OF 5800
Opponent -
DET (Edwin Jackson)
Park -
HOU
FD - 14.64 DK - 11.02
The Astros plays comes to an end here mostly because we are just out of positions at this point. Springer has a .948 OPS this season and a .390 wOBA. He's crushed the ball all season long (when healthy) and if he keeps this pace 2019 will be the best season of his career. He's been much better against lefties over the last few season, but again we can start wiping the splits out of the discussion when the team's implied run total is so much higher than anyone else on the board.
Meanwhile, I'm not as enamored with Alvarez as a DFS play at these prices (I've been in the minority there at the wrong time for sure) and it's hard to ignore the sheer power upside. But considering he's more expensive than Springer, I'd rather have the latter higher up in the order.

Whit Merrifield FD - OF 3200 DK - 2B/OF 5100
Opponent -
BAL (John Means)
Park -
BAL
FD - 12.63 DK - 9.88
In the same vein as the Villar write up, Merrifield is a top of the order hitter on a bad team who can actually get things done on the fantasy end. Whit has 14 home runs and 16 stolen bases this season, gets on base over 35% of the time and has been better against lefties over the course of his career. He has an .873 OPS against lefties which is more than 100 points better than what he's done against righties. Against the lefty Means, I think we can roll Merrifield here.
GRAB A FREE TRIAL OF OUR PROJECTION SYSTEM, AND CHECK OUT DFSR PRO!
FREE EBOOK
SECRETS TO CRUSHING DAILY FANTASY FOOTBALL!
DON'T SET ANOTHER LINEUP BEFORE YOU READ THIS BOOK.