Baseball Picks Daily Fantasy
Expert Advice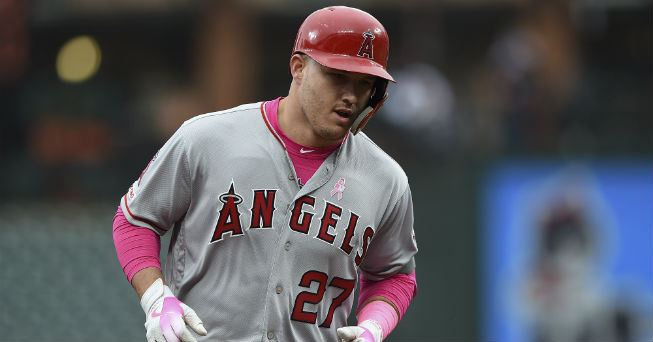 DraftKings and FanDuel MLB Picks for Tuesday 8/20/19
Now's your chance to get DFSR PRO, which will give you access to our MLB and NBA optimizers and our new player lab! Get started for free by clicking the button below.
Pitchers
Cole Hamels FD 7300 DK 7800
Opponent -
SF (Tyler Beede)
Park -
SF
FD
- 32.77
DK
- 16.95
Hamels has really struggled since his return off the IL but we have to like him at this price. Prior to allowing 12 runs in his last two starts, Hamels actually pitched to a 1.07 ERA and 0.95 WHIP in his previous six outings. That shows that the potential is still there and we have to love him against an offense like this. The Giants currently rank 24th in runs scored, 26th in OBP and 27th in OPS and Hamels is likley to enter this matchup as a -150 favorite.
Aaron Sanchez FD 8500 DK 6800
Opponent -
DET (Spencer Turnbull)
Park -
DET
FD
- 35.02
DK
- 17.33
While it's tough to recommend Sanchez on
FanDuel
at $8,500, this $6,800 price tag on
DraftKings
is impossible to fade. Since joining the Astros, Sanchez has a 4.00 ERA and 1.04 WHIP in five starts while striking out more than a batter per inning. In fact, Sanchez has a 10.3 K/9 rate over his last five starts, despite allowing seven runs to the A's in his last outing. What we like here is this matchup, as he faces a Tigers team who ranks bottom-three in runs scored, OBP, OPS, xwOBA and K rate. That's why Sanchez is likely to enter this game as a -300 favorite,
We also like
Stephen Strasburg
(
FD
$10000
DK
$10400) against a Pirates offense that ranks bottom-half of the league in nearly every offensive statistic.

Catcher/First Base
Josh VanMeter FD 2600 DK 3900
Opponent -
SD (Cal Quantrill)
Park -
SD
FD - 10.13 DK - 7.76
These sites continue to disrespect JVM and it's really hard to understand why. We're talking about a guy who posted a 1.096 OPS at Triple-A this season which isn't far off of his numbers since being recalled. Over his last 28 games, VanMeter is hitting .325 while providing a .563 SLG and .956 OPS. Those numbers make this price tag downright shocking and we're really not scared of
Cal Quantrill
in a hitter's haven like Great American Ballpark.

Rhys Hoskins FD 3800 DK 4300
Opponent -
BOS (Undecided)
Park -
BOS
FD - 13.11 DK - 9.76
We really like the Phillies in this spot. That's evident by the fact that they have a team total approaching six and it's no surprise when you consider this matchup. Philadelphia is sending out a bunch of potent righties against
Brian Johnson
. The Red Sox lefty is currently pitching to a 6.45 ERA and 2.01 WHIP and that's truly frightening against a righty masher like Hoskins in a small stadium like Fenway Park. In fact, the Philly first baseman has a .445 OBP, .550 SLG and .996 OPS against left-handers so far this year.
Second Base

Ozzie Albies FD 3600 DK 4800
Opponent -
MIA (Elieser Hernandez)
Park -
MIA
FD - 13.15 DK - 10.17
Picking a second baseman is always a difficult task but this dude has been special since the opening months. Since June 7, Albies is hitting .331 while providing a .382 OBP, .591 SLG and .972 OPS. Those are simply some of the best numbers in the league and it really makes him intriguing against a struggling pitcher like
Elieser Hernandez
. The Miami righty currently has a 5.40 ERA and 1.29 WHIP and will likely struggle in a small stadium like SunTrust Park.

Wilmer Flores FD 3100 DK 4600
Opponent -
COL (Kyle Freeland)
Park -
COL
FD - 11.36 DK - 8.73
Flores is in this article a lot and it's time for people to realize that he's a lefty masher.
FanDuel
just continues to keep his price way too low and it's really mind-boggling when you see his splits. So far this season, Flores is accruing a .338 AVG, .638 SLG and 1.007 OPS with the platoon advantage in his favor. He's been even more ridiculous recently, hitting four homers over his last five games. All of that doesn't even consider this fantastic matchup, with
Kyle Freeland
pitching to a 7.09 ERA and 1.61 WHIP this season.
Shortstop

Paul DeJong FD 3100 DK 3900
Opponent -
MIL (Gio Gonzalez)
Park -
MIL
FD - 11.9 DK - 9.04
DeJong homered in the midst of writing this article and it's truly amazing just how much this guy has broken out this season. A .455 SLG and .785 OPS speaks for itself, as that's actually right around his career averages. What we like is that he's starting to get hot, with DeJong hitting three homers in his last six games. That's obviously big, especially considering he gets the platoon advantage against Gio Gonzalez and his 4.11 ERA and 1.40 WHIP dating back to last year.

Jean Segura FD 3600 DK 4200
Opponent -
BOS (Undecided)
Park -
BOS
FD - 11.8 DK - 9.29
Segura has quietly had another great year for the Phillies and it's strange that more people don't consider this dude one of the best shortstops in our game. We're talking about a hitter who has a .303 AVG and .795 OPS since 2016. That's all you can ask for from someone in this price range, especially against a guy like
Brian Johnson
who has a WHIP north of 2.00. Segura has made minced meat of lefties this year too, generating a .588 SLG and .934 OPS against them.
Wilfredo Tovar
(FD $2200 DK $4800) is a highly touted prospect for the Angels who's definitely in play is he finds himself into the lineup.
Third Base

Josh Donaldson FD 3700 DK 4900
Opponent -
MIA (Elieser Hernandez)
Park -
MIA
FD - 13.16 DK - 9.84
Donaldson has been one of the best hitters in the game the last few months and it's a wonder why he remains below $4,000 on
FanDuel
. After struggling the first three weeks, Donaldson now has a .390 OBP, .561 SLG and .950 OPS over his last 109 games. He's been even better recently, collecting a .408 OBP, .644 SLG and 1.052 OPS over his last 60 games. We're definitely not worried about
Elieser Hernandez
either, as he's pitching to a 7.32 ERA and 1.63 WHIP over his last five starts.

David Fletcher FD 3100 DK 4100
Opponent -
TEX (Joe Palumbo)
Park -
TEX
FD - 11.33 DK - 8.91
Los Angeles is our favorite stack on the board and we have to love their leadoff hitter if that's the case. This dude has been scorching since sitting on August 12, hitting .458 over his last six games while providing a 1.185 OPS. That's huge in a hitter's park like this, particularly against a gas can like
Joe Palumbo
. We'll go over that matchup more in our next write-up but it also gives Fletcher the platoon advantage in his favor as well.
Outfield

Mike Trout FD 4900 DK 5500
Opponent -
TEX (Joe Palumbo)
Park -
TEX
FD - 18.2 DK - 13.59
Shohei Ohtani FD 3800 DK 5000
Opponent -
TEX (Joe Palumbo)
Park -
TEX
FD - 14.54 DK - 10.97
Justin Upton FD 3500 DK 8400
Opponent -
TEX (Joe Palumbo)
Park -
TEX
FD - 13.84 DK - 10.4
It's rare that we do this but we definitely want to exploit this matchup. We already foreshadowed just how much we like the Angels but now it's time to discuss why they're the best stack of the day. Getting to hit in Globe Life Park is obviously a major reason why, as that's currently the second-best hitting park in baseball. That's a disaster for a guy like Joe Palumbo, who's got an unsightly 11.00 ERA and 1.78 WHIP. While those numbers are obviously a small sample size, it's still scary with the Angels projected for so many runs.
Now that we talked about the matchup, let's discuss these players.
Mike Trout
speaks for himself, as he's the best player in baseball. That's evident by the fact that he has a .444 OBP and 1.110 OPS, with those numbers shooting up recently. The reason we like Upton is because he's destroyed lefties throughout his career. In fact., Upton has a .220 ISO and .364 wOBA for his career with the platoon advantage in his favor. While Ohtani has struggled against lefties, we can't fade a guy in this stack who's got a career OPS north of .900.
GRAB A FREE TRIAL OF OUR PROJECTION SYSTEM, AND CHECK OUT DFSR PRO!
image sources
AP_19132837167109 Trout: AP Images
FREE EBOOK
SECRETS TO CRUSHING DAILY FANTASY FOOTBALL!
DON'T SET ANOTHER LINEUP BEFORE YOU READ THIS BOOK.