Baseball Picks Daily Fantasy
Expert Advice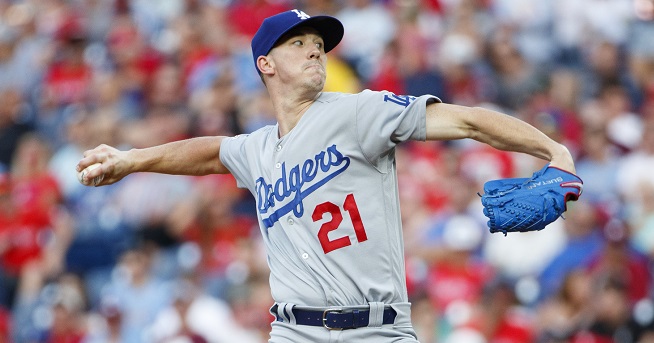 DraftKings and FanDuel MLB Picks for Wednesday 8/21/19
There are a bunch of aces going on Wednesday, some confined to the early slate. We'll take a look at a couple of expensive guys, a popular stack and a bunch of cheap dudes.
Now's your chance to get DFSR PRO, which will give you access to our MLB and NBA optimizers and our new player lab! Get started for free by clicking the button below.
Pitchers

Walker Buehler FD - P 11000 DK - SP 11400
Opponent -
TOR (Jacob Waguespack)
Park -
LAD
FD
- 48.14
DK
- 27.32
Walker Buehler
was touted as a top prospect in all of baseball and his first two seasons have lived up to the hype. This year he's striking out more than 10.5 batters per nine with a phenomenal 6.4:1 K:BB rate. Those peripherals are about as good as you'll see. He's a crazy -305 home favorite against the free-swinging Toronto Blue Jays who are playing a lot of young guys in the lineup these days. Buehler is really expensive, no doubt about it. But he has all of the cash game factors lineup up in his favor on Wednesday. Make some concessions with bats and slot him into your lineups.

Justin Verlander FD - P 12200 DK - SP 12000
Opponent -
DET (Daniel Norris)
Park -
HOU
FD
- 54.17
DK
- 31.22
Speaking of outrageous home favorites, Verlander opens Wednesday as a -415 favorite at home against the Tigers. Verlander was in a similar spot last week when he was a -455 favorite against the Orioles and promptly lost the game. Now I know it isn't rocket science to recommend the two highest salary pitchers on a slate, especially on
DraftKings
where that approach is cost prohibitive. But these guys are so far ahead of the field on Wednesday that I do think it's going to make sense taking some lumps on cheaper bats. The Tigers are likely going to end the season as the worst team in the league against righties and Verlander has big K upside.

Adrian Houser FD - P 6900 DK - SP 5200
Opponent -
STL (Adam Wainwright)
Park -
STL
FD - 27.82 DK - 14.41
If you want to go a lot cheaper then Houser is probably your guy. It's not a great matchup against the Cardinals. But he's coming so cheap on
DraftKings
and isn't priced back like a starter. The Brewers have taken him deeper into games in the short term and he does have solid strikeout potential, K-ing more than a batter an inning.

Catcher/First Base
Sam Travis FD - 1B 3000 DK - 1B/OF 4100
Opponent -
PHI (Drew Smyly)
Park -
BOS
FD - 12.78 DK - 9.77
As promised, we are going to try to get some cheaper bats in there to offset the ace arms going on the main slate. Travis really only finds his way into the Red Sox lineup when they are facing lefties and they get
Drew Smyly
on Wednesday. In his 132 plate appearances against southpaws, Travis has an .851 OPS, 10% walk rate, .358 wOBA and solid power. This is just the kind of punt play we want to get into lineups if paying for pitching and can even take the hit on him probably hitting lower down the order.
Ryan O'Hearn FD 2400 DK 3000
Opponent -
BAL (Aaron Brooks)
Park -
BAL
FD - 10.76 DK - 8.13 The OPS numbers on O'Hearn have been brutal this season but some of it is luck-related. He has a .210 BABIP and 11% Hr/FB%. Both could be attributed to a lower hard
contact
rate, but that doesn't tell the whole story. He still walks 11% of the time and should hit in the middle of the Royals' lineup in a plus matchup.
Second Base

Whit Merrifield FD - 2B 3400 DK - 2B/OF 4900
Opponent -
BAL (Aaron Brooks)
Park -
BAL
FD - 12.95 DK - 10.13
Whit Merrifield
plays on a bad team, but he can put some things together fantasy-wise from time-to-time. He has 16 home runs and 14 stolen bases on the season and is tough to strikeout at 16%. He's better against lefties for sure, but
Aaron Brooks
is bad enough to push aside some of the platoon concerns for the moment. The former has 138 innings of a 5.07 xFIP with very few K's to speak of. I'm not usually one for rostering Royals in cash games, but the Orioles make things interesting with just how abysmal their rotation is right now.
Hanser Alberto FD - 2B 2900 DK - 2B/3B 3900
Opponent -
KC (Mike Montgomery)
Park -
BAL
FD - 10.07 DK - 7.77
Look, when I give you a couple of really expensive pitchers things might not look so pretty further down the article. That's just the way things are with DFS. Alberto is coming cheap and has actually done a lot of damage against lefties this season. Sure, the .458 BABIP is helping a ton, but this guy has a .954 OPS, .403 wOBA and is very tough to strike out in that split. I like him coming cheap against Montgomery in a hitter's park.
Shortstop

Xander Bogaerts FD - SS 4000 DK - SS 5100
Opponent -
PHI (Drew Smyly)
Park -
BOS
FD - 16.84 DK - 12.86
I've tried to keep it cheap up until now so I could lay some Red Sox on you who are coming a little more expensive. Boston comes in with around a 6.6 implied run line, 10% higher than the next closest team on the slate. Bogaerts is having the best season of his young career with a .946 OPS, .391 wOBA and 27 home runs. He's about 50 OPS points better against lefties for his career and
Drew Smyly
struggles mightily with control issues. The latter is walking more than 4.5 batters per nine this season and could have really issues with a very patient Red Sox lineup.
After Xander, things at shortstop start looking pretty gross. You can go ultra-cheap, bottom of the order dude like
Nicky Lopez
(FD $2300 DK $3100) or
Wilfredo Tovar
(FD $2000 DK $2500). Both would simply be to fill in the position for as little money as possible.
Meanwhile,
Elvis Andrus
(FD $3100 DK $4200) would be something like the middle ground. He should be in the three-hole against the lefty Sandoval. Andrus swipes bags and not much else, but he is better in the lefty split.
Third Base
Logan Forsythe FD - 3B 2700 DK - 1B/3B 3600
Opponent -
LAA (Patrick Sandoval)
Park -
TEX
FD - 10.37 DK - 7.93
Forsythe was raking to start the season but has predictably cooled off in the short term. Again, we are looking for some cheaper plays here and Vegas likes the Rangers against
Patrick Sandoval
on Wednesday. Forsythe has been much better for his career against lefties with an OPS 100 points higher than his righty split and a .336 wOBA. He's patient at the plate and will take a lot of walks. Thank goodness, because he doesn't do a ton else. The name of the game is cheap at some of these positions so we need to kiss a frog or two.

Asdrubal Cabrera FD - 3B 3000 DK - 3B 4100
Opponent -
PIT (Joe Musgrove)
Park -
PIT
FD - 10.25 DK - 7.84
Cabrera is getting looks around the middle of the Nationals' lineup as of late and they have a good matchup against
Joe Musgrove
. Cabrera is a solid, if unexciting play who does take walks around 11% of the time, has a little pop (13 home runs) and won't kill you in cash games. Musgrove is very much just an average pitcher (maybe slightly above) at this point with a mid 4's xFIP. I think I'd rather get Forsythe in a much better park just a little cheaper, but Cabrera is a fine cheap pivot.
Outfield

Mookie Betts FD - OF 4400 DK - OF 5400
Opponent -
PHI (Drew Smyly)
Park -
BOS
FD - 18.99 DK - 14.45

J.D. Martinez FD - OF 4200 DK - OF 5100
Opponent -
PHI (Drew Smyly)
Park -
BOS
FD - 18.79 DK - 14.11
Chris Owings FD - OF 2100 DK - 2B/OF 2200
Opponent -
PHI (Drew Smyly)
Park -
BOS
FD - 11.12 DK - 8.68
Like I said, if there's a place to spend up, it's going to be the Red Sox against the lefty Drew Smyly. Luckily they might have a cheap bat or two to round things out. But we could be looking at another
Mookie Betts
/ JD Martinez stack on Wednesday. Betts is one of the few players in baseball who walk more than they strike out. It's by less than a percentage point, but still to even be close is a feat. After a slow start, he's picking things up with the OPS creeping toward .900. He isn't going to hit 2018's lofty (and likely a little outlier) heights, but this is still one of the best hitters in the game we are talking about.
Meanwhile, Martinez continues to just mash lefties. He's having a great season overall, but is really tuning up lefties once again. In that split he has a nuts 1.325 OPS and .455 ISO. These numbers are crazy, but he's been crushing the lefty split his whole career.
And finally, Owings stinks but he's basically free on
DraftKings
at $2K and could help ease some of the salary concerns if you can plug your nose and plug him in there.
After these three (assuming Owings is in the lineup) we might have to mix and match depending on how teams release their lineups. As it stands, you can keep trying to plug in
Khris Davis
(FD $2500 DK $3200) on his steady march toward the bottom. He's been struggling, but because of it is not coming very cheap.
If
Delino DeShields
(FD $2600 DK $4100) is hitting leadoff against the lefty then he'd be a decent cheap bat on
FanDuel
.
GRAB A FREE TRIAL OF OUR PROJECTION SYSTEM, AND CHECK OUT DFSR PRO!
FREE EBOOK
SECRETS TO CRUSHING DAILY FANTASY FOOTBALL!
DON'T SET ANOTHER LINEUP BEFORE YOU READ THIS BOOK.