Golf Daily Fantasy
Expert Advice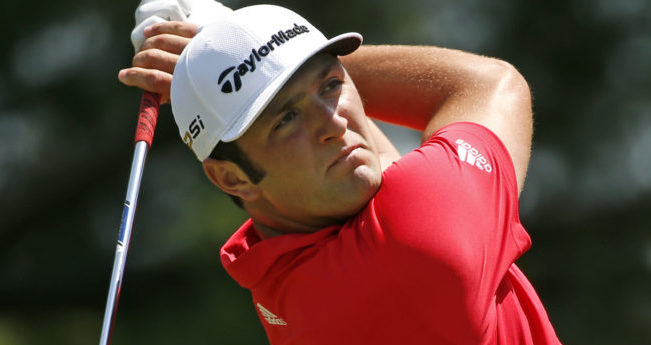 Daily Fantasy PGA Picks and Betting Guide for DraftKings & FanDuel – Tour Championship
Chris will be bringing you weekly PGA picks, analysis, and breakdowns to help you cash on DraftKings and FanDuel. As every week in DFS PGA changes with the course setup, field of players and weather, Chris will be providing a range of different picks for cash games as well as upside plays for tournaments. If you have any questions to lineup lock you can reach him a variety of ways. Leave your question/comment below in the comments section, find him in the DFSR Chat room or hit him up on Twitter(@Jager_Bombs9). Chris is also providing his DFS PGA Weekly cheatsheet where he provides stats, course history, current form, fantasy points, and much more. Grab your copy today and edge out the competition.

Tour Championship
Another long season has come to an end with the final 30 players in the standings traveling to East Lake to play for a massive $60 million purse. That right, the Tour and main sponsor, FedEx have made some changes in 2019 starting with a massive 15 million dollar prize to the winner. That is not the biggest or most important change, however, as the scoring system has also changed and most importantly simplified. No more multiple leaderboards and two trophy ceremonies for the Tour Championship winner and FedEx Cup Champion.
Win the Tour Championship. Win the FedEx Cup and the $15,000,000 that goes along with it.
The one thing that changes things from a fantasy perspective is how players will start the event. To give an advantage to those who rank higher in the standings entering this week, players will start with a score relative to their place in the standings. Justin Thomas is 1st in standings and will start at -10, Patrick Cantlay is #2 and will start at -8. To see the complete list of the players and their scores click HERE. On both DraftKings and FanDuel, this means players will start with those finish position points which is the main reason for the somewhat odd pricing this week. For example, Justin Thomas starting the tournament at -10 and in 1st place will start with 30 DK & FD points but will need to maintain 1st place to keep them. After the start of the event, everything is scored as normal. Hit me up in the chat for a further explanation. The biggest decision this week is going to be whether to play or fade Thomas at his price. If he wins, I feel he is more than worth the money but if he finishes outside of a Top 4 or 5 position he is not going to be an optimal play. With no track record of this ends up mathematically, we are just guessing at this point but a two-stroke lead doesn't seem like a lot to me considering the strength of the players in this field and how many times have we seen a Sunday lead disappear let alone stretched out over four days. As you can probably tell, I am currently on #TeamFadeJT and will end up with a ton of more balanced lineups in hopes of someone catching fire like JT himself last week.
East Lake Golf Club is a Donald Ross-designed course and has been the host of the Tour Championship annually since 2004 and as an alternating course since 1998. Over the last five years, it has ranked mid-pack in terms of difficulty and scoring average but is no pushover. It only has two Par 5's being a Par 70 but the length mostly comes from the six Par 4's that come in at 450 yards or longer including the monster 520-yard, 14th hole. On top of the length, golfers will be dealing with very narrow fairways that are also protected by plenty of bunkering in key landing areas. Ball striking is at a premium this week and from an approach standpoint, I will also be looking closely at long iron play(175-200 & 200+ yards).
The number thing I will be looking at this week is form. Up until last year, each FedEx Cup Champion going back to 2007(start of playoffs) had at least one win in the three events leading up to the Tour Championship. While Rose didn't win in the playoffs last year, he did have two runner-up finishes entering the final event. With that said, let's take a look at some of my core plays.
The Course
East Lake Golf Club
Par 70 - 7,346 Yards
Greens - Bermuda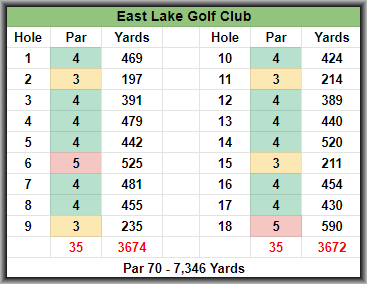 **Click the image above to see a hole by hole breakdown from PGATour.com**
Last Five Tour Championship Winners
2018 - Tiger Woods(-11)
2017 - Xander Schauffele(-12)
2016 - Rory McIlroy(-12)
2015 - Jordan Spieth(-9)
2014 - Billy Horschel(-11)
Last Five FedEx Cup Champions
2018 - Justin Rose
2017 - Justin Thomas
2016 - Rory McIlroy
2015 - Jordan Spieth
2014 - Billy Horschel
Top Stats in the Model
Strokes Gained: Ball Striking

Emphasis on accuracy Off the Tee & long irons on the Approach

Par 4 Scoring

Emphasis on 450+ yards range

Rough Proximity

With only around a 60% fairways hit average over the last five years there will likely be a ton of approaches coming from the rough

Birdie or Better %
When breaking down the top stats I use a combination of my own cheatsheet and the tools over at FantasyNational.com.

Top Tier Targets
Rory McIlroy
World Golf Ranking (#3)
Vegas Odds (8/1)
Draftkings ($10,600)
FanDuel ($11,400)
I have already talked about fading JT in the intro and there are two players will be targeting a ton who I think can make a run this week. It starts with McIlroy who is coming off a disappointing T19 last week but now returns to East Lake where he won the 2016 Tour Championship & FedEx Cup, finished T2 in 2014 and T7 last year. He starts five strokes back but is more than capable of making up ground in a hurry as he ranks 1st in Birdie or Better Gained, 6th in Par 4 scoring over 450 yards, and 5th in SG: Ball Striking. At these prices, he is going to be a core play for me in all formats.
Jon Rahm
World Golf Ranking (#6)
Vegas Odds (14/1)
Draftkings ($9,900)
FanDuel ($10,700)
I talked about form being #1 on my list this week and no golfer stand out more in that area than Jon Rahm. Since missing back to back cuts at the PGA Championship & Charles Schwab Challenge Rahm has reeled a T3, T11, 7th, and then a T3 and T5 in the Playoffs including 10 straight rounds shooting in the 60's. His stats(in my model) also back up that form as he ranks(in this field) 11th in SG: Ball Striking, 1st in Par 4 scoring from 450+ yards, and 2nd in Birdie or Better % over the last 24 rounds. Look for Rahm to finish the season off strong and even if he doesn't win a Top 5 finish with a ton of birdies at these prices should be more than enough for him to crush value in all formats.
Mid Tier Targets
Dustin Johnson
World Golf Ranking (#2)
Vegas Odds (22/1)
Draftkings ($8,400)
FanDuel ($10,100)

I definitely like the price on DJ a little more on DratKings but he will be a core play for me on both sites. He has made a record 11th straight Tour Championship appearance but is still seeking win #1 here at East Lake despite finishing 6th or better in 3 of his last four trips. He will start this year's event seven strokes back so the odds are against him but that doesn't mean he isn't a nice value. This will be the last time you will ever see(possibly next year Tour Champ) a World #2 player in the mid $8K range on DraftKings. He can take advantage of his distance more than most here as he is also excellent from the rough(6th on my sheet in rough prox) and while he only ranks 10th in Birdies gained over the last 24 rounds, he ranks 1st in opportunities gained so there could be positive regression coming his way this week.
Paul Casey
World Golf Ranking (#21)
Vegas Odds (70/1)
Draftkings ($7,500)
FanDuel ($8,300)
My top PTS/$ value this week is Paul Casey who will start the Tour Championship at two under par. I am not expecting him to win but feel a Top 5 is not out of the question whatsoever, especially considering he has accomplished that here at East Lake in three of the last four years. He hasn't finished Top 5 since the Travelers back at the end of June but in this field ranks 3rd in SG: Ball Striking, 5th in SG: Approach, 6th in Proximity from 200+ yards, and he is 2nd in SG: Total on Donald Ross courses. Top play in all formats.
Value Targets
Corey Conners
World Golf Ranking (#74)
Vegas Odds (300/1)
Draftkings ($6,100)
FanDuel ($7,400)

I have to go with the only Canadian in the field to end the season, right? Conners will start at one-under and comes to East Lake for the first time so there is plenty of unknowns but he does have 10 rounds of sample size on Donald Ross courses and has gained strokes Ball Striking in eight of those 10 rounds. Speaking of ball striking, Conners is also 2nd in this field in the stat over the last 24 rounds and also ranks 4th in Opportunities Gained. The price is right an allows us to pay up for multiple studs putting Conners firmly in my core in all formats this week.
Sungjae Im
World Golf Ranking (#54)
Vegas Odds (225/1)
Draftkings ($5,900)
FanDuel ($7,200)
From the only Canadian in the field to the only rookie in the field. Check this out from Sean Martin below:
Sungjae Im has taken just six weeks off this year. And now he's the only guy on the range at East Lake. pic.twitter.com/MyJ7c8uWbY

— Sean Martin (@PGATOURSMartin) August 20, 2019
This kid is a beast. This is his 35th official event on Tour and while he has missed nine cuts, he has also picked up seven Top 10's and 15 Top 25 finishes. He is another player with a small sample on Donald Ross courses(Wyndham and Rocket Mortage) but has gained strokes ball striking in seven of eight rounds and I like the floor he has as a good putter gaining strokes in eight of his last nine events overall. Most of all, he provides a ton of salary relief allowing us to load up on a stars and scrubs strategy.
Chris Durell has been playing Daily Fantasy Sports for six years and fantasy in general for more than a decade. He is an active player in college football, NFL, MLB, NASCAR, NHL and of course PGA. He lives in Saskatchewan, Canada with his wife and two daughters. You can follow him on Twitter at @Jager_Bombs9 for advice, strategy, answers to any PGA questions and how he copes with the winters up north.
FREE EBOOK
SECRETS TO CRUSHING DAILY FANTASY FOOTBALL!
DON'T SET ANOTHER LINEUP BEFORE YOU READ THIS BOOK.