Baseball Picks Daily Fantasy
Expert Advice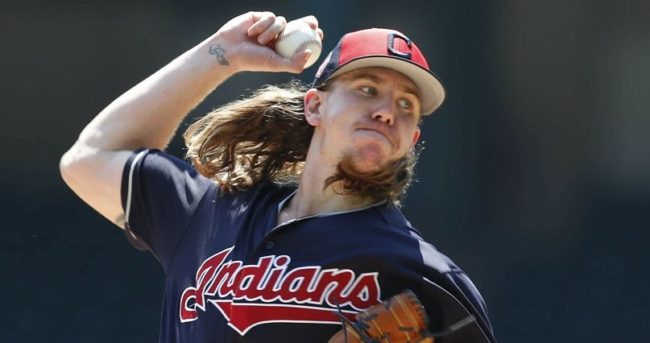 DraftKings and FanDuel MLB Picks for Saturday 8/24/19
Now's your chance to get DFSR PRO, which will give you access to our MLB and NBA optimizers and our new player lab! Get started for free by clicking the button below.
Pitchers
Mike Clevinger FD - P 11200 DK - SP 11800
Opponent - KC (Glenn Sparkman) Park - CLE
FD - 41.92 DK - 22.99
One of the league's unassuming aces, Clevinger has been truly stellar in the 73 innings he's pitched so far this year. He was already good last year, but adding 4 K/9 and increasing that rate to a ridiculous 13 Ks per 9 has pulled his xFIP down more than a run this season. He's coming off a brutal three game stretch against three of the league's offenses in Minnesota, Boston, and New York, and he managed 25 Ks against 5 BBs over that stretch. He'll face no such juggernaut here, as the Royals have posted the league's 4th lowest wOBA in the Majors vs. right handed pitching this season. Clevinger is a high floor, high ceiling option, and is the clear starting pitcher one on this slate as best I can tell.

Chris Bassitt FD - P 8300 DK - SP 9600
Opponent - SF (Madison Bumgarner) Park - OAK
FD - 32.96 DK - 17.45
A familiar name in our pitcher two discussions this season, Bassitt has established himself as a reasonably priced mid-tier starter that's playable in certain match-ups. His 8.42 K/9 is nothing to write home about, but it's plenty at these prices in a good match-up. The Giants certainly qualify there. In 2019 they've mustered the fifth worse wOBA against right handed pitching in the majors, while striking out a league average rate. Bassitt has a 3.81 FIP at home this year, and getting a plus spot against the G-men makes this a high floor (if not super high ceiling) pitcher two play on DraftKings.

Catcher/First Base
Yasmani Grandal FD - C 3100 DK - C 4100
Opponent - ARI (Zac Gallen) Park - MIL
FD - 11.34 DK - 8.46
Catcher is always a little bit weird, in that you're often picking between a small handful of legitimately good hitters and a bunch of bums. Today, I submit that you should play one of the decent hitters. Grandal is second the majors in catcher WAR (behind JT Realmuto), and his excellent approach (15.7% BB rate) has made him a popular high floor cash game play all season long. It's not a dream spot against Zac Gallen, who was a top 100 prospect with excellent stuff going into this season. Gallen's double digit K/9 is scary, but his 4.91 BB/9 paints the picture of a guy who might not be quite ready for pro ball just yet. I think a patient hitter like Grandal can wait him out, and take advantage of what's given to him.

Paul Goldschmidt FD - 1B 3400 DK - 1B 4100
Opponent - COL (Chi Chi Gonzalez) Park - STL
FD - 13.34 DK - 10.04
After a tough start, Goldschmidt has parlayed an excellent July into an .871 OPS since the All-Star break. While that's not the world beating numbers we became accustomed to during his tenure in Arizona, it's still more than serviceable at these bargain prices. He's still got plenty of power, and he can absolutely still hit a beater like Goonzalez. If you aren't familiar with the works of Chi Chi Gonzalez, I can't blame you. He's a non prospect whose putrid 4.67 BB/9 is somehow higher than his even more putrid 4.58 K/9. And that's in 108 innings! I love stacking Cardinals with Goldschmidt in the middle of it all.
Josh VanMeter FD - 1B 2700 DK - 2B/OF 4000
Opponent - PIT (Trevor Williams) Park - PIT
FD - 11.15 DK - 8.54
VanMeter has wrested leadoff duties from the very similar Jesse Winker, and getting an on-base machine like this at sub $3,000 prices on FanDuel may just be too good to pass up. VanMeter really only brings his on-base tool to the table, but that tool is so strong that he's certainly a playable DFS option. With a .390 OBP against right handed pitching this season, he's your high floor answer whenever he's leading off against a righty. As for Trevor Williams, he's certainly nothing to be afraid of. Williams' 6.84 K/9 and lofty fly ball rates have produced a 5.24 xFIP this season, cementing Williams as one of the worst starters routinely taking the mound this season. VanMeter should have no problems delivering his typical high floor against him.
Second Base
Luis Arraez FD - 2B 2700 DK - 2B/3B 4300
Opponent - DET (Edwin Jackson) Park - MIN
FD - 12.49 DK - 9.56
Speaking of young on-base machines in phenomenal match-ups, I present to you Mr. Luis Arraez. The Twins' young second baseman has been stellar since being called up this season, walking (10.1%) more than he has struck out (7.1%), and putting together an OBP over .400 across three levels in the last two seasons.
And then there's the match-up. I hate to depress you, but were you aware that Edwin Jackson has made more than $85,000,000 throwing baseballs, in spite of having something like 4 seasons that could even be described as mediocre. As you can imagine, this season has been one of Jackson's worst, as he's allowed an eye-popping 8.46 ERA and a painful 5.78 xFIP. Feel free to play as many Twins as you can possibly find tonight, because as always, every Eddie Jackson start could be his last.

Jose Altuve FD - 2B 4000 DK - 2B 5200
Opponent - LAA (Dillon Peters) Park - HOU
FD - 15.04 DK - 11.66
If you find yourself with a little extra change between the couch cushions, Altuve is a fantastic way to pay up tonight. He's absolutely eviscerated left handed pitching this season, putting up a 1.184 OPS on the back of an absurd .765 SLG. It's a solid spot against Dillon Peters as well. The left handed non-prospect has a smoke-and-mirrors ridden 3.92 ERA this season, but his lousy 4.87 xFIP tells you much more about the type of pitcher he is. Altuve and the Astros should eat him for lunch here.
Shortstop

Francisco Lindor FD - SS 4300 DK - SS 5100
Opponent - KC (Glenn Sparkman) Park - CLE
FD - 16.13 DK - 12.31
We've made it all the way to shortstop without discussing Glenn Sparkman! I'm pleased. You likely don't need Lindor's fantasy resume at this point, as true-talent 30/25 players are rare enough, and getting one at a premium position like shortstop is incredibly valuable. You may not be as familiar with Sparkman, though. I have to imagine that from the moment Sparkman was selected with the 594th pick in the 2013 draft, he's been waiting for the moment that someone told him his time as a professional baseball player would be over. Instead, he's been promoted all the way to the bigs in spite of his last decent performance coming in A+ ball 5 years ago. With a K/9 threatening to dip below 5 and an xFIP healthily over 5, we have to lick our chops at the prospect of stacking against him today.

Jorge Polanco FD - SS 4000 DK - SS 5000
Opponent - DET (Edwin Jackson) Park - MIN
FD - 15.14 DK - 11.73
While Polanco isn't a singular talent in the way that Lindor is, he's still pretty damned good, especially against right handed pitching. The switch-hitting shortstop has a .915 OPS against right handed pitching this season, and like most hitters, he's even better against incredibly bad pitchers like Jackson. It's hard to justify picking Polanco over Lindor, but for big tournaments (or if the small savings matters) he's a great pivot.
Also considered: Alex Bregman, as always.
Third Base

Miguel Sano FD - 3B 3500 DK - 3B 5000
Opponent - DET (Edwin Jackson) Park - MIN
FD - 14.76 DK - 10.99
No player has been more polarizing in the last few years than Sano, who has mostly regressed since exploding onto the scene with an apparent hall of fame trajectory in 2015. Well, this season he's almost equaled his 2015 success, and while a ~.900 OPS with a mid 30% K rate isn't as impressive as those numbers were when he was 22, it's still pretty damned good. And that's the thing about grabbing him in this match-up. At this stage in his career, Edwin Jackson really can't strike out anyone. If you don't strike Sano out, you better be prepared for some balls to come flying toward your head, or out of the park. It's a rare occasion, but Sano might even be a cash game play tonight.

Manny Machado FD - 3B 3600 DK - 3B/SS 3900
Opponent - BOS (Nathan Eovaldi) Park - SD
FD - 11.82 DK - 9
For a night with so many bad pitchers, third base is actually relatively thin. That's why I don't mind Machado. No, he hasn't delivered whatsoever on his record setting contract. But for DFS purposes? We don't care what he's paid. He's still a reasonable .800 OPS guy, and he has a terrific match-up with Eovaldi here. Eovadli's solid 2018 season certainly looks like the outlier at this point, as he's fell right back into a guy who is allowing way too much hard contact (1.98 HR/9, .324 BABIP allowed) while walking way too many batters (4.46 BB/9). The Padres are a sneaky solid stack today, and I believe in Machado regardless of the issues he's had this year.
Outfield

Franmil Reyes FD - OF 2500 DK - OF 3900
Opponent - KC (Glenn Sparkman) Park - CLE
FD - 12.04 DK - 9.12
Yasiel Puig FD - OF 3300 DK - OF 4500
Opponent - KC (Glenn Sparkman) Park - CLE
FD - 14.31 DK - 10.87
I spent way too much time disparaging Sparkman earlier, so let's focus on this pair of free swinging outfielders. Both Reyes and Puig have issues chasing the ball outside of the zone, but both can really do a number on pitchers who can't strike anyone out. That description fits Sparkman perfectly. While many won't stick their necks out on Reyes if he's batting toward the bottom of the lineup, Puig could very well be chalk at a low $3,000s price tag if he's batting clean-up.

Max Kepler FD - OF 3800 DK - OF 5000
Opponent - DET (Edwin Jackson) Park - MIN
FD - 15.25 DK - 11.56

Nelson Cruz FD - OF 4000 DK - OF 5800
Opponent - DET (Edwin Jackson) Park - MIN
FD - 16.06 DK - 12.08
More bats against Jackson. There is just such a glut of great hitting against terrible pitching today that it's going to be tough to pin down exactly where you want to prioritize your money, but the Twins are as good a spot as any. The ageless Cruz continues to put up numbers, but the surprising Kepler is currently sitting at 7th in the Majors with 34 home runs so far this year. I look for both of them to add to their already lofty home run totals tonight.

George Springer FD - OF 4100 DK - OF 5300
Opponent - LAA (Dillon Peters) Park - HOU
FD - 16.09 DK - 12.17
One of the game's under-appreciated super-stars, Springer has tortured left handed pitching all season long. He's got a .969 OPS on the back of a nutty .440 OBP against southpaws this year, and he should feast against a below average lefty like Peters. With a lot of great cheap value today, it might just be the day to chase that expensive Astros stack.
GRAB A FREE TRIAL OF OUR PROJECTION SYSTEM, AND CHECK OUT DFSR PRO!
FREE EBOOK
SECRETS TO CRUSHING DAILY FANTASY FOOTBALL!
DON'T SET ANOTHER LINEUP BEFORE YOU READ THIS BOOK.