Baseball Picks Daily Fantasy
Expert Advice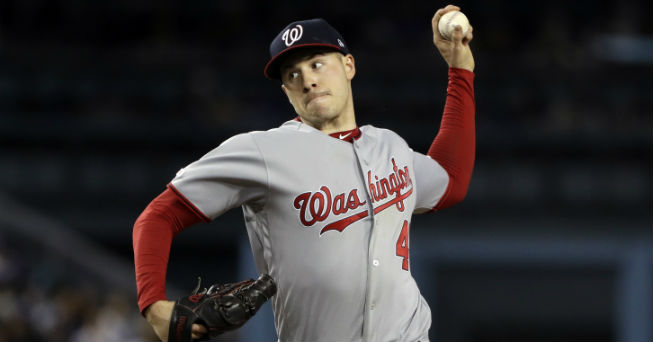 DraftKings and FanDuel MLB Picks for Tuesday 8/27/19
Now's your chance to get DFSR PRO, which will give you access to our MLB and NBA optimizers and our new player lab! Get started for free by clicking the button below.
Pitchers
Andrew Heaney FD - P 8200 DK - SP 9800
Opponent -
TEX (Mike Minor)
Park -
LAA
FD
- 29.79
DK
- 15.64
Heaney has been wildly inconsistent throughout his career but a 14-strikeout gem in his last start shows just how dangerous he can be. That start happened to come against these Rangers and that's really no surprise when you see that they rank 29th in K rate and 24th in OBP against left-handers. That K-upside makes this
FanDuel
price truly mind-blowing, particularly after collecting 73
FD
points against this team in his most recent start. Heaney has actually faced the Astros and Red Sox three times over his last five games, pitching to a 2.89 ERA, 1.07 WHIP and 10.9 K/9 rate in that impressive five-game span.

Patrick Corbin FD - P 10000 DK - SP 11200
Opponent -
BAL (Aaron Brooks)
Park -
WSH
FD
- 42.71
DK
- 23.58
Corbin is probably the best cash game pitcher available. The reason for that is because he gets such a premium matchup against the Orioles. In fact, Baltimore currently ranks 19th in K rate, 25th in runs scored, 26th in xwOBA and 25th in OPS. That's scary against a pitcher like this, with Corbin generating a 29 percent K rate en route to a 3.17 ERA and 1.15 WHIP. That's why he and the Nationals enter this game as a -330 favorite. playing some of the best baseball in the Majors right now.

Catcher/First Base
Matt Adams FD - 1B 2800 DK - 1B 4500
Opponent -
BAL (Aaron Brooks)
Park -
WSH
FD - 13.8 DK - 10.41
We have the Red Sox playing in Coors Field and you're going to start with a Washington bat? While the Colorado-Boston game might be the highest projected scoreline, the Nationals are actually one of the best stacks on the board. The reason for that is because they face
Aaron Brooks
, who's pitching to a 6.21 ERA and 1.44 WHIP. That's pretty much on par with the rest of the Orioles pitching staff, ranking dead-last in ERA and WHIP.
Matt Adams
getting to face a righty is what makes these prices truly hard to believe, with the big man posting a .524 SLG and .845 OPS against right-handers dating back to 2017.

Daniel Murphy FD - 1B 3400 DK - 1B 4700
Opponent -
BOS (Rick Porcello)
Park -
COL
FD - 15.89 DK - 12.2
Time to get into this game. Murphy might be the best value of any player in this fixture and it's hard to understand why he remains so cheap. Let's start with the matchup, as Murphy gets to face
Rick Porcello
and his 5.49 ERA and 1.41 WHIP. That also puts the platoon advantage in Murphy's favor and he's got an OPS in the .900-range in these circumstances dating back to 2016. Murphy is swinging a hot bat right now too, posting a .452 OBP over his last nine games while hitting north of .310 since the end of May. Not to mention, Murphy has a .335 AVG and .869 OPS at home this season.
Second Base
Luis Arraez FD - 2B 2700 DK - 2B/3B 3600
Opponent -
CHW (Lucas Giolito)
Park -
CHW
FD - 9.33 DK - 7.15
Picking second basemen is as difficult as it gets in MLB DFS but Arraez has quietly been a really solid player for the Twins. A .335 AVG and .836 OPS speaks for itself, as he's taken over for
Jonathan Schoop
as the everyday second baseman. While facing
Lucas Giolito
is obviously a tough task, this price limits that risk. It's not every day that you see a guy hitting close to .340 and being priced like a minor leaguer, particularly when they have the platoon advantage in their favor.

Scooter Gennett FD - 2B 2800 DK - 2B 2800
Opponent -
ARI (Mike Leake)
Park -
SF
FD - 8.57 DK - 6.57
With so many expensive players in that Coors Field game, let's give you a punt play. Gennett is just that, as he has some of the best potential from a player south of $3,000. The reason for that is because of his ridiculous splits against right-handers, with Gennett accruing a .305 AVG, .516 SLG and .869 OPS against them dating back to 2017. While we haven't seen much of that this season, those are numbers that are hard to overlook from someone so cheap. Facing
Mike Leake
should only help, with the right-hander totaling an ugly 16 percent K rate, 4.77 ERA and 1.34 WHIP so far this year.
Shortstop
Trevor Story FD - SS 4300 DK - SS 5600
Opponent -
BOS (Rick Porcello)
Park -
COL
FD - 17.24 DK - 13.09
Now that we got a couple of punt plays at second base out of the way, let's get into some studs at shortstop. That's just what Story is and he truly might be the most talented SS we have in baseball right now. The thing that really makes him terrifying is his homer numbers, with Story providing a .399 OBP, .683 SLG and 1.082 OPS at Coors Field this season. He comes into this matchup raking right now too, accumulating a .356 AVG, .667 SLG and 1.092 OPS over his last 22 fixtures.

Xander Bogaerts FD - SS 4100 DK - SS 5700
Opponent -
COL (Undecided)
Park -
COL
FD - 16.34 DK - 12.47
While it's unclear who will start for the Rockies here, we have to love the Red Sox against whatever garbage pitcher the Rockies throw out. Boston was projected to face
German Marquez
but he was scratched for an arm issue. That means Colorado will have to call someone up from an already short pitching staff at Triple-A and it's truly scary for whoever that will be. The reason we like Bogaerts is because he's been one of the best players in the AL this season. That's clear when you see his .306 AVG, .384 OBP, .555 SLG and .939 OPS so far this year. All of the Boston bats are in play, with the Red Sox projected for 7.1 runs.
Third Base

Asdrubal Cabrera FD - 3B 2900 DK - 3B 4200
Opponent -
BAL (Aaron Brooks)
Park -
WSH
FD - 12.51 DK - 9.57
This is a guy who I expected to be done when he was cut by the Rangers but he's really found his stride with the Nationals. Over his last 11 games. Cabrera is generating a .371 AVG, .477 OBP, .686 SLG and 1.163 OPS. We haven't seen that player for years but he's plenty capable of providing production like that. Getting to hit from the left side against the aforementioned numbers from
Aaron Brooks
is what really makes him an enticing option here, with Cab posting a .470 SLG against right-handers since the start of last year.

Giovanny Urshela FD - 3B 3300 DK - 3B 4200
Opponent -
SEA (Yusei Kikuchi)
Park -
SEA
FD - 12.83 DK - 9.81
This price is truly shocking. Urshela has been one of the best hitters in the AL the last month and he's being priced like an average nobody. A .331 AVG, .560 SLG and .932 OPS tells you everything you need to know, as most of that production has come recently. Over his last 37 games, Urshela has a .383 AVG, .723 SLG and 1.132 OPS. Those ridiculous numbers look even better when you consider this matchup, with
Yusei Kikuchi
pitching to a 5.19 ERA and 1.44 WHIP this season. It also gives Urshela the platoon advantage, as he
Gary Sanchez
,
Aaron Judge
and
Gleyber Torres
are all in play too.
Outfield

Charlie Blackmon FD - OF 4500 DK - OF 5700
Opponent -
BOS (Rick Porcello)
Park -
COL
FD - 17.2 DK - 13.22

Ian Desmond FD - OF 2900 DK - OF 4300
Opponent -
BOS (Rick Porcello)
Park -
COL
FD - 12.78 DK - 9.83
We already have a couple of Rockies written up, so let's cap it off with these outfielders. The main reason we love the Rockies is because they face Rick Porcello, whose 5.49 ERA and 1.41 WHIP match his 5.42 xFIP. Those unsightly numbers are nightmarish in a place like Coors Field, with the Rockies projected for 6.7 runs.
Now that we have that matchup out of the way, let's discuss these bats. We'll start with
Charlie Blackmon
, as he actually leads all hitters in home OPS. Let's take a look at those statistics, with Blackmon providing a .409 AVG, .463 OBP, .817 SLG and 1.281 OPS at Coors Field this season. Those mind-boggling numbers are even scarier with Blackmon hitting .333 over his last 31 games.
While Desmond hasn't been quite as good, his .305 AVG, .548 SLG and .917 OPS at home this season definitely puts him in play at this price. He's been much better recently too, hitting .283 over his last 83 games while providing a .509 SLG and .851 OPS in that span.
Juan Soto FD - OF 4200 DK - OF 5400
Opponent -
BAL (Aaron Brooks)
Park -
WSH
FD - 16.4 DK - 12.34
Outside of Coors Field, this is probably my favorite play of the day. Any 20-year-old with an OBP north of .400 for his career is impressive but matching it with an OPS above .900 is truly amazing. That really makes him attractive against Aaron Brooks, who's unsightly numbers can be seen in the Adams write-up. What makes him so awesome here is the fact that Soto might be the hottest hitter in the NL, collecting five doubles, 12 homers, 28 runs scored, 22 RBI and 20 walks over his last 25 games en route to a .420 OBP, .717 SLG and 1.137 OPS.
GRAB A FREE TRIAL OF OUR PROJECTION SYSTEM, AND CHECK OUT DFSR PRO!
image sources
AP_191301419247881: AP Images
FREE EBOOK
SECRETS TO CRUSHING DAILY FANTASY FOOTBALL!
DON'T SET ANOTHER LINEUP BEFORE YOU READ THIS BOOK.