Baseball Picks Daily Fantasy
Expert Advice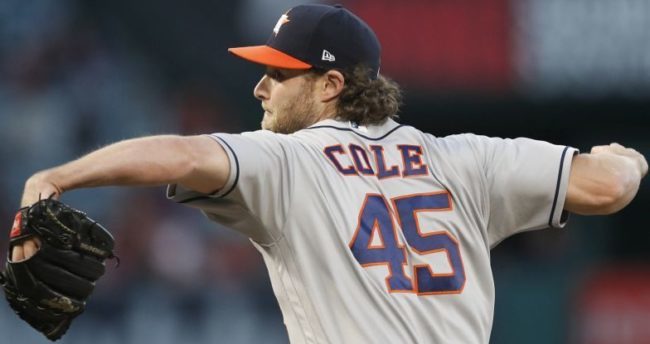 DraftKings and FanDuel MLB Picks for Wednesday 8/28/19
Now's your chance to get DFSR PRO, which will give you access to our MLB and NBA optimizers and our new player lab! Get started for free by clicking the button below.
Pitchers

Gerrit Cole FD - P 12000 DK - SP 12200
Opponent - TB (Ryan Yarbrough) Park - HOU
FD - 43.97 DK - 24.83
With Max Scherzer admitting he is "not out of the woods" with his back injury and unable to give 100% it makes it an easy choice for me at the top of the salary tonight. Not only does Gerrit Cole enter tonight with the fifth-best ERA(2.75) in baseball but he backs it up with a league-leading 2.76 xFIP after holding opponents to two or fewer earned runs in six straight and 14 of his last 15 starts. With double-digit K numbers in five of his last seven starts and 14 times on the season, he also leads the league with an eye-popping 37.3% K rate. The Rays are slightly better against righties and don't K as much(22%) but I will take the elite pitcher over the average offense every day of the week and twice on Sunday. Fire up Cole in all formats.

Jake Odorizzi FD - P 8500 DK - SP 9400
Opponent - CHW (Ross Detwiler) Park - CHW
FD - 29.66 DK - 15.9
Getting bats you are comfortable with in cash games is the challenge with Cole and if there are not enough values popping up when lineups come out, I will most likely be turning to Odorizzi. he is nowhere near the same level of talent as Cole but from a PTS/$ perspective, it is a very close call on both sites. He was solid in his first season with the Twins and has improved on that in year two as he enters the night with a 3.57 ERA and while the xFIP(4.71) is over a run higher his xwOBA(.306) is right in stride with his wOBA(.300) telling me the regression curve isn't nearly as steep. The other promising aspect outside of the plus matchup vs. the White Sox is the K upside he has displayed in 2019 with a career-high 25% K rate and supporting 12.1% swinging-strike rate. Odorizzi will be in my player pool in all formats and with the salary savings allows us to load up on bats.

Kenta Maeda FD - P 8700 DK - SP 8000
Opponent - SD (Undecided) Park - SD
FD - 30.08 DK - 16.06
Maeda is a much better play on DraftKings but still a play that stands out across the board tonight. As with any Dodger's pitcher, pitch count can always be a concern and Maeda is front and center as he has not topped 100 pitches in a start since the beginning of July(average of 85 per start since). This makes him perfect for GPP formats as he also has a ton of upside striking out 18 in his last 10.2 innings and has a 26.8% K rate and 14.4% swinging-strike rate on the season. Adding to that upside is the matchup against the Padres who not strike out 26.5% vs. righties but have also struggled a ton lately with a 65 wRC+ and 26.6% K rate over the last 14 days.

Catcher/First Base
Mitch Moreland FD - 1B 3600 DK - 1B 5300
Opponent - COL (Peter Lambert) Park - COL
FD - 14.8 DK - 11.14
Coors slates always muddle things when it comes to decision making but for the Red Sox, I will be taking a value approach, at least for cash games. Much of that decision comes with the fact Lambert has allowed just one home run in his last four home starts. Not that we shouldn't target against him as his rookie season has been a disappointment overall as he enters the night with a 6.40 ERA/5.18 xFIP and has given up a .393 wOBA, .576 SLG, and 45% hard contact to left-handed batters. That is great news for Moreland who went into Tuesday night's game with hits in four straight and 10 of his last 12 games. On DraftKings, I will be going another direction for cash games but on FanDuel, Moreland is in play in all formats, especially if back up in the five-hole.

Matt Adams FD - 1B 2900 DK - 1B 4400
Opponent - BAL (Asher Wojciechowski) Park - WSH
FD - 14.04 DK - 10.59
If you are looking to save even more salary at the position, Matt Adams is back on the radar and near the top of the PTS/$ rankings on both sites. He let me down last night with an 0 for 3 and doesn't really have a stat line that jumps off the page(.244/.290/.517) except in the power department as he enters the game with 20 home runs and 56 RBI. While the Orioles bullpen has been better over the last week I will rely on the larger sample size which puts them dead last in ERA(6.18), WHIP(1.55), and HR/FB rate(19.6%) for the season. I mention the bullpen as Wojciechowski has struggled to a 4.67 ERA/5.73 xFIP this season and has given up at least one home run in six straight starts(10 total). Adams can be used in all formats but is best utilized in a Nats stack.
Catcher Consideration: Christian Vazquez(BOS) if paying up at the position or Kevin Plawecki(CLE) as a punt play 
Second Base

Jonathan Schoop FD - 2B 2900 DK - 2B 4300
Opponent - CHW (Ross Detwiler) Park - CHW
FD - 10.61 DK - 8.13
I will be going with a value approach at second base as well tonight in an effort to get Cole in as my top pitcher in as many lineups as possible. The Twins come are one of three teams currently projected for six or more runs tonight and while Schoop hits down in the order he should not be ignored. First of all, he has been very consistent with hits in 10 straight and 22 of his last 24 starts and he also has a home run in three of his last four. On top of that, he has also crushed lefties to the tune of a .382 wOBA, 138 wRC+, and .291 ISO. He will be a part of my player pool in all formats tonight.

Brock Holt FD - 2B 2800 DK - 2B 4400
Opponent - COL (Peter Lambert) Park - COL
FD - 11.31 DK - 8.7
The other value play I have my eyes on tonight is Brock Holt who not only gives us some salary relief but also some exposure to the Red Sox powerful lineup in Coors Field. He plays a lot of second base but is a primary utility player for the Red Sox and despite not playing full-time is having the best season of his career with a .320 average and .393 on-base percentage over 196 at-bats. The other part of the equation which I mentioned with Moreland above is targeting lefties against Lambert as he has given up a .393 wOBA, .576 SLG, and 45% hard contact in the split. Like Schoop, he is in play in all formats and right near the top of the PTS/$ rankings on both sites.
Also Consider: Freddy Galvis(CIN) who has been tearing it up with the Reds with hits in 10 of 14 games with six multi-hit efforts
Shortstop

Trea Turner FD - SS 4200 DK - SS 5400
Opponent - BAL (Asher Wojciechowski) Park - WSH
FD - 16.7 DK - 12.99
The shortstop position is one I will be paying up for tonight and it starts with Trea turner leading off for the Nationals. While they were shut out last night, Turner went 2 of 4 with a triple and stolen base and now has hits in 10 straight games with eight multi-hit efforts while averaging 17 FD/13.6 DK points per game. The matchup is right near the top of the list as well as most of Wojciechowksi's struggles have come in August where he has posted a 1.67 WHIP and paid dearly for it giving up 16 earned runs(nine home runs) across five starts and while the ERA(6.00) looks bad, the xFIP(7.48) is a run and a half higher. Look for the Nats to get back in the win column on Wednesday and it starts at the top with Turner.


Francisco Lindor FD - SS 4300 DK - SS 4900
Opponent - DET (Jordan Zimmermann) Park - DET
FD - 14.96 DK - 11.41
Another shortstop I am willing to pay up for today in all formats is Francisco Lindor, especially on DraftKings where he comes at a bit of a discount as the 7th most expensive player at the position. He has been very consistent lately with hits in nine straight and 18 of his last 19 games and provides value in every area including power(23 home runs, 57 RBI), average(.297), speed(18 stolen bases), and run-scoring ability(76 runs) from the leadoff spot. He will face Jordan Zimmerman who has been better over his last starts but overall has been a disaster this season with a 6.48 ERA and while that doesn't tell the whole story, the xFIP(5.00) is still well below average. On FanDuel, the decision will be a lot closer but on DraftKings I will take the discount and roll with Lindor in all formats.
Also Consider: Bo Bichette(TOR) who has been off the charts since being called up(.347/.384/.669 slash line in 27 games/125 plate appearances)
Third Base

Miguel Sano FD - 3B 3900 DK - 3B 5500
Opponent - CHW (Ross Detwiler) Park - CHW
FD - 12.76 DK - 9.5
The decision at the top of the third base position comes down to Sano vs. Rendon for me but at this moment I am leaning Sano for a couple of reason starting with the sizeable discount on FanDuel as he comes in under $4K tonight. Both hitters get plus matchups but Sano faces a lefty in Ross Detwiler who has struggled mightily against righties giving up a .410 wOBA, .617 SLG, and 3.06 HR/9 in the split. Sano has been good against both sides of the plate year but continues to absolutely mash lefties to the tune of a .394 wOBA, 146 wRC+, .341 ISO, and 54% hard contact rate.


David Fletcher FD 3100 DK 4000
Opponent - TEX (Ariel Jurado) Park - TEX
FD - 9.83 DK - 7.73
The Angels are sitting inside the Top 5 when looking at implied runs(5.6) on Wednesday night making their leadoff hitter a hot commodity. Fletcher doesn't provide much upside with just five home runs but has been getting on-base consistently(.347 OBP) ahead of Trout and co. and has already scored a career-high 70 runs. The Rangers will go with an opener tonight(Emmanuel Case) but will then turn to Ariel Jurado who has been a dumpster fire in the second half with an ugly 1.75 WHIP which has led to a 7.52 ERA/5.14 xFIP. The wind is blowing out which should help generate even more offense and Fletcher is in play in all formats.
Also Consider: Vladimir Guerrero Jr.(TOR) who has strong splits vs. right-handed pitching(.375 wOBA, 136 wRC+)
Outfield

Mike Trout FD 4600 DK 5400
Opponent - TEX (Ariel Jurado) Park - TEX
FD - 16.02 DK - 11.96

Kole Calhoun FD 3100 DK 4300
Opponent - TEX (Ariel Jurado) Park - TEX
FD - 10.07 DK - 7.64
I talked about the Angels above and going right back there in the outfield. First up we have the best player in the game in Mike Trout who is expensive but does come cheaper than three other OF on DraftKings which immediately grabs my attention. If you have the salary, combine Trout with David Fletcher as an elite 1-2 punch at the top of the lineup. If you are looking to save a little bit but stay in the Angels dugout consider Calhoun who may not be nearly as consistent but has does provide a ton of power with 28 home runs, 66 RBI, and 78 runs scored.
Marwin Gonzalez FD 2700 DK 3900
Opponent - CHW (Ross Detwiler) Park - CHW
FD - 10.64 DK - 8.14


Robbie Grossman FD 2400 DK 3700
Opponent - KC (Jake Junis) Park - KC
FD - 9.76 DK - 7.42
With the elite pitching on this slate, finding value is once again very important so let's look at a couple of outfielders on my radar tonight. Neither provides much consistency which is displayed by their price point but opportunity reigns supreme. Gonzalez hits in 5-7 hole in the lineup, has hits in three straight games(HR last night) but most of all, is much better against lefties with a .343 wOBA,112 wRC+. As for Grossman, I like his opportunity a little better as he has been hitting out of the two-hole for the A's and enters tonight with hits in 11 of his last 13 games. Both players have good matchups and their teams are near the top of the implied run rankings putting them firmly in the "all formats" range tonight.
**Update - Gonzalez was removed from Tuesday's game and is likely out of the lineup tonight.**
Also Consider: Juan Soto/Adam Eaton(WSH), Oscar Mercard0/Yasiel Puig(CLE)
GRAB A FREE TRIAL OF OUR PROJECTION SYSTEM, AND CHECK OUT DFSR PRO!
FREE EBOOK
SECRETS TO CRUSHING DAILY FANTASY FOOTBALL!
DON'T SET ANOTHER LINEUP BEFORE YOU READ THIS BOOK.