Nascar picks Daily Fantasy
Expert Advice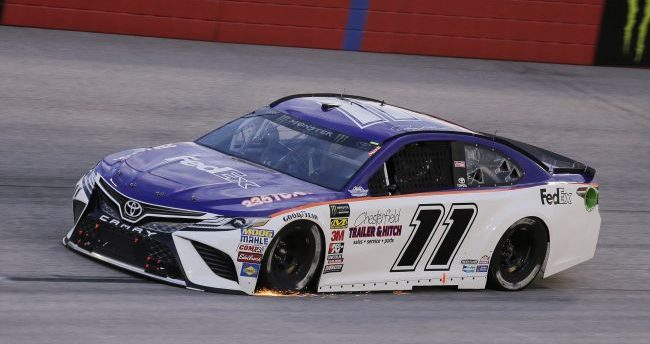 Daily Fantasy NASCAR Race Preview & Picks for DraftKings - Bojangles Southern 500
Chris Durell will be bringing you his weekly race breakdown, top trends, and pre-qualifying targets to help you cash on DraftKings and FanDuel. You can also grab a copy of his free DFS NASCAR Cheatsheet that includes a ton of stats and a customizable model.
Now's your chance to get DFSR PRO, which will give you access to our MLB optimizer and our new player lab! Get started for free by clicking the button below.
First time with MLB? Be sure to read our free MLB Ebooks on building lineups, general strategy and more. We've got you completely covered.
Bojangles Southern 500
The final bye-week of the 2019 season is now behind us and the focus now shifts to the final two races of the regular season. The last time cars were on track, Matt DiBenedetto almost flipped the Playoff picture upside down leading 93 laps late at Bristol but was eventually passed by Denny Hamlin with just 11 laps to go. Instead, we have what appears to be a four-horse race when it comes to points and the playoff bubble. Daniel Suarez sits in that coveted 16th position with 591 points with Ryan Newman just 12 points ahead in 15th, Clint Bowyer just two points behind in 17th, and seven-time champion Jimmie Johnson just 26 points behind in 18th.
No driver in and around the bubble will be feeling safe with two very unique tracks to close out the regular season and it starts this weekend with one of the Crown Jewels of the sport. Darlington Raceway has hosted a race on Labour Day weekend going all the way back to 1950 where there were 75 cars who battled the track "Too Tough to Tame". While the field has been greatly reduced(39 cars entered) the track is still one of the most unique and challenging on the circuit. It is more egg-shaped than oval, has different degrees of banking at each end of the track, and is rough and very hard on tires.
While the winner hasn't come from the pole position since Kevin Harvick's 2014 win, Darlington has a very high correlation to starting position which makes sense as passing can be a challenge on the narrow, high-groove track. This puts a ton of emphasis on track position and that correlates very highly with the dominator as there have been seven drivers to lead 100+ laps in the last six races, three times coming from the pole, and six times coming from a Top 5 starting position.
Let's now take a look at some race trends, the weekend schedule, and then jump into my top pre-qualifying picks.
Darlington Raceway - Darlington, SC
Track - 1.366 Mile Oval Intermediate
23° - 25° of Banking
Last Six Winners at Darlington
2018 - Brad Keselowski(started 13th)
2017 - Denny Hamlin(started 9th)
2016 - Martin Truex Jr.(started 8th)
2015 - Carl Edwards(started 13th)
2014 - Kevin Harvick(started 1st)
2013 - Matt Kenseth(started 7th)
Weekend Schedule
Practice #1 - Friday @ 2:05 pm ET
Practice #2 - Friday @ 4:05 pm ET
Qualifying - Saturday @ 2:00 pm ET
Lineup Lock/Race - Sunday @ 6:00 pm ET

Track History at Darlington
 There are only two active drivers with multiple wins here at Darlington and we are going to start with Denny Hamlin who has been much more consistent. He returns to "The Lady in Black" with Top 10 finishes in 11 of 13 career races here with two wins(2017, 2010) and leads all active drivers with a 6.2 career average finish. The other driver with multiple wins here is Jimmie Johnson who leads all drivers with three career wins but he has not been very good here lately with four straight finishes outside the Top 10(19th, 33rd, 12th, 39th).
If you are looking for consistency here at Darlington, look no further than Kevin Harvick who returns with six straight Top 10 finishes with a win in 2014 and he has also led 200+ laps twice in that time. Taking it further, he also leads all drivers in that six-race sample size with an average running position of 4.5 and from a fantasy perspective is averaging 80 DK points per race.
Kyle Larson has yet to record a win here at Darlington but has been close with 3rd place finishes in two of his last three races here including 408 laps led in the last two. He now has five races under his belt here with four Top 10's and a 14th place finish, good for the third-best career average finish(7.6) among active drivers. From a fantasy perspective, this puts him WAY ahead of the competition over the last two races with an average of 112.8 DK/86.8 FD points per race.
Kyle Busch hasn't won here since way back in 2008 but has been very consistent here with Top 10's in seven of his last nine races with an average running position of 7.1 in that time(3rd best). The only knock on that resume is the dominator aspect as he has led just 10 lap sin his last five races here after leading 265 in 2013. His other teammates have also been strong here as Martin Truex Jr. won here in 2016 and has finished 12th or better in seven of his last eight trips with five Top 10's. Erik Jones has raced here just twice in a Cup car but finished Top 10(8th, 5th) in both races.
Penske teammates Brad Keselowski and Joey Logano have been solid here in their careers, both with three Top 5's and five Top 10's in 10 career races. Keselowski gets the edge as he is the defending race winner here and has Top 10's in three of his last four. While Logano has not won here, he does return with Top 5 finishes in three of his last four races here.
Looking at some of the value drivers on FanDuel and DraftKings, Ryan Newman returns with the eighth-best career average finish(12.1) with seven Top 5's and 13 Top 10's in 20 career races. Chris Buescher has been head to head with Newman for the top value each and every week and while he has just three career races here he has impressed with finishes of 17th, 17th, and 13th. Then we have Austin Dillon who has been consistent here with five career races with no finish worse than 22nd with three Top 15's and a Top 5.
Track Type History(Intermediate Tracks)
This will be the seventh race of the season on an intermediate, mile and a half-track with the full rules package with air ducts. Atlanta was the only race on this track type that didn't use the air ducts so I excluded that race from the following stats.
No driver has multiple wins in those six races but Joey Logano stands out the most as one of four drivers with three Top 5's, leads all drivers with a 7.5 average finish and is averaging 56.8 DK/69.5 FD points per race. Chase Elliott doesn't have a win in these six races but is the only driver with a Top 15 finish in each of the races and has the second-best average finish(9.3). His teammate Alex Bowman won Chicago which used the same tire compound and is tied with Elliott with a 9.3 average finish in those six races.
Kurt Busch got a huge win at Kentucky and sits 4th with a 10.3 average finish in those six races with two Top 5's and four Top 10's. Tied with him is Ricky Stenhouse Jr. who also has an average finish of 10.3 in the six races and is one of seven drivers with a Top 15 in at least five of the six races.
Teammates Kyle Busch and Erik Jones make up two of the four drivers with three Top 5's in the six races and have an identical 11.7 average finish. Busch leads all drivers with an average of 57.3 DK points per race thanks to 231 laps led.
Current Form
Joe Gibbs Racing dominates the form ranks led by Denny Hamlin who has two wins(Bristol, Pocono) and six straight Top 5 finishes for an average of 75.2 DK/74.1 FD points per race. Kyle Busch is not too far behind with five Top 10's in the last six races but has not won since the June Pocono race. Martin Truex Jr. has three Top 5's and four Top 10's in the last six races for a 7.8 average finish while Erik Jones sits fourth in the form ranks with four Top 10's and an 8.7 average finish in the sample size.
Kyle Larson is the only other driver with a sub 10 average finish(9.8) over the last six races with three Top 5's and five Top 10's and rounding out the Top 5 are Ryan Blaney and Matt DiBenedetto who have matching 11.0 average finishes.
Top Targets
Denny Hamlin
Hamlin checks eery single box this week as he comes in red-hot with six straight Top 5's including two wins and returns to one of his best tracks. He has two wins at Darlington(2017, 2010) and has finished Top 10 in 11 of 13 career races with a series-best 6.2 career average finish. The #11 car also got faster throughout the day on Friday as he ranked 11th in first practice with the sixth-fastest 10-lap average and followed that up ranking 8th in final practice with the second-fastest 10-lap average. Ideally, I would like to see him qualify Top 5 but he will be a part of my core in all formats regardless.
Kyle Larson/Kurt Busch
The Chip Ganassi teammates sit atop my pre-qualifying ranks in my model and not much is likely to change as both appear t0 have Top 5 cars. Larson was 6th in opening practice and 2nd in final practice with the fastest 10-lap average while Busch was fastest in opening practice and fourth-fastest in final practice and ranked 4th and 8th in 10-lap averages in the two sessions. Both also have track history on their side as Larson has finished 3rd in two of the last three races and led 408 laps in the last two. Kurt returns to the Lady in Black with finishes of 6th or better in three of his last four trips. At their prices, both drivers are great plays in all formats.
Alex Bowman/William Byron
Another set of teammates that come out flying on Friday, both ranking Top 5 in my practice model. Bowman was 4th and 10th in the two sessions and 3rd and 15th in 10-lap averages while Byron, who comes very cheap on both sites, was 2nd and 3rd in the two practices and 1st and 11th in 10-lap averages. They may not be the safest plays as neither has finished Top 20 here(Bowman-23rd, 24th, 29th / Byron-35th) but if they are going to be lower owned, I will have a ton of exposure in GPP formats this week.
Ricky Stenhouse Jr.
Speaking of risky plays, Stenhouse and the #17 pretty much need a win to get into the playoffs and will likely use some strategy to try and get it on Sunday evening. How much exposure I will have will depend largely dependant on qualifying but he showed a ton of speed in practice ranking 13th in the opening practice and led the field ranking 1st in final practice but was just 16th in 10-lap averages. The price is definitely in a good spot and for the season, on intermediates with the full package, he ranks 9th in DK points and 6th in FD points per race.
Below you will find a copy of my DFS NASCAR cheathsheet which includes Track History, Current Form, DraftKings points averages, Track Type History, Practice/Qualifying Ranks and much more.

Chris Durell has been playing Daily Fantasy Sports for five years and fantasy in general for more than a decade. He is an active player in NFL, MLB, NHL, PGA, and of course NASCAR. He lives in Saskatchewan, Canada with his wife and two daughters. You can follow him on Twitter at @Jager_Bombs9 for advice, strategy, answers to any NASCAR questions or how he copes with the winters up north.
FREE EBOOK
SECRETS TO CRUSHING DAILY FANTASY FOOTBALL!
DON'T SET ANOTHER LINEUP BEFORE YOU READ THIS BOOK.