featured Daily Fantasy
Expert Advice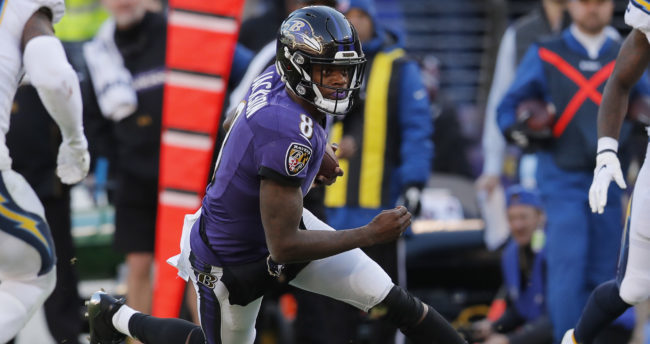 Daily Fantasy Football Cash Game Picks for FanDuel and DraftKings Week 1 - 9/5/19
Now's your chance to get DFSR PRO, which will give you access to our NFL and MLB optimizers and our new player lab! Get started for free by clicking the button below.
Quarterbacks

Lamar Jackson FD 7400 DK 6000
Opponent MIA
Proj Points FD - 20.86 DK - 21.14
We're starting the season with Lamar Jackson under center? It's looking that way. After Jackson took over in week 11, he ran for 536 yards in 7 games. If you extrapolate that rate over 16 games, he would have had 1,225 yards, which would have been good for 4th best in the entire NFL. It would have been 26 yards fewer than Todd Gurley, who is more expensive than Jackson going into this week. Oh, and Jackson also passes the ball. It's reasonable to suggest that we'll see some regression from Jackson in the running game this season, simply because we have never seen a quarterback run so prolifically without getting injured. That being said, isn't it also reasonable to assume that he'll probably improve somewhat in the passing game? Any of that would just be the icing on the cake, here. The Ravens are in a fantastic spot against the Dolphins, who allowed the second most rushing yards per game last season and have already mailed in the season. I like Jackson in just about every format this week.

Carson Wentz FD 7600 DK 5700
Opponent WAS
Proj Points FD - 19.63 DK - 20.15
If you don't trust Jackson to continue his breakneck (perhaps literally) rushing pace, Wentz is a very interesting QB to consider. While it's true that Wentz is running a lot less than it looked like he would early in his career, he's quietly a much bigger force in the passing game than he gets credit for. While his end of year stats aren't phenomenal, is rate stats are excellent. His 69.6% completion rate ranked 3rd best in the league, and his 279.6 yards per game was sixth best among returning starters. He's got a solid core of receivers that's been bolstered by the arrival of DeSean Jackson, who provides a deep threat that the Eagles haven't really had in Wentz's time there. The running game should be improved with Howard and Sanders, both of whom can catch balls out of the backfield as well. Wentz threw for 306 yards while completing 27 of his 39 passes against the Skins last year, and again, his offense should be better this season. I like Wentz as a breakout candidate, and he his price could rise sharply if he explodes out of the gate.

Jameis Winston FD 7500 DK 6600
Opponent SF
Proj Points FD - 19.79 DK - 20.47
Lamar Jackson and Jameis Winston in the same article? You must be reading DFSR. Listen, I'm not paying more for Winston than either Wentz or Jackson, but if you're fishing for some big time upside, he's pretty darn attractive. Winston has been painted as this erratic starter thanks to the Bucs' jerking around of him last year in particular, but his has actually been a case of steady improvement. His completion percentage has improved from 58.3% in his rookie year to 64.6% last year. While he'll be throwing to a similar crop of guys this season, a new coach in Arians should be able to suss out who the actual good targets were last year, and get the ball in their hands more. Both OJ Howard and Chris Godwin were excellent on a per-target basis last year, and Arians has even gone out on a limb and said that Godwin could be close to a 100 catch guy this season. This game also has the second highest total on the main slate, and if the Bucs are really going to score 26 points, Jameis should be prominently involved. Right? Right. Or at least we hope so.

Running Backs

Chris Carson FD 6600 DK 5700
Opponent CIN
Proj Points FD - 17.4 DK - 18.55
We've already talked about how
Vegas lines can help inform rushing upside
so in Week 1 we'll be looking to target home favorites (when possible) with higher spreads. Hello Seattle. Carson took over the bellcow running back duties for the Seahawks in Week 3 last season and from that point on only Ezekiel Elliot and
David Johnson
had more carries while Zeke, Barkley and Gurley had more yards. Carson was an elite usage guy on the ground.
I suppose there's some concern about his use in the passing game, but that could be mitigated by projected game script. Seattle is now a -10 point home favorite (opened at -7.5) against a lowly Cincinnati team possibly headed for the basement this season. Seattle's modus operandi was to run the ball early and often ultimately finishing second in the league in rushing attempts behind only Baltimore. The latter was in a tier all its own after
Lamar Jackson
took over, otherwise Seattle easily runs away with it in this category. Expect more of the same this season and Carson will likely be a chalk play.

Dalvin Cook FD 7400 DK 6000
Opponent ATL
Proj Points FD - 16 DK - 17.87
The Vikings gave Alexander Mattison a fair amount of preseason reps and he'll enter the season as the clear handcuff, but I think we see a lot of Cook to start things off. He's an electric runner now a full season removed from his knee injury and should be featured in the passing game as well. The Falcons had injury issues on defense last season and were gashed for the second-worst defensive DVOA and ranked 30th against the run. Cook appears simply mispriced on
DraftKings
where he could be a very popular play. It's not as crystal clear on
DraftKings
but considering some of the hype here I think he sees solid ownership there as well.
Mark Ingram FD 6600 DK 5100
Opponent MIA
Proj Points FD - 15.44 DK - 16.33
In Week 11 last season, relative unknown
Gus Edwards
stepped into the starting lineup when
Lamar Jackson
took over the quarterback reins and over the last seven weeks of the season garnered the third most rushing yards in the league at a clip of 5.4 yards per carry. In the offseason, the Ravens made a clear move to *upgrade* the position with the
Mark Ingram
signing.
Ingram was efficient in his time with the Saints, averaging 4.9 yards per carry over the last three seasons and serving as an effective down and close runner (24 TDs). From a high-floor perspective, playing the Ravens running attack against the Dolphins in Week 1 should net results. They are -6.5 road favorites against a team that looks, for all intents and purposes, like it's firmly in the tank. While we are sometimes hesitant to recommend players moving into totally new situations, this one appears a safe bet to open the season.

NIck Chubb FD 7400 DK 6400
Opponent TEN
Proj Points FD - 16.51 DK - 17.76
In Week 7
Nick Chubb
was mercifully given the starting running back nod over the corpse of
Carlos Hyde
and the Browns didn't look back. From that point on, Chubb ranked 4th in the league in rushing yards and third in carries. Now the Browns enter the season with
Duke Johnson
shipped off to Texas and
Kareem Hunt
suspended. This is fully Chubb's backfield and I expect him to see an increase in the passing game targets as well. He averaged about three targets a game over that period and word out of Cleveland is he should be featured more in that scope of the offense. The Browns are -5.5 favorites against a Titans' defense ranked in the middle of the pack against the run in 2018.
Also consider spending up for
Christian McCaffrey
.
If you think
Kerryon Johnson
the 100% RB1 bellcow in Detroit then he would make for a tremendous value in Week 1.
Wide Receivers

Dede Westbrook FD 5900 DK 4800
Opponent KC
Proj Points FD - 11.84 DK - 13.93
When the week 1 pricing came out, our lineup optimizer immediately called out Westbrook's price as flat out wrong. It's one of those rare circumstances where a player is priced to his floor in a situation where he almost has to be better this year than last year. Last year Dede amassed 101 targets, but only converted 66 of those into catches thanks in large part to the fact that Blake Bortles was the man throwing him the ball. While I'm not a huge believer in Nick Foles as a superstar QB, he has to be a significant upgrade over Bortles, and this should mean the team trusts him to throw more AND that his throws will be of a higher average quality. This should mean wonders for Westbrook's fantasy profile, and it wouldn't shock me to see him 15% more expensive going into week 2. This game has the highest total on the slate as well, which only makes me more confident in this play. It wouldn't shock me if Dede was the highest owned receiver on the slate.

Julio Jones FD 8500 DK 8000
Opponent MIN
Proj Points FD - 16.6 DK - 20.18
While our system isn't ready to pay up at wide receiver on FanDuel, it's very tempted to grab Julio at this price on DraftKings. Yes, he draws Xavier Rhodes this week, but Rhodes is looking more like a big name rather than a big producer, with Pro Football Focus ranking him outside their top 20 cornerbacks last season. Jones led the NFL in targets last season, had more than 100 more receiving yards than the second place receiver, and converted 66% of the balls thrown his way into catches (as opposed to 59% the previous season). I'm not sure this is where you pay up on FanDuel, but I'm ready to make the leap on DraftKings with the full PPR.



Kenny Golladay FD 6900 DK 6300
Opponent ARI
Proj Points FD - 13.86 DK - 16.36

Chris Godwin FD 6900 DK 6200
Opponent SF
Proj Points FD - 13.39 DK - 15.77
I rank these guys next to one another because of their eerily similar price points, and I think it's worth weighing throw the pros and cons of playing either. Let's start with a general tale of the tape. Chris Godwin: 59 receptions on 95 targets for 842 yards and 7 touchdowns. Kenny Golladay: 70 receptions on 119 targets for 1,063 yards and 5 touchdowns. Those are two pretty different players, right? Yes, Godwin got in the endzone more, but Golladay was targeted far more often and put up more than 200 more receiving yards. I get that there is a lot of positive buzz about Godwin coming into this season, but you could argue that his upside for yards and receptions looks something like what Golladay already did last season. These guys were both selected in the same draft. Don't get me wrong, I'm fairly bullish on Godwin going forward, but Golladay is quite simply both the more accomplished receiver and the more important player to his team's offense.
I view these match-ups as pretty similar as well. While Arizona didn't allow a ton of passing yards last year, their league worst -200 point differential suggests that opposing teams didn't need to pass against them much. The Lions are just 2.5 point favorites here, so Stafford should be passing plenty.
At the end of it all? Give me Golladay until Godwin lives up to the preseason hype.
Also considered: Our system is back on the Keenan Allen bandwagon, though it's not currently making a lot of lineups where you want to pay his price for a wide receiver.
Tight Ends

George Kittle FD 7300 DK 6600
Opponent TB
Proj Points FD - 13.56 DK - 15.63
With three games of
Jimmy Garoppolo
and then a smattering of
Nick Mullens
and
C.J. Beathard
over the remaining 13 weeks,
George Kittle
was still able to break the all-time single season receiving mark for a tight end in 2018. That's really saying something in even the best of situations. Considering who was hucking him the ball it seems almost an impossible feat. And yet Kittle was just awesome, putting up WR1 numbers from the tight end position over the course of the season. He had 11 weeks of eight or more targets and considering the amount of usage you could say he ran bad on touchdowns (5). We have middle-tier and lower value at almost every position for Week 1, leaving tight end as a pay-up spot to round out salary. Kittle should be the choice in what could be a shootout against Tampa Bay.
Hunter Henry FD 6100 DK 3900
Opponent IND
Proj Points FD - 9.68 DK - 11.56
Henry seemed poised for a post-
Antonio Gates
breakout before suffering a torn ACL near the of camp in 2018. He was able to get back on the field for the playoffs, but in a limited fashion. This season he appears fully healthy and will open as the clear TE option in Los Angeles. Phillip Rivers only targeted a tight end 73 times last season between Gates and
Virgil Green
, Henry is a clear upgrade over both. The Chargers come in with some clear offensive line issues which could lead to shorter passing routes and Henry is coming much too cheap on
DraftKings
. If you don't spend up for the upper tier of Kittle, Kelce (maybe Ertz) then I think much of the rest of the ownership will shift toward Henry.
Defense / Special Teams
Seattle Seahawks FD 4500 DK 3100
Opponent CIN Proj Points FD - 7.91 DK - 7.91
Seattle will open the season as the biggest favorites on the main slate against a Bengals' team playing without
AJ Green
and just kind of terrible in general. The Seahawks come as the 4th-mot expensive
FanDuel
DST and 7th on DraftKings. They correlate really well with the
Chris Carson
play at running back and are probably the most highly owned defense going on Sunday.
Baltimore Ravens FD 5000 DK 3800
Opponent CIN Proj Points FD - 8.8 DK - 8.8
Again, this is another correlation play with what could be chalk plays at quarterback and maybe running back as well. Baltimore is the most expensive defense on both sites, but it could be worth the outlay. The Dolphins come in projected to win less than four games and are just going to play the string out this season.
Also consider the
Los Angeles Chargers
against an
Andrew Luck
-less Colts team.
For a cheaper option, the
Detroit Lions
will face a rookie QB in
Kyler Murray
and a totally new ARI scheme. I know they should be improved, but this is the NFL and it's so tough to be good out of the gate.
GRAB A FREE TRIAL OF OUR PROJECTION SYSTEM, AND CHECK OUT DFSR PRO!
FREE EBOOK
SECRETS TO CRUSHING DAILY FANTASY FOOTBALL!
DON'T SET ANOTHER LINEUP BEFORE YOU READ THIS BOOK.