Baseball Picks Daily Fantasy
Expert Advice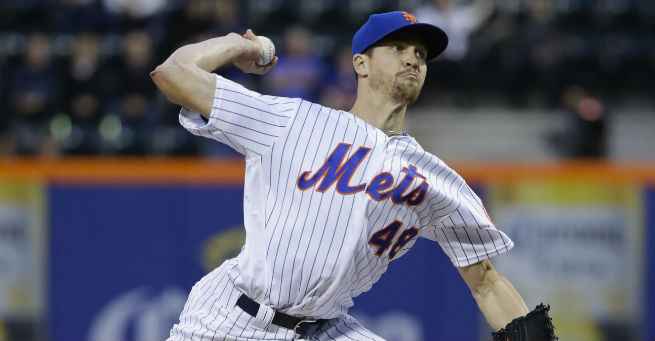 DraftKings and FanDuel MLB Picks for Monday 9/9/19
Everyone coming off their football high/hangover? Well Sunday is over but Monday baseball is coming at you with a shorter slate for
FanDuel
and
DraftKings
.
Now's your chance to get DFSR PRO, which will give you access to our NFL and MLB optimizers and our new player lab! Get started for free by clicking the button below.
Pitchers

Jacob deGrom FD - P 10600 DK - SP 11200
Opponent -
ARI (Merrill Kelly)
Park -
NYM
FD
- 42.92
DK
- 24.37
DeGrom is having another Cy Young-type season with a 3.27 xFIP (2.76 ERA), 31% K rate and 5.2 K:BB ratio. Those re, of course, elite numbers and he's the biggest money line favorite on this smaller Monday slate of baseball. He's a -210 home favorite against the Diamondbacks who rank in the bottom third in the league against righties this season. Arizona's 3.01 implied runs are easily the lowest of the slate and it's worth it to pay up for deGrom here compared to the other options. I suspect he's something like the chalk considering the other guys taking the bump.
Madison Bumgarner FD - P 9000 DK - SP 9200
Opponent -
PIT (Trevor Williams)
Park -
SF
FD
- 36.21
DK
- 19.67
The Pirates have moved their way to the bottom of the league against lefties this season. They have a paltry .285 wOBA in that split and though they don't K much, very much struggle hitting southpaws up and down the lineup. Bumgarner is putting up his best K numbers since 2016, striking out 8.87 batters per nine and limiting the walks to 1.83. That's good for a 4.8 K:BB rate. The efficiency has allowed him to go more than six innings per game this season and he makes for a strong cash play. It might be tough pairing deGrom and Bum on
DraftKings
because of the salary, but you have to love the floor on both.
Strongly consider
Jordan Lyles
(
FD
$8400
DK
$8200) against the Marlins.

Catcher/First Base

Carlos Santana FD - 1B 3800 DK - 1B 4400
Opponent -
LAA (Patrick Sandoval)
Park -
LAA
FD - 11.81 DK - 8.8
Carlos Santana
is putting the best season of his career with 32 home runs, a .936 OPS and is walking more than he strikes out. A big part of that is what he's been doing against lefties. He has a .985 OPS, .411 wOBA and 156 wRC+ in that split this season. The should work against
Patrick Sandoval
. Sandoval has solid peripherals, striking out 10.5 batters per nine, but does walk batters 10% of the time. Santana's profile works in this matchup and the Indians do have a higher implied run line on the slate.
Brandon Belt FD - 1B 2700 DK - 1B 3800
Opponent -
PIT (Trevor Williams)
Park -
SF
FD - 11.08 DK - 8.36
Belt will still find himself hitting near the top of the lineup against righties and makes for a decent cash game play all things considered. He takes walks at an elite rate, 14% and is tougher to strike out. He does have 16 home runs on the season despite playing in a home park that definitely suppresses power for lefties. He'll face
Trevor Williams
, one of the worst starters going on the main slate. The latter strikes out less that seven batters per nine with a 5.18 xFIP.
Second Base

Jose Altuve FD - 2B 4200 DK - 2B 4600
Opponent -
OAK (Mike Fiers)
Park -
HOU
FD - 13.57 DK - 10.51

Aledmys Diaz FD - 2B 2800 DK - 1B/2B 3700
Opponent -
OAK (Mike Fiers)
Park -
HOU
FD - 10.33 DK - 7.95
The Astros have a good matchup against Michael Fiers whose 17% K% and 7% BB% are about as bad as you'll see for a starter taking the mound every five days. A guy like Altuve could really give him fits considering he strikes out only 15% of the time and makes
contact
in 77% of his plate appearances. Altuve has a .904 OPS on the season and has already set a career high in home runs with 25. He doesn't steal as many bases at this point, with the five this year marking an all-time low, but he produces in every part of the game.
Meanwhile, Diaz has gotten more consistent playing time with
Carlos Correa
working his way back from injury. He's another guy who's tough to strike out at only 14% and makes enough
contact
to have that OPS hovering in the high .700's. He benefits from hitting in the Astros' lineup that comes in with the most implied runs on the slate.
After the Astros' guys, I'm not in love with much of the rest of the position (what else is new with 2B?). If
Cesar Hernandez
(FD $2700 DK $3800) is still hitting leadoff then he would definitely slot in as a cash play.
Robinson Cano
(FD $2900 DK $3900) is still coming cheap, for good reason, but has a fine enough matchup against
Merrill Kelly
.
Shortstop

Francisco Lindor FD - SS 4200 DK - SS 5000
Opponent -
LAA (Patrick Sandoval)
Park -
LAA
FD - 14.24 DK - 10.86
A theme for Monday's hitters is guys who are tough to strikeout. Lindor fits the bill as well. He K's only 15% of the time and along with
Carlos Santana
could be part of an Indians' cash stack. He's been better against lefties for his career with a .366 wOBA and 127 wRC+. That hasn't completely been the case this season, but I think we can take the larger sample size on this one. He's expensive for sure and you won't be able to totally stack CLE and HOU in cash along with deGrom, I understand that. but Lindor is clearly the highest raw points shortstop on the slate.

Jean Segura FD - SS 3000 DK - SS 4000
Opponent -
ATL (Mike Foltynewicz)
Park -
PHI
FD - 10.45 DK - 8.23
The Phillies will face
Mike Foltynewicz
who's really struggled this season with an xFIP over 5.00 and a K rate under eight strikeouts per nine. Segura's value is in making
contact
83% of the time. He doesn't do a ton from a fantasy perspective, but keeps a higher floor on his projection because of the lineup slot (2nd) and his ability to get on bas 33% of the time despite taking walks at only a 5% clip. He makes for a cheaper and more reasonable price option than Lindor if paying up for pitching.
Third Base

Mike Moustakas FD - 3B 3000 DK - 2B/3B 4700
Opponent -
MIA (Robert Dugger)
Park -
MIA
FD - 11.09 DK - 8.41
The picks have been noticeably thin on Brewers thus far even though they are facing Robert Duggar. Milwaukee, across the board are coming awfully expensive and are also a team that is sometimes hard to get a handle on their lineup. Moustakas though is locked in hitting in the top 5 and brings in an .853 OPS with 31 home runs. Duggar struggles to miss bats with only a 15% K rate through his first 18 major league innings. The Brewers could really tune him up especially with the patience around the top of the order. With all this said, keep an eye on the Brewers' lineup. Moustakas is dealing with a hand injury though hasn't officially been put on the IL yet.

Giovanny Urshela FD - 3B 3000 DK - 3B 4200
Opponent -
BOS (Eduardo Rodriguez)
Park -
BOS
FD - 12.17 DK - 9.31 With the Yankees getting healthier, Urshela has moved down in the order but that's still a pretty good place to be considering the way the Bombers put up runs this season. He's been better against lefties for his career and is tough to strike out at only 17%. This is more a cost/lineup play than anything considering
Eduardo Rodriguez
isn't exactly an ideal matchup. But if you are looking to save some, third base is one of the places to do it on the slate.
Outfield
Yasiel Puig FD - OF 3100 DK - OF 3900
Opponent -
LAA (Patrick Sandoval)
Park -
LAA
FD - 12.05 DK - 9.15
Puig is coming cheap on both sites, especially
DraftKings
where he's under $4K. He's been platoon neutral this season and does offer a solid power (24 HRs) and speed (17 SBs) combination that makes for a solid fantasy profile. He's a better fantasy player than real life baseball player at this point, but is still hitting around the middle of the Indians' lineup and coming at reasonable prices. Even the strikeouts aren't overboard which could mitigate some of the risk against a K guy like Sandoval.

Ben Zobrist FD - OF 2500 DK - 2B/OF 3700
Opponent -
SD (Cal Quantrill)
Park -
SD
FD - 10.04 DK - 7.67
He wasn't in the lineup against the lefty on Saturday, but I do think the plan is to keep Zobrist in the leadoff slot when possible. He's been better in this split for his career with a .366 OBP and .351 wOBA against southpaws. Quantrill is a slightly below average pitcher, sporting a 4.61 xFIP and 20% K rate. Zobrist's price on both sites doesn't reflect his slot in the lineup if he's hitting leadoff for this Cubs squad and would make for a pretty chalky cash play if back at the top of the order again.

Trent Grisham FD - OF 2600 DK - OF 3200
Opponent -
MIA (Robert Dugger)
Park -
MIA
FD - 8.07 DK - 6.18 Grisham has been in the leadoff spot for the Brewers when they face righty arms in the short term and I expect him to be there again against Duggar on Monday. The bad news is he's not all that good of a hitter since coming up to the majors. The patience he displayed in the minors with double-digit walk rate has been nearly halved since getting called up. He'll need to turn that around to be a viable major league bat because he doesn't have all that much power. But I suspect he begins to see gains as he settles more into major league pitching and again, the big win is if he's hitting top of the Brewers' order.
GRAB A FREE TRIAL OF OUR PROJECTION SYSTEM, AND CHECK OUT DFSR PRO!
FREE EBOOK
SECRETS TO CRUSHING DAILY FANTASY FOOTBALL!
DON'T SET ANOTHER LINEUP BEFORE YOU READ THIS BOOK.