Baseball Picks Daily Fantasy
Expert Advice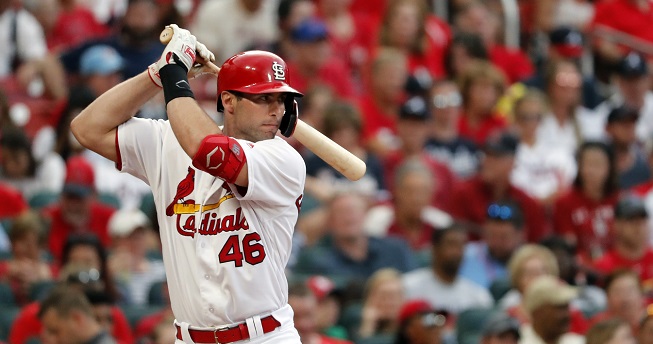 DraftKings and FanDuel MLB Picks for Wednesday 9/11/19
Now's your chance to get DFSR PRO, which will give you access to our MLB and NFL optimizers and our new player lab! Get started for free by clicking the button below.
Pitchers

Sonny Gray FD - P 10200 DK - SP 10600
Opponent - SEA (Marco Gonzales) Park - SEA
FD - 37.84 DK - 20.24
Gray is in the middle of one of the best seasons of his career and in large part to being one of the best pitchers in baseball in the second half. He has gone 5-1 and has allowed more than two earned runs just once in 11 starts for an eye-popping 1.61 ERA and while that is a little run-hot, the xFIP(3.86) is still above average.  The big factor here for me tonight is the matchup against the Mariners who have really struggled lately scoring the third-fewest runs(42) over the last 14 days with an ugly .269 wOBA,68 wRC+, and 26.8% K rate. All things considered, Gray is my core pitcher in all formats.

Zach Davies FD - P 6900 DK - SP 6700
Opponent - MIA (Pablo Lopez) Park - MIA
FD - 25.57 DK - 12.31
There is not a whole lot I like in the value range tonight for a cash game SP2 but one name that stands out is Zach Davies who opens as a -150 favorite and gets a huge park upgrade on the road in Miami. His splits also back up the price increase he has seen as he enters the night with a 2.83 ERA on the road(4.71 on the road) and while he has limited upside(15.2% K rate) he has been consistent lately allowing two or fewer earned runs in three of his last four starts. I wouldn't consider on fanDuel with the lack of quality start or K upside but will be using him as a cash game SP2 on DraftKings to allowed me to pay up for Gray and some top bats.
Also Consider: Cole Hamels(CHC) who also gets a park upgrade on the road in San Diego facing a Padres team that has struggled lately(.287 wOBA, 76 wRC+) and strike out 24% of the time vs. left-handed pitching

Catcher/First Base

Paul Goldschmidt FD - 1B 4300 DK - 1B 5100
Opponent - COL (Antonio Senzatela) Park - COL
FD - 17.72 DK - 13.34
The system is very high on the Cardinals once again tonight and for good reason, as they come relatively affordable on both sites and get the Coors Field boost. They also get an even better matchup than last night as they will be facing Antonio Senzatela who has given up five or more earned runs in six straight starts(16.55 ERA/5.58 xFIP). For Goldy, he has been much better in the second half(.357 wOBA, 122 wRC+) and despite not hitting a home run in over two weeks, is still averaging 11.6 FD/8.4 DK points per game over his last 10. My Cardinals exposure will start around Goldy in all formats tonight.


Jose Abreu FD - 1B 3700 DK - 1B 4800
Opponent - KC (Glenn Sparkman) Park - CHW
FD - 12.94 DK - 9.9
If not wanting to pay up for Goldy or the Cardinals the pivot for me tonight is the White Sox and it starts at first base with Jose Abreu. After a letdown season in 2018, he has bounced back and is having one of the best seasons of his career(.283/.331/.509 slash line) and despite the White Sox being a below-average offense, he has already driven in a career-high 112 runs. To top it off he comes in red-hot with hits in four straight and a home run in three of those games. Facing Glenn Sparkman and his 5.97 ERA/5.82 xFIP, Abreu is in play in all formats.
Also Consider: Howie Kendrick(WSH) on FanDuel if he starts as he has hit lefties very well this season and will likely be in the Top 5 of the order
Second Base
Kolten Wong FD - 2B 3600 DK - 2B 4900
Opponent - COL (Antonio Senzatela) Park - COL
FD - 14 DK - 10.81
The other Cardinals player I will be building around tonight is Kolten Wong. Since taking over the two-spot in the lineup around late-August, he has been en feugo with hits in 13 of 16 games with six multi-hit efforts good for a .362 average, .420 wOBA, and 163 wRC+. More good news as Wong faces a pitcher in Senzatela who has not only struggled a ton lately(mentioned above with Goldy) but he also struggles against lefties giving up a .416 wOBA, .572 SLG, and 1.76 home runs per nine in the split. Fire up Wong in all formats.


Wilmer Flores FD 2600 DK 4100
Opponent - NYM (Steven Matz) Park - NYM
FD - 9.95 DK - 7.64
This pick has a little bit of everything starting with the narrative of Flores facing the organization he had spent 10+ years with. The matchup may not be at the top of the list as Matz has been decent this season(4.0 ERA/4.28 xFIP) but Flores has destroyed lefties to the tune of a .421 wOBA, 160 wRC+ this season and comes in with hits in nine of his last 11 starts. The price is probably getting a bit too high on DraftKings to consider him a cash game pick but on FanDuel in the mid $2K range, he is in play in all formats.
Also Consider: Rougned Odor(TEX)
Shortstop

Trea Turner FD 4100 DK 5100
Opponent - MIN (Martin Perez) Park - MIN
FD - 13.36 DK - 10.39
To start off, I am not buying into the Martin Perez's last start and it appears neither is Vegas as the Nats currently sit as one of nine teams with an implied runline of five or great tonight. I mean he did hold the Red Sox to just one run but also only struck out one and had a .059 BABIP(lol) in doing so. He struggles against righties and no better place to start your Nats exposure than at the leadoff spot with Turner who has maybe seen the power numbers go down this season but everything else has taken a step forward as he enters tonight with a terrific .300/.357/.479 slash line and he also adds upside with his speed as he sits Top 5 in the league in stolen bases(31). If you are spending up at the position, Turner is most definitely in play in all formats.


Kevin Newman FD 2900 DK 4500
Opponent - SF (Logan Webb) Park - SF
FD - 8.61 DK - 6.81
The Pirates are on the road in San Francisco which maybe isn't the greatest hitters park but they get a decent matchup against rookie Logan Webb who has had his ups and downs early. I like Newman on this offense as he has been a consistent bat at the top of the lineup and enters tonight with a very impressive .313 average and .362 on-base percentage in his first full season in the bigs. I like him on both sites but his best value comes on FanDuel where he comes in under $3K and is in play in all formats.
Also Consider: Tim Anderson(CHW)
Third Base

Yoan Moncada FD - 3B 3200 DK - 3B 4800
Opponent - KC (Glenn Sparkman) Park - CHW
FD - 12.11 DK - 9.24
Not often I can get on board with stacking the White Sox but they check all the boxes tonight and will be a core team for me in all formats. It starts with the matchup as they face Glenn Sparkman who has been a dumpster fire in the second half posting a 6.92 ERA/6.05 xFIP over 10 starts, has given up 13 home runs in that time, and adding to it to he has been terrible against lefties giving up a .385 wOBA, .569 SLG, and a 2.55 HR/9 rate in the split. For Moncada, he has been red-hot and a driving force of the White Sox latest surge of offense as he entered Tuesday night with hits in five straight with four multi-hit efforts. In cash games, I am leaning a two-man stack of Moncada/Abreu and will add more White Sox for a full stack in GPP formats.


Joey Wendle FD 2300 DK 3500
Opponent - TEX (Ariel Jurado) Park - TEX
FD - 9.02 DK - 7.04
For value at the position, I will be turning to Joey Wendle of the Rays who are in a great spot tonight in Texas. They face Ariel Jurado who has bounced around between the bullpen and rotation and pretty much struggled everywhere and enters tonight with a 5.40 ERA/4.94 xFIP and doesn't scare anyone with his low 15% K rate. For Wendle, he is often overlooked as he hits down in the Rays order but don't make that mistake as he has been consistent lately with hits in 13 of his last 15 games with seven extra-base hits. His price also allows us to spend up elsewhere making him a great target in all formats.
Also Consider: Asdrubal Cabrera(WSH) who has been red-hot over his last 10 games averaging 14.9 FD/11 DK points per game
Outfield

Tommy Pham FD 3700 DK 5000
Opponent - TEX (Ariel Jurado) Park - TEX
FD - 10.56 DK - 8.04

Austin Meadows FD 3800 DK 5300
Opponent - TEX (Ariel Jurado) Park - TEX
FD - 10.12 DK - 7.81
In the outfield tonight, I will be starting with the Rays who, as I mentioned above, have a plus matchup in Texas against Ariel Jurado who has really struggled in the second half. He has posted a 6.93 ERA/5.22 xFIP and has given up 11 home runs in 10 appearances(eight starts). It starts with Austin Meadows who is having a standout season in his first full campaign with the Rays. He has posted a terrific .289/.358/.561 slash line over 123 games and comes in scorching hot with hits in nine straight and 18 of his last 21 games with nine long balls. His outfield partner, Tommy Pham, was also a newcomer brought over in a trade last season and is a huge building block in what the Rays are striving for offensively. He has now recorded his third straight 20+ home run season and hw has also been a consistent bat in the lineup as well hitting .279 with an elite .377 on-base percentage. Pairing them together is one of my favorite two-man stacks for cash games tonight and they are also great plays in a full Rays stack for GPP formats.

Victor Robles FD 3300 DK 4100
Opponent - MIN (Martin Perez) Park - MIN
FD - 9.72 DK - 7.56
Facing a lefty tonight, Victor Robles is projected to be hitting second between Trea Turner and Anthony Rendon which automatically boosts his value. He has been just league average in both splits this season but the biggest thing he offers tonight is an opportunity in a plus matchup. I won't be using as a one-off value with his price coming up but he makes perfect sense if you are loading up on Nats in cash or GPP.
Also Consider: Dexter Fowler(STL), Bryan Reynolds(PIT), Shohei Ohtani(LAA)
GRAB A FREE TRIAL OF OUR PROJECTION SYSTEM, AND CHECK OUT DFSR PRO!
FREE EBOOK
SECRETS TO CRUSHING DAILY FANTASY FOOTBALL!
DON'T SET ANOTHER LINEUP BEFORE YOU READ THIS BOOK.