Baseball Picks Daily Fantasy
Expert Advice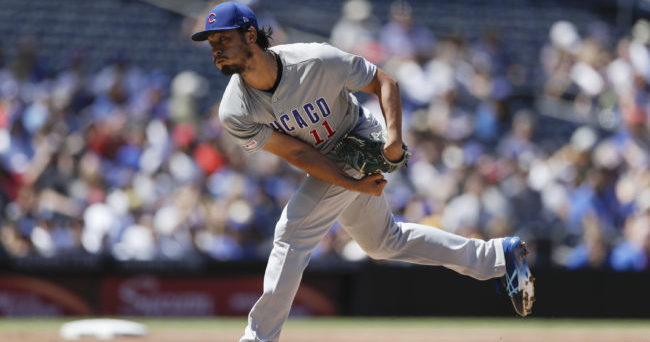 DraftKings and FanDuel MLB Picks for Tuesday 9/17/19
With less than two weeks remaining in the regular season, we have another fun Tuesday slate on the docket. This happens to be one of the last series played in Coors Field though, so it's time to get in those bats before it's too late. With that in mind, let's get into our Tuesday plays.
Now's your chance to get DFSR PRO, which will give you access to our MLB and NFL optimizers and our new player lab! Get started for free by clicking the button below.
Pitchers
Yu Darvish FD 10400 DK 11200
Opponent -
CIN (Sonny Gray)
Park -
CIN
FD
- 40.32
DK
- 21.51
Darvish got off to a terrible start at the beginning of the year but he's been one of the best pitchers in the Majors over the last two months. In fact, Darvish has a 2.44 ERA, 0.78 WHIP and 12.6 K/9 rate over his last 11 starts. That's the guy that we've been waiting for all season and we have to love him in a matchup like this. The Reds currently rank 20th in runs scored and 28th in xwOBA and could be without
Joey Votto
for this game. That was a team with Dereck Dietrich,
Yasiel Puig
and
Scooter Gennett
as well and it's clear that this is one of the worst lineups in baseball.

Patrick Corbin FD 9700 DK 10800
Opponent -
STL (Miles Mikolas)
Park -
STL
FD
- 35.45
DK
- 19.37
Corbin doesn't get the best matchup in the Cardinals on Tuesday, but he's still coming far too cheap on both sites, but especially on
FanDuel
. Dude is striking out 10.33 batters per nine on the season and owns a 3.66 xFIP. St. Louis actually ranks below average this season against lefties with a .316 team wOBA in that split. I think we are getting Corbins peripherals at a discount even if there aren't tremendous win odds in his favor.
You obviously have to strongly consider
Justin Verlander
(
FD
$12000
DK
$12800) but it's so very expensive at this point and will come at the cost of decent bats.

Catcher/First Base

Daniel Murphy FD - 1B 3100 DK - 1B 4400
Opponent -
NYM (Marcus Stroman)
Park -
COL
FD - 14.14 DK - 10.86
These prices are downright insulting. We're talking about a great bat hitting in Coors Field being priced like a league-average hitter. That simply makes no sense when you consider that Murphy has an OPS north of .900 against righties since 2016. He happens to face a struggling righty here too, with Stroman generating a 4.50 ERA and 1.67 WHIP since joining the Mets. The slugging first baseman is feeling it right now, posting a .377 OBP and .940 OPS over his last 16 games, despite many of those coming on the road.
Mitch Moreland FD 2700 DK 4200
Opponent -
SF (Logan Webb)
Park -
SF
FD - 11.03 DK - 8.3
Moreland has quietly had another nice year, as he always succeeds when facing right-handed pitching. So far this year, Moreland has a .535 SLG and .873 OPS with the platoon advantage in his favor. Those are stellar numbers in one of the best lineups in baseball, as he should be batting fifth or sixth for a team projected for six runs. We're really not worried about Webb either, with the Giants righty struggling since being called up.
Second Base

Robinson Cano FD 3600 DK 4700
Opponent -
COL (Tim Melville)
Park -
COL
FD - 13.84 DK - 10.6
Don't look now but Cano is starting to return to his All-Star form. Health can do a lot for a player and it appears to be doing wonders for Cano. Over his last 14 games, Cano is putting together a .467 AVG, .519 OBP, .844 SLG and 1.364 OPS. Those are amazing numbers and it's scary that a hitter this hot gets to take part in a Coors Field fixture. Facing a weak righty is the icing on the cake, with Cano totaling a .355 OBP, .503 SLG and .859 OPS against right-handers since 2017.

Wilmer Flores FD 2600 DK 3800
Opponent -
MIA (Caleb Smith)
Park -
MIA
FD - 10.94 DK - 8.4
I don't love the matchup against a strikeout arm like
Caleb Smith
, but it's hard to argue with what Flores has done against lefties. Better in this split for his career, dude is raking that platoon again this season with a 1.023 OPS and .420 wOBA. He should hit around fifth in the order on Tuesday and is coming very cheap on both sites.
Shortstop

Xander Bogaerts FD 3800 DK 5000
Opponent -
SF (Logan Webb)
Park -
SF
FD - 13.26 DK - 10.12
Stacking the Red Sox is one of the sneakiest stacks on the board and Bogaerts would surely be a major piece of that. We're talking about a guy with a breakout year, hitting in third for one of the most potent lineups in baseball. That's led to him providing a .303 AVG, .379 OBP, .556 SLG and .935 OPS so far this season. He's feeling it right now too, attaining a .343 OBP, .563 SLG and .905 OPS over his last 16 fixtures.

Amed Rosario FD 3100 DK 4600
Opponent -
COL (Tim Melville)
Park -
COL
FD - 11.96 DK - 9.43
Let's keep the Mets rolling with Rosario. This guy has been a different player the last few months and New York has rewarded him by moving him to the leadoff spot. Any leadoff hitter in Coors Field priced this cheaply is obviously in play, especially against a guy like Melville. We'll go over that matchup more later in the article but it's hard to overlook Rosario's .323 AVG over his last 29 games as well.
Third Base

Vladimir Guerrero Jr. FD 2900 DK 3900
Opponent -
BAL (Chandler Shepherd)
Park -
BAL
FD - 12.84 DK - 9.84 His full season numbers don't look crazy impressive, but the 20-year-old phenom still has so much promise. The second half of the season has been a major improvement with Vlad sitting at an .827 OPS while reducing his K's. And he's been much better against righties with a .355 wOBA and 122 wRC+ in that split. The Blue Jays come in with 5.5 implied runs against
Chandler Shepherd
, a non-prospect on an Orioles' team full of them.
Jose Osuna FD 2800 DK 3900
Opponent -
SEA (Marco Gonzales)
Park -
SEA
FD - 10.4 DK - 7.98
The Pirates stink, but Osuna should be around the middle of the order for the Buckos on Tuesday against the lefty
Marco Gonzales
. The latter isn't much of a pitcher sporting a 5.14 xFIP and very low K%. Meanwhile, Osuna is coming cheap and has been competent against lefties for his career with a mid-.700s OPS in that split. He's very tough to strikeout at 5% and offers a cheap way to go if stacking expensive bats across the rest of the slate.
Outfield

Michael Conforto FD 3800 DK 5400
Opponent -
COL (Tim Melville)
Park -
COL
FD - 15.41 DK - 11.56
Jeff McNeil FD 3700 DK 5500
Opponent -
COL (Tim Melville)
Park -
COL
FD - 15 DK - 11.72
Brandon Nimmo FD 3300 DK 4500
Opponent -
COL (Tim Melville)
Park -
COL
FD - 13.26 DK - 10.06
Mets have been coming in hot throughout this article and it's now time to discuss why this is such a good matchup. Hitting in Coors Field is obviously a huge bonus, as it has the Mets projected to score about seven runs. Coors Field is one reason why but facing Tim Melville is equally as beneficial. The Rockies righty is currently pitching to a 5.16 ERA and 1.54 WHIP, facing a NY club who ranks 10th in both wOBA and xwOBA.
Now that we got the matchup out of the way, let's talk about these players. Conforto is the cream of the crop, as he's got a .380 OBP, .538 SLG and .918 OPS against right-handers this year. McNeil isn't far behind, totaling a .318 AVG, .387 OBP, .523 SLG and .910 OPS for the year. Nimmo hasn't been quite as good as these guys but if he bats in the top-6 of this order, he's going to be tough to fade at this price.
Lourdes Gurriel FD 2500 DK 4900
Opponent -
BAL (Chandler Shepherd)
Park -
BAL
FD - 11.08 DK - 8.62
As mentioned with Vlad Jr., the Blue Jays are in a very good spot against Shepherd and the Orioles. Gurriel has been a fine fantasy producer when in the lineup this season with an .888 OPS, 19 home runs and six stolen bases. He K's a fair amount, but that expectation is reduced in this matchup. He's coming way too cheap on
FanDuel
if hitting third in the lineup.
GRAB A FREE TRIAL OF OUR PROJECTION SYSTEM, AND CHECK OUT DFSR PRO!
FREE EBOOK
SECRETS TO CRUSHING DAILY FANTASY FOOTBALL!
DON'T SET ANOTHER LINEUP BEFORE YOU READ THIS BOOK.