Nascar picks Daily Fantasy
Expert Advice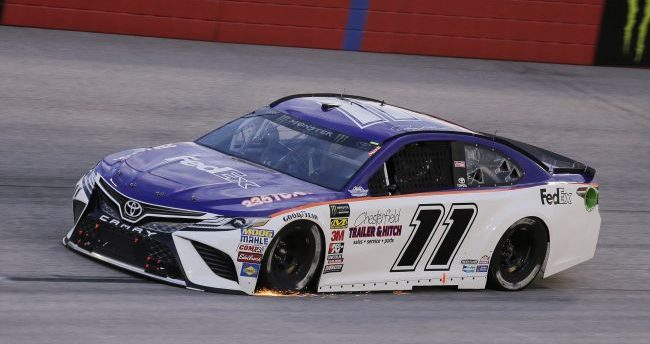 Daily Fantasy NASCAR Race Preview & Picks for DraftKings - Federated Auto Parts 400
Chris Durell will be bringing you his weekly race breakdown, top trends, and pre-qualifying targets to help you cash on DraftKings and FanDuel. You can also grab a copy of his free DFS NASCAR Cheatsheet that includes a ton of stats and a customizable model.
Now's your chance to get DFSR PRO, which will give you access to our MLB optimizer and our new player lab! Get started for free by clicking the button below.
First time with MLB? Be sure to read our free MLB Ebooks on building lineups, general strategy and more. We've got you completely covered.
Federated Auto Parts 400
The Playoffs are in full swing and it was Martin Truex Jr. who was the first to book his ticket into the second round with a win at Las Vegas last week. Surprisingly enough, he was the only Joe Gibbs Racing driver to finish with a Top 10 as Denny Hamlin finished 11th, Kyle Busch finished 18th, and Erik Jones had mechanical issues and finished 13 laps down in 36th. Joining Jones in a tough position going into the next two races is Kurt Busch who made contact with Chase Elliott, got a tire rub, stayed out one lap too long and ended up in the wall finishing 39th. Truex now leads the standings going into Richmond with Harvick, Logano, Kyle Busch, and Keselowski rounding out the Top 5.
The second race of the Playoffs takes the Cup series back to Richmond for the second time with Joe Gibbs Racing Racing drivers Kyle Busch(101) and Martin Truex Jr.(186) dominating the laps led with Truex coming home the eventual winner. From a track-type standpoint, it is classified as a short track but look at it more in a grouping of shorter tracks that are flat and that list includes Richmond, Phoenix, Martinsville, and New Hampshire. I have added this season's data on those track to the sheet this week and that is how I will be weighing track type in my model.
Looking at the last six races here at Richmond, there has been a driver to lead 100 or more laps in each race with two drivers leading 100+ in three of the last six races including earlier this Spring. Of the nine instances where a driver led 100 or more laps in those last six races, the driver came from a Top 10 starting position seven times and a Top 5 starting position five times. Qualifying and track position are huge in this race as strategy can be tough to come by with teams taking four tires almost every pit stop. The biggest not there is that qualifying takes place Friday night with cars impounded after with inspection starting at 1:30 pm ET on Saturday. Be sure to check the cheatsheet after inspection for the update and the members-only copy for all my core plays.
Richmond Raceway
Track - .75 Mile D-Shaped Oval
14° of Banking
Last Six Winners at Richmond
2019(1) - Martin Truex Jr.(started 5th)
2018(2) - Kyle Busch(started 11th)
2018(1) - Kyle Busch(started 32nd)
2017(2) - Kyle Larson(started 4th)
2017(1) - Joey Logano(started 5th)
2016(2) - Denny Hamlin(started 1st)

Track History at Richmond
From a consistency standpoint, no driver has been better than Joey Logano who has a 4.6 average finish in his last five races and a Top 10 in 10 of his last 11 races here with two wins(2017, 2014). HE is also the only driver to collect points at the end of every stage since the introduction of stage-racing at the start of the 2017 season. His teammate Brad Keselowski won his only career race here back in 2014 and has also been consistent with Top 10's in eight of his last 11 trips.
For the most part, Joe Gibbs Racing has been the team to beat winning four of the last six races. Martin Truex Jr. won the race here in the Spring and has led 120 or more laps in four straight and five of the last six trips to Richmond. Kyle Busch swept both races here last year and leads all active drivers with six career wins and a 7.0 career average finish. Denny Hamlin is second in career wins with three(2016, 2010, 2009) and leads all active drivers with 1,659 laps led. He is only one of just three drivers with four Top 5's in the last five Richmond races.
Finally, we can't forget about Kevin Harvick who has posted a Top 5 here at Richmond in three straight and eight of his last 10 races and is tied with Denny Hamlin for second among all active drivers with three career wins(2013, 2011, 2006).
Track Type History(Short Flat Tracks)
Like I mentioned in the intro, for the track type this week I will be looking at the short, flat track data from 2019 with new downforce package. Brad Keselowski dominated Martinsville leading 446 laps but has the 6th best average finish(9.3) in the four races combined. Denny Hamlin didn't win one of the four races but is the only driver with a Top 5 in all of them. He is also tied with teammate Martin Truex Jr. with a 4.3 average finish in the races with Truex winning the Spring Richmond race. Kyle Busch won Phoenix back in the Spring and has led 100+ laps in three of the four races and is one of four drivers to finish Top 10 in all four races in this sample size. Kevin Harvick joins the JGR trio as the only other driver with a Top 10 at all four races and he also won the race in New Hampshire.
Other notables in this sample size are Ryan Blaney who has three Top 5's(New Hampshire, Martinsville, Phoenix) in the four races with the 5th best average finish(9.0). His teammate Joey Logano and Harvick's teammate Clint Bowyer are the only other two drivers with at least three Top 10's in the four races. From a value perspective, Ty Dillon has been very impressive finishing 21st or better at all four races with the 14 best average finish(16.3).
Targets
**These picks come after practice and qualifying but the starting lineup will not be official until after inspection which starts at 1:30 pm ET on Saturday.**
Denny Hamlin
Hamlin is #1 in my model as he returns to Richmond with a 6th place finish or better in seven of his last eight races here including a win in 2016. He has been very consistent on the short flat tracks this season as the only driver with a Top 5 in all four races. He is unofficially starting 6th Saturday night and arguably had the best long-run car in practice ranking 1st in all lap averages(5, 10, 15, 20, 25, and 30) lap averages in final practice. Salary weighted in, Hamlin is my favorite of the JGR car this weekend and my pick to win the race.
Joey Logano
Logano is going to be popular this week as the only driver inside the Top 12 of pricing(DraftKings) who will be starting outside the Top 20. No matter the ownership, it will be tough fade an elite double-digit place differential play who is also the defending Cup Champion. On top of that, he has been the most consistent driver here at Richmond lately with Top 5's in four of his last five trips including a win(2017) and has also finished Top 10 in 10 of his last 11 trips. He is a great play in all formats.
Ryan Blaney
Sticking with the Team Penske, Ryan Blaney will be heavy on my exposure list this week coming in outside the Top 12 in pricing on both sites. Sure, he hasn't been great here at Richmond with just one Top 20 in five career races but I hope that pushes his ownership down a bit as he comes into this race with a fast car. He was 8th in both practices and Top 5 in 10-lap in both as well. I will have exposure in all formats.
Ryan Newman
The veteran is definitely making headlines recently as he was the final driver to get into the Playoff field then opened the Playoffs at Las Vegas with an impressive Top 10 finish. He now returns to Richmond where he has finished Top 10 in three of his last five races here and has a car to do it once again. He posted the 10th fastest lap in both practices on Friday and also posted the 3rd fastest 10-lap average in the final practice. Fire up Newman in all formats.
Ty Dillon
There are multiple value plays that I will be targeting in this range but Ty Dillon is my favorite this week. He will be starting 31st which gives us some place differential upside considering he has not finished worse than 28th in five career races here at Richmond. He didn't show much more speed in practice than his starting position(25th & 14th fastest) but at this price we would be thrilled with a 20th-25th place finish.
Below you will find a copy of my DFS NASCAR cheathsheet which includes Track History, Current Form, DraftKings points averages, Track Type History, Practice/Qualifying Ranks and much more.

Chris Durell has been playing Daily Fantasy Sports for five years and fantasy in general for more than a decade. He is an active player in NFL, MLB, NHL, PGA, and of course NASCAR. He lives in Saskatchewan, Canada with his wife and two daughters. You can follow him on Twitter at @Jager_Bombs9 for advice, strategy, answers to any NASCAR questions or how he copes with the winters up north.
FREE EBOOK
SECRETS TO CRUSHING DAILY FANTASY FOOTBALL!
DON'T SET ANOTHER LINEUP BEFORE YOU READ THIS BOOK.