featured Daily Fantasy
Expert Advice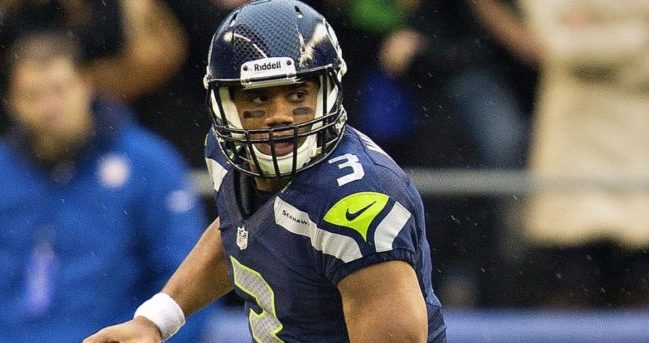 Daily Fantasy Football Cash Game Picks for FanDuel and DraftKings Week 4 - 9/29/19
In Week 3, it was a good week to be a fill-in, possibly future franchise, quarterback. The young guns like Daniel Jones and Kyle Allen crushed it. What do we have in store for Week 4? Let's take a look at some cash game options.

Now's your chance to get DFSR PRO, which will give you access to our NFL and MLB optimizers and our new player lab! Get started for free by clicking the button below.
Quarterbacks
Russell Wilson FD 7800 DK 6100
Opponent ARI
Proj Points FD - 21.28 DK - 22.12
Through the first three weeks of the season, the Cardinals defense has allowed two of the top eight overall QB performances on DraftKings: Lamar Jackson - 33.8 DK pts and Matthew Stafford - 31.6 pts. And they are fresh off a week making Kyle Allen look like the second coming of Joe Montana in only his second start. Now they'll get Russell Wilson coming off the best QB performance of the season in which he went for 406/2 through the air and 51/2 on the ground playing catchup against the Saints. Wilson is a positive steal on DraftKings at only $6100 and is in play on FanDuel as well. This could be a smash spot considering Arizona is allowing the second most opponent plays per game and have been decimated by opposing signal callers. I suspect Wilson is something like the chalk on both sites.



Patrick Mahomes FD 9200 DK 7500
Opponent DET
Proj Points FD - 24.63 DK - 25.7
Imagine if opposing teams actually pressed the Chiefs and Mahomes to keep their foot on the gas for an entire game? I suppose Baltimore sort of did that in Week 3, though the game had more a grind out feel from the Ravens side and Mahomes still chucked up 374 yards and three touchdowns in *only* 37 attempts. He leads the league in passing TDs (10) despite ranking just 7th in pass attempts. Dude just makes it look easy and I don't think we are at the peak of his price considering the amount of safety he seems to offer week in and week out. Detroit is allowing the most opponent plays per game this season and KC comes in with the second-highest team total of the week. The only question really is if you can afford Mahomes and I think since we might be going a bit cheaper on some RBs and WRs, the price on Mahomes is fine.



Matt Ryan FD 7900 DK 5900
Opponent TEN
Proj Points FD - 19.87 DK - 20.84
I'm typically hard pressed to recommend anyone but running quarterbacks for cash games unless they are in elite spots because the gains on the ground make up so many points in sustaining a fantasy floor. But we have an opportunity with Matt Ryan here, especially on DraftKings where he's coming just a bit too cheap. It's easy to forget Ryan's fantasy scoring in 2018 when he ranked second overall (by a lot) mostly because Patrick Mahomes was so much better than everyone else (by a lot). This season hasn't been as prolific for Ryan, held back by the six interceptions. That number seems wholly unsustainable (in a good way) considering he threw seven total last season. Ryan ranks 4th overall in passing attempts and is completing them at a 73% clip. This is a good buy-low spot for Ryan considering the run bad on the INTs.



Running Backs

Christian McCaffrey FD 9000 DK 8800
Opponent HOU
Proj Points FD - 23.41 DK - 25.99
We discussed this at length on our Tuesday Week 3 recap podcast, but it looks for all the world like McCaffrey is sort of in a league of his own at this point. Kyle Allen taking over the quarterback duties didn't have McCaffrey missing a beat, with C-Mac touching the ball 27 times for 188 yards and a touchdown. If there is anything to worry about here it might be that McCaffrey was only targeted four times in the passing game, but as the Panthers' trust Allen more we could see that number rise. Right now it sure looks like Carolina is going to look to establish McCaffrey on the ground before trying to lean on Allen, and that means he'll continue to be the highest usage back going forward. The Panthers are five point underdogs to the Texans this week, but Houston has been an essentially a league average defense so far this young season, and their few electric playmakers haven't translated to the stifling D that many predicted. Regardless, McCaffrey should be plans A, B, and C unless this game gets out of hand.
Austin Ekeler FD 8100 DK 8000
Opponent MIA
Proj Points FD - 19.83 DK - 22.38
It's a little bit worrisome to go back to the well on Ekeler after he was somewhat of a chalk play in week 3, since unlike a lot of people on this list, he really didn't deliver. The Chargers were up early before ultimately blowing the game in the second half, and it was bizarre that they didn't try to slow things down with Ekeler. Still, the Chargers' running back had 9 carries and 7 receptions for 81 yards, and didn't kill you in PPR formats. What we're really loving in this match-up is the likely game script. The Chargers are 16.5 point favorites, and should be content to grind this one out a chunk at a time. We know that they will lean on the running game when they're up, and that Ekeler will be involved in the short-yardage passing game regardless of the game script. With Miami flexing an historically bad defense so far, grabbing the big name Chargers feels sort of like a no-brainer here.

Dalvin Cook FD 8300 DK 8300
Opponent CHI
Proj Points FD - 18.9 DK - 21.2
If you just don't trust Ekeler after last week, perhaps you'd prefer the pedigree of one Dalvin Cook. Now healthy, Cook has looked every bit like the incredibly explosive back the Vikings thought they'd have going into last season. After averaging a very respectable 4.7 yards per carry in his first two NFL seasons, Cook has popped off for 6.6 yards per carry through the first three games this season, arguably taking usage away from himself by gobbling up so much yardage so quickly. Still, he's averaging 22 touches a game so far, and a man among boys when he does get his hands on the ball. The fly in the ointment here is the match-up, as the Vikings are three point underdogs in a game with the lowest total on the slate. I just find it hard to believe that they aren't going to try and grind this tough Bears D down on the ground, though, and think that Cook is a serviceable cash game option regardless.
I'll also nod to Nick Chubb in this same category. Chubb has had the third most touches of any running back in the NFL this season in spite of being on a team that lost by 30 points in their opening game. The Browns have a tough match-up with Baltimore, but I'm asking myself the same questions I was in writing up Cook: at what point does the talent, opportunity, and price outweigh a bad match-up?
Wayne Gallman FD 5800 DK 4600
Opponent WAS
Proj Points FD - 13.61 DK - 14.8

Rex Burkhead FD 5600 DK 4400
Opponent BUF
Proj Points FD - 13.03 DK - 14.68
Two interesting running backs in fairly different situations. On one hand, you have Burkhead, who saw reasonable ownership in cash games this week after James White was declared out. Sony Michel was god awful, and Burkhead wound up grabbing the lion's share of both the snaps and the overall running back production. The question, of course, is whether that was the Pats' plan all along or that was a response to the blowout. If you think it was the plan, he's an easy play at these prices. If you think it was blowout related, it might be more prudent to save the play for big tournaments.
And then there's Gallman. The Giants seemed to not miss a beat when Barkley went down last week, but it's not exactly like Gallman lit it up in his stead. And yes, Gallman was the only running back to receive carries after Barkley went down, but we haven't seen the Giants be eager to give him that responsibility in the past. We'll be keeping an eye on the coach speak throughout the week, but given that the Giants are actually favored(!) in this game, there stands to be plenty of opportunity for running back carries here.
Wide Receivers

Keenan Allen FD 8100 DK 7600
Opponent MIA
Proj Points FD - 22.78 DK - 27.19
Allen's target share is getting a bit ridiculous now. Following a 17 target, 13/183/2 line in Week 3, Allen ranks, easily, as the top overall targeted receiver this season. In fact, the difference between Allen's 42 targets and Michael Thomas's 33 (2nd) is the same as second place and 21st place. Dude is just a machine and now he'll face a Miami team that's, well, compromised on defense. These are the WR1 lines against them through the first three weeks:

Week 1: Marquise Brown - 4/182/2
Week 2 - Antonio Brown (in 25 snaps) 5/56/1
Week 3 Amari Cooper 10/83/3

Allen's big week, and ridiculous usage will mean he's likely a popular play on both sites for Week 4 and it will be correct.


Tyler Lockett FD 6600 DK 6300
Opponent ARI
Proj Points FD - 19.49 DK - 22.91
Remember all the things I said about Arizona and opponents' passing games in the Russell Wilson writeup? They apply here as well. After a quiet Week 1 in which the Seahawks only threw the ball 20 times, Lockett has turned things one through the last two games. His lines are:

11/79/0 (12 targets)
11/154/1 (14 targets)

He's converting on 79% of his targets, the highest conversion rate among the top 10 wide receivers in usage and should be in line for a soft defense combined with uptempo pace in Week 4. At sub-$7K on FanDuel we could see quite a few Wilson/Lockett cash game stacks seeing as he's not cost prohibitive.



Julian Edelman FD 6900 DK 6500
Opponent BUF
Proj Points FD - 16.99 DK - 20.43
With Antonio Brown out of the picture permanently and James White missing Week 3 for the birth of his child, Edelman put up a solid 7/62/1 line on 10 targets. Oh, did I mention that was just in the first half? Edelman suffered a chest injury late in the second quarter and failed to return. The injury isn't expected to play a part in Week 4 and dude should be right back on the field. Even with James White back in the mix, it's clear Edelman is the go-to guy in this offense and has averaged 8.3 targets in 2.5 games despite New England blowouts in all three. He feels about as safe a WR as you'll make this week.

Strongly consider Josh Gordon who became a high value target guy in the second half of Week 3 when Edelman went down.

I still think Sammy Watkins is a very good play at his FD and DK prices. It sure feels like he's run bad on the production considering he's been the most-targeted Chief over the last two weeks.


Tight Ends

Evan Engram FD 6800 DK 5700
Opponent WAS
Proj Points FD - 12.61 DK - 14.83
Engram was looking like one of the top tight ends in daily fantasy football after the first two weeks, but there was some concern that bringing in a quarterback that could throw more than 10 yards down field could negatively affect his production. Turns out he's just kind of nuts. He was central to the Giants' incredible comeback, going to town for 113 yards and a touchdown on 6 receptions. It sure looks like Jones is seeing what Eli was seeing: that Engram is the premier ball-catcher on a now potentially exciting offense. Barkley going down is also significant here - you could very well see Engram start drawing some of those early down short-yardage passing targets that had been going Barkley's direction. And again, the Giants are actually favored here! So Vegas at least believes in them doing some work against this terrible Redskins team.
Darren Waller FD 6700 DK 5200
Opponent IND
Proj Points FD - 11.94 DK - 14.55
If you had told me that one of the most exciting break-out ball catchers of the year was going to be coming out of Oakland, it would have taken me a while to get to Darren Waller's name. The 29 targets thrown Waller's way have equaled the targets he garnered in his first three seasons in the NFL. And he's been terrific when looked at. He's turned those 29 targets into an astounding 26 catches and 267 yards, and plays drawn up for him have been by far the most efficient in the Raiders offense this year. The Raiders are 7 point dogs to Brissett's Colts this week, and if they are playing catch-up, double digit targets aren't out of the question once again.

Travis Kelce FD 7600 DK 7200
Opponent DET
Proj Points FD - 14.64 DK - 17.74
You can't pay up at every position, so I'm not sure this is where we'll land for cash game purposes this week, but it's worth noting that we're now getting Travis Kelce at a discount. I know that Mahomes can seemingly throw for 300 yards and 3 touchdowns regardless of whom he's throwing to, but it's not often that you can get a premier talent like this at a 5%-10% discount. While the touchdowns haven't been there for Kelce, he's literally on pace to break the NFL receiving yards record for tight ends, and he has to be considered the highest floor option on an absolute points basis. I also believe that teams have told themselves that they will just take away Kelce and let the other receivers beat them, but since that hasn't worked, I think opposing defenses will have to respect the banged up receiving corp a little bit more. There will be a week where Kelce has 14 targets and 2 touchdowns, and it very well could be this one.
Defense / Special Teams
As always, you can go with chalk expensive options, like "whoever is playing the Dolphins," or the Patriots. Let's get into a couple more interesting options as well.
Broncos FD 4100 DK 2900
Opponent JAX
Proj Points FD - 7.55 DK - 7.55
Listen, I'm as excited about Gardner Minshew the Man as much as anyone. He's the leader in the clubhouse as far as QBs I'd like to have at a house party. But in terms of leading an NFL offense? I can't say I'm totally there just yet. Vegas has the Jags scoring the second fewest points on the main slate - just 3.75 more points than the lowly Dolphins, and we can get their opponent for $1,200 less than we have to pay for the Chargers. The 0-3 Broncos haven't been anything to write home about necessarily, given that they haven't recorded a single sack this season. But they have allowed the 8th fewest yards per game, and generally speaking we try to get a solid cash game floor from a points allowed perspective. Denver seems like a fine cash game option as a result.
Seahawks FD 3700 DK 3300
Opponent ARI
Proj Points FD - 7.11 DK - 7.11
I'm as excited about Kyler Murray as anyone, and especially excited that he helped us haul down main slate cash game wins on both FanDuel and DraftKings last week. But like, we can agree that he's not exactly a finished product, right? Murray has been sacked a startling 16 times so far this season, including 8 times against Carolina last week. He's also got a 4:3 TD:INT ratio, and a 61% completion percentage. Again! I'm very excited for this young man's future, but it's pretty tempting to get Seattle and their top 10ish defense against them at reduced prices here. While Arizona doesn't have the lowest implied total on the slate at 21, combining a relatively low total with big sack and turnover potential is enough for me here.
GRAB A FREE TRIAL OF OUR PROJECTION SYSTEM, AND CHECK OUT DFSR PRO!
image sources
Russell_Wilson_vs_Jets,_November_11,_2012: By Larry Maurer [CC BY 2.0 (http://creativecommons.org/licenses/by/2.0)], via Wikimedia Commons
FREE EBOOK
SECRETS TO CRUSHING DAILY FANTASY FOOTBALL!
DON'T SET ANOTHER LINEUP BEFORE YOU READ THIS BOOK.