Baseball Picks Daily Fantasy
Expert Advice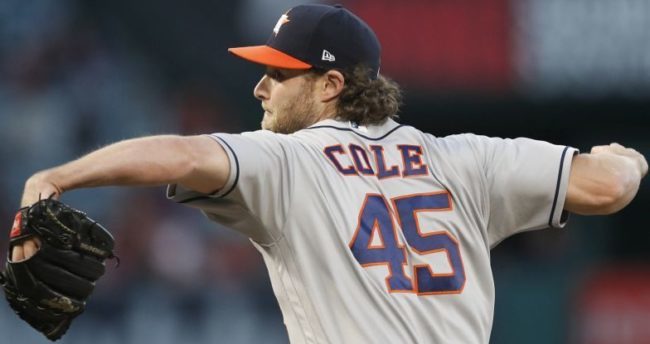 DraftKings and FanDuel MLB Picks for Tuesday 9/24/19
This time of the year is truly bizarre. We have pitching changes every day and wacky lineups being set by volatile managers, which causes mayhem for us. That's why it's important to do your own research because our information is from the day before. Things change quickly at this time of the year and it's imperative to focus in on any bits of news you find or nuggets that could give you an edge.
Now's your chance to get DFSR PRO, which will give you access to our MLB and NBA optimizers and our new player lab! Get started for free by clicking the button below.
Pitchers

Gerrit Cole FD 12300 DK 13000
Opponent -
SEA (Justin Dunn)
Park -
SEA
FD
- 42.25
DK
- 24.13
It's going to be tough to fade Cole in this matchup. The simple fact is, we have a guy with a 39 percent K rate facing a club who ranks 28th in K's this season. That spells disaster for this terrible Seattle lineup, as they also rank bottom-10 in OBP and OPS since a fluky opening month. Cole has been downright absurd recently too, providing a 1.76 ERA, 0.82 WHIP and 13.6 K/9 rate over his last 18 starts. That's one of many reasons why Cole and the Astros enter this matchup as a -420 favorite.
Madison Bumgarner FD 8600 DK 8200
Opponent -
COL (Jeff Hoffman)
Park -
COL
FD
- 34.49
DK
- 18.82
There was a lot of skepticism surrounding Bumgarner at the beginning of the season and it's hard to understand why now. He's back at it this season with a 3.86 ERA and 1.13 WHIP, doing a lot of that damage at home. In fact, Mad Bum has a 2.80 ERA and 0.92 WHIP at Oracle Park this season. That's a recipe for disaster for the Rockies. Colorado ranks 29 in OBP on the road this season. In his two home starts against the Colorado this year, Bumgarner has allowed just three runs and 12 baserunners across 13 innings of action while striking out 18 batters.

Catcher/First Base
Mitch Moreland FD 3000 DK 4700
Opponent -
TEX (Edinson Volquez)
Park -
TEX
FD - 8.34 DK - 6.28
While we don't really like this
DraftKings
price, Moreland is going to be hard to fade on
FanDuel
. How crazy is it that someone with these splits is priced below $3,000. We're talking about a dude with a .554 SLG and .889 OPS against right-handed pitching. That's fantastic news in a stadium like Globe Life Park, which ranks as one of the most hitter-friendly environments in the league. Facing
Ariel Jurado
is the icing on the cake, with the Rangers righty posting a 5.73 ERA and 1.49 WHIP this season.

Justin Smoak FD 2800 DK 3600
Opponent -
BAL (Dylan Bundy)
Park -
BAL
FD - 9.46 DK - 7.07
Smoak's season hasn't been to one to write home about but he's truly been one of the most unlucky players in baseball. The .219 BABIP is nearly 50 points lower than his career average and he's shown a lot of patience this season with a 16% walk rate while cutting down the strikeouts to 21%. He also has some serious regression headed his way in terms of wOBA and SLG, with his xwOBA and xSLG being significantly higher than his unlucky averages. This profiles well against
Dylan Bundy
, who is sporting a 4.55 xFIP, an 8% walk rate and one of the worst HR rates around. That's big for a guy who should be in the heart of an order who's projected for more than five runs.
Second Base

Jose Altuve FD 4200 DK 4700
Opponent -
SEA (Justin Dunn)
Park -
SEA
FD - 10.33 DK - 8.01
Houston is easily one of the best stacks on the board. The reason for that is because they face
Justin Dunn
, with the Seattle pitcher posting a 3.38 WHIP so far this season. That means the bases are loaded in pretty much every inning he pitches and that's actually one of the worst marks in baseball. That's terrifying against the best lineup in the league and one of the hottest hitters around. Over his last 70 games, Altuve has a .334 AVG, .614 SLG and .996 OPS.
Luis Arraez FD 2700 DK 3800
Opponent -
DET (Spencer Turnbull)
Park -
DET
FD - 8.23 DK - 6.3
It's insane to see a guy hitting .343 being priced like a nobody. That happens to be an 88-game sample size, so it's far from a fluke. That pairs beautifully with his .851 OPS, as he actually has a .916 OPS against right-handers this season. That's bad news for
Spencer Turnbull
, with the Tigers righty pitching to a 4.66 ERA and 1.47 WHIP. The low K rate from Arraez has forced the Twins hand by batting him leadoff and that only adds to his intrigue with this being one of the most potent lineups in baseball.
Shortstop

Xander Bogaerts FD 3800 DK 5400
Opponent -
TEX (Edinson Volquez)
Park -
TEX
FD - 10.03 DK - 7.65
Bogaerts is in the midst of a breakout season and he finds himself in a fantastic station here. The biggest asset is his matchup, opposing
Ariel Jurado
and his 5.73 ERA. That's a nightmare in a stadium like Globe Life Park and it's really no surprise that this lineup is projected for close to six runs. Bogaerts should be a major part of that damage in the heart of their order, as his .304 AVG, .380 OBP, .551 SLG and .931 OPS are all career-highs across the board.

Dansby Swanson FD 2600 DK 3700
Opponent -
KC (Danny Duffy)
Park -
KC
FD - 7.91 DK - 6.08
If you're looking for someone cheap, Swanson is a great option in this price range. His splits against lefties are a major reason why, with Swanson amassing a .297 AVG, .356 OBP, .473 SLG and .829 OPS against left-handers so far this season. That's one of the major reasons why the Braves bat him second in these circumstances and he should do damage against
Danny Duffy
and his 5.08 xFIP. All of that makes these prices tags truly shocking, making for a great four-man stack with
Josh Donaldson
,
Ozzie Albies
and Ronald Acuna.
Third Base

Vladimir Guerrero Jr. FD 3200 DK 3800
Opponent -
BAL (Dylan Bundy)
Park -
BAL
FD - 10.27 DK - 7.87
Vlad Jr. got off to a terrible start this season but he's been much better recently. In fact, Guerrero has a .837 OPS and .354 wOBA in the second half while hitting .314 over his last 45 games in total. He's also been significantly better against righties since being called up, with an OPS almost 200 points higher in that split. This is a smash spot against a home run machine like Bundy and the prices are way too low on Vlad for both
FanDuel
and
DraftKings
. While he may be chalky, don't be afraid to eat some of that in such a tasty matchup.

Matt Chapman FD 3600 DK 4200
Opponent -
LAA (Dillon Peters)
Park -
LAA
FD - 10.2 DK - 7.69
Chapman is in the midst of a breakout season for the A's and a good amount of his damage has come against left-handers. In fact, he has a .341 OBP, .535 SLG and .877 with the platoon advantage in his favor this season. That's bad news for
Dillon Peters
, with the Angels southpaw pitching to a 4.81 ERA and 1.51 WHIP. That has Oakland projected for about five runs and it's scary how many tough righties Peters will have to navigate through, with Chapman batting third.
Outfield

J.D. Martinez FD 4300 DK 4900
Opponent -
TEX (Edinson Volquez)
Park -
TEX
FD - 11.29 DK - 8.48
Martinez has been one of the best hitters in baseball for three years now and it's truly scary how hot he is right now. Since July 20, Martinez has collected 14 doubles, 15 homers, 40 runs scored and 48 RBI en route to a .332 AVG, .417 OBP, .643 SLG and 1.060 OPS. Those are actually not far off of his season averages in that three-year stretch and that's bad news for a bad pitcher in one of the best hitting parks in baseball. That makes this $4,900 price tag on DK truly shocking and it's a wonder why they're keeping it so low in such a premium situation.

Michael Brantley FD 3500 DK 4100
Opponent -
SEA (Justin Dunn)
Park -
SEA
FD - 9.35 DK - 7.2
The Astros are going to be one of the best stacks on the board. While guys like
Alex Bregman
,
Carlos Correa
, Altuve,
Yordan Alvarez
and
George Springer
are all in play too, Brantley is one of the only ones who is a value. This $4,100 price tag on
DraftKings
is amazing and it really doesn't make any sense. We're talking about a consistent .300-hitter who's absolutely killed righties this season. In fact, Brantley has a .325 AVG, .383 OBP, .546 SLG and .929 OPS against right-handers so far this year. Hitting in the middle of all of those aforementioned studs only adds to Brantley's value and these dudes should blow up a gas can like Dunn.

Ben Zobrist FD 2600 DK 3700
Opponent -
PIT (Mitch Keller)
Park -
PIT
FD - 9.23 DK - 7.05
While the numbers from Zobrist aren't going to jump off the page, he's in a great spot to succeed. The biggest reason we like him is because he's hitting leadoff for the Cubs, which is awesome for a lineup that's projected for five runs. The reason they're projected so highly is because of
Mitch Keller
, with the Pittsburgh righty pitching to a 7.74 ERA and 1.84 WHIP. Those dreadful numbers are bad news against this lineup and we have to consider their leadoff hitter at this sort of price. He's been reasonable against righties too, generating a .356 OBP and .770 OPS against them since 2017.
GRAB A FREE TRIAL OF OUR PROJECTION SYSTEM, AND CHECK OUT DFSR PRO!
FREE EBOOK
SECRETS TO CRUSHING DAILY FANTASY FOOTBALL!
DON'T SET ANOTHER LINEUP BEFORE YOU READ THIS BOOK.