Baseball Picks Daily Fantasy
Expert Advice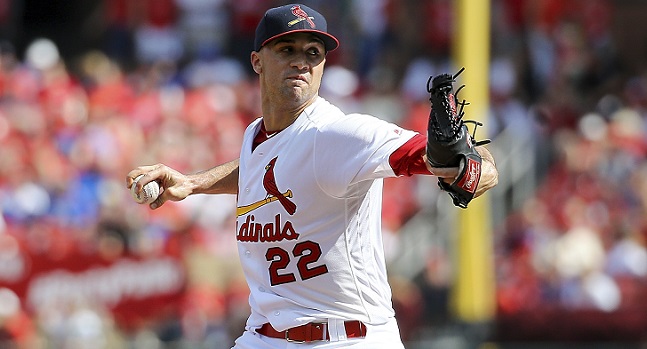 This is a fascinating series. We have two of the hottest teams in the league matching up and it should make for a fun series. I'll go ahead and throw my hat in the ring on the Braves because I truly think they have the better roster. If you go position by position, there's actually not much in favor of the Cardinals. The only real advantage is playoff experience but many of those guys are over the hill. Players like Adam Wainwright and Yadier Molina may give them an edge mentally but it hurts them just as much on the field with their ineffective play. The odds don't really put much between these teams though, with Atlanta coming into this series as a –160 favorite to advance. With that in mind, let's take a deeper look at the specific matchups.
Now's your chance to get DFSR PRO, which will give you access to our NFL and MLB optimizers and our new player lab! Get started for free by clicking the button below.
START YOUR FREE TRIAL NOW!
Pitching 
If there's one pitcher you'd want in this series, it's Jack Flaherty. The Cardinals righty has been the best pitcher in baseball since the break and it's frightening just how good he's been recently. Over his last 16 starts, Flaherty is pitching to a 0.93 ERA, 0.70 WHIP and 11.0 K.9 rate. Holy Crap, I knew those numbers were good but woah! That's bad news for the Braves but they have a pitcher of their own who's feeling it. Mike Foltynewicz has been dominant since being sent to the minors, posting a 1.73 ERA and 0.84 WHIP over his last seven starts. That's the stud that we saw last season and the Braves have to hope that he continues that form here.
Atlanta also has a rookie who's been showing out this season, with Mike Soroka pitching to a 2.68 ERA and 1.11 WHIP. That may garner him an NL Rookie of the Year award and these two righties spell bad news for the Cards. The main reason for that is because St. Louis sends out a ton of righties, but we'll go over that more in our lineup section. To finish off the pitchers, the Cardinals will likely send out Miles Mikolas, Dakota Hudson and Adam Wainwright while the Braves will have Dallas Keuchel and either Julio Teheran or Max Fried. What's funny about all of these guys is that they have low K rates. That's bad news against potent lineups like this and we may be looking at high-scoring games when these guys toe the rubber. 
Plays: Flaherty vs. ATL and Soroka/Foltynewicz vs. STL
Fades: Wainwright vs. ATL and Teheran/Keuchel vs. STL 
Lineups 
What I believe makes the difference for the Braves is their matchups in terms of lineup construction. Not only do they have the superior lineup, they also have better individual matchups. The reason for that is because Folty and Soroka should roll through a lineup with seemingly no good lefties. Tommy Edman, Dexter Fowler and Matt Carpenter are the only dangerous lefty bats on this Cards roster and that's really not worrisome for these scorching-hot pitchers. The righties do make a worrisome matchup for Keuchel and Teheran though, with Keuchel pitching from the left side and Teheran posting an xFIP north of 5.00.  
With Flaherty being the only scary pitcher for St. Louis, I expect Atlanta to feast on the rest of this staff. Players like Ronald Acuna, Freddie Freeman, Josh Donaldson and Ozzie Albies are all having elite seasons and it's scary to have to navigate through all of these potent bats. What makes it even more terrifying is the fact that Wainwright, Hudson and Mikolas have all had their fair shares of struggles this season. What I don't like is the fact that these three have a combined K rate south of 20 percent. That's bad news against a lineup like this and I expect this lineup to feast on them.
Freddie Freeman is the guy who I really love in this series, as he'll oppose a right-hander in every game. He actually has an OPS north of 1.000 against right-handed pitchers this year and could abuse this Cards pitching staff. If you're looking for a cheaper option, Brian McCann has always been better against righties and could be a sneaky HR play at catcher. Players like Acuna and Albies are definitely in play too, with both players playing at an All-Star level for the majority of the season. On St. Louis' end, Edman is a sneaky play, as he was their best hitter over the final month and is really their only dangerous lefty right now.   
Bullpen 
This is actually a very interesting section. While Atlanta's bullpen struggled mightily throughout the season, they really found it in the second half. In fact, Mark Melancon and Shane Greene only allowed a handful of runs between them after the first couple appearances after the trade deadline, steading the eighth and ninth innings. Those middle innings are the only worrisome part, with players like Luke Jackson and Jerry Blevins being shaky at times this season.
The Cardinals don't have a great bullpen on their end either and Andrew Miller may end up being the biggest factor. The powerful lefty has been one of the most dominant relievers in baseball the past few years but his 4.45 ERA and 1.32 WHIP this season are the worst numbers of his career. They did find a gem in Carlos Martinez though, as he shored up the ninth inning for the Cards. They do have a sneaky treasure back there to eat up innings though, with Giovanny Gallegos posting a 2.31 ERA and 0.81 WHIP across 74 innings of action this season. I actually don't have an opinion on who has the better bullpen but it appears likely that the Cardinals will have to use theirs more than the Braves in this series. 
My Prediction: I'm going to say that the Braves win this series in four games. I think that if Keuchel can hold his cookies together in Game 1, they could cruise to easy wins in Game 2 or Game 3 with Folty and Soroka taking the mound. That could cause a sweep but we'll bet on Flaherty taking care of business in whatever game he pitches. He won't be able to take the mount again until Game 5 though and the series very well might be over by then.  
FREE EBOOK
SECRETS TO CRUSHING DAILY FANTASY FOOTBALL!
DON'T SET ANOTHER LINEUP BEFORE YOU READ THIS BOOK.