Baseball Picks Daily Fantasy
Expert Advice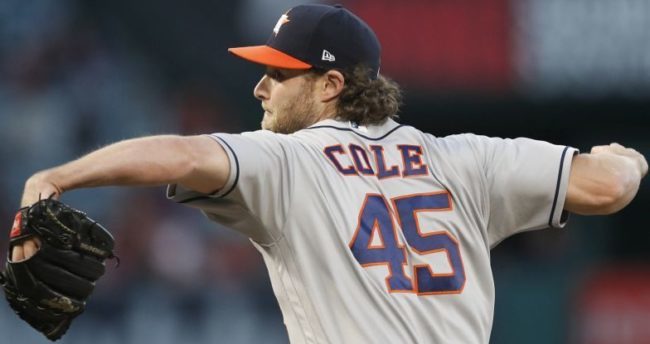 It's unfair for anyone to face the Astros right now. This team is so stacked and it's why many experts have them pegged as the clear-cut favorite to win the World Series. It's easy to see why they're such big favorites when analyzing their roster, so let's go ahead and get into that.
Now's your chance to get DFSR PRO, which will give you access to our NFL and MLB optimizers and our new player lab! Get started for free by clicking the button below.
Houston Astros
Starters
Justin Verlander: Not much needs to be said about the future Hall-of-Famer. This dude has a 2.58 ERA, 0.80 WHIP and 35.4 percent K rate this season, which is pretty much on par with what he's been doing for over a decade. Those absurd numbers make him scary against anyone and he'll surely be in top form in yet another playoff run. 
Gerrit Cole: What if I told you that Verlander was not the best pitcher on this staff. Some would argue that it's this guy, with Cole having a breakout season. Not only did the right-hander lead the league with 326 strikeouts, he also matched it with a 2.50 ERA and 0.89 WHIP. He was even better in the second half, posting a 1.51 ERA, 0.71 WHIP and 14.1 K.9 rate over his final 14 starts.  
Zack Greinke: Jeez, it's scary that the Astros added this dude to their already stacked pitching staff. Greinke was in the midst of another brilliant season before coming over to Houston, as he finished the year with a 2.93 ERA and 0.98 WHIP. That would make him the best pitcher on any pitching staff but he'll go ahead and slot in for Game 3 in this series.  
Bullpen
Look for these three starters to take care of most innings but their bullpen isn't too shabby either. Will Harris, Bruce Rondon and Ryan Pressly will carve out the middle innings while Roberto Osuna will be closing out games. That makes this the most dangerous pitching staff in the league and it's no wonder that no one wants to face them.
Lineup
It would be one thing to have a pitching staff like this with an average lineup but this may be the best hitting core in baseball too. George Springer leading things off is truly scary, with the slugging outfielder posting a .393 OBP and .974 OPS this season. That pairs beautifully with Jose Altuve in the two-hole, with the little man having yet another stellar season. Michael Brantley hitting third is consistency at its finest, with the lefty outfielder hitting .300 pretty much every year.
Alex Bregman is no joke in the clean-up spot either, posting an OBP near .500 over the final two months of the season. The biggest factor is Yordan Alvarez though, as this big rookie has been one of the best hitters in the AL. That's clear when you see that he ranks Top-5 in SLG, OPS and wOBA so far this season and he'll bat fifth. We project Carlos Correa to bat sixth and that's scary considering he's a perennial all-star in his own right. Yuli Gurriel batting seventh is the first fall off that we see in this lineup but it's not like a .298 AVG and 31 homers is anything to complain about. They'll finish off their lineup with Robinson Chirinos at catcher and Josh Reddick in the outfield, with both guys being average bats and elite defenders.  
DFS Strategy
When there's a righty on the mound, we really like Alvarez and Brantley with the platoon advantage in their favor. When they face a lefty, guys like Altuve, Bregman, Springer, Correa and Gurriel are the superior options. The simple fact is, you can stack this team every night and likely be fine. As for the pitching, feel free to fire up any one of these three guys in any matchup.
Tampa Bay Rays
Starters
Charlie Morton: Morton is the only Rays pitcher who has been there all year and it's amazing just how good he's been. Allowing one run in the wild card win over the A's shows why he's their guy. That's backed up by a 3.05 ERA and 1.08 WHIP in the regular season and he should be ready for Game 3 after starting on Wednesday. He actually faced this Astros team on August 27 and surrendered six runs across four innings in one of the worst starts of the year.  
Blake Snell: Snell took down AL Cy Young honors last season but he just returned from injury a few weeks ago. His first three starts off the IL are not encouraging, as Snell never even reached the fourth inning, struggling with his control. However, he threw 62 pitches in his final start on Sunday and one has to believe that he'll be stretched out to 75-80 pitches here. He really hasn't been the same throughout year though, attaining a 4.29 ERA and 1.27 WHIP over 23 starts.  
Tyler Glasnow: The Rays are going to need big things out of this kid if they want to pull out this upset. He's one of the only pitchers who could slow this lineup down, generating a 1.78 ERA, 0.89 WHIP and 11.3 K/9 rate in 12 starts this season. Much like Snell, he too is coming off injury though and it remains to be seen how long he can last. He threw 66 pitches in his fourth start off the IL last week and one would assume that 80 would be his max here.  
Ryan Yarbrough: Yarbrough quietly had one of the best seasons in the AL and it's a wonder why he didn't get more credit. I mean, a 1.00 WHIP is simply amazing. What's worrisome is the fact that he struggled late, posting a 6.96 ERA and 1.42 WHIP over his last six starts.  
Bullpen
This is the key for the Rays. They have one of the best bullpens in baseball and they'll need them at full force here. Players like Nick Anderson, Diego Castillo and Emilio Pagan have all been brilliant throughout the year and that'll be mandatory with the starters looking at limited workloads. That could also put Yonny Chirinos and Oliver Drake in play to cover some innings too. If these guys struggle, look for this to be a short series.
Lineup
This is the toughest lineup to predict among the final eight teams. They love to play matchups and they truly don't have any star players. Tommy Pham and Austin Meadows are definitely their best hitters but those are some of the only guys guaranteed to get starts.
My favorite play in this lineup is Ji-Man Choi. This dude has been mashing righties throughout his career and will get to face almost all right-handers here. In fact, Choi has a .375 OBP and .891 OPS against righties since 2017 and typically bats clean-up in these circumstances. He's scorching right now too, generating a 1.057 OPS over his last 28 games.
Travis d'Arnaud is a solid option at catcher but he struggles with righty arms, especially ones with elite K stuff. Guys like Brandon Lowe, Yandy Diaz, Kevin Kiermaier and Avisail Garcia close out the lineup but none of them are really trustworthy in these matchups either.  
DFS Strategy
I hate to say this but most of these guys are off-limits. Not only are the starters likely looking at limited pitch counts, their hitters also have unbelievably tough matchups. The only guy I could take a chance on is Ji-Man Choi, with his splits being emphasized in the lineup write-up and his first-cheap price tag. Austin Meadows is also worth a shot, as he's easily the best left-handed bat on this roster.
Official Pick: I hate to do this but let's take Houston for the sweep. This lineup and rotation is simply too much to match up with for the Rays. I have so much respect for this Tampa franchise but this is truly a David versus Goliath battle and we don't see David being big enough to compete. 
Pick: Astros 3-0 Series Sweep 
FREE EBOOK
SECRETS TO CRUSHING DAILY FANTASY FOOTBALL!
DON'T SET ANOTHER LINEUP BEFORE YOU READ THIS BOOK.