Baseball Picks Daily Fantasy
Expert Advice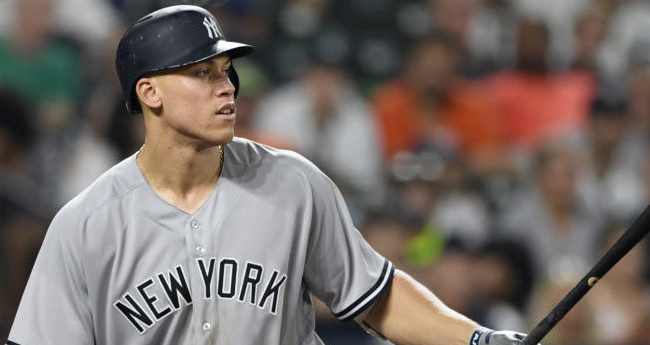 We're going to take a different approach here. What we're going to do is breakdown this series by position. This should be the highest-scoring series of the divisional round, as we have two elite offenses facing two questionable pitching staffs. These teams actually combined for over 600 homers this season, which is simply absurd. I'd actually argue that these are the two worst pitching staffs in the playoffs, so let's start off with those guys.
Now's your chance to get DFSR PRO, which will give you access to our NFL and MLB optimizers and our new player lab! Get started for free by clicking the button below.
Pitchers
James Paxton (NYY): Paxton got off to a terrible start this season but he's been much better over recent weeks. Over his last seven starts, Paxton is pitching to a 1.69 ERA, 0.83 WHIP and 10.8 K.9 rate. The only worrisome factor about him is the fact that he left his last start due to lower body soreness but he's fully expected to pitch in this series, maybe even Game 1. 
Masahiro Tanaka (NYY): The Japanese import has had a frustrating season for Yankee fans, posting a 4.45 ERA and 1.25 WHIP. What's really worrisome is the fact that he's facing a lineup who set the MLB record for most home runs, with Tanaka allowing at least 25 dingers in three-straight years.  
Luis Severino (NYY): This dude may be the dark horse of this series. After posting a 3.18 ERA and 1.09 WHIP between 2017-18, he pitched to a 1.50 ERA and 1.00 WHIP in his three starts this season. The late-season return from injury limited his pitch count but throwing 72 pitches in his last start indicates that he's almost ready for a full workload. That's bad news for a righty-heavy Twins lineup.  
Jake Odorizzi (MIN): Odorizzi has been the Twins best pitcher in 2019, posting a 3.51 ERA and 1.21 WHIP. This is a guy who has no playoff experience though and allowed nine runs in his last start against these Yankees.  
Jose Berrios (MIN): While Berrios looked like a breakout early on in 2019, he really struggled late. In fact, Berrios pitched to a 5.83 ERA and 1.52 WHIP over his final 10 starts. That's truly scary against one of the best lineups in baseball.  
Twins Third Starter: This may be a bullpen game with guys like Kyle Gibson, Martin Perez and Randy Dobnak filling the void. Dobnak is actually the only one who had a decent year but it's scary that Minnesota will have to make decisions like these against the Bronx Bombers.  
Bullpens: While these are two good bullpens, the Yankees backend simply can't be matched by anyone. These guys are downright scary. That's why we may see some abbreviated starts from these NY starters and it's no surprise looking at these players. Adam Ottavino, Zach Britton, Chad Green and Aroldis Chapman should take care of any innings the starters cannot, which equates to about half the game. As for Minnesota, Taylor Rogers, Sergio Romo and Trevor May will hold down the fort in the backend but those guys are no match for New York's bullpen.
Advantage: Yankees 
Catchers
Gary Sanchez (NYY) vs. Mitch Garver (MIN): These are the two-best catchers in the AL. That's evident by the fact that both of these guys have ISO's above .250 and wOBA's near .400, batting in the heart of their lineups.  
Advantage: Neither 
First Base
Luke Voit/Edwin Encarnacion (NYY) vs. C.J. Cron (MIN): Cron has really only been effective against lefties this season, which is bad news since almost all of the Yankee pitchers mentioned are pitching from the right side. Voit has been solid against both sides, posting an OPS north of .900 since joining NY last season. Edwin is a beast too, regularly hitting 40 dingers every year.
Advantage: Yankees 
Second Base
Jonathan Schoop/Luis Arraez (MIN) vs. Gleyber Torres/D.J. LeMahieu (NYY): This one almost isn't fair. Arraez and Schoop have been splitting the reps at second base while Torres and LeMahieu almost always find their way into the lineup. It's no surprise either when you consider that Torres had a career year with 38 dingers while D.J. amassed a .327 average.  
Advantage: Yankees 
Third Base
Miguel Sano (MIN) vs. Gio Urhsela (NYY): While Urshela has an OPS north of 1.000 over the final three months of the season, it's hard to match the power that Sano provides. Over his final 19 games, Sano collected eight homers and 21 RBI en route to a .395 OBP and .700 SLG. With that said, Urshela is a great value on the DFS sites and could be a sneaky pick against this weak pitching staff.
Advantage: Twins 
Shortstop
Didi Gregorius (NYY) vs. Jorge Polanco (MIN): While Didi has been a solid contributor for the Yankees, Polanco is the superior player. What makes him intriguing here are his splits, with Polanco totaling a .378 OBP and .891 OPS against right-handers this season. That makes him one of the most dangerous bats in this series with New York sending out almost all right-handers. 
Advantage: Twins 
Outfield/DH
Nelson Cruz/Eddie Rosario/Marwin Gonzalez/Max Kepler (MIN) vs. Giancarlo Stanton/Aaron Judge/Brett Gardner (NYY): While Cruz has been the best hitter of this bunch this season, it's hard to match up with the power that the Yankees possess. Both Judge and Stanton have career ISO's approaching .300 and either guy can hit two dingers on any given night. Gardner has been rolling recently too, posting an .891 OPS over his final 27 games. Cruz actually accrued a 1.031 OPS for the season but Kepler is the big difference here. He sat out the final two weeks because of a shoulder injury and his presence atop this lineup from the left side is critical against all of these righties. He actually set career-highs with 36 homers, 90 RBI and 98 runs scored and it would be tough for Minny to compete without him.  
Advantage: Yankees 
Series Prediction
All of this makes it hard to pick anyone but the Yankees. In fact, I think they could take care of this series rather quickly. I'll take the Bronx Bombers to close things out in four games or fewer.
Official Pick: Yankees 3-1 Series Win
image sources
Yankees Orioles Baseball: (AP Photo/Nick Wass)
FREE EBOOK
SECRETS TO CRUSHING DAILY FANTASY FOOTBALL!
DON'T SET ANOTHER LINEUP BEFORE YOU READ THIS BOOK.