News Daily Fantasy
Expert Advice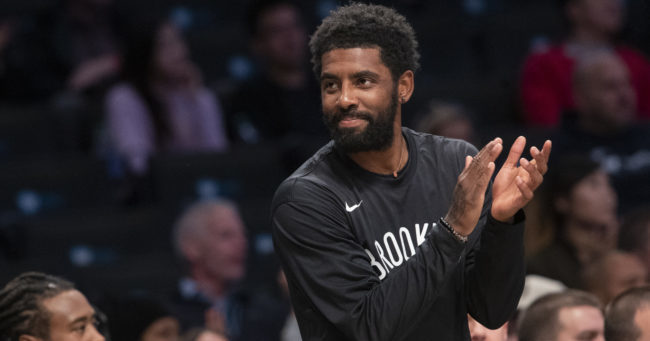 NBA Preview: Will the Brooklyn Nets Additions Actually Add up to More Wins?
Leading up to the start of the season, we'll be looking at a bunch of different teams, breaking down their offseasons, and looking ahead how they project relative to their Vegas implied win total. We already covered the
New York Knicks
and how we liked the over on their wins. Now we take a look at the team across town, the Nets.
Now's your chance to get DFSR PRO, which will give you access to our NFL, NBA and MLB optimizers and our new player lab! Get started for free by clicking the button below.
Brooklyn Nets
2018-2019 Record 42-40
2018-2019 Point Differential -0.1
2018-2019 Pythagorean Record 40-40
Offseason Additions
Kevin Durant
(recovering from injury)
Kyrie Irving
DeAndre Jordan
Taurean Prince
Wilson Chandler
Garrett Temple
Offseason Losses
D'Angelo Russell
Ed Davis
Demarre Carroll
Rondae Hollis-Jefferson
Projected Starting Lineup
Kyrie Irving
,
Caris Levert
,
Joe Harris
,
Taurean Prince
,
Jarrett Allen
Key Bench Players
Spencer Dinwiddie
, Rodion Kurucs,
DeAndre Jordan
,
Wilson Chandler
(suspended),
David Nwaba
,
Garrett Temple
The Nets were the darlings of the offseason (until the Clippers' thing happened), locking up both
Kyrie Irving
and
Kevin Durant
to contracts and ushering in a new era of New York basketball. It was a major coup for a franchise only a few years removed from being seemingly locked into long-term rebuilding hell.
Following a first round exit to the Philadelphia 76ers, the future looked bright enough on its own considering they'd taken some young pieces and a reclamation project (or two) turning them into a viable NBA team that even took a game in the series.
Then they went ahead and signed two of the best players in the league to fit around a young core of players.
Typically, teams tend to improve season-over-season by retaining their best parts and upgrading along the edges or in the spaces they most needed help. The Nets didn't take that approach this offseason. They went about it by just taking the best available players and calling it a day. Let me be clear, this is almost always going to be the correct approach.
In terms of Win Shares, here were the Nets' four *best* players last season:
Jarrett Allen 7.6
Ed Davis 5.7
Joe Harris 5.5
D'Angelo Russell 5.0


Two of those players are gone, replaced with guys at the same position. This isn't the typical linear upgrade apprach and it does leave us in a somewhat weird spot about how to evaluate their prospects for THIS season. Should they be better? It seems so. Will they be significantly better? I'm not so sure.
Sure they finished the season with a 42-40 record but had a negative (-0.1) differential meaning they likely ran a little hot on a win or two over the course of the season. The Pythagorean record was closer to .500, 40 wins or maybe a tick below depending on how you move the decimals around.
This season's win total will hinge almost completely hinge on
Kyrie Irving
and what he's able to add to the offense over what De'Angelo Russell in 2018-2019. Irving is a better player, of that there is no doubt. He adds elite scoring, improved distribution and really everything you're looking for from a superstar guard. On a strictly binary basis, he's without a doubt a big upgrade over D-Lo.
But there are are other tradeoffs before we even worry about any possible chemistry issues that reared ugly heads in Boston. Kyrie's missed 42 games in the last two seasons because of injury and I (greatly) suspect the Nets will take a very careful approach with him this season. 2019-2020 isn't the Nets' all-in season, that's next year when Durant is back. Why chase wins now when there's a possible title contender sitting a mere season away? Any and all lost games and minutes from Kyrie greatly dents the Nets' projected win totals. It's that simple, games he sits will leave $69 million dollars of talent on the sidelines for the Nets (Kyrie + KD).
And I'm not here to doom and gloom the Brooklyn situation entirely because overall I love their path. Hell, I host a freaking
Brooklyn Nets Podcast
. I want them to do well. But there's some realism this team needs to face about what the goals are for this season.
And the Nets come into the season with a couple of other core issues. Namely, they are significantly undersized at the four. Their projected starting power forwards are
Taurean Prince
OR Rodion Kurucs and those are the "bigger" options. With the new-look NBA, this is going to be incredibly problematic against any team starting a traditional/athletic PF and/or rangy center. Think the Lakers, Sixers, Pacers, Magic, Bucks, Pistons and hell even the Knicks.
We may see some
Jarrett Allen
/
DeAndre Jordan
shared minutes to combat ultra-big lineups, but that will be nothing more than an interesting experiment if it evens happens at all. Otherwise, they'll have to take their lumps on the defensive end while attempting to play wing mismatches on the offensive end and hope they can win some kind of speed vs size war of attrition.
The key to the Nets season though could be the continued growth of
Caris LeVert
. Last year, the fourth-year guard was beginning to find a confident groove in the offense, displaying a more aggressive approach before suffering a brutal ankle dislocation in November. Somewhat miraculously, he came back in February but took some time to find a consistent rhythm in the offense. The "breakout" occurred in the playoffs against the Sixers when he averaged 15 shots per game, knocked down 51% from three and looked every bit like a dude ready to take a leap.
LeVert's continued growth as a secondary scorer, a Robin to Kyrie's Batman if you will, could assuage that lingering concern I have around the offense's ability to withstand long-term Kyrie minutes reductions. This is the bullish version of when the Nets are playing full strength. LeVert is a great piece, but isn't likely to fully carry an offense at this point.
In all, the Nets will work to get by with a wing-heavy and versatile team made up of three-and-D guys around the margins. But how far of a stretch is it to think we get 35 minutes per game of
Kyrie Irving
hero ball, a slight stagnation around some of the younger pieces (think Boston all of last season with, ahem, Kyrie Irving on the ball) and a glaring (with a capital G) weakness on defense.
The East isn't improved at the top with the Raptors losing
Kawhi Leonard
and
Danny Green
, but Toronto are far from a bottom feeding team now. Boston is revamped with
Kemba Walker
and some other parts in place of Irving and Horford. The Bucks remain elite. Indiana made some sneaky good moves and will enter the season going double big with Sabonis and Turner (trouble for Brooklyn). Orlando should improve on last year if
Markelle Fultz
is anything and
Jonathan Isaac
makes some strides. The Hawks are unlikely to fully tank again. Hell even the Knicks are improved.
I don't think with this current squad maybe a year away from Durant returning is close to a shoe-in for the playoffs.
Sure, these are somewhat pessimistic viewpoints on a team that had such a fantastic offseason. And I host a Nets
podcast
so I don't want an underperforming result. But the Nets' situation is tenuous here. It's not unrealistic to think they finish around .500 again. And if that's the case then obviously we are getting solid value on betting the under on their wins total.
The final bet:
Nets UNDER 43.5 Wins
Nets to Miss the Playoffs +400
FREE EBOOK
SECRETS TO CRUSHING DAILY FANTASY FOOTBALL!
DON'T SET ANOTHER LINEUP BEFORE YOU READ THIS BOOK.