Basketball Picks Daily Fantasy
Expert Advice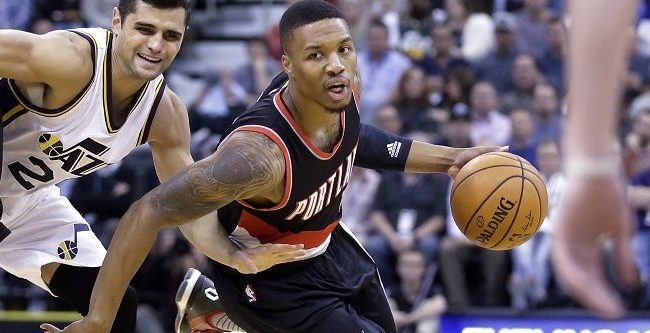 2019-2020 NBA Betting Preview: Can the Trailblazers Repeat Last Year's Postseason Success?
Leading up to the start of the season, we'll be looking at a bunch of different teams, breaking down their offseasons, and looking ahead how they project relative to their Vegas implied win total. We already covered the
New York Knicks
and how we liked the over on their wins. We also covered the
Brooklyn Nets
and their prospects this season.
Now, we'll take a closer look at the Portland Trailblazers and how they look heading into the season.
Now's your chance to get DFSR PRO, which will give you access to our NFL, NBA and MLB optimizers and our new player lab! Get started for free by clicking the button below.
Portland Trailblazers

2018-2019 Record 52-29
2018-2019 Point Differential +4.2

Offseason Additions

Hassan Whiteside
Kent Bazemore
Mario Hezonja
Skal Labasierre
Anthony Tolliver
Offseason Losses

Jusuf Nurkic (recovering from injury)
Al-Farouq Aminu
Maurice Harkless
Evan Turner
Jake Layman

Projected Starting Lineup

Damian Lillard, CJ McCollum, Kent Bazemore, Zach Collins, Hassan Whiteside

Key Bench Players

Rodney Hood, Anfernee Simons, Mario Hezonja


Portland is coming off a somewhat improbable playoff run last season, getting to the Western Conference Finals after a walk-off dagger and wave by
Damian Lillard
in Game 5 of the Thunder series and a grind-it-out seven-game grudge match with the Nuggets in the Western Conference Semifinals. They were summarily dispatched by the Warriors in a sweep, but it still ranked as a significant accomplishment for this Portland team to make it that far.
It was coming off an excellent regular season, finishing 52-29 and third in the Western Conference behind the Rockets and Warriors. All in all, last season was akin to an NBA championship run considering they were still rolling against a mostly-full Warriors' team.
They enter 2019-2020 with some of the same parts, but also major questions about how new additions and key losses will affect their prospects.
The engine is, of course,
Damian Lillard
who finished the season 4th overall in Win Shares according to
Basketball Reference
with the 3rd-best Offensive Box +/- behind only
James Harden
and
Stephen Curry
. In many ways, this team's success is born out of Lillard's season-over-season consistency, durability and offensive game that is both explosive and cerebral. There are no concerns around Lillard and what he can contribute on a nightly basis. It's the rest of the pieces that have me a bit worried.
The biggest difference between this year's Blazers and last year's is the loss of
Jusuf Nurkic
. He suffered a horrible leg injury late in the season and his timetable to return this year is muddy at best. He was Portland's second-best player last year with 7.8 Win/shares while finishing top-10 in Defensive Box +/-. Portland's top-7 four-man lineups according to net-rating last year all had Nurkic (one more than CJ McCollum) and his absence will be sorely missed. Portland's Net rating with Nurkic on the court was 10.5 and dropped to -2.2 with him off for a 12.7 difference. Only Lillard was better for Portland.
Nurkic could play back to the basket, traditional post up. But more often Portland used him on offense as a high screener-dive to the basket guy in an effort to open up Lillard from the outside. Nurkic was incredibly active in their offense, bullying opposing guards on the perimeter only to work downhill ruthlessly to the basket. It left defenses in precarious situations considering how effective Lillard and McCollum were from three. Will replacement
Hassan Whiteside
offer that same level of interest/mentality/activity? Considering he really hasn't up until now, I'm skeptical. Also, consider this: Last season Nurkic got to the line a career-high 365 times with a FT% of 77%. The way Portland used him moving downhill lent itself to him getting fouled a lot. Whiteside? He got to the line 274 times last season and shot 45%.
It really can't be overstated what losing Nurkic does to this team's prospects. I understand they band-aided it in the playoffs with
Enes Kanter
which was commendable. And Portland's track record for just getting the job done in the regular season with the personnel on hand is really something. But a much-improved Western Conference leaves this team's margins much thinner.
They enter the season without a true power forward after
Al-Farouq Aminu
signed with Orlando in the offseason. That leaves
Zach Collins
and a number of undersized wings to fill the void. Aminu wasn't an integral part of what Portland did on offense, but he matched up well in a number of defensive situations that the Blazers will now have to piecemeal. They lack traditional size which is going to look real problematic real quick in this conference.
But maybe most of all, is just how much the rest of the Western Conference improved. This, more than anything else maybe (beyond Nurkic) has me bearish on Portland reaching it's projected win total. For a conference that's always been about nine teams deep, it just got even stronger. Just about every team save the Warriors who still have
Steph Curry
got better in the offseason.
Look, betting against the Blazers is a tough one because they are about as well-coached and certain of their scheme as any team in the league. This matters quite a bit in the current NBA which has seen such dramatic turnover. While it's easy to just assume new teams with new superstars will automatically take full strides ahead, there are almost always growing pains. In many ways, Portland need not "worry" about that aspect.
But overall, considering the gains other squads made, and the loss of Nurkic, I'm fairly firm on the under here with a more than decent chance they just miss the playoffs.
Portland Under 47 Wins
Portland to miss the playoffs at +300


FREE EBOOK
SECRETS TO CRUSHING DAILY FANTASY FOOTBALL!
DON'T SET ANOTHER LINEUP BEFORE YOU READ THIS BOOK.