Nascar picks Daily Fantasy
Expert Advice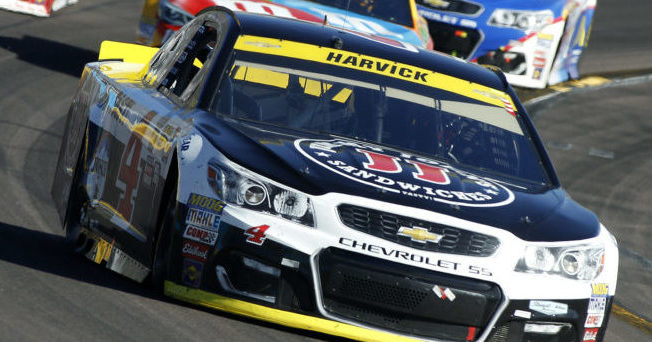 Daily Fantasy NASCAR Race Preview & Picks for DraftKings - Hollywood Casino 400
Chris Durell will be bringing you his weekly race breakdown, top trends, and pre-qualifying targets to help you cash on DraftKings and FanDuel. You can also grab a copy of his free DFS NASCAR Cheatsheet that includes a ton of stats and a customizable model.
Now's your chance to get DFSR PRO, which will give you access to our MLB optimizer and our new player lab! Get started for free by clicking the button below.
First time with MLB? Be sure to read our free MLB Ebooks on building lineups, general strategy and more. We've got you completely covered.
Hollywood Casino 400
Welcome back race fans. After another wild Talladega race last week, the Monster Energy Cup Series heads to Kansas Speedway for the second elimination race of the 2019 Playoffs. Ryan Blaney's win last week shook up the standings in a big way as he entered the race in dead last(12th) and has now pushed Alex Bowman(-18), Chase Elliott(-22), Clint Bowyer(-24), and William Byron(-27) well below the cutline. Get ready to see a ton of aggression this week, not only from drivers but from crew chiefs as well. Buckle up and enjoy!
From a fantasy perspective, track position isn't at a premium but still very important as we have seen a driver lead 100 or more laps in each of the last six races. Of those six drivers, three of them came from a pole position and five of them started 7th or better. Qualifying always determines how much place differential value there will be but keep in mind there have been 15 drivers to tally double-digit place differential points in the last two races here.
With that let's take a look at some track history at the driver level and then dig into the picks.
Kansas Speedway - Kansas City, KS
Track - 1.5 Mile D-Shaped Oval Intermediate
15° of Banking


Last Six Winners at Kansas
2019(1) - Brad Keselowski(started 4th)
2018(2) - Chase Elliott(started 13th)
2018(1) - Kevin Harvick(started 1st)
2017(2) - Martin Truex Jr.(started 1st)
2017(1) - Martin Truex Jr.(started 3rd)
2016(2) - Kevin Harvick(started 11th)

Track History at Kansas
Martin Truex Jr. is coming off a 19th place finish here in the Spring but going back to the start of 2017(5 races), he has two wins(swept 2017), four Top 5's and the best average finish(5.6) among all drivers in that time.
Brad Keselowski picked up his second career win here in the Spring and was 6th last year in the Playoffs and has Top 10 finishes in six of his last nine races here.
When it comes to consistency here at Kansas, Kevin Harvick is right at the top of the list. He has finished 13th or better in 16 of his last 18 races here with three wins, 11 Top 10's, and has led 50 or more laps eight times.
Chase Elliott has also flashed upside here lately with Top 5's in two straight and three of his last four races with a win in last year's Playoffs and he has also led 40+ laps in the two races as well. His teammate, Alex Bowman, joins him in the consistency column coming off a runner-up in Spring and has Top 10's in three of his last four races at Kansas.
Looking at the last five races here, Kyle Busch and Kyle Larson are the only other two drivers outside of True with four Top 5 finishes. Busch stands out even more if we go back even further as he has Top 10's in eight of his last nine races here with six Top 5's and a win back in 2016.
Track Type History(Intermediate Tracks)
For track type, I am going to look at the previous mile and half track races this season using the new 2019 rules package(all excluding Atlanta). In those eight races, Martin Truex Jr. is the only driver with multiple wins with a victory to kick off the playoffs as well as a dominating victory at the Coca Cola 600.
Kevin Harvick doesn't have a win on a mile and a half this season but does have three Top 5's and five Top 10's and leads all drivers with 385 laps led on the track type. In a very similar situation is Kyle Busch who is also winless on the track type but has four Top 5's and is second to Harvick with 349 laps led in the eight races.
The most consistent driver on the mile and a half tracks this has been Joey Logano who won the Spring Las Vegas race and has added five Top 10's in the eight races with an 8.5 average finish.
Teammates Chase Elliott and Alex Bowman join Harvick and Truex as the only other driver with an average finish of 10.0 or better in the eight races. Bowman also has a win under his belt at Chicago where he led 88 laps as well.
Brad Keselowski won the Spring Kansas race and leads all drivers with five Top 5 finishes in the eight races on the track type but also three finishes outside the Top 15 which brings his average finish(11.4) down a bit. Either way, look out for the #2 this week.
Playoff Form
Let's start with two drivers who were likely not at the top of your list as the first two to advance through to the Round of 8. Ryan Blaney was coming off a terrible 35th place finish at Dover to open the round but came through in a huge way edging out Ryan Newman for the Talladega win last weekend. Kyle Larson was consistent in the first round with finishes of 8th, 6th, and 13th and then turned up a notch to open the second round with a dominating win at Dover where he le 154 laps.
Sitting 3rd in the standings heading into this weekend is Denny Hamlin who has tallied a Top 5 finish in three of his last four races. His teammate Martin Truex Jr. is coming off a 26th place finish a Talladega but has Top 10's in the first four races of the Playoffs including wins in each of the first two races. Right behind them in the standings is Kyle Busch as Joe Gibbs Racing makes a bid to get three cars into the Round of 8. Busch has not been near as consistent as his teammates, however, with just two Top 10's in five Playoff races as he has relied heavily on those Playoff points earned during the regular season.
Up next in 6th place is Kevin Harvick who, despite coming off a 17th at Dega, started the Playoffs red-hot with four straight finishes of 7th or better. Rounding out the Top 8 are teammates Brad Keselowski and defending series champ Joey Logano. Keselowski opened the Playoffs with three Top 5's in the first round but has fallen off a bit with an 11th at Dover and 25th at Talladega. Logano has just two Top 10's(9th at Vegas, 10th at Roval) in the Playoffs so far but don't ignore as he could easily creep up and pounce when no one is expecting it. It's like we have seen this story before, no?
Top Targets
Kevin Harvick
Harvick checks every box this week and is my top play in all formats at Kansas. He has excellent track history here with seven Top 5's in his last 12 races with three wins while also leading 75+ laps in three straight. He has been the most consistent driver in the playoffs with a 6.6 average finish. He has also led the most laps(385) of any driver on the eight races on mile and a half tracks this season using the 2019 rules package. He has been fast in practice(9th & 2nd fastest laps & Top 5 in 10 and 15-lap averages in final practice). The #4 car failed tech and was not allowed to qualify Saturday leading to a 40th starting position. He is an elite play in all formats.
Kyle Busch
I think this is a great week to jump on board with Kyle Busch in GPP formats. First of all, his ownership could be fairly low with Harvick starting from the rear and $400 less on DK plus the struggles the #18 has had throughout the playoffs. He finished 30th here in the Spring but before that had Top 10 finishes in eight straight including a win(2016) and six Top 5's. He has also been the second-best dominator behind Harvick on this mile and half track rules package leading 349 laps this season. He offers some place differential upside as well starting 18th and not only posted the fastest lap in final practice but also the fastest 10-lap average. If there is a chance he will be outside the Top 5 in ownership, I will be nearly allin on Busch this week in GPP.
Ryan Blaney
Blaney is one of two drivers(Larson the other) who enter this race in a no-stress scenario as both are locked into the next round. Blaney stands out as a great play this week as the #12 car looks very fast posting the 5th best lap in both practices and was 2nd in both 10-lap and 15-lap average in the final session. While he has finished outside the Top 30 here at Kansas in two of his last three trips, he has Top 10's in five of his last eight. He is my top driver target under $10K(DK) this week.
Ricky Stenhouse Jr.
Stenhouse qualified 19th for the race on Sunday giving him a bit of place differential upside considering he has finished inside the Top 20 in seven of his last eight races here and inside the Top 15 five times. The #17 car also showed some speed in practice ranking 16th and 6th with the 10th-best combined average of the two practices. He was also 11th in 10-lap averages in the final session. All things considered, Stenhouse is in play for me in all formats this week.
Below you will find a copy of my DFS NASCAR cheathsheet which includes Track History, Current Form, DraftKings points averages, Track Type History, Practice/Qualifying Ranks and much more.

Chris Durell has been playing Daily Fantasy Sports for five years and fantasy in general for more than a decade. He is an active player in NFL, MLB, NHL, PGA, and of course NASCAR. He lives in Saskatchewan, Canada with his wife and two daughters. You can follow him on Twitter at @Jager_Bombs9 for advice, strategy, answers to any NASCAR questions or how he copes with the winters up north.
FREE EBOOK
SECRETS TO CRUSHING DAILY FANTASY FOOTBALL!
DON'T SET ANOTHER LINEUP BEFORE YOU READ THIS BOOK.