Basketball Lineups Daily Fantasy
Expert Advice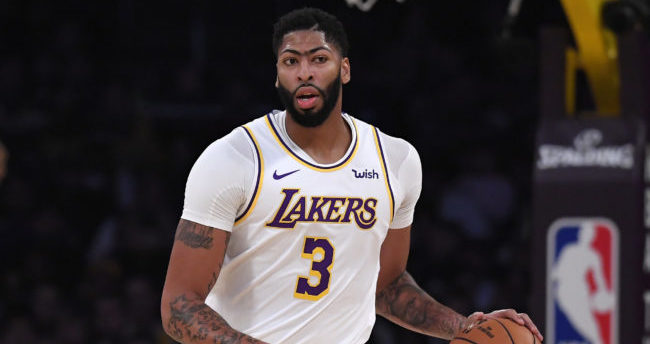 FanDuel NBA Picks and DraftKings NBA Picks - Tuesday 10/22/19
Basketball is back baby! Before a big Wednesday of hoops, we get a two-game slate to tip things off. Following the craziest offseason of all-time, we have an almost completely new NBA to figure out. Superstars teamed up, franchises went through major overhauls and there's an entire new landscape in the league. But we've got you covered during what could be a tumultuous beginning of the year.
Head on over a for your chance to get DFSR PRO, which will give you access to our NBA FanDuel and DraftKings optimizer, our NFL Optimizer and NHL Projections as well. Plus our new player lab! Get started for free by clicking the button below.
First time with NBA or NFL? Be sure to read our free NBA and NFL Ebooks on building lineups, general strategy and more. We've got you completely covered.
Point Guard

Patrick Beverley
FD
- $5100
DK
- $5000
Opponent -
LAL
Proj Pts
FD
- 27.45
DK
- 27.58
Beverley hasn't ever been much of a scorer, often defaulting to an elite on-ball defender who lets others take over the offense. It's been a role that's suited him and earned him a three-year payday in the offseason from the Clippers. But his role could be expanded to start this season. The Clips shipped off
Shai Gilgeous-Alexander
and
Danilo Gallinari
for essentially
Kawhi Leonard
and
Paul George
, but the latter will sit the first ten games. While PG's absence isn't a one-to-one comp for opportunity, one has to assume Beverley's role and rotations are uber-safe for the Clippers to start the season. We could even see a slight uptick in his usage and he's been a knock down three-point shooter (40%) over the last two seasons. He's coming at reasonable prices for a higher minutes floor on this opening slate and I don't love some of the pay up options at point guard.

Fred Vanvleet
FD
- $5600
DK
- $4800
Opponent -
NO
Proj Pts
FD
- 31.87
DK
- 32.37
For a team that won a championship and then promptly lost its best player, we actually have a pretty good idea of Toronto's plan this season. That's because last year we saw plenty of this club without
Kawhi Leonard
. The latter missed 22 regular season games and the rest of the team more than picked up the slack. VanVleet often drew the start and it looks like FVV will enter the starting lineup this season alongside
Kyle Lowry
. With Leonard off the court last season VanVleet saw roughly a 5% tick up in usage and the minutes should be incredibly safe to start the season. He's coming very cheap on
DraftKings
where he's nearly a cash game look this early in the season on this shorter slate of games. He's shot close to 40% from three over his first three seasons and we should see a moderate bump in his overall scoring this season with much more consistent opportunity.
Strongly consider
Lonzo Ball
(
FD
7100
DK
5400) without Zion Williamson here. I do think Lonzo has something of a breakout fantasy season with more consistent minutes and a solid scheme. This isn't the spot to play him in cash, but there is for sure upside.
Shooting Guard

Jrue Holiday
FD - $8700 DK - $7900
Opponent -
TOR
Proj Pts FD - 44.51 DK - 44.78
Zion Williamson is already expected to miss time to start the season leaving the Pelicans to make up some of their usage around the rest of the bona fide starters. That means we should have at least a little clarity around the plan for Holiday to start the season. While we don't have a great idea of what the Pelicans look like without Zion Williamson, we do have some understanding of what Holiday's game was like when
Anthony Davis
wasn't on the court last season and that's instructive here. Jrue's usage went from 24% with AD on to 28% with him off. Holiday is also a candidate to maintain a high minutes' floor because of his versatility on both ends of the court. Sure, the Pelicans have an almost completely new team this season, but Holiday's role appears much the same and I think he's an excellent cash game play against the Clippers.

Danny Green
FD - $4600 DK - $5300
Opponent -
LAC
Proj Pts FD - 22.6 DK - 22.46
Avery Bradley
FD - $4000 DK - $4100
Opponent -
LAC
Proj Pts FD - 19.23 DK - 19.9
There's been such a massive amount of turnover that we are left to make some educated guesses at the overall plan for each new squad. The Lakers are another one of those teams with effectively an 80% turnover in their starting lineup and that's even working from the time Lebron was actually playing. This is a totally new squad. But it looks every bit like Bradley and Green will start at the wings with Lebron running the point and
Anthony Davis
/
Javale McGee
going double big at the 4/5. These kinds of wings are perfect for the Lebron style of basketball. While neither is a candidate rack up much in the assist or rebound department, I do think both will see their fair share of open threes and should be active on the defensive end. For their respective salaries, both make for cheaper options at a weaker position. And considering the Lakers' lack of depth to start the year, I think it's rather safe to project robust minutes for both.
Small Forward

Pascal Siakam
FD - $8000 DK - $7600
Opponent -
NO
Proj Pts FD - 41.02 DK - 41.55
Siakam has had a really nice last calendar year. He had a breakout 2018-2019 campaign that saw him take a massive leap forward with his game, averaging 17 points and seven rebounds a game. Then he won the NBA championship. And now he starts this season on the heels of signing a four-year max deal worth $130 million. So yeah, it's been a good year for a dude who only started playing actual basketball like eight years ago. The other great thing about Siakam leading into Tuesday is we have a very solid idea of what his game looks like with
Kawhi Leonard
off the court. The former ticks the usage up about 3% and the rebounding is up as well. From the preseason, it looks like this is now Siakam's team. He led the Raptors in field goal attempts per minute for the preseason and was only behind Ibaka in rebounds (among players who matter). Siakam should be in line for an even bigger statistical step forward this season and his price is way too low for this new opportunity.
I also think there's a good case to play
OG Anunoby
(FD 4300 DK 3900) in cash on both sites. It seems like he'll soak up some of those Kawhi minutes in the starting lineup. It's easy to forget that O.G. was a key part of this team but missed significant time at the end of the season and playoffs because of an appendectomy. He's coming very cheap and could get significant run.

Kawhi Leonard
FD - $9900 DK - $9600
Opponent -
LAL
Proj Pts FD - 46.55 DK - 45.92
It's crazy to put Kawhi second on almost any list ever, for anything related to basketball at least. But from a DFS perspective he does fall behind Siakam in terms of value on this slate. If the Clippers were at full strength, I don't think I'd consider Leonard at these prices, but without
Paul George
I do think we get some uptick in usage and ancillary stats for Kawhi in his first game as a Clipper. Kawhi is coming off a transcendent season of course, and an equally crazy departure from Toronto. He averaged a 26/7/3 in 34 minutes a game last year on 19 shot attempts. On this current Clippers squad, I wouldn't be shocked to see the usage actually climb a bit especially when he's running with the starters.
Lou Williams
and
Montrezl Harrell
will cut into that some with the second (and closing unit) but Kawhi should have full reign early in these games.
Power Forward

Anthony Davis
FD - $12100 DK - $10200
Opponent -
LAC
Proj Pts FD - 63.99 DK - 62.94
Another season of NBA DFS and another season where power forward on
FanDuel
is a total and complete joke. For this opening night we kick things off with only about nine guys who project to play even more than one minute in an NBA game here. Of that group, really only about 3-4 figure to play anything close to resembling reasonable minutes. It's why
Anthony Davis
will likely be a chalk play on this slate (FD). It very much looks like Davis is going to have a huge fantasy season. He averaged a 13/6/4/2/1 line in 20 minutes per game during the preseason and that was only on 43% shooting. He's over 50% for his career. Sure, on
FanDuel
he's priced near the max, but on this slate I think it's worth it considering the position. It's not as clear on DK where he eats up more of you salary cap and the multi-position eligibility means you have a bigger player pool at the position.
JaMychal Green
FD - $4600 DK - $3800
Opponent -
LAL
Proj Pts FD - 27.36 DK - 27.46
He's mostly on here by default. Jamychal is the only other PF-eligible guy on this slate who's actually projected to start. With Zion Williamson out of the picture and
Serge Ibaka
coming off the bench, the pick'ins get real slim real quick. But Green is a fine play at this price. He should be starting at the four and with
Paul George
out I think the dude actually sees quality minutes. I'm not convinced he would close with the starters yet, but 25-ish minutes feels like the floor. He averaged a 10 point, six rebound line in 22 minutes last season and shot better than 40% from three last year. You could do worse on a small slate considering the position.
Center
JaVale McGee
FD - $5600 DK - $4800
Opponent -
LAC
Proj Pts FD - 30.86 DK - 28.91
McGee started the final preseason game for the Lakers (that counted for them) and casually put up a 12 point, six rebound line in 18 minutes. In the other game he started alongside the Lebron/Davis duo, McGee was even better. He put up 10 points and 13 rebounds in 17 minutes. Even with limited run if he weren't to close games, McGee doesn't need to play a ton to perform on these DFS prices. He'll have plenty of chances around the rim with Lebron running the show and has always been able to produce fantasy stats in very few minutes. For this slate, as long as McGee is in the starting lineup (and I think he will be) then he makes for a higher floor option on both sites.

Marc Gasol
FD - $6500 DK - $5500
Opponent -
NO
Proj Pts FD - 35.29 DK - 35.19
I prefer McGee for just a little bit less because there's a little more fantasy clout in the Lakers' center. But there's a case for Gasol here as well simply because the minutes' floor figures to be a bit higher. The guy didn't have a huge role in the offense with the Raptors last season, often defaulting to others in the flow of the game and even sometimes passing up open shots in favor of an extra pass. With Leonard out of the picture there's some reason to believe the usage ticks up a little, though not a ton.
GRAB A FREE TRIAL OF OUR PROJECTION SYSTEM, AND CHECK OUT DFSR PRO!
FREE EBOOK
SECRETS TO CRUSHING DAILY FANTASY FOOTBALL!
DON'T SET ANOTHER LINEUP BEFORE YOU READ THIS BOOK.