featured Daily Fantasy
Expert Advice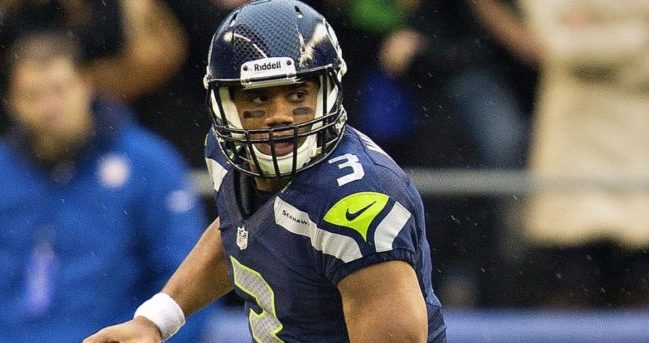 Daily Fantasy Football Cash Game Picks for FanDuel and DraftKings Week 9 - 11/3/19
Week 9 is upon us! DFSR split last week on
FanDuel
and
DraftKings
, moving our season long record for main slate cash games to a respectable 10-4-1. With a couple of chalk plays going away heading into week 9, can we still find the same exploitable strategies? I say yes.
Want access to the projections that power these picks? For a limited time we're offering a free one week trial to all the sports that we cover - that's optimal lineups for NFL, NBA, NHL, and MLB - for the same low price. Get started now!
Quarterbacks
Russell Wilson FD 8600 DK 7100
Opponent TB
Proj Points FD - 22.28 DK - 22.88
Look, Wilson is having an MVP-caliber season so recommending him in cash games again isn't going out on any kind of metaphoric limb. But the obviousness of the play doesn't preclude us from making it. He's second overall in DraftKings QB scoring this season and has thrown 17 touchdowns to only one interception. His 8.51 yards per attempts are the fourth-most among quarterbacks who've attempted more than 200 passes this season while also being serviceable on the ground. He has 182 rushing yards with three TDs, tied for second-most in the league. Tampa Bay has something of a funnel defense, ranking first against the run, but 25th against the pass. This could lend itself to more passing attempts from Wilson. The overall volume for Wilson is the only thing "holding him back" seeing as how he ranks 13th in passing attempts. It's a testament to how freaking efficient this dude is when he actually throws the ball. I suspect we see high ownership on Wilson on both sites.

Aaron Rodgers FD 8100 DK 6900
Opponent LAC
Proj Points FD - 20.32 DK - 21.04
After some lower output weeks to start the season, Rodgers has turned the clock back over the last three games. He's averaged 339 passing yards per game in that stretch with a 10:1 TD:INT rate and has even scrambled for 45 yards on the ground. The Chargers are a bottom-third DVOA defense on the season and rank 28th against the pass. What's even more about Rodgers' recent run is that he's doing it without his best wide receiver in Davante Adams. The latter is expected to return for Week 9 after missing the last four weeks. This, theoretically, should give the passing game an added boost and though I prefer Wilson in a similar price range Rodgers makes for an excellent cash game play.
The Cheaper Options
I great prefer Wilson, and to a lesser extent Rodgers, to any of the cheaper options. But I know some of you like to get your cheap freak on when it comes to quarterbacks and I can't say I totally blame you. There are some other options, especially on DraftKings where the pricing has a greater disparity.

Derek Carr FD 7300 DK 5500
Opponent DET
Proj Points FD - 16.6 DK - 16.7

Carson Wentz FD 7400 DK 5700
Opponent CHI
Proj Points FD - 16.87 DK - 17.64
The Raiders have one of the higher totals on the slate at home against the Lions. It makes sense seeing as how the Lions have allowed, on average, the most opponent offensive plays this season. Carr doesn't run at all which we hate for cash games, but could be able to make it up from a volume perspective. That alone keeps his floor on the higher side. He's also been efficient enough over the last three weeks completing 72% of his passes with five touchdowns an just one interception.
Meanwhile, Wentz gets a Bears' defense this week which doesn't feel amazing on paper. But I do think there's upside on this DraftKings' price. He's rushed 14 times over the last three weeks with 70 total yards on the ground. This isn't an insignificant number. And it's trending like the Eagles will get Desean Jackson back from injury this week. Wentz's best game of the year was in Week 1, the only week Jackson played. The former finished with 313 yards and three touchdowns in a win over the Redskins. Having Jackson as a deep threat does open things up in a big way for Wentz.
Running Backs

Dalvin Cook FD 9000 DK 9500
Opponent KC
Proj Points FD - 22.97 DK - 24.92
The NFL's new safest running back? Cook had 29 plays drawn up for him against the Redskins, and turned that into 171 yards and a touchdown. The previous week he had 27 touches for 149 yards and two touchdowns. The Vikings have been absolutely clear that they aren't going to be shy about giving him a huge workload, even when the game is relatively decided. He has a fun match-up with the Chiefs this week, who have the 5th worst DVOA against the run this season. With Mahomes' status still in doubt as of this writing, this game could have anywhere between a 2.5 point and 7 point spread, but nonetheless Cook should be prominently involved against a team that's just so much worse against the run than they are against the pass.
Le'Veon Bell FD 7000 DK 7700
Opponent MIA
Proj Points FD - 18.02 DK - 20.37
Don't shoot the messenger! Yes, we've been wrong on Bell before, but if there were ever a time to play him, it'd be against this embarrassing Miami team, right? Miami has the second worst DVOA in the league against the run, the worst defensive DVOA overall in the 2010s, and are fresh off of blowing a 14 point lead to Bell's ex-teammates on Monday night. While Bell hasn't maintained the same breakneck workload he had early in the season, he's still being featured prominently in the running and passing attack when the game isn't out of hand, and while that can be a problem for his terrible team, the match-up dictates otherwise this week. The Jets are 5.5 point favorites this week, and with Darnold banged up, I just have to think that this is Bell's game. He's just still so cheap, and the upside is too real.
Jaylen Samuels FD 5000 DK 4000
Opponent IND
Proj Points FD - 11.53 DK - 13.12
With Conner hurting his AC joint and back-up Benny Snell exiting Monday night's game with a knee injury, it sure looks like it's going to be Samuels' show in week 9 against the Colts. He was questionable to return against the Dolphins, and almost played. The knee scope was supposedly successful, and it seems like a matter of time for Samuels. He hasn't exactly lit the world on fire on the ground this season, but the 8 catches for 57 yards against the Bengals earlier this season were promising. This is mostly an opportunity play. If he's the only guy left that knows the playbook, it will be hard to justifying giving the job to anyone else here. The Colts' defense has been smoke and mirrors this season as well, and they've put together the fourth worst DVOA against the run this year. If Samuels gets the green light here he could be the mostly highly owned play on the slate.
A quick note on Chris Carson and Christian McCaffrey: If you haven't been following the advanced stats, it might look like this is the week to grab these two against what are traditionally not so scary match-ups with Tampa Bay and Tennessee. Well, TB and TEN rank 1st and 3rd in DVOA against the run, respectively, so I'm going to pass this week.
Wide Receivers
This is a weird week for wide receivers on the main slate. For starters, there's so much excellent upper and middle tier value at running back that I don't think paying up for any of the WR options is going to make any sense at all. You just lose so much safety going expensive at this position on this slate.
Secondly, five of the six most targeted per game receivers this season aren't playing on the main slate. That means we aren't even seeing most of the big volume guys anyway. With all of this in mind, let those other outfits recommend the most expensive receivers in cash. Not us. Let's sniff out some value.

John Brown FD 6200 DK 6100
Opponent WAS
Proj Points FD - 12.12 DK - 14.11
Brown was a borderline cash game play in Week 8 until the wind in Buffalo reared its ugly head blowing in off the lake and we had to downgrade the whole passing game. The price has actually come up a bit on both sites in the short term though I'm much more inclined to roll with the FanDuel price than the DraftKings one. He's doesn't see enough target volume to really get there in full PPR, but the big-play ability does lend itself a bit better to FanDuel scoring. Among players with more than 40 targets this season (61 total), Brown ranks 8th in yards per target which lends some credence to the upside. He'll draw some Josh Norman on the outside who's had a rough season and the Redskins in general are just kind of a mess. Again, the theme here is getting some mid-tier value to pay up for the running backs.

D.J. Moore FD 5400 DK 4800
Opponent TEN
Proj Points FD - 12.86 DK - 15.13

Curtis Samuel FD 5600 DK 4300
Opponent TEN
Proj Points FD - 10.33 DK - 12.3
Both Moore and Samuel are coming in the mid-$5K range on FanDuel and sub-$5k on DraftKings. That's not not bad considering both have had solid target share over the short term. Moore's seen 9, 10 and 8 targets over the last three weeks while Samuel's targets are 11, 6, and 6 in that stretch. That's coincided with a slight dip in Christian McCaffrey's usage over that time with defenses possibly keying in on that part of the Panther's game. Both have advantageous matchups against the Titans outside CBs Malcolm Butler and Leshaun Sims and should be able to exploit some downfield opportunities. That being said, the Panthers' passing game doesn't take a ton of deep shots, but the prices on both guys maintain a suitable floor at their current DK price points.

Terry McLaurin FD 5700 DK 6200
Opponent BUF
Proj Points FD - 12.36 DK - 14.26
One day Terry McLaurin will have a real quarterback and we'll really get to see what he can do. For now, he's had to make the best of a Case Keenum situation. Outside of the rain-soaked game against the 49ers in Week 7, McLaurin is averaging 7.3 targets per game and among players with more than 40 targets this year ranks seventh in average intended air yards per game. Washington will target him down the field and he's turned that opportunity into five touchdowns so far. I love the FanDuel price in the sub-$6K tier and think he sees real ownership on this slate in cash games.
Some other considerations
I think you'll see some ownership on Chris Godwin considering he's one of the few elite wide receivers playing on this slate. I don't love the matchup and would rather prioritize running backs, but if say Jaylen Samuels becomes the chalk play then you will have some extra cash to spend.
Tyrell Williams and Mike Williams are right up there in average intended air yards and coming pretty cheap on both sites.
Tight Ends
Jonnu Smith FD 5500 DK 3800
Opponent CAR
Proj Points FD - 9.07 DK - 11.05
No tight end had double digit targets in week 8. None. So how do we navigate a position that essentially doesn't have safe plays? We look for cheap value. Smith actually saw some cash game ownership last week, which I thought was pretty insane when I first saw it. Well, he went out and proved me wrong, cobbling together 6 catches for 78 yards and a touchdown on 7 targets. With Walker likely sidelined against this week, Smith could wind up being the highest owned tight end on the week, particularly on DraftKings. You'll want to pay close attention to the Walker news, though, as Smith will likely disappear entirely once Walker returns. Still, at a position where safety seems to not exist, it can't be too wrong to just take the savings, even in a tough match-up with Carolina's pass defense.
Darren Waller FD 6800 DK 6300
Opponent DET
Proj Points FD - 14.43 DK - 16.84
If Walker returns, things get ugly in sort of a hurry. When in doubt this season, it usually hasn't been too wrong to go with Darren Waller. The Raiders' emerging tight end has 7 or more targets in all but one game this season, and with 3 touchdowns in the last two weeks, he's also the Raiders' primary scoring threat not named Josh Jacobs. Detroit has ranked in the bottom half of the league against the pass this year, but honestly, it's just a war of attrition at the position this year, and Waller might be one of the last men standing.
The rest: There has been a small group of playable tight ends this season, and most of them were okay in week 8. Evan Engram, Austin Hooper, and George Kittle all received 7 targets and scored between 8.5 and 12.6 fantasy points. That's about what you expect from high end tight ends this season, which includes Waller. Tyler Eifert got 9 targets, which led the position in week 8. Well, none of those three guys are on the main slate this week, so you're left with some pretty slim pickings.
A quick word on Noah Fant: He got 8 targets. He turned those into 5 catches for 26 yards. Those incredibly low yards per catch and yards per target numbers haven't applied to the whole season, though, so if you think he can keep the target share while adding a few more yards per target, he is a playable option as well.
Defense / Special Teams
Bills FD 5000 DK 3800
Opponent WAS
Proj Points FD - 9.08 DK - 9.08
Jets FD 4600 DK 3500
Opponent MIA
Proj Points FD - 7.45 DK - 7.45
The weekly question at daily fantasy defense this year has been: "Who is playing the Dolphins and Redskins, and can we afford them?" Well, here are your answers. You're paying a premium whenever you grab a defense against these god-awful squads, but it's often been worth it. The Jets and Bills might fall in the "underrated defenses" categories as well, rankings 11th and 12th in the NFL in DVOA, respectively. If I had to pick one I'd probably go with the Bills. Yes, you're paying a little bit more, but the Redskins are also projected to score 5 fewer points than the Dolphins, and the potentially tough weather in Buffalo could sweeten the deal as well. All in all, it will be tough to go too wrong either way you go here.
Panthers FD 4000 DK 2800
Opponent TEN
Proj Points FD - 8.04 DK - 8.04
Since you don't always get to pay up at every position, it's good to consider a good budget option as well. Carolina has flexed the third best defensive DVOA this season, and while much has been made of McCaffrey's MVP case and Kyle Allen outplaying Cam Newton, this defensive unit is the real MVP this season. And yes, they just gave up 51 points to the underrated 49ers offense. But this match-up ain't against the 49ers. The four worst teams in the NFL in terms of offensive DVOA are unsurprising: the Dolphins, Redskins, Bengals, and Jets. The 5th worst? Your Tennessee Titans. Remember, the short memories of DFS players is why we can get value in situations like this. Last week this would have been the easiest defensive play on the board, and one tough week shouldn't change that.
GRAB A FREE TRIAL OF OUR PROJECTION SYSTEM, AND CHECK OUT DFSR PRO!
image sources
Russell_Wilson_vs_Jets,_November_11,_2012: By Larry Maurer [CC BY 2.0 (http://creativecommons.org/licenses/by/2.0)], via Wikimedia Commons
FREE EBOOK
SECRETS TO CRUSHING DAILY FANTASY FOOTBALL!
DON'T SET ANOTHER LINEUP BEFORE YOU READ THIS BOOK.