Basketball Picks Daily Fantasy
Expert Advice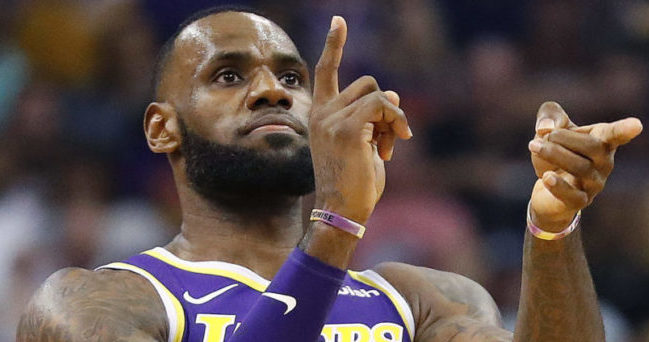 FanDuel NBA Picks and DraftKings NBA Picks - Tuesday, 10/29/19
After a crazy Monday slate that saw some late scratches, big lines and really everything we'd want from a full night of basketball, we get this slate. Which is, um, worse. There are only three games spread out over three hours with some superstars but very little value (as of this writing). Let's take a look at some of the options.
Head on over a for your chance to get DFSR PRO, which will give you access to our NBA FanDuel and DraftKings optimizer, our NFL Optimizer and NHL Projections as well. Plus our new player lab! Get started for free by clicking the button below.
First time with NBA or NFL? Be sure to read our free NBA and NFL Ebooks on building lineups, general strategy and more. We've got you completely covered.
Point Guard

Luka Doncic
FD
- $10400
DK
- $9500
Opponent -
DEN
Proj Pts
FD
- 47.7
DK
- 49.65

Jalen Brunson
FD
- $4500
DK
- $4500
Opponent -
DEN
Proj Pts
FD
- 18.63
DK
- 19.28
Ready for the leap? We are there with Doncic who's taken another step forward following a season in which he basically had it all put together already. Dude has come out of the gate doing almost everything for the 2-1 Mavericks. He's averaging 29 points, 10 rebounds, seven assists and two steals through the first three and you could even argue he's running a little bad from beyond the arc at 31%. Dude is a triple-double threat every game not and isn't priced like one yet. It's really something. The Nuggets aren't a great matchup here though, playing a slower pace as one of the better defensive teams in the league. That being said, we are getting enough value on Doncic to roster him, especially on
DraftKings
where we'll have to make some tougher decisions around the more expensive plays.
Meanwhile, Brunson is a consideration mostly because he's cheap and playing acceptable minutes on a slate where we are going to need all the savings we can get. With Doncic and Porzingis handling almost all of the offensive output for this team, with Brunson we are mostly hoping he'll pick up enough stats along the margins. It's not a sure thing, but the risk is fine considering the options on this slate.

Jamal Murray
FD
- $7600
DK
- $6600
Opponent -
DAL
Proj Pts FD - 35.76 DK - 36.97
This is a small slate that will probably have us focused on a bit more of a stars and scrubs approach. That being said, there are a couple of a middle tier value plays out there. Though technically a point guard, Murray is more scoring dependent than most at his position. With Jokic running the offense often from the top of the key (and elsewhere) Murray is a catch and shoot offensive talent who can heat check with the best of them. But you are going to live with the floor if the shot isn't there/isn't falling. The Nuggets are on the back-to-back here so there's concern with losing minutes, but Murray isn't the kind of rest candidate we typically worry about.
Shooting Guard

Dillon Brooks
FD - $4700 DK - $4100
Opponent -
LAL
Proj Pts FD - 22.47 DK - 22.69
It's tough to trust coming out of the minutes on Memphis these days with the team probably going through the motions this season. But they are coming off a buzzer-beater overtime win against the Nets on Sunday so maybe there's a little wind in their "trying to win" sails. The theme on Brooks here is that he isn't overly expensive on a night when we'll want to prioritize some of the bigger names on the slate. The Lakers are playing a slower pace this season, so we won't get above average volume on the Grizz, But Brooks is getting up more than 11 shots per game in the first three, knocking down threes (50% which will come down) and throwing in the occassional defensive stat. Considering the Lakers are trying to play with a few more wings, I do think we get Brooks some more minutes because of the defensive matchup.

Danny Green
FD - $5500 DK - $4400
Opponent -
MEM
Proj Pts FD - 23.49 DK - 23.63
Green has lost minutes in each of the last two games but there's some context. He was in foul trouble against the Jazz and then the Lakers blew out the Hornets. I do think the plan is to play him around 30 minutes a game. The Lebron-led offense does get wings decent three point looks and Green is shooting 53% from beyond the arc in the first three games. That's some run hot but he did shoot 46% fron downtown last season. The
DraftKings
price is close to a must on this slate and there's significant upside if both the shot is falling and he chips with the defensive stats (1.7 steals per game this season).
Other Thoughts
It will be interesting to see the ownership on
Jimmy Butler
(FD $9000 DK $7700) in his first game as member of the Heat. He missed the first couple of games because of the birth of his daughter. Now he's a candidate to play a ton of minutes with great usage against the Hawks. I suspect he's a fairly high-owned
DraftKings
' play at the sub-$8K price tag.
Small Forward

LeBron James
FD - $11300 DK - $9700
Opponent -
MEM
Proj Pts FD - 56.03 DK - 57.01
The ground and pound Grizzlies you might have remembered are a thing of the past. This newest iteration is young, bad on defense and play at a much faster pace. Through the first five games of the season Memphis is playing the fourth-fastest pace in the league with a defensive efficiency below average. The minutes leash is off for Lebron to start the season and he's making the most of it from a fantasy angle averaging 23 points, 10 rebounds and eight assists through the first three games. The defensive starts aren't there and won't likely be there going forward considering he does take some time off on that end of the court. But this is a high floor game for him and
Anthony Davis
who we'll get to shortly.

Will Barton
FD - $5000 DK - $4600
Opponent -
DAL
Proj Pts FD - 26.9 DK - 27.23
A weird, 21-minute, overtime game against the Suns aside, the Nuggets plan with Barton is to start and play minutes in the lower 30's. The Nuggets' offense spreads things around, exploiting matchups with Jokic facilitating much of the action. That means guys like Barton who actually do play well on ball will sometimes have to "wait for a turn". But that also keeps his price relatively in check.
Power Forward
Bam Adebayo
FD - $7800 DK - $7000
Opponent -
ATL
Proj Pts FD - 39.4 DK - 39.73
He is firmly entrenched as the full minutes center for the Heat and returns have been fantastic to start the season. Dude is averaging 15 points and 11 rebounds and the minutes are ultra safe. What's interesting is that Atlanta isn't the defensive pushover they were last season. Through the first week or so, they are playing a rather slow pace and have actually been decent from a defensive efficiency standpoint. But with
Alex Len
and
John Collins
underneath, I think Bam makes for a safe play on this short slate.

Jaren Jackson Jr.
FD - $7400 DK - $6400
Opponent -
LAL
Proj Pts FD - 36.1 DK - 35.04
After a season of starts and stops for the sensational rookie, it looks like Memphis wants to get JJJ about 30 minutes (plus) a game this year. And if the dude can hang that long then he could easily outstrip these prices. He's gone 17 points and seven rebounds to start the season including a foul-shortened 24 minutes against the Nets on Sunday. If the full run is there then this is a fairly straight forward play. The issue is the fouls. He'll likely be matched with
Anthony Davis
for most of his court time and that's a tough sell for Jackson who is an excellent, but aggressive, defender. I'm more willing to take the risk on Jackson on
DraftKings
where the price is a bit more reasonable. But
FanDuel
is compelling mostly because we need to start two power forwards and
Anthony Davis
is incredibly expensive on a night with (as of right now) few punts.
Other Thoughts
The aforementioned
Anthony Davis
(FD $12300 DK $10300) is such a steep price on
FanDuel
. We might just be in a numbers crunch there unless some cheap value opens up. On DraftKings, it's much more palatable.
Center
Oh man, center is a complete disaster on this slate. There isn't (as of this writing) a single guy I'm willing to make a compelling case for. So, in the vein of being a coward, I'll just go through a bunch of the options with a quick note about why they scare me.
The Lakers
JaVale McGee
(FD $4000 DK $3800) starts and playing limited minutes.
Dwight Howard
(FD $5300 DK $5000) had a "back from the dead" game on Sunday. If he were to enter the starting lineup, then sure, but $5K+ for a washed
Dwight Howard
off the bench is a bridge too far for me.
The Starters Who Don't Play
Meyers Leonard
(FD $3500 DK $3300) starts but barely plays. It's the same for
Jonas Valanciunas
(FD $6200 DK $6300) who would be the play if we could get the dude to like 25 minutes, but that isn't the Grizzlies' plan.
Alex Len
(FD $5000 DK $4300) is also in this group. Having fun yet?
The Expensive Guy
Nikola Jokic
(FD $10700 DK $10000) will get some consideration mostly because everyone on the list above will make everyone want to puke. But considering all of the other expensive plays on this slate, spending up for Jokic on the second half of a back-to-back doesn't feel like the play. That being said, if you think Joker gets limited then
Mason Plumlee
(FD $3800 DK $3400) would pick up some of the slack.
This will all be a situation to monitor leading into gametime. Some news could open things up with a random sit or switch in a starting lineup. In the end, the cheaper the better is probably the play.
GRAB A FREE TRIAL OF OUR PROJECTION SYSTEM, AND CHECK OUT DFSR PRO!
FREE EBOOK
SECRETS TO CRUSHING DAILY FANTASY FOOTBALL!
DON'T SET ANOTHER LINEUP BEFORE YOU READ THIS BOOK.