Basketball Picks Daily Fantasy
Expert Advice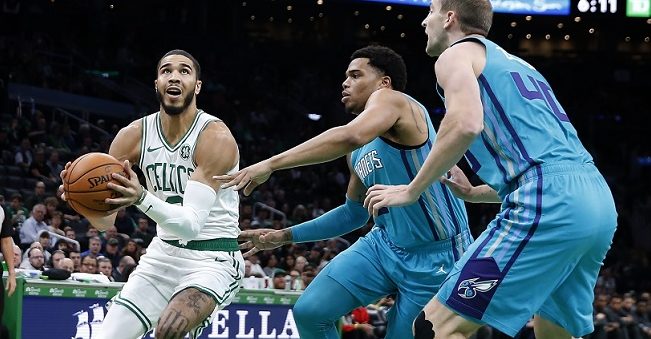 FanDuel NBA Picks and DraftKings NBA Picks - Thursday, 11/7/19

After a huge Wednesday slate with a lot of injury news, Thursday's prime time slate is looking quite a bit more relaxed. There isn't any real blowout risk on this slate, but there aren't a lot of games with huge totals, either, so it looks like it's going to be a pretty straightforward trip to value town. Let's get to it.
Head on over a for your chance to get DFSR PRO, which will give you access to our NBA FanDuel and DraftKings optimizer, our NFL Optimizer and NHL Projections as well. Plus our new player lab! Get started for free by clicking the button below.
First time with NBA or NFL? Be sure to read our free NBA and NFL Ebooks on building lineups, general strategy and more. We've got you completely covered.
Point Guard

Ricky Rubio FD - $7000 DK - $6700
Opponent - MIA
Proj Pts FD - 32.14 DK - 32.57
Rubio appears to be just what the doctor ordered in Phoenix this season, as the Suns are tearing up a seriously good Western Conference with him as the field general. He's been good for 13/6.5/8.5 so far this season, and is packing a solid floor thanks to his across the board contributions. Miami has been tough defensively this season, but their top 10 pace should make up enough of the difference, particularly when you consider how thin point guard is over all.

Patrick Beverley FD - $5300 DK - $4900
Opponent - POR
Proj Pts FD - 28.18 DK - 27.87
I don't want to overstate things, but wasn't Patrick Beverley put on Earth specifically for match-ups like this? He can cover every single guy on Portland who is capable of scoring (outside of Whiteside I guess), and his ability to switch all over and cause havoc on the defensive end should mean he gets his standard 32-33 minute rotation here. Again, point guard is very tough on this four game slate, and your options are basically to go cheaper with Beverley or overpay for someone who either doesn't consistently hit value on their current price or someone in a tough match-up. I think Beverley is a pretty high floor way to sneak away from a tough position.
Also considered: Damian Lillard, though I'm not sure point guard is where you want to be spending up.
Shooting Guard

Jimmy Butler FD - $9300 DK - $7200
Opponent - PHO
Proj Pts FD - 41.54 DK - 39.45
Okay, so I realized as I was picking players for shooting guard that it's pretty likely that every position is going to be tough tonight. I still think we are in a position to buy pretty low on Butler here. It's not that the price is low, necessary, it's just that it could be so much higher if a couple things had broken differently this season. First of all, the Heat have played in back to back blowouts, which has killed Butler's minutes. Second of all, Butler is shooting an atrocious 35% from the field in spite of shooting within a single percentage point from 46% in every year since 2013. The shooting will return, and so will the minutes, and the fact that he's averaging more boards and assists than he has in the past means the future is looking pretty bright. Phoenix has played a lot better on defense this year, but they are playing the 11th fastest pace, and I don't think they can scare us off Butler here.

C.J. McCollum FD - $6400 DK - $6100
Opponent - LAC
Proj Pts FD - 33.16 DK - 34.48
It's been a slow start for McCollum so far, but we've been down this road before. We know that when things are going normally he's a $7,000-$7,500 player, and like Butler, some bad shooting luck so far means he's due for some positive regression sometime soon. I'm a little concerned about the match-up, but I strongly believe that Beverley will be on Lillard duty for the most part, which could open up CJ for his first huge night of the season.
Small Forward
Kelly Oubre Jr. FD - $6500 DK - $6000
Opponent - MIA
Proj Pts FD - 33.47 DK - 32.99
Oubre isn't sneaking up on opposing teams anymore, but he's bringing such a great package to the table for the Suns that he can operate in really any role he's given. He improved marginally upon getting acquainted with the Suns' offense last season, and this year things are getting even better, with him shooting 48.4% from the field and a career best 35.7% from three. His rebound rates have translated with the higher playing time as well, and getting the extra rebound a game doesn't hurt matters either. As with many positions today we're short on high floor options, and grabbing a reasonably high volume shooter in a game that Vegas sees as a 1.5 point game is about all we can ask for on a slate like this.

Gordon Hayward FD - $7400 DK - $7300
Opponent - CHA
Proj Pts FD - 36.76 DK - 38.04
The price is rising rapidly on Hayward, but for good reason. He finally looks comfortable playing in Boston, and I think a lot of that has to do with him being surrounded by a supporting cast that better reminds him of his Jazz days. Kemba just seems like an obviously better fit for Boston's point guard needs, and his willingness to defer to Hayward more often (and find him open looks) has done wonders for Hayward's fantasy value. Hayward is currently sitting on career highs in rebounds and assists per game, and has his second highest points per game on his highest ever field goal percentage. A shooter like him can't maintain a 56.5% field goal percentage for the whole season, but at the very least it speaks to the better looks he's getting this year. He's also got the best match-up of the day in Charlotte, and you should see heavy ownership on him here.
Also considered: Rodney Hood, if you believe in the minutes he played against Golden State.
Power Forward
Bam Adebayo FD - $8400 DK - $7000
Opponent - PHO
Proj Pts FD - 45.74 DK - 46.1
Like Butler, Bam is looking far too affordable on DraftKings thanks mostly to being involved in back to back blowout games. Bam looks super comfortable in his starting role, and with Whiteside gone for good the Heat have fully unleashed him on 35+ minute rotations when the game script permits. While Baynes is a solid defender, the other bigs in Saric and Kaminsky stand no chance to match Adebayo's physicality down low, and it's very hard to imagine Bam putting up fewer than 40 fantasy points if this game is reasonably close.

Jayson Tatum FD - $8000 DK - $7800
Opponent - CHA
Proj Pts FD - 40.88 DK - 41.66
Daniel Theis FD - $4900 DK - $5600
Opponent - CHA
Proj Pts FD - 29.95 DK - 28.32
Boston stacks will be hugely popular today, and I think it makes perfect sense to prioritize these two power forwards. Charlotte has had a hell of a time against opposing bigs this season, and they've been experimenting (successfully, somehow) with smaller lineups that are more offensively focused. This should be to the benefit of both Theis and Tatum, who are both locked into rotations that should give them plenty of time to pay these prices. Tatum has been a little questionable in terms of his production so far this year, but I'm a big believer in what he can do given that he's gotten such a big jump in shot volume (and in particular the 7 threes he's shooting per game).
Center
Aron Baynes FD - $6800 DK - $5800
Opponent - MIA
Proj Pts FD - 33.63 DK - 34.09


Montrezl Harrell FD - $6900 DK - $6200
Opponent - POR
Proj Pts FD - 34.54 DK - 33.81
This is a little game of "Who even qualifies at this position?" on FanDuel. I think there are cases to be made for both Whiteside and Leonard, but if you know me, you'll know that I prioritize consistent opportunity over everything else. If Leonard is sometimes going to play 15 minutes in blowouts, I just don't want him in my cash games. The difference between getting Whiteside for 28 minutes or 24 is just monumental, and the sites are going to have a difficult time pricing him in such a way that he's attractive for cash games.
So, we're left with Baynes and Harrell. Baynes' price has been skyrocketing, especially after his 60(!) fantasy point outburst against the Warriors. Harrell has been more on the slow and steady plan, but he brings the Clippers such a unique angle of attack that his 28-32 minutes seem locked in stone. I think either is a fine place to start with your cash games, though I'd lean Baynes since I think he has the better match-up against Leonard and company.
GRAB A FREE TRIAL OF OUR PROJECTION SYSTEM, AND CHECK OUT DFSR PRO!
FREE EBOOK
SECRETS TO CRUSHING DAILY FANTASY FOOTBALL!
DON'T SET ANOTHER LINEUP BEFORE YOU READ THIS BOOK.