Basketball Picks Daily Fantasy
Expert Advice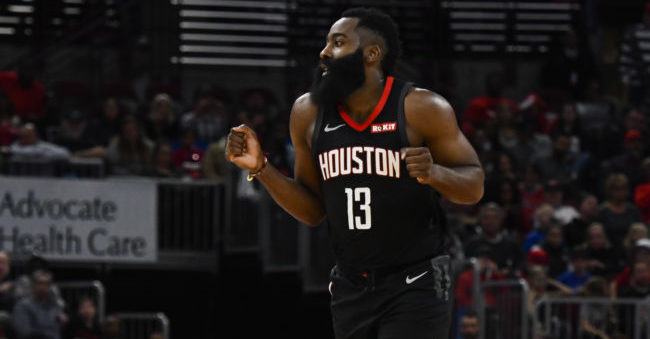 FanDuel NBA Picks and DraftKings NBA Picks - Monday, 11/11/19
It's a six-game Monday slate of hoops action
FanDuel
and
DraftKings
.
Head on over a for your chance to get DFSR PRO, which will give you access to our NBA FanDuel and DraftKings optimizer, our NFL Optimizer and NHL Projections as well. Plus our new player lab! Get started for free by clicking the button below.
First time with NBA or NFL? Be sure to read our free NBA and NFL Ebooks on building lineups, general strategy and more. We've got you completely covered.
Point Guard

Russell Westbrook
FD
- $9900
DK
- $8800
Opponent -
NO
Proj Pts
FD
- 56.65
DK
- 59.15
Getting traded to the Rockets didn't do anything to help Westbrook's efficiency (or lack thereof). The guy is actually moving in the wrong direction when it comes to his shooting, now down to 20% from three on more than four attempts per game. It remains to be seen how long the Houston brass allows that to continue, but for now even sharing a court (to some degree) with Harden has only moderately cut into Russ's usage. He's still getting up 17 shots per game and while not averaging a triple-double per game anymore, isn't too far off. The 21 points, nine rebounds and 7.6 assists do more than get the job done at these prices and he's a pretty straightforward
DraftKings
play at minimum. The Pelicans are an awesome matchup for DFS purposes and stacking Westbrook and Harden together here is likely the move.

Dejounte Murray
FD
- $6700
DK
- $6000
Opponent -
MEM
Proj Pts
FD
- 35.61
DK
- 34.46
Just when we thought we might see the minutes restriction finally tick up (or go away completely) for Murray after seeing 26 against the Thunder on Friday, he was right back to 24 on Saturday. But few other dudes do more with less run than Dejounte and he's almost in a per-minute class or his own when it comes to guards. He rebounds the position about the best in the game at eight boards per in only 23 minutes. And he can get to the rim to score and finish. The lack of overall opportunity (court-time wise) is the only thing keeping the price in check and he can hit
DraftKings
value on that number in his usual run. This is a volume-up game against a Grizzlies team running a top-6 pace and playing the 27th ranked defensive efficiency.
Other Thoughts
I don't mind the price on
Mike Conley
(
FD
6800
DK
6200) against a bad and tanking Golden State team but I'm a bit worried about the blowout there.
Shooting Guard

James Harden
FD - $12000 DK - $11500
Opponent -
NO
Proj Pts FD - 65.19 DK - 68.15
After struggling some to start the season, especially from beyond the arc, Harden has rounded back into form of late. He's dropped 36 or more in each of the last three games and is averaging eight rebounds and nine assists in that stretch as well. The somewhat scary thing is that he's averaging the most points in the league (37.1) which is about four more per game than the next closest guy (Lillard) and is still shooting *only* 30% from three on the season. There is actually some room for growth upward on Harden's scoring. His 14.4 three-point attempts per game are easily the most in the league and while his overall time of possession (8.2 minutes) ranks fourth. Against this top-pace, bottom-defense Pelicans' team Harden makes for a pretty easy spend up option in cash on Monday.

Jaylen Brown
FD - $6400 DK - $6300
Opponent -
DAL
Proj Pts FD - 34.34 DK - 34.46

Marcus Smart
FD - $5400 DK - $5400
Opponent -
DAL
Proj Pts FD - 28.04 DK - 27.61
Gordon Hayward
can't buy any injury luck and just when the dude was looking fully recovered from the leg injury and returning to his near-elite status he suffers a hand injury and will miss about a month of action. That should open up both playing time and usage on the wings for the Celtics in the short term at least. He was averaging the third-most minutes and shots for this team behind
Kemba Walker
and
Jayson Tatum
. The clear 1:1 (or 2:1 in this case) uptick in opportunity should go to Brown and Smart. I suspect the latter draws the start in Hayward's place and both should be locked into mid-30's or higher minutes. Over the last season plus (when filtering for
Kyrie Irving
as well which I understand isn't perfect) Brown has the second-highest usage on the team with Hayward off the court. Smart sees an uptick as well. Adding
Kemba Walker
to the mix of course doesn't make this a clean stat, but it does speak to some of Hayward's usage going directly to Brown and from a top-level view this makes quite a bit of sense. Mostly, I feel like the minutes are ultra-safe on both of these guys now and like them as plays against a 19th-ranked Dallas team.
Other Thoughts
I don't mind
J.J. Redick
(FD 4500 DK 4700) as a GPP-flyer if he catches fire from three again like he did last game when spot-starting for the injured
Lonzo Ball
.
Fred Vanvleet
(FD 6900 DK 6900) played nearly 40 minutes and took the second-most shots for the Raptors on Sunday against with
Kyle Lowry
out of the mix.
Small Forward

Kenrich Williams
FD - $3900 DK - $4300
Opponent -
HOU
Proj Pts FD - 24.75 DK - 24.43
We started an underowned
Kenrich Williams
in cash on Saturday when the Pelicans moved Melli out of the starting lineup. Williams didn't disappoint with a 15 point, five rebound, three assists game while adding in three blocks+steals. I suspect he sticks in that role against the Rockets on Monday and the price barely moved on the guy. He'd make for an easy cash game punt play in an effort to fit in some of the bigger money guys listed above. Williams has a higher floor because he's shown the ability to contribute across the stat line when given the minutes and the price won't kill you. Small forward is a weaker position on this slate making the decision even that much easier assuming New Orleans sticks with the same starting lineup which I think they will against smaller Rockets team.

Brandon Ingram
FD - $8800 DK - $7800
Opponent -
HOU
Proj Pts FD - 47.22 DK - 48.85
I'm putting Ingram after Williams because of the price mostly. If Harden and Westbrook become something of the priorities on this slate, then you get into a salary crunch on guys like Ingram. He had a nightmare turnover game on Saturday, giving the ball over seven times in 36 minutes. But he still managed to drop 25 points and nine rebounds. The matchup against the Rockets is one of the best you'll find in DFS considering they are the 25th-ranked defense and playing the league's fastest pace. Ingram probably ends up more of a GPP play because of the volatility but we have seen him put it all together for games this season when things are clicking.
Other Thoughts
If
Jeff Teague
remains out then I think we are still getting okay prices on
Jarrett Culver
(FD 3800 DK 4800) in the starting role and
Josh Okogie
(FD 4000 DK 4700) coming off the bench. The latter has actually been getting a bit more run even after leaving the starting lineup and could even be the safer play of the two.
Power Forward

Jayson Tatum
FD - $8100 DK - $7500
Opponent -
DAL
Proj Pts FD - 43.41 DK - 44.15
Daniel Theis
FD - $4800 DK - $5000
Opponent -
DAL
Proj Pts FD - 24.75 DK - 23.96
At the risk of being too Boston-heavy, it really does make that big of a difference to lose
Gordon Hayward
at this point. Tatum is already seeing season-over-season improvements across the board with his game. He's averaging more minutes and with it more points (21 per game), rebound (7.6) and steals (1.8) all while shooting a career-best 44% from beyond the arc. I like him on near lock for 35-36 minutes per night which was far from a sure thing in the last couple of seasons. He's a bit pricey on
FanDuel
but I like the floor in this matchup against the Mavs.
Additionally, what looked like a three-man competition for the Celts' starting center gig between Theis, Kanter and
Robert Williams
appears now Theis's to lose. With Kanter on the shelf and Williams dealing with some injury, the big guy is seeing around 25-29 minutes per game (which fluctuates some on foul issues) and is averaging enough production to get the job done at the prices. More a
FanDuel
play than
DraftKings
because of the double PF situation on the former, Theis makes for a fine plug and play.
Derrick Favors
FD - $5300 DK - $4700
Opponent -
HOU
Proj Pts FD - 25.31 DK - 25.49
Favors entered the starting lineup on Saturday against the Hornets after working his way back from injury and seeing a cap on his minutes. Those days might be behind him (for now) with him running 29 minutes against Charlotte and putting up a double-double with 10 points and 10 rebounds. At a weaker power forward position, I don't mind grabbing Favors here in a plus matchup. I am a bit concerned he struggles with Capela and the Pelicans decide to go with a slightly bigger lineup at center. Favors doesn't have great upside on the minutes as it is with the injury concerns so I don't think he's anything more than a borderline cash play but that's enough at power forward on
FanDuel
.
Center

Karl-Anthony Towns
FD - $10800 DK - $10000
Opponent -
DET
Proj Pts FD - 54.98 DK - 57.61
It's not lost on me that I've written up a lot of expensive guys for this cash game article. You won't be able to fit them all. In the end, I'd prioritize Westbrook and Harden over Towns for cash, but it's close. And that's because the latter is putting up monster numbers this season. He was already a superstar but has now added volume three-point shooting to the repertoire. Karl-Anthony Freaking Towns is shooting threes at a top-ten clip this season and is the only big man in that group. It's led to an uptick in per minute scoring and he should be able sustain this somewhat newfound *skill*.

Chris Boucher
FD - $4100 DK - $3400
Opponent -
LAC
Proj Pts FD - 32.77 DK - 29.11
With
Serge Ibaka
out the Raptors find themselves short on bodies in general and definitely shallow on bigs. That meant 24 minutes off the bench for Boucher on Sunday and the dude, for all his starts and stops in the NBA, is definitely a per-minute fantasy guy. He put up 15 points, three blocks and two steals against the the Lakers. The defensive stats were definitely a little run hot considering the minutes, but if anything, the two rebounds were very much on the low side. He's a solid play on DraftKings where his multi-position eligibility makes it easier to fit some of the heftier price tags. I think he'll be a popular play there. He's even a borderline cash play on FanDuel even with only one center.
GRAB A FREE TRIAL OF OUR PROJECTION SYSTEM, AND CHECK OUT DFSR PRO!
FREE EBOOK
SECRETS TO CRUSHING DAILY FANTASY FOOTBALL!
DON'T SET ANOTHER LINEUP BEFORE YOU READ THIS BOOK.