Nascar picks Daily Fantasy
Expert Advice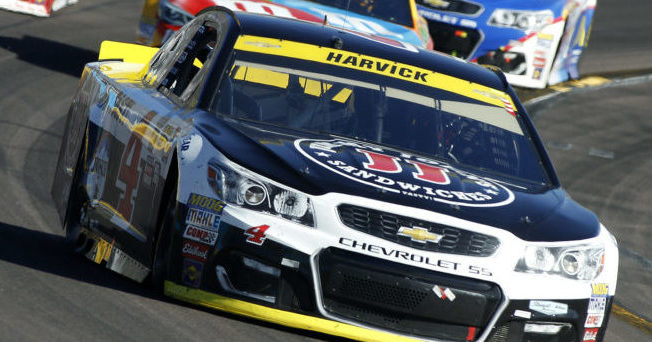 Daily Fantasy NASCAR Race Preview & Picks for DraftKings - Ford Ecoboost 400
Chris Durell will be bringing you his weekly race breakdown, top trends, and pre-qualifying targets to help you cash on DraftKings and FanDuel. You can also grab a copy of his free DFS NASCAR Cheatsheet that includes a ton of stats and a customizable model.
Now's your chance to get DFSR PRO, which will give you access to our MLB optimizer and our new player lab! Get started for free by clicking the button below.
First time with MLB? Be sure to read our free MLB Ebooks on building lineups, general strategy and more. We've got you completely covered.
Ford Ecoboost 400
The 2019 Monster Energy NASCAR Cup Champion will be crowned this week as the series head to Homestead Miami for the Ford Eco Boost 400 on Sunday. Martin Truex Jr, Kevin Harvick, and Denny Hamlin locked up their spots with wins in the last round forcing Kyle Busch to use all of those playoff points he earned as the regular season champ to advance to the finale. Points are now reset and it comes down to one race where the top driver of the four will take home the hardware. This also marks the final time Homestead will be used as the Championship race as the 2020 schedule overhaul has that finale moving to ISM Raceway.
Experience is the name of the game this week and all four drivers check the box making up four of the last six winners at the track. Martin Truex Jr(2017), Kyle Busch(2015), and Kevin Harvick's(2014) wins earned them their first championships with Hamlin coming close in 2010 finishing runner-up to Jimmie Johnson. To cap it off, they all have at least 26 career wins and 167 between them. Get ready for another thrilling race.
Homestead is a mile and half track that is always worked out well as the Championship race as there are multiple lanes to run but don't get fooled as track position and qualifying are huge this week. The correlation from starting to finish position has been over .650 in two straight and four of the last six races here with the winner coming from a Top 5 starting position in five of those six races. I will also be looking to target two dominators in this race with one driver leading 100+ in four of the last six and at least two drivers(3 in 2014) leading 50+ laps in each of the last six races here at Homestead.
Let's jump in and take a look at some track history, track type history, playoff form, and then dive into core plays.
Homestead-Miami Speedway
Track - 1.5 Mile Oval Intermediate
18°-20° of Banking


Last Six Winners at Homestead
2018 - Joey Logano(started 5th)
2017 - Martin Truex Jr.(started 2nd)
2016 - Jimmie Johnson(started 14th)
2015 - Kyle Busch(started 3rd)
2014 - Kevin Harvick(started 5th)
2013 - Denny Hamlin(started 5th)

Track History at Homestead 
I am going to focus on the "Championship Four" in this article and when talking Homestead, it starts with Kevin Harvick. He returns to Homestead with five straight Top 5 finishes including his championship win back in 2014. Going further, he has Top 10 finishes in 11 straight and has only finished outside the Top 10 twice in 18 career races at the track.
Looking at the most recent track history, Martin Truex Jr. stands out ahead of his two teammates.  He finished runner-up to champion Joey Logano last year and won the race for his first career championship in 2017. Overall, his career is tough to judge as he is now with his fifth team in 14 career races here yet he still has Top 10's in nine of his last 13 trips.
Like Harvick and Truex, Kyle Busch returns to Homestead seeking his second championship after winning back in 2015. He has also finished 7th or better in four straight and six of his last seven trips.
While Denny Hamlin is the only driver without a championship, he does have something all three of them don't. Multiple wins here at Homestead back in 2013 and 2009. He hasn't been as good since that last win but still has an 8.0 average finish over the last six races here.
The winner of this final race has also won the championship in five straight years but there is a chance that streak ends in 2019 with a large group of drivers who return to Homestead with excellent track history. It starts with Kyle Larson who has Top 5 finishes in three of six career races here, has yet to finish outside of 15th, and has led a series-high 322 laps over the last three races here. Joey Logano went into last year's championship win with a 6th, 4th, and 4th place finish in the three previous years and led 70+ laps in two of those four. Chase Elliott has finished 11th, 5th, and 7th in his three career races in Cup here at Homestead and while Brad Keselowski has yet to win here, he has finished 7th or better in five of his last six trips.
Track Type History(Intermediate Tracks)
Going into the final race at Homestead we now have a fairly large sample size of the 2019 rules package on the intermediate tracks. There have been 10 races(Atlanta did not use air ducts) so let's take a look at some data that stands out.
Kevin Harvick won Texas a couple of weeks ago and leads all drivers with a 8.7 average finish in the 10-race sample size. Martin Truex Jr. is right behind with a 9.6 average finish which includes wins at the Las Vegas playoff race and the Coca Cola 600 at Charlotte. Denny Hamlin joins Truex as the only other driver with multiple wins(Kansas, Texas 1) in the 10 races but hasn't been near as consistent with just four Top 10's and a 13.7 average finish. Kyle Busch was one of just two drivers with five Top 5's and one of just four drivers with seven Top 10's in the 10 races and despite not winning any of those races, he was second with 367 laps led.
Of the non "championship four", Joey Logano stands out in this area with a win(Las Vegas 1), four Top 5's, six Top 10's, and an 8.9 average finish. Right behind him is Alex Bowman who won in Chicago and had three Top 5's, five Top 10's, and a 9.6 average finish in the 10 races. From a PTS/$ perspective, Kurt Busch has been terrific on the intermediates with the 2019 package. He won at Kentucky in July and is one of the four drivers with seven Top 10's in the 10 races.
Targets
**Both practice sessions were rained out Friday so NASCAR has replaced qualifying on Saturday with one practice session. The starting lineup will be set by the rulebook(owners points)*
Kevin Harvick
My wife is thrilled with this pick as I am a Kyle Busch fan picking her driver to win the Championship. It's tough but I am a data freak(as you can tell by my sheets) and the model has Harvick written all over it. Hard not to like him here as returns to Miami with five straight Top 5's including his championship win in 2014 and he also has Top 10's in 11 straight and 15 of his last 16 here. On top of that, he leads all drivers in the playoffs with a 6.1 average finish with Top 10's in eight of the nine races. Wait, it gets better. He also leads all drivers with 504 laps led and an 8.7 average finish over the 10 races on intermediate tracks with the 2019 rules package. Lock and load in all formats.
Martin Truex Jr.
I hope Kyle Busch proves me wrong but he and the #18 team haven't looked as dominant as we have seen them in the past and he is the most expensive option this week. Instead, I will turn to his teammate Martin Truex Jr. who is the cheapest of the four drivers on DraftKings(FD priced them all the same) but comes with so much more than just that. He leads all drivers with three wins in the playoffs, seven wins on the season, and two wins on the intermediate track this season(tied with Hamlin). He may not have the best career average finish(10.8) here but has been elite lately finishing runner up to Logano last year and won the race and championship in 2017.
Chase Elliott
When looking at the drivers who could stop the streak of the champion winning at Homestead, the list is actually pretty long. Larson has led a ton of laps(322 over lats 3 race) here and has Top 5's in three of his last four races. Joey Logano dominated here last year leading 80 laps en route to victory and has a 6th place finish or better in four straight.
For fantasy this week, I am going with Chase Elliott who is likely going to be a bit lower owned considering this terrible run of three straight finishes outside the Top 30. No driver needs a redemption win more than Elliott who appeared ready to make the next step and get into the Championship Four. Ok, enough narrative let's get to the stats. Elliott has raced here three times in his career with an 11th place finish in his first trip in 2016 followed by a 5th in 2017 and 7th last year. Even if he doesn't win this week a Top 5 finish is excellent value considering he is starting 11th with the second-most PD upside of all drivers over $9K on DraftKings.
Austin Dillon
For value, I will be keying on Austin Dillon in the low $7K range on both sites. It starts with track history as he returns to Homestead where he has raced five times in his career and gotten better trip starting with a 25th place finish back in 2014 followed by four straight Top 15 finishes(11th in both 2018 & 2017). He has also been solid in the playoffs with no finish outside of 24th with five Top 20's in the nine races. He will start 24th on Sunday and at these prices, I will have exposure in all formats.
Below you will find a copy of my DFS NASCAR cheathsheet which includes Track History, Current Form, DraftKings points averages, Track Type History, Practice/Qualifying Ranks and much more.

Chris Durell has been playing Daily Fantasy Sports for five years and fantasy in general for more than a decade. He is an active player in NFL, MLB, NHL, PGA, and of course NASCAR. He lives in Saskatchewan, Canada with his wife and two daughters. You can follow him on Twitter at @Jager_Bombs9 for advice, strategy, answers to any NASCAR questions or how he copes with the winters up north.
FREE EBOOK
SECRETS TO CRUSHING DAILY FANTASY FOOTBALL!
DON'T SET ANOTHER LINEUP BEFORE YOU READ THIS BOOK.