featured Daily Fantasy
Expert Advice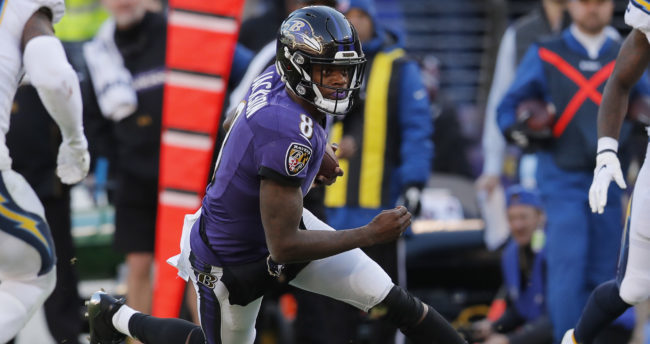 Daily Fantasy Football Cash Game Picks for FanDuel and DraftKings Week 14
Want access to the projections that power these picks? For a limited time we're offering a free one week trial to all the sports that we cover - that's optimal lineups for NFL, NBA, NHL, and MLB - for the same low price. Get started now!
Quarterbacks

Lamar Jackson FD 9000 DK 7400
Opponent BUF
Proj Points FD - 24.82 DK - 24.69
There's no safer fantasy commodity than
Lamar Jackson
at this point. He's averaging the most
FanDuel
points per game, is second on
DraftKings
and his coefficient of variation (Standard Deviation/Average points) is easily the lowest among the top fantasy performances. Depending on how you look at it, he's twice as *safe* as the next closest player this season. It's really pretty ridiculous. Outside of the 11 point fantasy day against the Steelers he's scored 20+ fantasy points every week this season and is in line for another good game even against a tougher Bills' defense on the road in Buffalo. In terms of locking up a good floor, Jackson provides more safety than any other player in the game and there's a lot to be said for that in cash games.

Jameis Winston FD 7700 DK 6400
Opponent IND
Proj Points FD - 20.74 DK - 21.87
Winston had a very un-Jameis-y game in Week 13 against the Jaguars. Sure, he completed 64% of his passes, but failed to go over 300 yards for the first time in seven weeks. He didn't throw any touchdowns, but almost more amazingly he didn't throw an interception either (though there were a few close calls). His 22:20 TD:INT rate is always going to be a concern, but he remains a volume thrower and I do like the floor in this match-up against the Colts. Indy's been an average defense on the season, slightly better against the pass, but the Bucs come in with the fourth-highest implied point total of the Week 14 main slate. I much prefer Lamar obviously, but the savings you get on Winston might be worth it this week if some of the other positional decisions are close.
Gardner Minshew FD 6600 DK 5400
Opponent LAC
Proj Points FD - 16.97 DK - 17.43
Minshew will be back as the Jaguars' signal-caller in Week 14 after
Nick Foles
looked every bit a piece of terrible and was subsequently benched in Week 13. Minshew came in off the bench against the Bucs and honestly didn't look much better. But if we go back to the beginning of November, there's a lot to like on the stat line. In five of his starts, he rushed for 30 or more yards, the 14:5 TD:INT rate is decent and faces a bottom-third defense against the Chargers this week. Minshew's
DraftKings
' price is particularly tempting.
Running Backs

Leonard Fournette FD 7500 DK 7800
Opponent LAC
Proj Points FD - 21.49 DK - 24.15
Fournette was a controversial play going up against the Bucs last week, who are now widely regarded as a "funnel defense" that forces teams to pass to beat them. Fournette had a tough time on the ground, but caught 9 balls for 53 yards on 11 targets. This level of usage is just impossible to ignore, and going from Tampa Bay to the Chargers is an incredible breath of fresh air. Where the Bucs rank 1st in rushing DVOA this season, the Chargers rank 25th, and given that Fournette's price has dropped I'd expect he'll assume the title of highest owned RB this week.
Le'Veon Bell FD 7300 DK 7200
Opponent MIA
Proj Points FD - 16.62 DK - 18.85
Le'Veon Bell saw more ownership than I expected last week, and didn't do a whole lot with it. The snaps have come down since his early season workloads, and he hasn't exactly been effective when he does touch the ball. I'd be ready to swear off Bell entirely, and probably will after this game, but grabbing him at reasonable prices against the Dolphins looks awfully enticing. Miami has the 4th worst DVOA against the run this season, but even more importantly for running backs, they almost always allow their opponents to control the game. I'd guess Bell's touches balloon from 15 to 22ish this game, and in a great spot like this I'd be happy to roster him in cash games.

Devonta Freeman FD 6000 DK 5400
Opponent CAR
Proj Points FD - 14.9 DK - 16.55
Freeman saw 22 total looks on 62 snaps last week, and it looks like the Falcons have finally decided to give him the entire workload. He wasn't exactly effective in his last two weeks against New Orleans, but like the above guys, there are some serious match-up considerations this year. The Saints boast the league's 4th best rushing DVOA. Freeman's opponent this week, the Panthers, rank dead last. With Brian Hill headed back to obscurity (where he likely belongs), I think we see 20+ more touches for Freeman en route to him being a fantastic DFS option on both sites this week.

A note on the expensive guys: Alvin Kamara has San Francisco, and while he should be involved regardless of the game script it's still far from an easy task to pay a $7,600 price tag in a match-up like that. Dalvin Cook was forced from the Seahawks game with a shoulder injury, and while he swears he'll be suiting up this weekend it looks like far from a lock that he'll get his former workload. Paying $9,100 for Derrick Henry seems nuts considering he doesn't catch balls out of the back field.

That leaves us with Christian McCaffrey against Atlanta, who saw huge ownership last week in a similar spot. He was pretty bad, and after back to back weekends of tough YPC it's easy to wonder if the incredible workload is catching up to him. Still, he was targeted 13 times last week, and has to be in consideration against this lousy Atlanta defense.
Wide Receivers

D.J. Moore FD 7100 DK 7000
Opponent ATL
Proj Points FD - 18.26 DK - 21.49
Death, taxes and writing up
D.J. Moore
for cash. I get that it can kind of feel weird buying a guy all the way up as the price climbs, but like I've said week after week after week (and so on) there is still an inefficiency here. Since Week 4 Moore ranks fourth among wide receivers in targets (89) behind only
Michael Thomas
,
Julian Edelman
and
DeAndre Hopkins
. His three TDs trail some of the top group, but he does have 10 red zone targets in the last five weeks, the most in the NFL. This guy is just an elite wide receiver yet isn't viewed that way if each week's ownership numbers can be believed. He was 5% on
DraftKings
in cash and 22% on
FanDuel
. This is simply the rest of the industry coming around way, way too slow. Now he'll get a great matchup against Atlanta and is another cash game lock for
our system
.

Julian Edelman FD 7600 DK 7100
Opponent KC
Proj Points FD - 17.16 DK - 21.13
I mentioned Edelman a minute ago as the top overall target guy since Week 4 and he ranks number two in the league behind only Thomas over the course of the season. He only has five receiving touchdowns on the year, but ranks first overall in red zone targets with 21. The matchup against the Chiefs could enter shootout territory with a 48.5 total and thin spread (NE -3). On
DraftKings
, there is just so much safety in Edelman's target share especially as
Tom Brady
continues to struggle with consistent second options. On a week where there might be some mid-tier savings at running back, stacking big target guys like Moore and Edelman should have a high floor.

Tyler Boyd FD 6300 DK 5900
Opponent CLE
Proj Points FD - 14.22 DK - 17.54
With
Andy Dalton
under center, Boyd went right back to a double-digit target guy in Week 13. He finished with the typically inefficient 5/59 line, but did score a touchdown. When Dalton was under center (Weeks 1-8), Boyd was the third-most targeted wide receiver in football behind only
Michael Thomas
and
Cooper Kupp
. It's good to see these guys get right back on the same page. Cleveland is much better against the pass than the run, but Boyd is still coming too cheap for how often Dalton looks his way.
Other Thoughts
Christian Kirk
was a popular Week 13 play and came up way short against the Rams. I like going his way here at just $5900 on
FanDuel
. The Steelers' defense has been very good this season so the matchup isn't ideal, but he won't see shadow coverage like he did against
Jalen Ramsey
. Though it is worth mentioning that the Nelson/ Haden/ Hilton PIT secondary is a good one.
If
Julio Jones
sits again then
Calvin Ridley
and
Russell Gage
instantly jump to the top of the cash game list.
Tight Ends

Jack Doyle FD 6300 DK 4600
Opponent TB
Proj Points FD - 11.23 DK - 14.03
With Eric Ebron out of the picture, Doyle caught 6 balls for 73 yards and a touchdown on 11 targets against the Titans. You just don't see tight end production like that very often in the 2019, and getting him at less than premium prices means we'll likely see some serious ownership on him this week. Tampa Bay has been great against the run but generally bad against the pass, and given that the Colts can't really run the ball at all right now it's hard to imagine Doyle not garnering 8+ targets again this week.

George Kittle FD 6700 DK 5900
Opponent NO
Proj Points FD - 14.48 DK - 17.26
Darren Waller FD 6200 DK 5800
Opponent TEN
Proj Points FD - 13.42 DK - 16.03
I view these two guys very similarly. Kittle had three straight solid weeks before disappearing against Baltimore. New Orleans has a good defense, but they are much better against the run. We could see a Kittle resurgence here, but it's a little terrifying to just pencil it in after what we saw last week.
Waller disappeared for the middle of the season when the Raiders seemed good, and now that they seem terrible he's back in the mix. The Raiders are three point dogs to the Titans, who have been sort of a Bucs-lite this season, doing well against the run but being well below league average against the pass. At a similar price point, though, it's hard to imagine playing Waller over Doyle.

On DraftKings Ryan Griffin is the weekly cheap guy who is coming off a reasonable 7 target week last week. I still think you want Doyle though.
Defense / Special Teams
Redskins FD 3000 DK 1700
Opponent GB
Proj Points FD - 4.65 DK - 4.65
We played the Redskins' defense in cash games last week, and to be honest, it was awesome. As Doug and I were working through our defensive options last week, we did a pretty deep dive into what DFS defenses had been providing at various price points. And you know what we found? Even the best defenses tend to return a pretty lousy points per dollar multiplier on a week to week basis. Unless you know something about predicting defensive touchdowns reliably, good defenses are very often over-priced.

While Redskins are a laughing stock, they have 36 sacks and 19 turnovers generated this season. They allow points, but their ability to make big plays leaves them relevant. I'm not sure if this is the answer on FanDuel, but at $1,700 on DraftKings I'm absolutely considering going back to them this week even in a bad match-up with Green Bay.
Jets FD 4100 DK 3200
Opponent MIA
Proj Points FD - 7.4 DK - 7.4
The revitalized Dolphins just worked over a supposedly good Eagles defense for 37 points last week, so we can't automatically include defenses against them every single week, I suppose. But the Jets would have been $900 more expensive than this if this game took place 3 weeks ago. While I'm as big a believer in Fitzmagic as anyone, the Jets are still a legitimate top 5 defense by DVOA's standards, and that just has to be good enough against this Dolphins team at less than premium prices.

The rest: Like I wrote in the Redskins write-up, defenses are just so rarely an actual value that you often want to start by spending as little as possible and then finding the best play in the appropriate price range. For a frame of reference, the best points per dollar play in our system is the Saints at 2.02. That's a little worse than our 11th best running back, Joe Mixon or our 20th QB, David Carr. You're never "locking a defense" and going from there.

Some other candidates that our system likes as the best plays in their respective price ranges:
The Browns and Steelers at the top end, and then the Saints and Panthers if you go down a tier.

GRAB A FREE TRIAL OF OUR PROJECTION SYSTEM, AND CHECK OUT DFSR PRO!
FREE EBOOK
SECRETS TO CRUSHING DAILY FANTASY FOOTBALL!
DON'T SET ANOTHER LINEUP BEFORE YOU READ THIS BOOK.