Basketball Picks Daily Fantasy
Expert Advice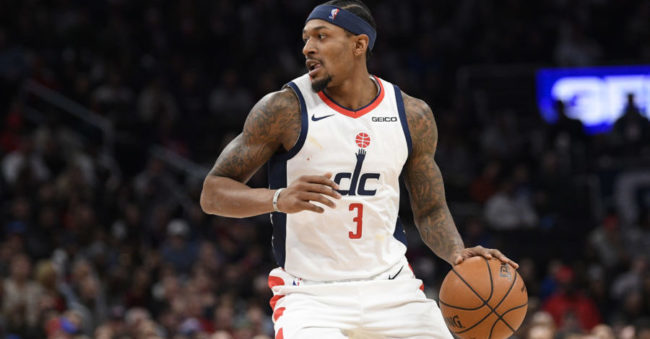 FanDuel NBA Picks and DraftKings NBA Picks - Tuesday, 12/10/19
After a whacky Monday in the NBA we get a slate with some bad defenses and potentially a ton of chalk.
Head on over a for your chance to get DFSR PRO, which will give you access to our NBA FanDuel and DraftKings optimizer, our NFL Optimizer and NHL Projections as well. Plus our new player lab! Get started for free by clicking the button below.
First time with NBA or NFL? Be sure to read our free NBA and NFL Ebooks on building lineups, general strategy and more. We've got you completely covered.
Point Guard

Ish Smith
FD
- $5200
DK
- $5200
Opponent -
CHA
Proj Pts
FD
- 28.08
DK
- 28.32
With
Isaiah Thomas
out over the last couple of games, Ish has stepped into the starting lineup and been a fantasy darling over the last three games. He's averaging 33 minutes a game with 16 points, 6.6 assists and a few rebounds thrown in there as well. The price has come up, but not requisite with the opportunity and you have to love the matchup here against the Hornets on a shorter slate. Almost for sure we're going to see some major Wiz chalk on this slate with Ish and some other Washington guys. Charlotte is one of the worst defensive efficiency teams in the league and this represents the time to jump all over these Wiz guys.

Kendrick Nunn
FD
- $4900
DK
- $5400
Opponent -
ATL
Proj Pts
FD
- 27.7
DK
- 28.44
This one is going to come down to how much you trust the Heat. Coach Spo' will play matchups as much as any coach in the world and that *should* mean a ton of minutes for Nunn on Tuesday with Dragic and Winslow both still on the shelf. You are going to see a lot of Heat guys in the write ups here so prepare yourself accordingly. I don't think he's the safest guy on Miami, but he has a high enough floor in the starting lineup and should see plenty of minutes in this matchup. He's coming off 37 in regulation (42 total) on Sunday against the Bulls and he scored 18 points with three rebounds and three assists. Those are pretty underwhelming numbers considering the run, but the price also doesn't kill you here. I think he's a very popular play on this slate.
Other Thoughts
I do think
Damian Lillard
(
FD
$9600
DK
$8800) is somewhat interesting here against the Knicks.
Shooting Guard

Bradley Beal
FD - $9700 DK - $9300
Opponent -
CHA
Proj Pts FD - 48.1 DK - 50.08
It's never easy to project a player for close to 40 minutes a game, but that's where we are with Beal considering how the Wiz use him and also the injury issues they've had this season. He's such a high floor play because of the mash up of factors and, if anything, has kept the price in check because he's run pretty bad from the field over the last few games. He's shooting 6-19 from three and 19-59 on FG attempts which has led to major issues with his scoring output. That doesn't stand to continue against the Hornets on Tuesday and he makes for about as sure of a cash game game play as you'll find. I think this is going to be a very chalky slate and Beal is part of that.

Jimmy Butler
FD - $9600 DK - $9100
Opponent -
ATL
Proj Pts FD - 52.73 DK - 51.53
And here's the other piece of the chalkiness. Butler, with Winslow and Dragic out, is one of the surefire plays on the slate. He's dropped triple-doubles in two of the last four games and is one of the other candidates to just play monster minutes considering the team injuries and the way the Heat are willing to use him. It helps that Atlanta is the 26th-rakes defense this season who also just happen to play a top-10 pace. I don't really want to choose between Beal and Butler on this slate because I think the path is just to play them both.
Other Thoughts
I do think there's a path to big
Duncan Robinson
(FD $4200 DK $4500) minutes, but it's more of a GPP play.
Small Forward
Kent Bazemore
FD - $5200 DK - $5000
Opponent -
NY
Proj Pts FD - 28.81 DK - 28.68
With
Rodney Hood
lost for the season, Bazemore stepped into the starting lineup on Sunday and promptly played 36 minutes. He's going to struggle for usage when sharing the court with Lillard, McCollum and Carmelo so we need to understand that. But there's also so much to like about this price if the Blazers' plan is just to run him close to max minutes because they are getting so thin around the margins because of the injuries. He did get 11 shots up in that game and finished with nine points, five rebounds and two assists. That's barely getting there considering the price increase but you are almost for sure locking in a high enough floor on his minutes.
Consider
Carmelo Anthony
(FD $6000 DK $5600), especially on
DraftKings
. He's chucking up enough shots to get you there on these prices.
Marcus Morris
FD - $6100 DK - $5300
Opponent -
POR
Proj Pts FD - 30.88 DK - 31.95
The Knicks went through a coaching change to
Mike Miller
which seems to have set just about every relevant guy's minutes at 15 except for a select crowd. Morris is in that latter bunch and you can come close to *trusting* him on this slate. He played 33 in the loss the the Pacers on Sunday, dropping 25 points and taking the second-most shots on the team. There's some safety in that usage and he isn't all that expensive. The
DraftKings
' price is particularly appealing and I think even with the s*$%show the Knicks have become, there are players we can somewhat count on. Morris is one of those dudes.
Other Thoughts
There's still a
Derrick Jones
(FD $3500 DK $3600) case for sure.
Power Forward
Bam Adebayo
FD - $8600 DK - $8200
Opponent -
ATL
Proj Pts FD - 41.86 DK - 42.44
He's been something of a fantasy darling this season and for good reason. Dude looks like he can do almost all of it on the court and that's kept the minutes so high on a team that doesn't usually want to roll that way. Over the last five, he's averaging 37 minutes (one OT game thrown in there) with 18 points, 11 rebounds and three assists. If anything, the defensive stats are what's come in low, but we could see something of a correction on those tonight against Atlanta. Bam will be among the highest-owned players on this slate.

PJ Washington
FD - $6300 DK - $5900
Opponent -
WAS
Proj Pts FD - 31.82 DK - 32.03
Dude's been all over the place with minutes this season, but the short term has been *gasp* safe in that regard. He's played 33 or more in four of the last five and managed to *mostly* stay out of foul trouble. With Washington you are somewhat at the whim of his three-point shooting and have to live with the scoring taking the main focus of his fantasy production. He plays in a lineup with score-first guards and that's going to mean picking up fantasy stats around the margins will be tough. But at these prices, against the nuts matchup in the Wiz make it fine to go here on these prices.
Other Thoughts
Davis Bertans
(FD $6200 DK $6300) is playing a ton off the bench still and just bombing threes. I don't mind it.
Center

Hassan Whiteside
FD - $8600 DK - $8000
Opponent -
NY
Proj Pts FD - 42.66 DK - 42.76
Center is easily the worst position of this slate. As of this writing, I'll admit I don't know exactly which direction we're going but it's likely cheap. That being said, Whiteside makes for a somewhat interesting play considering he should feast on the Knicks' interior and is trending close to "trustable" on 31-33 minutes a game. Famous last words on that latter point, but he's played basically that in the last three and the Blazers aren't getting any healthier. He's averaging an 18 point/ 12 rebound line over the last three when given the run and gets only a minor speed bump against the Knicks on Tuesday.

Mitchell Robinson
FD - $6900 DK - $5700
Opponent -
POR
Proj Pts FD - 30.67 DK - 28
Will this be the game the training wheels come off? Knicks folks have wanted more minutes out of Mitch-Rob basically since the jump and DFS folks are in lock step there. Dude just crushes when given the run, but the problem is no one has wanted to give him steady minutes. In 25 minutes on Saturday he dropped 14 points, seven rebounds and five blocks+steals in just 25 minutes. We need to unleash this guy. Until he enters the starting lineup it's only going to be speculative, but even at 25-28 minutes off the bench it's getting close.
GRAB A FREE TRIAL OF OUR PROJECTION SYSTEM, AND CHECK OUT DFSR PRO!
FREE EBOOK
SECRETS TO CRUSHING DAILY FANTASY FOOTBALL!
DON'T SET ANOTHER LINEUP BEFORE YOU READ THIS BOOK.