Basketball Picks Daily Fantasy
Expert Advice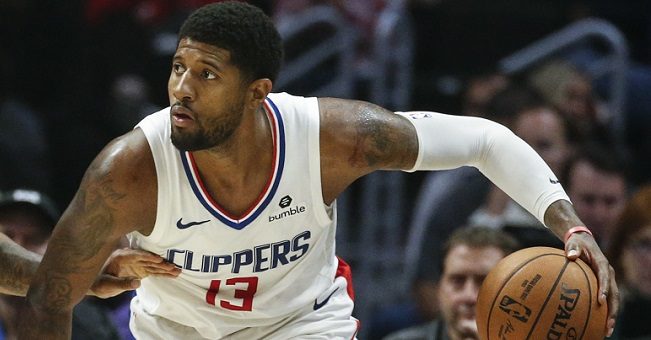 FanDuel NBA Picks and DraftKings NBA Picks - Friday, 12/13/19
A quick note on these picks before we get started. There are two big pieces of injury *news* that I'm operating under right now. The first is that Giannis Antetokounmpo will sit out again on Friday. The Bucks don't have a lot of incentive to rush him back and they get a bad Memphis team. The other is that Kawhi Leonard will sit out the front end of this back-to-back. Him sitting on Friday and playing Saturday makes a lot more sense with spacing out the rest between his games. If either or both change then this would make the writeups very different. I'll make alternate notes about plays outside of these two teams of course. But these are my baseline assumptions.
Head on over a for your chance to get DFSR PRO, which will give you access to our NBA FanDuel and DraftKings optimizer, our NFL Optimizer and NHL Projections as well. Plus our new player lab! Get started for free by clicking the button below.
First time with NBA or NFL? Be sure to read our free NBA and NFL Ebooks on building lineups, general strategy and more. We've got you completely covered.
Point Guard

Eric Bledsoe
FD
- $6700
DK
- $6700
Opponent -
MEM
Proj Pts
FD
- 41.67
DK
- 42.3
George Hill
FD
- $3600
DK
- $4100
Opponent -
MEM
Proj Pts
FD
- 21.52
DK
- 21.84
It really doesn't look like Giannis is going to play on Friday against the Grizzlies after sitting on Wednesday in the game against the Pelicans. The Bucks didn't need him in the former and likely won't need him in the latter either. Bledsoe goes from a 23% usage on the season to 32% with Antetokounmpo off the court. He took 13 shots in just 25 minutes on Wednesday finishing with 29 points and six assists. Even with the price increase AND risk of blowout (because that's just what Milwaukee does) we could be staring down another Bledsoe chalk night on Friday. He was 90%+ owned in cash games against the Pelicans and could see similar numbers on Friday.
Meanwhile Hill played 19 minutes on Wednesday and got there with 13 points, three assists and three steals. I think he actually could be in line for a few more minutes here if the game stays even a little closer and makes for an interesting cheap play.
Tyus Jones
FD
- $4300
DK
- $3700
Opponent -
MIL
Proj Pts FD - 19.58 DK - 19.29

De'Anthony Melton
FD - $4100 DK - $3900
Opponent -
MIL
Proj Pts FD - 28.51 DK - 27.63
Ja Morant has already been ruled out for Friday meaning both of these guys will see increased minutes. The bigger question is just who the Grizz role out there for the lion's share of PG run against the Bucks. It really looked like Melton was going to take over the true backup point guard role after running 25 and 30 minutes in games without Morant. But then in the last one, Jones played 28 and Melton played only 20. These guys are totally binary in that they represent all 48 of the Memphis minutes at the one, but getting the minutes exactly right is a little tough going in. I tend to trust the per minute stats on Melton more so I'd be actually inclined to play him in cash here.
Shooting Guard

Lou Williams
FD - $6000 DK - $7100
Opponent -
MIN
Proj Pts FD - 39.45 DK - 41.49
Lou-Will has a 30% usage rate on the season coming off the bench for the Clippers and that number jumps up a bit to 33% when Kawhi is off the court. He ran terrible from the field against the Pacers on Monday, going a dreadful 2-19 and 0-5 from the three. The only thing I'm really interested in from those number are the shots and the minutes (33). He's a pretty clear cash game play considering the opportunity with Kawhi out of the mix and the Clippers rely on his scoring (or lack thereof last game) when they are down a superstar. And honestly, with
Patrick Beverley
already ruled out, Williams might be even safe enough even if Kawhi were to play.

Khris Middleton
FD - $6700 DK - $6800
Opponent -
MEM
Proj Pts FD - 42.22 DK - 43.98
There aren't many certainties in the world, but one of them appears to be playing
Khris Middleton
in cash when Giannis sits is one of them. Like Bledsoe, he was 90%+ owned in cash games on all sites on Wednesday and would be trending toward that number again if Giannis were to sit. It only took him 31 minutes to jack up 22 shots against the Pelicans and he finished with 24 points, four assists and five rebounds. I suppose those numbers are a bit underwhelming considering the price, but rostering him Memphis team ranked fifth in pace and 21st in defensive efficiency would again give him a very high floor.
Other Thoughts
Bogdan Bogdanovic
(FD $4500 DK $4700) has been playing a lot off the bench of late and the Kings, I believe, want to shorten their rotation as they continue a push to actually make the playoffs in the West. If the above two guys don't work out, his price makes him a play even coming in as the sixth man.
The Knicks ran
RJ Barrett
(FD $6000 DK $6100) 41 minutes in regulation (46 total) on Wednesday night so it doesn't appear the coaching change has altered anything with the team mindset on that front. He finished with 22 points and 10 rebounds. If the minutes' floor is going to be as high as anyone in the game, then he's a cash play even on a big slate.
Small Forward

Paul George
FD - $9300 DK - $8800
Opponent -
MIN
Proj Pts FD - 49.82 DK - 52.06

Maurice Harkless
FD - $4200 DK - $4200
Opponent -
MIN
Proj Pts FD - 25.41 DK - 24.07
Continuing on the "a star is sitting so grab the other guys" theme, George would register as one of the best plays on the slate if Leonard sits. Surprisingly, he wasn't an overwhelming chalk play on Monday (we had him in lineups) with Kawhi out and he finished with 36 points and nine boards on 10-26 shooting in 36 minutes. He crushed and it makes sense considering he goes from a full-season 30% usage to a 35% number with Kawhi off the court. Even at near-peak pricing he makes for such a high floor play that he'd be a very tough fade in cash games with this kind of expectation.
Harkless played 34 minutes last game and that seems to have been mostly the plan if he can stay out foul trouble with Kawhi out. It helped that
Jamychal Green
also sat that game out who would cut into Harkless's run some. The 14 rebounds were a welcome sign and he pitched in eight points as well. I'm mostly looking at him as a borderline punt play at these prices with the understanding that he should play a decent amount.
Marcus Morris
FD - $5400 DK - $6600
Opponent -
SAC
Proj Pts FD - 32.9 DK - 34.07
After an ill-fated cash attempt at Morris in the Portland game on Tuesday, Morris bounced back in a big way against the Warriors on Wednesday. He dropped 36 points and 10 rebounds in what amounts to a cake matchup. Sacramento isn't quite the same thing considering they play a much (much) slower pace and are better on defense. But this is still fine play considering the circumstances. Morris is very reliant on scoring for his fantasy production which does make him a little riskier. But the Knicks also have him as one of the three guys (RJ and Randle as well) they'll happily play big minutes.
Other Thoughts
LeBron James
(FD $10600 DK $10000) revenge game? I'm kidding of course, this is too may stops removed from real revenge (kidding again) but if the above injury pieces don't shake out, he'd probably be the cash play at small forward. Against a good Miami team, I'd feel fine projecting him at near peak minutes. He's averaging a double-double with the points and assists, but the rebounds have dipped a little in the short term.
T.J. Warren
(FD $5400 DK $5000) would also make a good cash consideration against the Hawks. He doesn't have a big time ceiling but the minutes are mostly there. He also won't cost an arm and a leg in a good matchup.
Power Forward
Ersan Ilyasova
FD - $3800 DK - $4600
Opponent -
MEM
Proj Pts FD - 28.41 DK - 28.5
He, like his Bucks' teammates, was a monster chalk play in the start for Giannis on Wednesday. Dude finished with 18 points, nine rebounds and 3 assists in just 27 minutes. The price came up, but still not accordingly with the opportunity if the Milwaukee superstar is out of the lineup again. This is something like a set it and forget play and honestly pretty much a DFS 101 cash game pick.

Draymond Green
FD - $6500 DK - $6500
Opponent -
UTA
Proj Pts FD - 33.61 DK - 33.83
Man, it's tough to call anything on the Warriors safe at this point, but the 'Dubs did ramp Draymond's minutes up to 35 in regulation (40 total) against the Knicks and he rocked a triple-double with 14 points, 12 assists and 10 rebounds. Golden State is probably without Eric Paschall on Friday as well, which doesn't necessarily translate 1:1 to Green's minutes, but wouldn't hurt either. The matchup against the Jazz isn't ideal, but I do think the Warriors are at least going to try and keep things competitive when possible. That essentially starts and stops with Draymond and he makes a very good
DraftKings
play.
Update: Draymond is sitting for rest o Friday. The PFs below are now elite plays.
If Paschall were to sit then
Omari Spellman
(FD $3700 DK $3100) and
Marquese Chriss
(FD $3500 DK $3800) would both be in line for more minutes in the traditional power forward sense. Both are coming cheap and the latter started the second half on Wednesday.
Other Thoughts
I think it's finally time to call
PJ Washington's
(FD $5900 DK $5600) minutes safe. He's played 33 or more in five straight and even got up to 40 against the Nets. He needs all of the run and the threes to fall, but I wouldn't mind him in this price range if Ersan doesn't work out.
Julius Randle
(FD $6600 DK $6900) Is also interesting against the Kings mostly along the same lines as Morris and Barrett.
Center

Montrezl Harrell
FD - $7400 DK - $6400
Opponent -
MIN
Proj Pts FD - 37.58 DK - 36.67

Ivica Zubac
FD - $4400 DK - $4500
Opponent -
MIN
Proj Pts FD - 23.84 DK - 23.25
This has been the theme so far so why stop now? These two overlapped for 3 minutes on Monday against the Pacers but that was about it. Otherwise, they are 1:1 correlated on center minutes for the Clippers. From a points per dollar perspective, both are solid values if playing something like 30 and 20 minutes respectively. Harrell went for 26 points and seven rebounds while Zubac 13 points and eight rebounds. Both lines represent value at their prices and they'd definitely be in line for similar production on Friday. On
FanDuel
you'll need to choose between them and on
DraftKings
you might start running into "too many Clippers" problems. But I don't think you're going wrong with either.

Karl-Anthony Towns
FD - $11100 DK - $9900
Opponent -
LAC
Proj Pts FD - 53.47 DK - 56.2
Rudy Gobert
FD - $8700 DK - $8300
Opponent -
GS
Proj Pts FD - 41.82 DK - 42.08
If all of the value above opens up (and I mean at every position) then I actually think there's going to be a chance to spend up at center. That would leave both of these guys as really good upper-tier options to pay value. Towns would be in a good spot against a Clippers' team that, at times, has been susceptible to opposing bigs putting up numbers.
Meanwhile, Gobert would be going against the Warriors, one of the worst defensive teams in the league. Both are obviously double-double threats (understatement of course) and would make a way to eventually spend the requisite salary. I know these seem like weird throw-ins at the end of a cash play article but that's kind of night we are looking at.
GRAB A FREE TRIAL OF OUR PROJECTION SYSTEM, AND CHECK OUT DFSR PRO!
FREE EBOOK
SECRETS TO CRUSHING DAILY FANTASY FOOTBALL!
DON'T SET ANOTHER LINEUP BEFORE YOU READ THIS BOOK.