featured Daily Fantasy
Expert Advice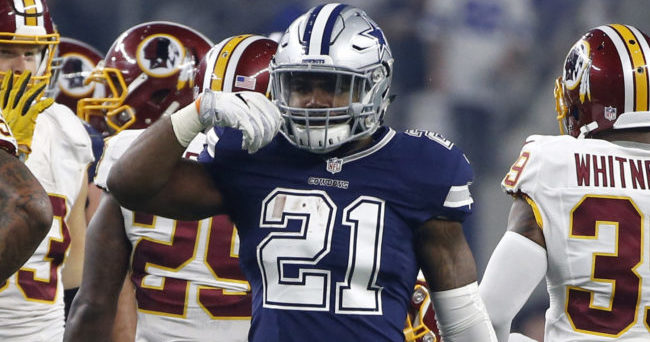 Daily Fantasy Football Cash Game Picks for FanDuel and DraftKings Week 17
We made it to week 17, y'all! After a fantastic week 16 here in DFSR land we're ready to bring the heat again this week, but it won't be easy. Week 17 always contains a slew of mixed motivations, odd game scripts, and bizarre spreads. That being said, let's do our best to find that value and safety.
Want access to the projections that power these picks? For a limited time we're offering a free one week trial to all the sports that we cover - that's optimal lineups for NFL, NBA, NHL, and MLB - for the same low price. Get started now!
Quarterbacks

Carson Wentz FD 7700 DK 6100
Opponent NYG
Proj Points FD - 21.48 DK - 22.27

Dak Prescott FD 8000 DK 6300
Opponent WAS
Proj Points FD - 21.88 DK - 22.78
On a week with varying motivations around the league, we get a little lucky at quarterback in that there are a number of solid signal-callers with something to play for. We'll start in the NFC East where the Eagles control their own destiny if they can wrap up a win over the Giants. Wentz has thrown for 300+ yards in three of the last four weeks with nine touchdowns to only one interception. He'll get a Giants' team ranked 30th in DVOA against the pass and this is a smash spot for really the whole Eagles' team in terms of fantasy.
Meanwhile, Dak is in a similar situation though things aren't quite in his hands the same way they are for Wentz. With the Cowboys losing to the Eagles in Week 16 Dallas will need Philly to lose and DemBoys to win. That being said, there's of course reason to believe Dallas goes all out. Prescott, after putting together an excellent statistical season, struggled last week against the Eagles. He was on his way to a very nice game against the Rams in Week 15 but the blowout got in the way. He'll now get a Washington team ranked 20th in defensive DVOA and should have a solid floor considering the circumstances. He's the fifth-best DraftKings points per game quarterback on the season and has the second-best consistency ranking among that group.
I feel comfortable running both of these guys in cash though would probably defer to Wentz simply because there's no doubt the Eagles keep their foot on the gas the whole game whereas there are scenarios this isn't the case with Dallas.
Robert Griffin III FD 7000 DK 5100
Opponent PIT
Proj Points FD - 18.37 DK - 18.98
The Ravens are going to rest some starters this week in a meaningless game for them record-wise heading into the playoffs. But, there's a good opportunity for Robert Griffin to produce a solid fantasy day. The good news is Baltimore will run a similar scheme to what they use with Lamar Jackson, and it's why RGIII is the backup. I expect a lot of rushing attempts for Griffin here and Baltimore will also be without Mark Ingram. Griffin is most intriguing on DraftKings at $5100 and I don't think 10-12 rushing attempts are out of question here with some potential for a rushing touchdown. The only real issue honestly is the matchup against an excellent Steelers' defense ranked third overall in DVOA and also with something to play for.
Tom Brady and Deshaun Watson are also intriguing cash game options. I suspect the latter sees solid ownership against the Titans in a must-win game for Houston. He's been a chalkier play at times and that could be the case against this week. The Texans will be without Will Fuller though and that does ding Watson's projection some.
Brady meanwhile gets the dream matchup against Miami. But the Pats are huge favorites and it's easy to see this game being well over before the 4th quarter.
Running Backs

Ezekiel Elliott FD 8700 DK 8000
Opponent WAS
Proj Points FD - 21.67 DK - 23.53

Miles Sanders FD 7400 DK 6800
Opponent NYG
Proj Points FD - 17.63 DK - 19.37
I find the race for futility in the NFC East absolutely hilarious, but that doesn't mean I'll shy away from jamming these guys as fantasy plays. Zeke had a rough week against the Eagles, but the Cowboys were down by 10 after the first quarter, and the game script really went against him. He tore the Redskins up for 111 yards in their only other meeting this season, and with their season on the line and Dak playing terribly, I have a hard time believing they won't lean on him here.
Sanders, meanwhile, is just coming into his own right now. He just compiled 156 yards on 26 looks in week 16, and he'll get a juicy match-up with this terrible Giants team in a win and in for the playoffs. All signs point to the Eagles getting up early and grinding this one out, and Sanders is close to a mandatory cash game inclusion as a result.

Devonta Freeman FD 6700 DK 6500
Opponent TB
Proj Points FD - 17.73 DK - 20.53
I was surprised Freeman wasn't higher owned on DraftKings last week, but I'm not complaining. Atlanta has finally consolidated the snaps his way, and it's been a huge boon to his fantasy value. Freeman put together 127 yards from scrimmage and chipped in two touchdowns along the way. He was also targeted 11 times in the passing game thanks to the Falcons' banged-up receiving corps. Atlanta has nothing to play for, but they had nothing to play for last week either, so I don't see any reason they stay away from Freeman in this one. Tampa Bay has been a tough match-up for opposing running backs this season, but I think this is just a price and opportunity mismatch.
Damien Williams FD 6400 DK 4700
Opponent LAC
Proj Points FD - 15.09 DK - 16.27
The Chiefs are in an interesting spot this week, as they technically have something to play for but only if New England chokes as double digit favorites at home against a feisty Miami team. Still, I think they play this one out, and Vegas agrees to the tune of the Chiefs being 8 point favorites here. That's a sweet spot for grabbing running backs, and Damien Williams is wildly cheap on his current opportunity. McCoy was a healthy scratch last week, and if Williams is really in line for 20 touches against a Chargers team that has been in the bottom third of the league in defensive DVOA all season he should be a shoe-in to crush this DraftKings price.
Wide Receivers

Julio Jones FD 8500 DK 8500
Opponent TB
Proj Points FD - 22.14 DK - 26.33

Michael Thomas FD 9200 DK 9900
Opponent CAR
Proj Points FD - 23.71 DK - 28.9
Let's start with the two big names first here. Thomas is coming off a record-setting Week 16 in which he broke Marvin Harrison's single-season reception record and dude now has a full game to pad that stat. He's seen single-digit targets in just one of his last 11 games and is the second-most consistent DraftKings play this season (among the top 20 per game scorers). This is an unreal stat for a wide receiver and really the only debate at this point is the price. He's butting up against $10K on DraftKings and that could be a tough sell. But last time out against the Panthers he went for 10/101/1 on 11 targets and now will get them at home in the dome. The Saints would love to win this game and I think they feed Thomas early and often.
Meanwhile, Julio Jones appears to be enjoying his post-Calvin Ridley role in this offense. Over the last two weeks (without Ridley) Jones has 23 catches, 300 yards and two touchdowns on a whopping 35 targets. This is just crazy volume and now draws a Tampa Bay's funnel defense that' very good against the run and merely average against the pass. The modus operandi has been to make sure Julio gets his over the last few weeks even in games that meant nothing for the Falcons. There's no reason to expect this changes in Week 17 and Julio is something like a lock cash play.
Breshad Perriman FD 7600 DK 6700
Opponent ATL
Proj Points FD - 16.79 DK - 19.77
Justin Watson FD 6100 DK 4900
Opponent ATL
Proj Points FD - 13.89 DK - 16.76
I'm writing these guys up with the assumption that Chris Godwin sits out Week 17. If that were to change then these guys are considerably less appealing. But in Week 16 we saw that Jameis Winston was willing to go to these wideouts with Perriman seeing 12 targets and Watson 10. Winston missed the latter three times on basically wide-open touchdown passes before he finally hauled one in. Perriman meanwhile operated more as the possession receiver, going for seven catches and 102 yards. Atlanta has played better of late, but this is still the 25th-ranked defense against the pass. I really like the Watson value on DraftKings and think both receivers have high floors.

Michael Gallup FD 6500 DK 5400
Opponent WAS
Proj Points FD - 15.9 DK - 18.59
The Cowboys had a nightmare game against the Eagles in Week 16 and something clearly looked off with Amari Cooper. But both he and Gallup saw double-digit targets and the latter finished with five catches for 98 yards. He's coming cheap enough on both sites to consider and we will likely get him at lower ownership this week. There's consistency issues for sure but he draws a great matchup against a very weak Redskins' secondary. In offering up receivers at different price points, Gallup makes for a solid "middle tier" guy.
Both DeAndre Hopkins and A.J. Brown should see solid ownership this week. With Will Fuller already ruled out, Hopkins sees a significant bump in expected target share. In games without Fuller this season Hopkins' targets have been 13, 12, 11, and 13. Projecting him for 12 targets in this game is completely reasonable. Brown had one of his best game of the season against the Titans two weeks ago as well. 
Tight Ends
Zach Ertz FD 6700 DK 6000
Opponent NYG
Proj Points FD - 15.13 DK - 18.73
Dallas Goedert FD 6400 DK 4900
Opponent NYG
Proj Points FD - 11.63 DK - 14.34
The biggest decision at tight end this week comes down to Zach Ertz's status. We'll be monitoring him carefully throughout the week, and if he gets a clean bill of health he could easily repeat the 50%+ cash game ownership he saw last week. If he sits, Goedert could honestly exceed that. With Ertz hurting his ribs early last week, Goedert supplied 9 catches for 91 yards and a touchdown on 11 targets, and would be criminally cheap on DraftKings if he were the only TE available here.

Tyler Higbee FD 6900 DK 5600
Opponent ARI
Proj Points FD - 15.04 DK - 18.49
Concerns about the Higbeast's opportunity with Gerald Everett playing appeared to have been overblown last Saturday, with the Rams' shiny new toy popping off for 9 catches and 104 yards on 11 targets. He didn't get in the end zone this week, but given that he's the league's most reliable tight end right now and he's cheaper than Ertz on DraftKings you have to at least consider him given the excellent match-up.
The rest: There are a few palatable tight ends this week, especially for big tournaments. The attrition in Tampa Bay has left OJ Howard as one of the last men standing, though he hasn't been particularly amazing. Kelce is still Kelce, and if the Chiefs have a window to step ahead of the Pats he could have a huge week as well. Still, I think it will be tough to get away from one of the above options assuming you can afford them.
Defense / Special Teams
Steelers FD 3500 DK 3000
Opponent BAL
Proj Points FD - 8.33 DK - 8.33
One of the quirks of week 17 football is that we can get situations like these, where the Steelers are priced like they are playing against Lamar Jackson's Ravens team, but in fact they are playing against RG3's Ravens team. I still think Griffin is a solid play in cash games, but he is bound to take a few sacks, and the Steelers still have a road to making the playoffs here. The Steelers had 5 sacks and picked off 3 of Jackson's passes when these teams met earlier this season, and if they can do that against the league's likely MVP, I think they should pay these near minimum prices easily here.
Jets FD 3200 DK 2700
Opponent BUF
Proj Points FD - 7.28 DK - 7.28
I like this play quite a bit less than the Steelers, but I still think there's a strong case to be made here. The Jets played like it was their season on the line against the Steelers, and I think it means something to them to come after Buffalo here. The Bills, meanwhile, have locked in the 5 seed and are likely looking at a short week leading into the playoffs, so resting players is far from out of the question. The Jets played the Bills as tough as possible in week 1, and given how cheap they are they look like a great play here as well.
A bunch of other options: I think either Dallas or Philly could be solid plays. The Patriots should eviscerate Miami. I just think going cheap this week makes sense, as usual.
GRAB A FREE TRIAL OF OUR PROJECTION SYSTEM, AND CHECK OUT DFSR PRO!
FREE EBOOK
SECRETS TO CRUSHING DAILY FANTASY FOOTBALL!
DON'T SET ANOTHER LINEUP BEFORE YOU READ THIS BOOK.